New information is coming to light as the internet continues to parse Frank Ocean's long-awaited new album Blond and its companion magazine, Boys Don't Cry. (The spelling of the title appears to be intentionally inconsistent: It is Blond on the cover art, but Blonde on Apple Music and within Boys Don't Cry.)
As Ocean sings in "Nikes," the album itself comes in two versions: One was released on Apple Music yesterday evening, and one appears on a CD mounted in the center of Boys Don't Cry, the glossy physical magazine that was available free at four pop-up locations yesterday (pictured above). The two versions have different track lists: The Apple Music version includes "Nikes," "Be Yourself," "Self Control," "Good Guy," and "Close to You," while the shorter CD version omits these but includes "Mitsubishi Sony" and "Easy."
Boys Don't Cry features contributions from Wolfgang Tillmans, Tyrone Lebon, Viviane Sassen, Tom Sachs, Lil B, and many other artists. The book includes interviews with Ocean and his mother Katonya Breaux, a poem about McDonald's by Kanye West, and a great deal of gorgeous photography: speciality cars, Rick Rubin's home in Malibu, Ocean riding an ATV, stills from Lebon's "Nikes" music video, young men with automobile logo designs shaved into their haircuts. Twitter user @duddersj snapped pictures of West's poem, which appears as lines of text on a drive-thru screen:
KANYE WROTE A RAP ABOUT MCDONALDS FOR FRANK'S MAGAZINE, IM DEAD pic.twitter.com/qdr2Ub2YNs

— Jack Dudley (@duddersj) 21 août 2016
SPIN visited a pop-up event at a newsstand just outside Chicago in Evanston, Illinois, where staff said they arrived at 6 a.m. to box up the store's regular magazine stock and replace it with foil-wrapped copies of Boys Don't Cry. At its peak, the line at the Evanston store extended down the block, around the corner, and up a staircase to a nearby train station. By around 8 p.m., every copy was gone.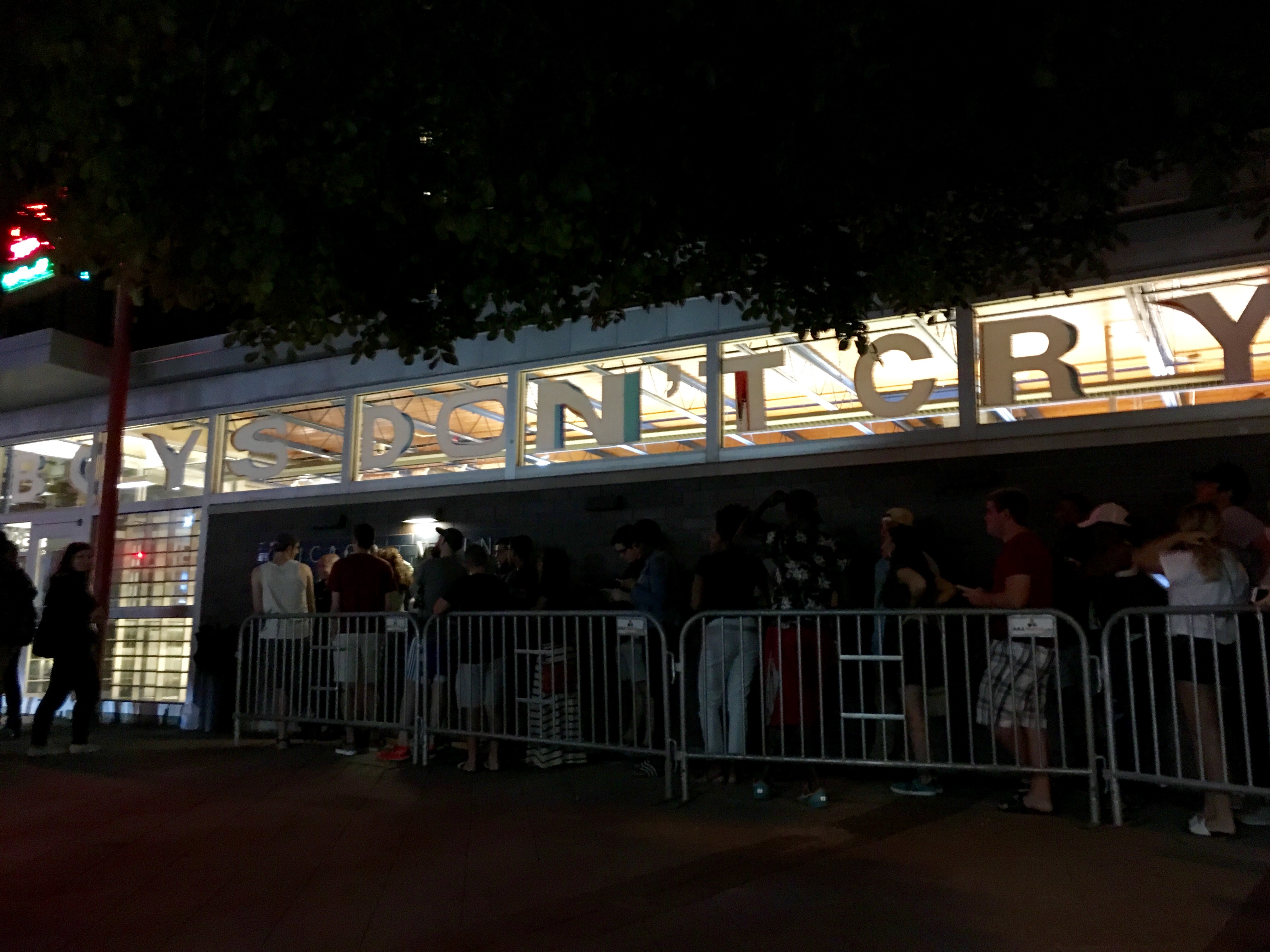 A digital version of the magazine will eventually be available online, staff outside the Evanston pop-up said. On Sunday, unopened copies of Boys Don't Cry were listed between $300 and $1000 on Ebay.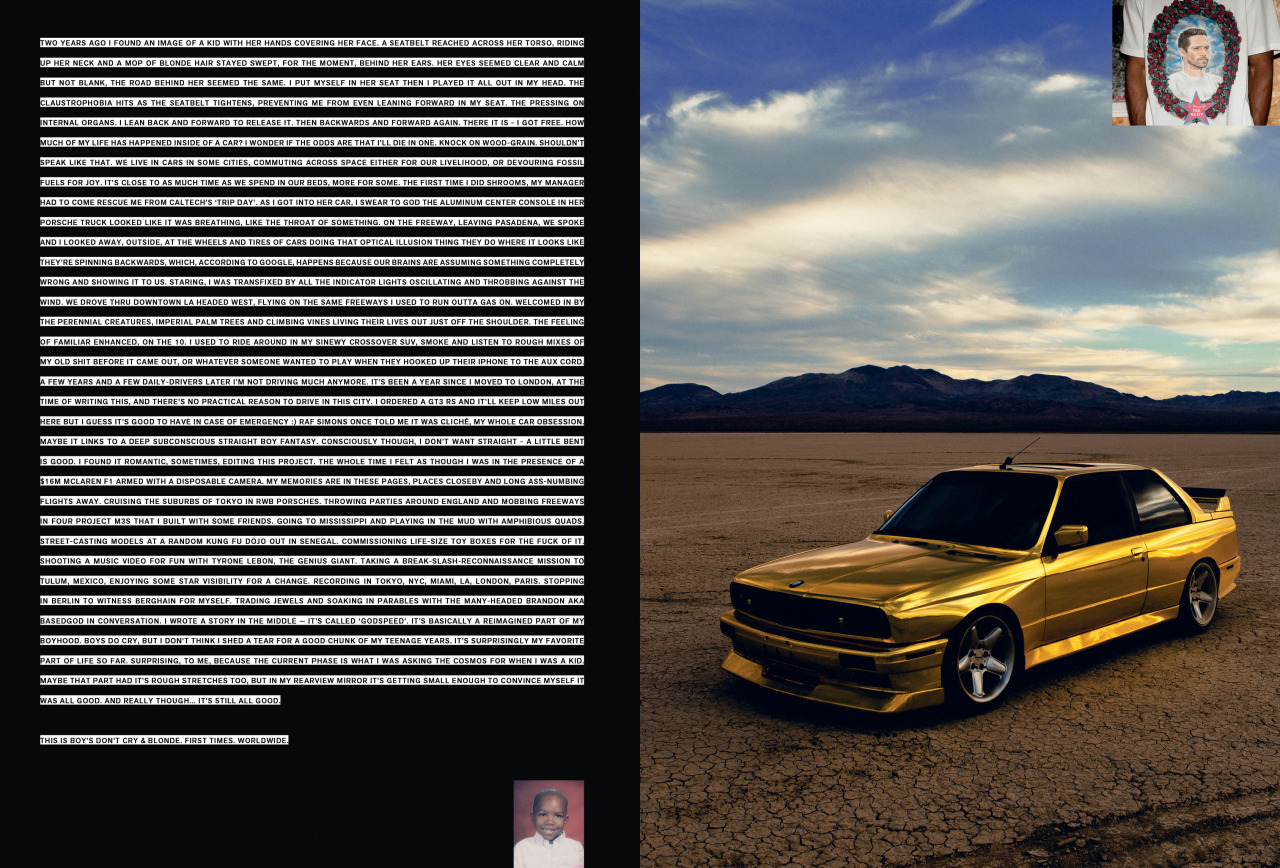 Meanwhile, Ocean posted an image from the magazine on his Tumblr (above). The spread includes a photo of a gold BMW and a personal reflection by Ocean about travel and his love of cars. "Two years ago I found an image of a kid with her hands covering her face," the text begins. "A seatbelt reached across her torso, riding up her neck and a mop of blonde hair stayed swept, for the moment, behind her ears. Her eyes seemed clear and calm but not blank, the road behind her seemed the same. I put myself in her seat then I played it all out in my head. The claustrophobia hits as the seatbelt tightens, preventing me from even leaning forward in my seat. The pressing on internal organs. I lean back and forward to release it. Then backwards and forward again. There it is — I got free."
"My memories are in these pages, places close by and long ass-numbing flights away," Ocean continues. "Cruising the suburbs of Tokyo in RWB Porsches. Throwing parties around England and mobbing freeways in four project M3s that I built with some friends. Going to Mississippi and playing in the mud with amphibious quads."
"I had the time of my life making all of this," Ocean wrote in a subsequent Tumblr post. "Thank you all. Especially those of you who never let me forget I had to finish. Which is basically every one of ya'll. Haha. Love you."