KRS-One, a known stalwart of hip-hop's traditionalist sect, is once again taking what he perceives to be a stand for the culture. During a recent talk in Birmingham, England, the Bronx MC decided to defend "Planet Rock" producer Afrika Bambaataa, who went from respected legend to persona non grata after getting hit with disturbing sexual abuse allegations last April.
"When you're talking about Afrika Bambaataa, first of all, you're talking about the person who invented hip-hop," KRS-One said in the sit-down. "Not participated in it. There was no hip-hop before Afrika Bambaataa. Let's start there, so anyone who has a problem with Afrika Bambaataa should quit hip-hop."
The "South Bronx" rapper also dismissed the allegations as "accusations and gossip" and said he believed Bambaataa was beyond reprimand.
"Some of us are infallible," KRS-One said. "Some of us are going to have to be untouchable or our entire culture is going to fall. Our culture cannot fall on the accusations of four people, that's weak."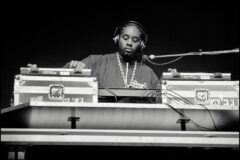 KRS-One is staunchly standing by Bambaataa, but the Zulu Nation — the awareness organization that Bambaataa founded — isn't. After initially defending him, Zulu Nation announced in a statement that it was distancing itself from Bambaataa, despite being "infallible."
https://youtube.com/watch?v=jWLgG5iKCxU