Hip-hop legend Afrika Bambaataa, probably known best for founding the Zulu Nation collective and recording the 1982 track "Planet Rock," has been accused of sexual abuse by four separate men in their late-thirties to mid-fifties who claim the assaults took place when they were under the age of 16.
Earlier this month, Bronx politician Ronald Savage said that Bambaataa had sexually abused him in 1980, at which time Savage was only 15. The Democratic Party activist came forward with his claims in an attempt to change New York's statute of limitations for cases pertaining to child sexual abuse which, as Pitchfork points out, "blocks criminal or civil charges after the victim turns 23 years old."
Over the weekend, three additional men stepped forward to lend credence to Savage's claims, reporting that they too had been sexually abused by Bambaataa as children. Hassan Campbell, a 39-year-old man, told the New York Daily News, "He is a pervert… He likes little boys." Campbell says Bambaataa abused him "numerous times" when he was just 12 and 13 years old.
"I know what Ronald Savage is saying is true because he did it to me," an anonymous 50-year-old New York man added to the News. "I have never spoken to anybody about this and when I did, I said, 'Holy s***, they finally caught up to him.'"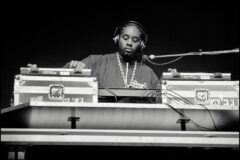 "I still have a lot of anger about this," said a third man, who only gave the name Troy to the newspaper. "I've been dealing with this for years. It's a shame this didn't come out earlier… He showed me a book with a picture of a penis and said, 'You don't have to be gay for me to suck your dick.'"
All four men claim Bambaataa showed them pornography before performing oral sex on them. Campbell first came forward in a since-deleted video several months ago, which he took down at the request of the Zulu Nation. Per the Daily News:
Campbell said Bambaataa acknowledged the abuse and apologized to him at that meeting. The hip-hop pioneer promised he would get counseling, open up a center for troubled youth and step down from the Zulu Nation.

"He never did any of those things," Campbell said. "He's a manipulator and a liar. He's just waiting for this chaos to blow over so he can go back to his dark, dingy hole and go back to his old ways. He needs to put down the candy and let the little boys go."

Zulu Nation, meanwhile, called Campbell "both a liar and a government paid police informant."
Bambaataa's reps have denied Savage's initial claims but did not respond to the Daily News about the three additional reports. The paper reports:
Zulu Nation… has repeatedly denied the claims against Bambaataa. The group rebutted the accusations, including a bizarre denial that claims the sexual abuse allegations are part of a United States government plot to discredit and destroy the organization.