In honor of the recent 20th anniversary of Jay Z's debut album, Reasonable Doubt, we're publishing a series of pieces looking at the rapper's singular career and achievements. Welcome to Jay Z Week.
Considering that, today, Jay Z is more globally famous than the overwhelming majority of movie stars, athletes, and politicians, it can be hard to remember that, in 1997, Shawn Carter was mostly still an unknown quantity. His debut album, Reasonable Doubt, drew some critical raves but not crossover hits, and the next-level commercial ambitions of its follow-up, In My Lifetime, Vol. 1, puzzled the streets while falling short of the mainstream. It wasn't until a string of increasingly successful hits at the end of the 20th century posited him to capture the mantle of Greatest Rapper Alive that the Jigga Man's potential for cultural omnivorousness became clear.
Playing no small part in this ascendance was Def Jam's Steve Carr. As the label's official album-art designer — dating back to such iconic covers as Public Enemy's Fear of a Black Planet and LL Cool J's Mama Said Knock You Out — Carr's early sleeves for Jigga's Vol. 1 through Vol. 3 helped establish the rapper's imposing, larger- (or at least richer-) than-life persona back when he was still on the come-up. But even more crucially, once Carr moved to music video, the clips he filmed for Jay — starting with 1997's Michael Rapaport-co-starring "The City Is Mine," and gaining momentum through '98's Bed-Stuy-set "Hard Knock Life" and the Rush Hour-splicing "Can I Get A…" — made the MC a fixture on MTV, one of the few who could hang with the Britneys and Backstreets of the world at the height of the TRL era.
In honor of Reasonable Doubt just turning 20 (and as part of our ongoing Jay Z Week coverage), SPIN talked to Carr — who has since gone on to massive feature-film success with blockbusters like 2003's Daddy Day Care and 2009's Paul Blart: Mall Cop — about his days taking over the hip-hop world with Mr. Carter, why working with the kids on "Hard Knock Life" prepped Carr for his future career, and how Jay could've walked into movie stardom anytime he wanted.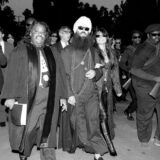 Do you remember the first time you met Jay Z?
I think the first time I met Jay may have been when Dame Dash had an office over on 5th Avenue, near 16th street, which was where I was living at the time. I think I went up there to talk to Dame because he was, like, the bulldog, and Jay and I met for the first time and it was kind of unceremonious. At that point, I had been working in hip-hop for quite a few years, and Jay had a big rep as an indie guy. This was before his first record on Def Jam, so I knew of him, but I had just left f**king LL or Chuck [D, of Public Enemy] 20 minutes before that. So, yeah, I was like, "Jay who?"
But then I got to know him better. It's funny because you run into people like Redman, whose records and videos I did, who are much more instinctual about what they did, and it was really more about their rhymes and their beats and not a full spectrum of what they were as artists. As I moved on, I picked out the guys who really had a vision, and one of them was Chuck from Public Enemy, and Puffy, obviously. I picked up from Jay immediately that there was a plan. And I was like, "All right, let's see where this goes."
Then we went into the process of putting [In My Lifetime] together, where he was involved, but not massively involved. We did the photo sessions, he liked what he liked, and the things he didn't like he was very plain about. He was sort of aloof initially to me. We just didn't really know each other. But then, as we kinda moved on… I had been doing videos for a while but I thought one of the really big opportunities in my life was when I did "City Is Mine." I didn't know it, but I guess I wanted to be a movie director, because a lot of my music videos were based on movies.
"City Is Mine" was a flip of The Usual Suspects, right?
Yeah! It was great. Dame Dash knew Mike Rapaport from school, so we got Mike in it, and that was the first time I worked with Mike. And I'm finishing up a film now that I'm editing and previewing next week that Mike Rapaport is in. I put Mike in Next Friday, I put him in Dr. Doolittle. We began a really long relationship, and the DP on "City Is Mine" was brand new to me — his name's Matty Libatique. And Matty has shot everything from Black Swan to Iron Man to Noah. All of us were kind of young and crazy and getting our s**t together.
"City Is Mine" was a real big video for me, and a good opportunity to learn how to play out a scene. And Jay was amazing. Jay was a natural as an actor. He knew the part, he knew his idea, he loved the movie. You watch the first scene, and there's a whole little part where Jay just kept f**king with Rapaport, "Anything you say, Mr. Rappinport," and finally, Mike was like "It's Rapaport, motherf**ker." And that was all real!
It was a big video, with helicopter shots and blah blah blah, so it was a lot of fun. [Jay] built up some trust [in me], I think he really liked that video. Then I got to be the go-to guy for about two years. And lucky for me, it was a mad good two years.
Do you remember the first time you heard "Hard Knock Life"?
I do. I was listening to it on my Discman. I was like, "What the f**k is this?" I wasn't a guy who really knew what musicals were, so to me it was the oddest sample, and honestly, initially, I didn't like it. I was like, "I don't really get this." But my producing partner at the time, Heidi Santelli, said, "Oh my God, that's from Annie!" I was like, "Who's Annie?" And she was like, "It's a Broadway play, you idiot." I was not a true believer in the material.
But we talked about how Jay was getting much more involved in his career at the time, and we had a couple of different ideas floating around on what [the video] should be. But once he said, "You want to shoot it at Marcy?," organically, all the specifics about, "Is it based on a movie? Is it based on this?" all fell away into what the song was really about — which was where he was from, and him trying to give a little slice of life of what it was. We ended up with something that was documentary-style, but slick.
Besides half of the kids being the nephews and nieces of somebody on the crew, we found the two little girls who are with him on the steps, who were actually from the production of Annie. I'm not sure if they were the ones who were on Broadway at the time, but they had been on Broadway, or in the traveling company. They were adorable. It was funny because it was supposed to be a two-day shoot, and the budget really was high for music videos in those days.
Do you remember what it was?
Oh, jeez, it had to be a couple hundred thousand. That's why I stopped doing music videos because now, [videos] for a couple hundred thousand — it's not happening anymore. [That amount of money] was big for me, but not big for Hype [Williams].
Again, it was a great time — for me, and for hip-hop in general. It was a time when hip-hop culture had really become pop culture. It propelled me into doing movies like Next Friday and stuff like that. Because a lot of the stuff I did with Jay was innovative for any artist, much less one who became as influential as him — it really was a big part of my life.
You had mentioned that there was a sort of conceptual, movie-based idea for the early drafts of the "Hard Knock Life" video. Wasn't the first idea for it almost like a horror-movie thing?
Yeah, I don't really remember what movie it was specifically, but it was this idea that the rhythm hits you, and the music hits you when each person touched the next. Heidi, who's still my partner, just told me the name of the movie, I think it was [1998's] Fallen. That's the movie that we tried to make a music video of. Didn't come close, but won an MTV award [anyway].
You'll look throughout the video and there are these moments where one person is touching another, and it was supposed to have this whole ominous and feature-esque arc. But [eventually] it became kind of what I wanted it to be, which was really honest. I think it ended up matching the lyrics of the song, and what the song was. It's a hard-knock life, but there's optimism, and there's joy, and I think that it shows in how the film is saturated and brightly colored. But also, it has dark moments in it, and a sense of community and stuff like that. For me, that's how it organically grew. And by the end of it, we didn't have enough to make the story work anyway, so… [Laughs.]
What was it like working with the kids?
It foretold my future [of making kids' movies.] I didn't know I knew how to work with kids [so well], but to me, they're just like somebody shorter I could bully. [Laughs.] There's a certain freedom to it because there's not the pretension of an actor, and, for me as a young filmmaker, it was easier getting the kids to join in my game than to explain to an actor [their motivation].
I didn't go to film school, I studied fine art — I learned how to be a filmmaker on everybody else's money. I learned how to tell stories with Jay Z on "City Is Mine," I learned how to film and choreograph dancing on "Can I Get A…," and I got to kind of be a documentary filmmaker with "Hard Knock Life."
Jay and I run into each other every so often, and it's always very brief. I remember we were at some music function maybe six years ago. I had just done Paul Blart and it was still out in the theaters and doing really well. Jay and I ended up sitting at tables next to each other and we had a really great conversation. The neat thing for me was him just saying he was proud of me, and feeling it was genuine, and [that he was] happy for my success. I owed a ton of it to his continued faith in me.
"Hard Knock Life" was sort of your breakout video, right?
I would say that would definitely be one of my breakout videos. Like I said, there was about a year-and-a-half to two-year series of working with Jay almost exclusively, which was really what propelled me — and, I'd like to think, him! No, I'm just kidding. [Laughs.]
Those videos were huge at the time, though. Could you feel him evolving as a star over the course of those videos you made with him?
I think unless you're really tight with him, there's a certain coolness factor [to Jay Z], and a certain aloofness. Even when Jay and I were working together all the time on the albums and doing his video, if I broke up with my girlfriend, Jay Z would not be the guy to go to. He was always very cool to the interns who were working, and — this sounds like bulls**t, but I'm ten years out of the game, at least, so I can say anything —  for me, I never had a bad moment with him. I never had that sweat under the arms, like, "What am I gonna tell this guy?" feeling. He was always just cool.
Again, it's funny because he really was a terrific actor — he was funny, he had great timing. Now that I have ten years' experience making big films, and working with everybody from Eddie Murphy to Kevin James, [I can say that] had he ever decided that he wanted to just do little things here and there, or get involved in the movie business…
He could've been a character actor?
Yeah! Or f**k it, give me money, I'll make a movie [for him]! That was the only thing I was mad about — they make the f**king musical [of Annie], and no one remembers to call me? I was like, "What the f**k?"
Well, maybe there'll be a sequel.
Yeah, they're gonna send me the script for Annie 2.
You can cast Jay in that one, give him a cameo as Daddy Warbucks or something.
Yeah, that's what I should do. I should call him right before and say, "Hey, remember how I made you?" [Laughs, imitates phone hanging up.]  But, yeah, it was a watershed moment for me, and came at a great time for me in my career. It was fortuitous for Jay because I think I was just at a skill level and a storytelling level that was able to translate what is a very idiosyncratic song, and find a way to tell it with a commercial sensibility. And it ended up making it as successful as it was.
Did you ever come around to the song?
I did come around to the song. I've made movies, I've made half a billion dollars in this town for everybody, but when I talk about the things that I'm most proud of in my life, I talk about my association to Def Jam and with Jay and with all of the other artists and the album covers I designed and the music videos because, you know, they hadn't been done before. It was new, and they stand the test of time. I look at them now, and whether it's something by Hype Williams or Kevin Bray, they still make me smile, and they still translate what the music feels like.
I did come around to the song, though. After [DreamWorks president] Mike DeLuca was interviewing me for Next Friday, he said, "Oh! You did 'Hard Knock Life?' Well, I'm going to fly you out to Ice Cube's and, if he likes you, you get the movie." That's when I knew I really had come around to "Hard Knock Life."
Correction: A previous version of this article referred to Steve Carr as a Def Jam album-art photographer. He was their album-art designer.