Waking up at the El Mangroove Hotel, Papagayo Bay
Los Angeles via New York pop deconstructionist VÉRITÉ is out of her comfort zone. Based simply on the 25-year-old's swaths of synths, digital beats and layered vocals, it's easy to dismiss VÉRITÉ — a.k.a. Kelsey Byrne — as just another Internet sensation who hit #1 on the Hype Machine. By taking the time to analyze the lyrics, the listener is rewarded with wisdom that belies her age, a cynicism harkening back to Charles Bukowski, and wordplay evoking Oscar Wilde. A pragmatic city girl and self-described "slave to her calendar," VÉRITÉ is ensconced in black. Our small crew arrived in Liberia last night on Southwest Airlines from Los Angeles. Golden sun beats down on VÉRITÉ as the sweet smelling orchid breeze casually tussles her bleached blond hair. At breakfast, she refuses that we adhere to our carefully planned day itinerary. "This trip is really spontaneous, which is a change for me," she says with a nervous grin. "I don't want solid plans. It's about exploration and meeting different people."
After finishing a breakfast of fresh watermelon, papaya and excellent coffee, VÉRITÉ announces that she's ready to start the adventure. Under her breath, she whispers to me, almost as if she can't believe her good fortune, "This is truly special." Our day shuttle was seemingly assembled before the invention of shocks. The roads alternate between paved and rough gravel, and our driver Maria has to make sudden, whiplash stops for jaywalking iguanas. Our 20-minute drive winds us up and down dormant volcanoes, providing ocean views of postcard beauty. Mid-April is the dry season, and that's not hyperbole: The normally expansive rainforest greens are charred and arid, the distinct smell of burnt leaves stinging our nostrils.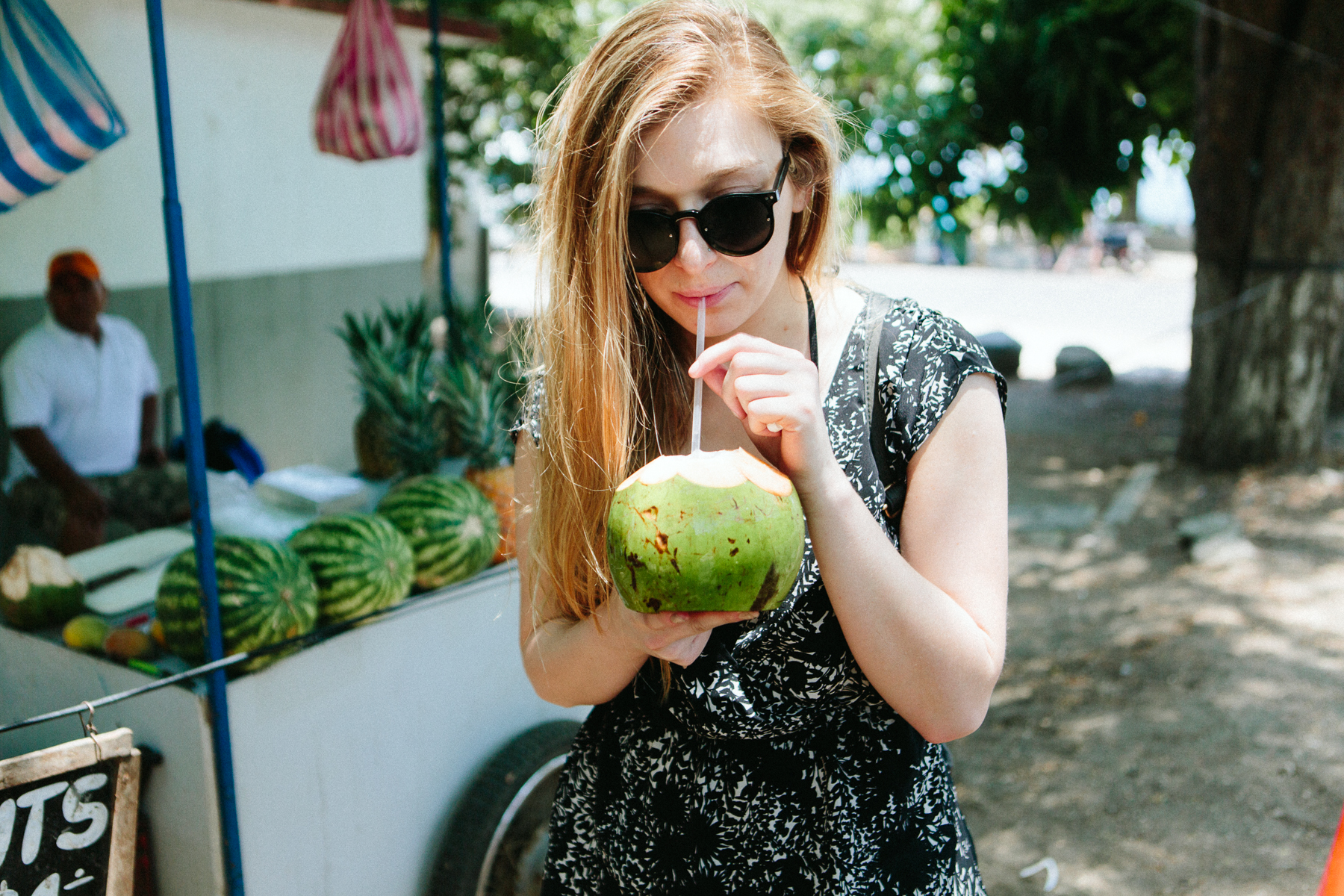 Shopping and snacking in Playa del Coco
All that changes when our shuttle arrives at Playa del Coco, a tourist hotspot littered with local merchants hawking blankets, handcrafted bowls and cheeky hats. The vibe is similar to an airport newsstand, complete with magnets and T-shirts emblazoned with the local catchphrase "Pura Vida." It's hot, somewhere in the low 90s, and VÉRITÉ takes a moment to enjoy the sweet nectar of coconut water, chopped right on site with a machete. After a quick stop for lunch at Coco Beach (I had the sautéed octopus while VÉRITÉ had the tuna on grilled pineapple), we pause for a moment on a busy, dusty street. She hesitates. We had numerous activities tentatively planned (ATVs, guided tours, etc), so there's no shortage of things to do. She doesn't want to play that game. She squints, and I can almost see the clinical synapses at war with the creative right side of her brain. "Wherever you are," she says with a monster grin. "Be there."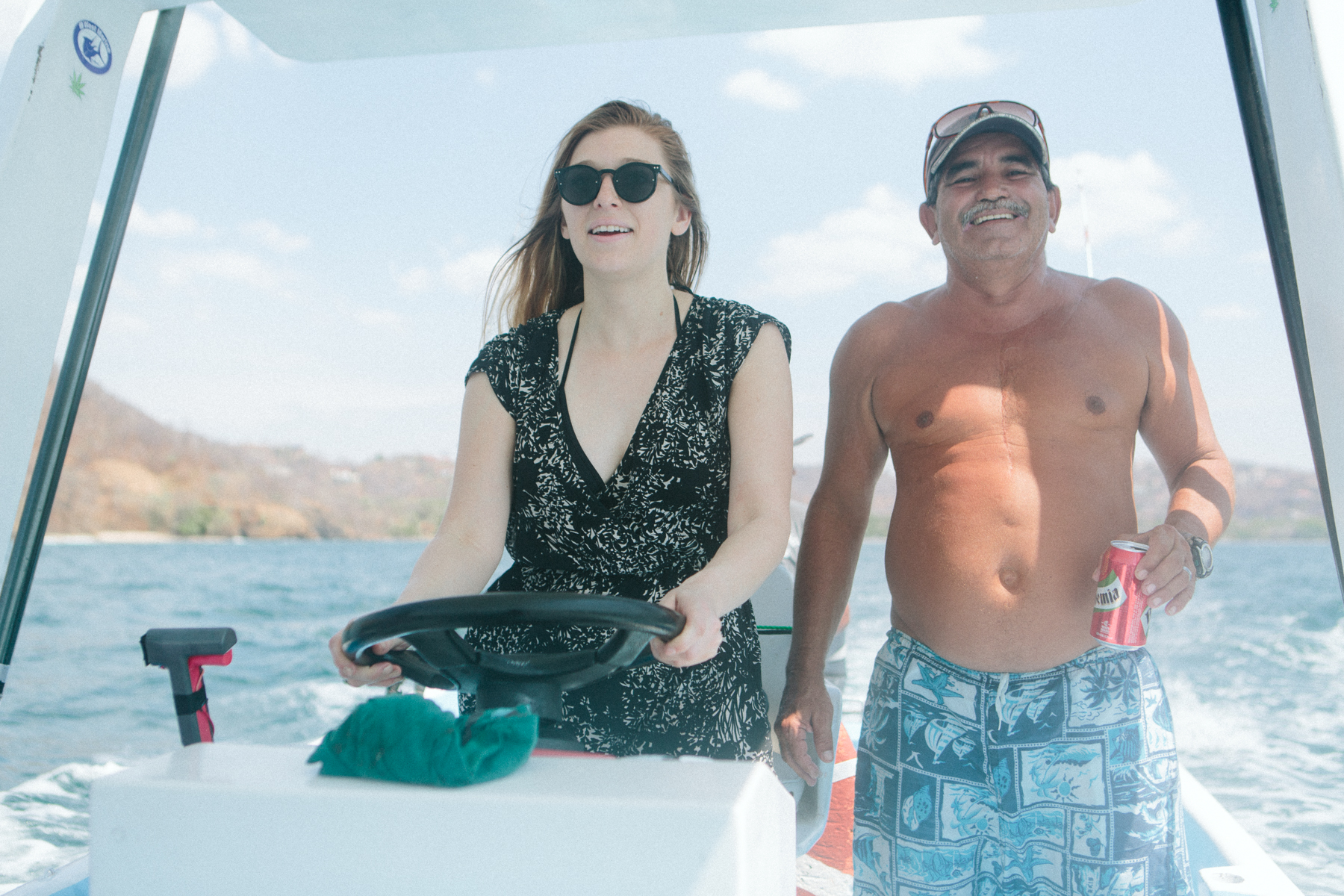 Snorkeling and exploring in Culebra Bay
With her approval, we wander. The hot sand feels good on our feet as we cruise the beach. Vendors try and sell us lacquered rosewood bowls and ornate seashells. Suddenly, we're approached by a short man brandishing a fishing pole. He's local (judging by his mahogany tan and accent). "My name is Cappy," he beams. "Short for Captain! Today, I take you on the greatest adventure of your life!" For three hours, Cappy will take us fishing, snorkeling and rainforest exploring. "Sure!" VÉRITÉ beams. A half hour later we're rocking in Cappy's 25-foot fishing boat, wondering where the life jackets are, and more importantly, if we'll survive this three-hour tour. Eventually, we arrive at an isolated white sand beach and dive off the boat, exploring mangroves while listening to howler monkeys in the distance.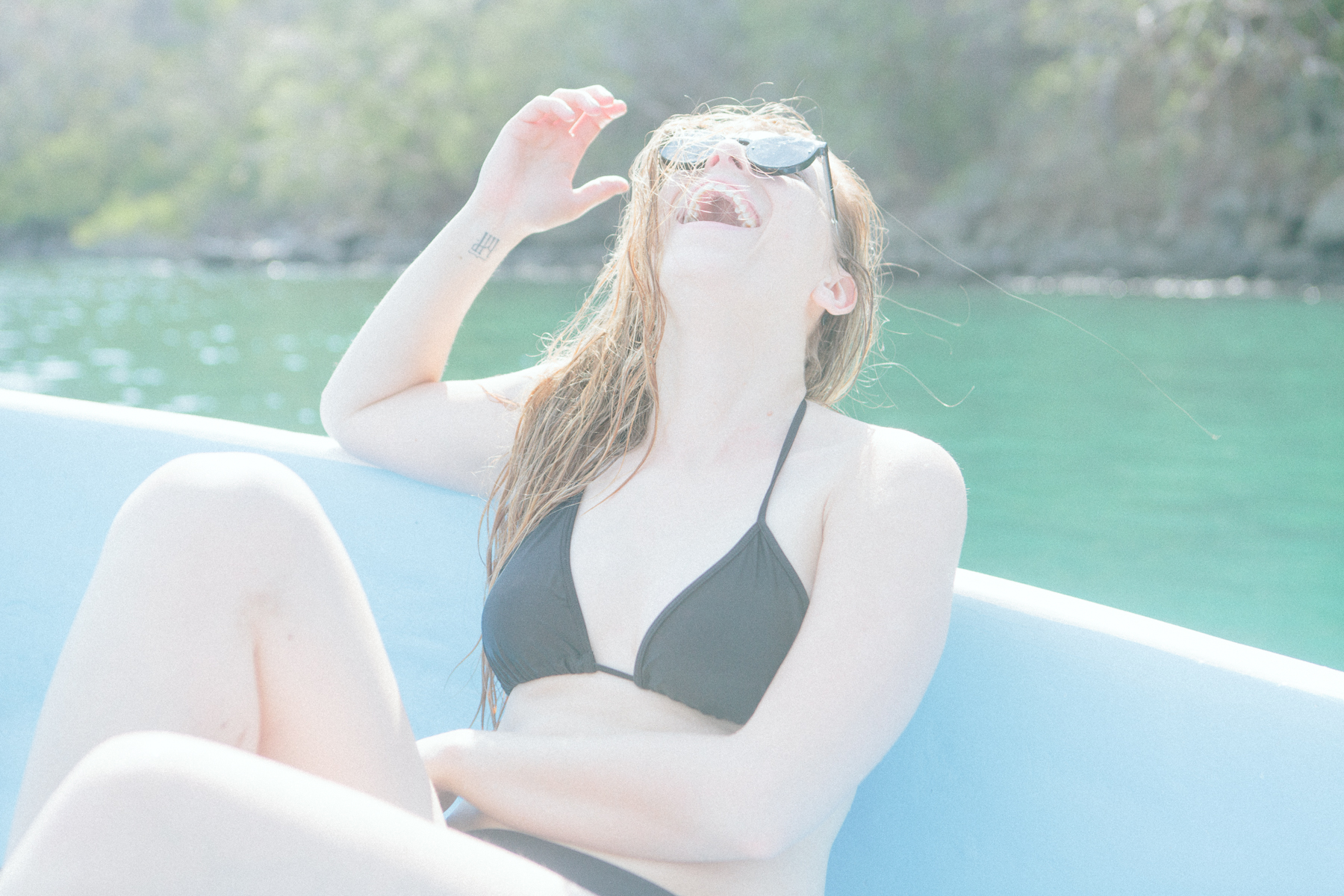 After exploring our private island, we climb back aboard Cappy's boat, the "White Whale," and head back to shore. The waves are getting stronger, but Cappy insists we jump in for a snorkel. VÉRITÉ has never snorkeled and looks a little sea sick at the prospect. Suddenly, she rises and plops right in, like a tiny seal off a pier. After her snorkeling adventure, she props herself up on the bow, her head thrown back as she sucks in rays and life in general. Back on the vessel, we see a beautiful spotted stingray dart alongside the boat. I nudge her gently, asking about her day. "I got to do a bunch of things I've never done before, and see a bunch of things I'd never seen," she expresses animatedly. "I had never been snorkeling. Before diving in, the thought that a shark could come struck me. For once, it didn't matter. I was just lost in the moment."