Earlier this week, Kanye West announced that he's releasing a follow-up to The Life of Pablo in the summer. This morning, Kanye woke up feeling some "super nerd vibes" and revealed that the upcoming LP is going to be titled Turbo Grafx 16. The TurboGrafx-16, as it's officially stylized, was a video game console in the late 1980s that, while advanced at the time, ultimately lost out to the Sega Genesis and Super Nintendo Entertainment System in the video game wars.
My next album is titled   "Turbo Grafx 16"   as of now…

— KANYE WEST (@kanyewest) February 27, 2016
Of course, The Life of Pablo went through several name changes before it was released, so don't get too attached. 'Ye even ominously added "as of now" to his announcement tweet, so he knows what's up.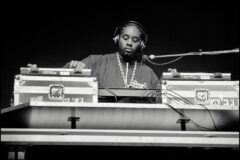 Additionally, the 38-year-old father of two loves Zoolander 2, a 2016 film with a 23 percent rating on Rotten Tomatoes. See what else the Will Ferrell fan has to say by following him on Twitter, or by following any entertainment news outlet.
I saw Zoolander 2 for the 2nd time

— KANYE WEST (@kanyewest) February 27, 2016
I just want to thank Will Ferrell for the years of joy he has brought into my life with amazing comedy

— KANYE WEST (@kanyewest) February 27, 2016