Update: Kanye West has shared the complete credits for The Life of Pablo on his website, Pitchfork reports. Read them all here.
Update 2: Though the final version of The Life of Pablo still has yet to arrive, Pitchfork reports that some small changes have been made to the album on TIDAL, according to a Reddit user: On "Famous," "she be Puerto Rican day parade wavin'" has been altered to "she in school to be a real estate agent." 
Kanye West just released his new, highly anticipated album, The Life of Pablo.
After tons of speculation, numerous name changes, several sequencing switch-ups, and some last-minute delays — not to mention its semi-debut at the Yeezy Season 3 fashion show at Madison Square Garden earlier this week – 'Ye finally dropped his seventh solo LP after performing on the February 13 episode of Saturday Night Live. At 18 tracks, the final version of Pablo does not include the previously shared "All Day" but does feature songs like "Ultra Light Beam" (featuring Chance the Rapper, among other guests) and the long-in-the-works "Wolves."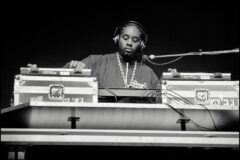 The album will be available to TIDAL subscribers exclusively for streaming in its entirety with four bonus tracks for seven days. The Life of Pablo will also be available as a download through West's own website for a full week. Non-TIDAL members can stream the first 30 seconds of every song on the record below. Paid downloads are available here.
It's been a long and mysterious wait for the Yeezus followup, so stop reading and start listening.