G.O.O.D Music president Pusha T has had a busy couple of weeks, dropping teases of his upcoming King Push – Darkest Before Dawn: The Prelude arrives. He's also dropping perfectly timed soundbites to coincide with the album release cycle that'll surely catch fire on the internet.
During a recent interview, for instance, Pusha was asked about the relationship between Rick Ross and Birdman — the latter of whom has been publicly sparring with his labelmate Lil Wayne. As Hypetrak points out, the Clipse rapper was less than thrilled about Birdman's goings-on.
"If you steal something, that's just corny," he told the interviewer. "If you steal something and you steal it contractually, that's like the lowest form of a thief. It's like a cat burglar. It's not even respectable in no way, shape, or form. I ain't respected Baby for a long time no way, so it don't matter."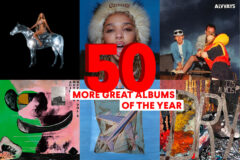 Pusha T has also just released a 22-minute long music film — King Push: Darkest Before Dawn, in which he acts — as a Tidal exclusive. Watch the very, very widescreen movie here if you still subscribe.
Lastly, as one final The Prelude teaser, Pusha's offered up the album's sharpest track yet, "Crutches, Crosses, Caskets," produced by Honorable C.N.O.T.E., Ke'noe, and Mario Winans. It's a funked up burner with a heavy, stereo-bursting bass. "In ya thousand dollar joggers as you rhyme about ya dollars / Is there shame when a platinum rapper's mother lives in squalor?" he asks with a sneer. Hear that via HotNewHipHop.