New evidence has come to light in the newly ongoing feud between Deerhunter's Bradford Cox and Billy Corgan. Cox, you may recall, told a story at a gig in Asheville, North Carolina, this weekend about the time the Smashing Pumpkins frontman and his crew allegedly roughed him up over a water bottle. Corgan's camp denied the event ever took place and threatened slander charges, prompting Cox to issue an official apology. However, he still taunted Corgan at his next show at Union Transfer in Philadelphia on Sunday night. A reporter for SPIN was there and described Cox's lengthy "cover" of the Pumpkins' "Today" and provocative lyrics addressed to Corgan. Now new fan-shot video of the performance uploaded to YouTube shows the whole thing.
[articleembed id="173805″ title="Bradford Cox Issues Apology to Billy Corgan, Still Taunts Him Onstage in Philadelphia" image="172980″ excerpt="After recounting a story to the crowd at the Orange Peel in Asheville, North Carolina about a time he got into a mess with Smashing Pumpkins frontman Billy Corgan and his security team over a swiped bottle of water, Bradford Cox of Deerhunter (SPIN's No"]
The off-kilter rendition of "Today" seems 25 percent tail-between-legs and 75 percent tongue-in-cheek. "Dear Billy Corgan / I don't even know you, man / Please don't sue me," Cox sang. "I love my dog / And I don't have that much money / And I don't think you're the kind of person / Who'd starve somebody's dog /Just to prove a point."
He concludes by stating, "Whoever uploads that to YouTube can suck my dick," directed towards YouTube user boz888, and not, as SPIN's reporter initially interpreted it, Corgan himself. Watch the ten-minute-long video below, and check out the lyrics via boz888.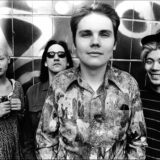 Dear Billy Corgan,
I'm very sorry
I respect you
put the phone down
this is a moment we share together
it doesn't need to be uploaded to youtube
we don't have to make
click bait
out of every moment
do you want to go to see a live concert?
yes or no?
when you go to see a live concert
do you feel that you have to record it
and put it on the internet?
for posterity's sake?
I was there
I saw it
it was me
I put it up on the internet
it was me
I saw it
I was there
I was there
I was there
I was there
I saw it
I saw it with my own eyes
Dear Billy Corgan,
I don't even know you man
please don't sue me
I love my dog
and I don't have that much money
and I don't think you're the kind of person
who'd starve somebody's dog
just to prove a point
I was there
I was there
I uploaded it to youtube
I was the first commenter
on the website
on the internet
there's nothing left
there are no frontiers
that have not been passed
…
and yawning
are you tired?
me too
it's Sunday
Dear Billy Corgan,
holy shit
…
this is really happening
…
whoever uploads that to youtube can suck my dick