SPIN Rating:
Release Date:
October 02, 2000
Label:
Capitol
This review originally ran in the October 2000 issue of SPIN. In honor of the 15th anniversary of Radiohead's Kid A, we've republished this piece here.
There's always been something slightly uncool about Radiohead. The characterless name, binding them to that undistinguished pre-Britpop era of guitar bands with equally dull handles like the Catherine Wheel. The albatross of "Creep," the half-great, half-embarrassing 1993 song whose rousing anthemicness they've since shied away from. "Cool," though, has never been Radiohead's thing. Leaving hipster credibility to the Becks and Stereolabs, Radiohead lay their wares out in the stall marked IMPORTANCE.
The solemn self-seriousness — see last year's tour-film-noir Meeting People Is Easy — is why critics continually reach back for the Pink Floyd parallel. Radiohead's signifying traits — the painstaking track sequences; the months-long recording-picnics in the English countryside; the enduring, obsessive cult — connect them to a bygone age when bands strove to make Major Artistic Statements. In a tyrannically trivial pop era, there's something faintly heroic about this impulse. Is there still a market for it? Go ask Trent Reznor.
[articleembed id="140711″ title="The 300 Best Albums of the Past 30 Years (1985-2014)" image="140712″ excerpt="See where 'Kid A' ended up on our list of the 300 Best Albums to come out since 1985."]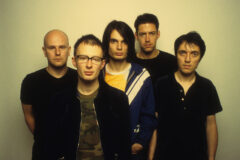 Like many, I was eventually seduced by the textural loveliness of 1997's OK Computer, not the techno-Orwellian alienation Yorke's lyrics apparently depict. This time 'round, Radiohead have plunged fully into sheer sonics. Starting with its opening tracks, Kid A confounds its role as the most-awaited alt-rock record of the year by thwarting the impulse to interpret or identify. "Everything in its Right Place" teems with eerily pulsating voice riffs and smeary streaks of vocal tone-color barely distinguishable from the glistening synth lines. Next, on the glitchy, robo-chirruping title track, Yorke's lyricless vocals are melted and extruded like Dali-esque Cheez Whiz. The rock propulsion of "The National Anthem" should ground us in the Normal. But the song is a strange, thrilling blast of kosmik highway music — combining Hawkwind's "Silver Machine" with Can's "Mother Sky" and throwing in free-jazz bedlam for good measure. Following that rush, the out-of-body ballad "How to Disappear Completely" cools your metabolic rate for "Treefingers," an ambient instrumental that's like a rainforest stirring and wiping the sleep from its eyes.
With producer Nigel Godrich as "sixth member," Radiohead have completely immersed themselves in the studio-as-instrument — signal-processing, radical stereo separation, and other antinaturalistic techniques. Even the precious Guitars — saturated with effects and gaseous with sustain — resemble natural phenomena (dew settling, clouds drifting) rather than power chords or lead lines. Essentially, this is a post-rock record.
That said, Kid A's "side two" (yeah, I know — but "Treefingers" feels like the classic "weird one" at the end of an LP's first side) is slightly more conventional, often with a pronounced early-'80s feel. "Optimistic" mines the same seam of lustrous gray postpunk as early Echo & the Bunnymen. "Idioteque" does for the modern dance what PiL and Joy Division's "She Lost Control" did for disco. Call it bleak house or glum'n'bass, but the track works through the contrast between Yorke's tremulous hypermotionality and the rigid grid of rhythm.
I'm still not convinced that Yorke's lyrical opacities don't conceal hidden shallows. But as an instrument, as a swoony, voluptuously forlorn texture, his voice is dazzling. Way more indecipherable than OK Computer's (enunciate, damn it!), Yorke's words and delivery evoke disassociation, dejection, ennui. "Optimistic" scans the world with a jaundiced eye and sees "vultures circling the dead," big fish eating little fish, and people who seem like they "just came out of the swamp." "Idioteque" heralds a psychosocial "ice age coming." And "Motion Picture Soundtrack" ends the album with a whimper — a mush-mouthed Yorke dulling his heartbreak with "red wine and sleeping pills… cheap sex and sad films" amid near-kitsch cascades of harp and angel choir.
On a first, stunned listen, Kid A seems like the sort of album typically followed — after some chastening meetings between band and accountants — with the Back to Roots Record, the retreat to "simplicity." (Reportedly, a more conventionally "rock" record will follow next spring.) But with further immersion, the songfulness emerges from the strangeness, and a beautifully sequenced, 50-minute CD assumes the shape of a classic LP.
Kid A is the not the career suicide or feat of self-indulgence it will be castigated as. The audience amassed through The Bends and OK Computer is not suddenly going to vaporize: Part of being into Radiohead is a willingness to take seriously the band taking itself too seriously. The fans will persevere and discover that Kid A is not only Radiohead's bravest album but its best one as well.