It's Week Three of recording for Modern Baseball at their Philadelphia studio, and singer/guitarist Brendan Lukens is pissing off the rest of his band. He's in the booth, laying down vocals for an untitled song, with a hand on hip as if to better connect with his inner Aretha: "I just want to get the sass down," he says after one take. He's belting rhetorical questions ("Did you ever love me?" "Betrayal, what have I done now?") in an exquisitely frayed yelp over a rollicking full-band track, and on the other side of the glass, bassist Ian Farmer and producer Joe Reinhart are muttering in frustration about how goddamn good it sounds.
"He just wrote this!" exclaims Reinhart, still in disbelief that Lukens hadn't even come up with these lyrics when he arrived at the studio that morning. "I was like, 'Did you write [the song yet?]' He was like, 'I wrote melodies…'"
"It's not fair," commiserates Farmer.
Incredulity may be a common reaction to Modern Baseball's upcoming third album — titled Holy Ghost, and due "around when we plan on ending school," Lukens referring to the fact that all four members are still a semester or less away from graduating from nearby Drexel University. This LP's recording sessions feature a much more expansive and anthemic sound for the Philly quartet, one that should fill the bigger venues the band recently graduated to playing with 2014's Billboard 200-charting sophomore LP, You're Gonna Miss It All. It might push them to bigger crowds still — in fact, the song they're currently recording is reminiscent enough of arena-rock paragons U2 that between takes, co-frontman Jake Ewald sneaks into the booth to screech the chorus to "I Still Haven't Found What I'm Looking For."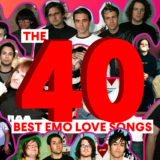 Comparisons to Bono and the Edge are a big step for a band who only formed four years ago, and who recorded their 2013 debut LP Sports over two weeks in the campus studio at Drexel. That album ran through 12 songs in a half-hour; clever and over-caffeinated rock mini-confessionals — emo, if you absolutely must — about unrequited crushes and passive-aggressive social media fights. You're Gonna Miss It All was similarly speedy and begrudgingly relatable, but more varied in sound and dynamics, encompassing the cowpunk chug of "Going to Bed Now" and the stop-start power-pop of "Apartment." It also sounded bigger-budget, largely thanks to the mastering of go-to Philly scene utility player Will Yip, and the mixing of National and Kurt Vile engineer Jonathan Low.
Modern Baseball have doubled down on the veteran help this time around, enlisting an outside producer for the first time in Reinhart — who helmed Joyce Manor's sublime 2014 LP Never Hungover Again, and who will hit the road shortly after recording wraps here, as the guitarist for local breakout act Hop Along. "A big thing with us was, we wanted to accomplish a lot that we hadn't beforehand [with this album]," says Lukens. "Joe definitely helped us get to that point." It also helps the band's studio prowess that half the band — Ewald and drummer Sean Huber — are currently majoring in "music industry" at school, forming a brain trust of sorts with Reinhart. "Joe's actually an adjunct professor," jokes Huber.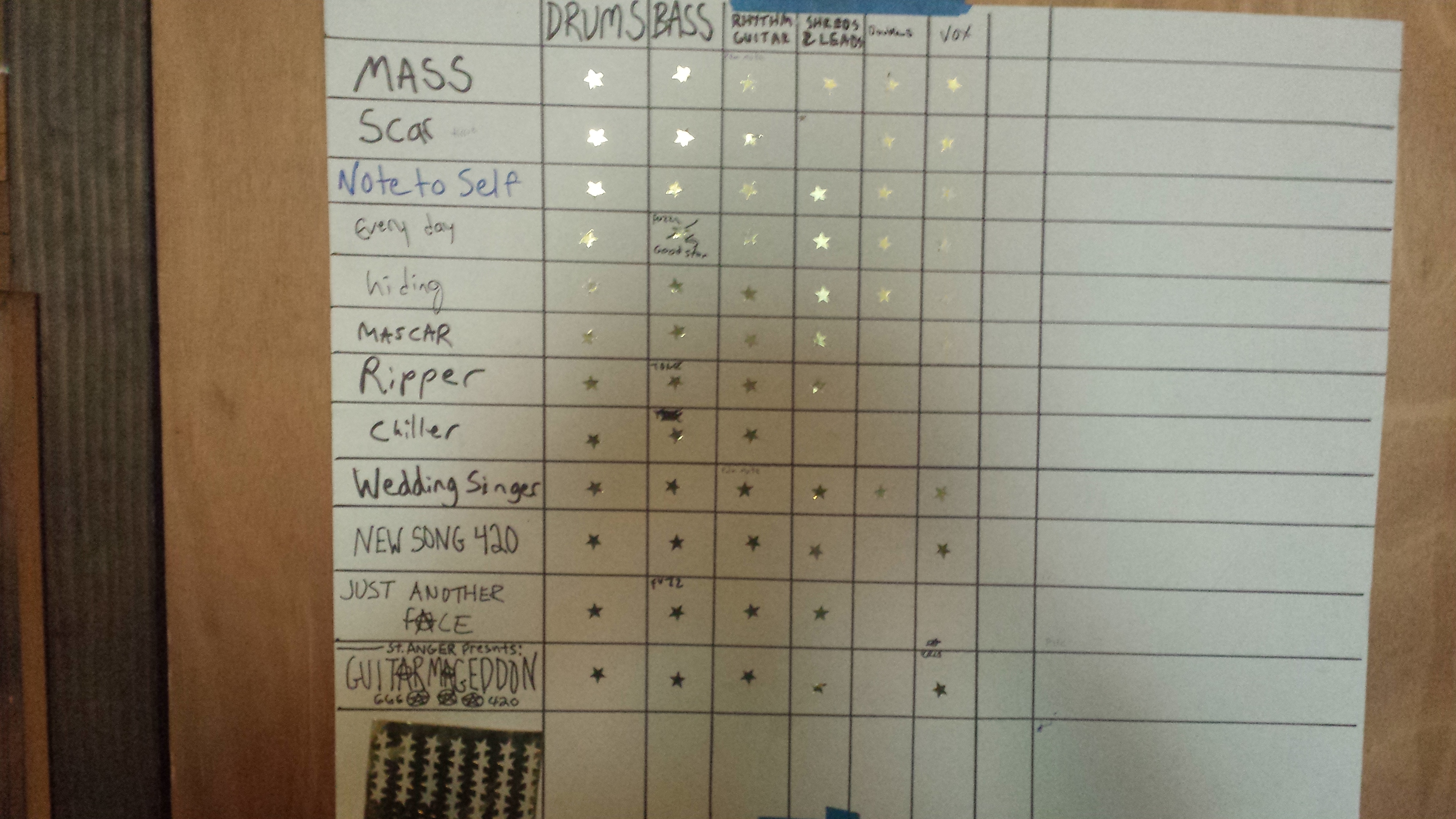 The band's newly expanded sonic palette on the recordings for LP3 also includes multi-tracked vocal parts, jarring mid-song tempo switch-ups, and a latent metal influence best heard on the eye-widening shredder currently bearing the unlikely-to-stick title "St. Anger Presents: GUITARMAGEDDON 666 420." (Sadly, the song is later revealed to be a non-album B-side.) Lukens cites Hop Along and the rest of the bands making the City of Brotherly Love ground zero for 2015 underground rock as inspiration for Holy Ghost's larger scope. "Philly has just kind of made us want to broaden the style of music we can play," he says. "Something that we wanted to accomplish on [the album] is getting a little out of our element. Like U2-ish songs." No seven-minute epics just yet for Modern Baseball, says Lukens, but there is a new song that runs a whopping 4:30. "That's pretty long for us!" he laughs.
With their newfound sonic maturity, Modern Baseball are attempting to show a little lyrical growth as well. "One big thing with LP3 is we've really cracked down on, like, adolescent writing," says Lukens. "We've tried to step back from the quirkiness and stuff like that."
Fewer Facebook references, then?
"Fewer Facebook references! I don't think there's a single Facebook reference," proclaims Lukens. "I don't think I curse once."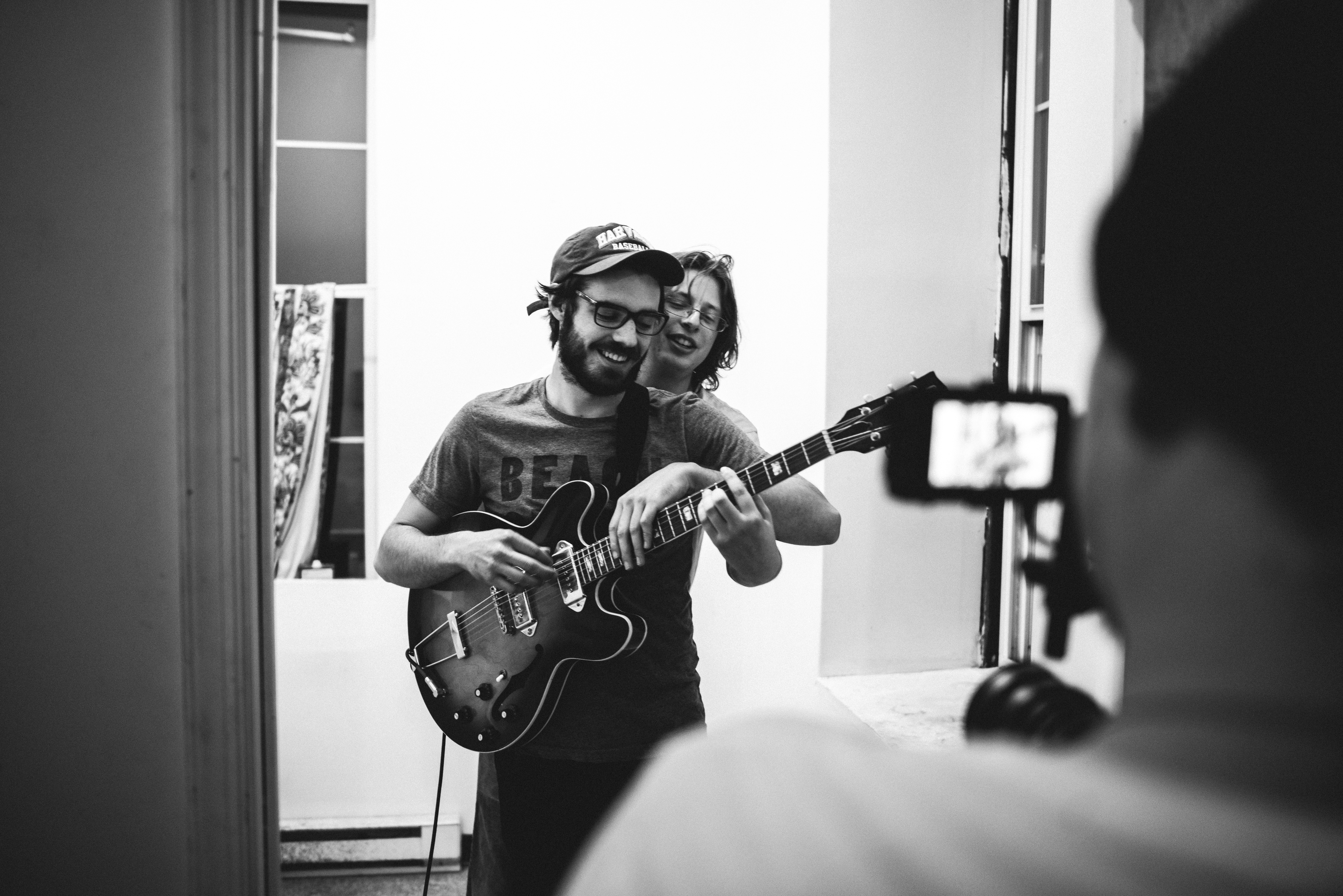 The growth is particularly hard-earned for Lukens, who explains that the band's recent mini-hiatus — they canceled tour dates in Australia, as well as some festivals in the U.K. — was due in large part to worry over the singer's mental health. "I was just battling depression and anxiety for a really long time," reveals Lukens. "And it took some good friends to make me realize that I needed to get help, and get my life back together. So I went home and started a treatment program that lasted about three-and-a-half, almost four weeks long… I just kinda separated myself from everything for a while."
Lukens' changed schedule over his health concerns resulted in the group switching up their usual recording process, writing songs in the studio and then piecing them together with the whole band, rather than Lukens and Ewald composing together ahead of time. But with the help of Reinhart and the familiarity of the Headroom, his North Philadelphia studio, the album is still on schedule. "As unpredictable as everything that happened before was, we could still get out of it and say, 'We have three weeks in the studio booked, with this other person that's gonna help a whole bunch,'" says Ewald. "It was a way more comfortable environment we were going into."
That comfort was established earlier this year, when the band recorded their MoBo Presents: The Perfect Cast EP over a week or so at the Headroom. (MoBo is the quartet's merch-branded nickname.) They've been slowly releasing songs from it over the past few months, and today, they're sharing in full with their fans here as a surprise release. The new six-track EP hints at the band's more sweeping sound, but mostly sounds like a bow on what can now probably be considered the band's "early period." Opener "The Waterboy Returns" strikes a number of recognizable beats for Modern Baseball — the just-Lukens-and-guitar intro, the explosion into full-band frenzy for the chorus, the chiming vocal harmonies — but contains some of the band's rawest lyrics to date ("Hey you, that's no way out / You can't find help in a bottle or a cut," "This won't bring friends and flowers to your grave"), particularly in light of Lukens' recent troubles.
The band's new direction is more reflected in the double-tracked guitars and pummeling drums that buff up the chorus to "The Thrash Particle," and the open-meadow airiness of "…And Beyond," which reads like MoBo arming up for their U2 moment by channeling The Alarm. The band doesn't sound quite ready to lean into stadium ambition just yet — "Beyond" barely lasts two minutes, and starts off with a gaffe vocal take ("Ahhh, keep going!") — but its easy to see the seeds for something bigger being planted.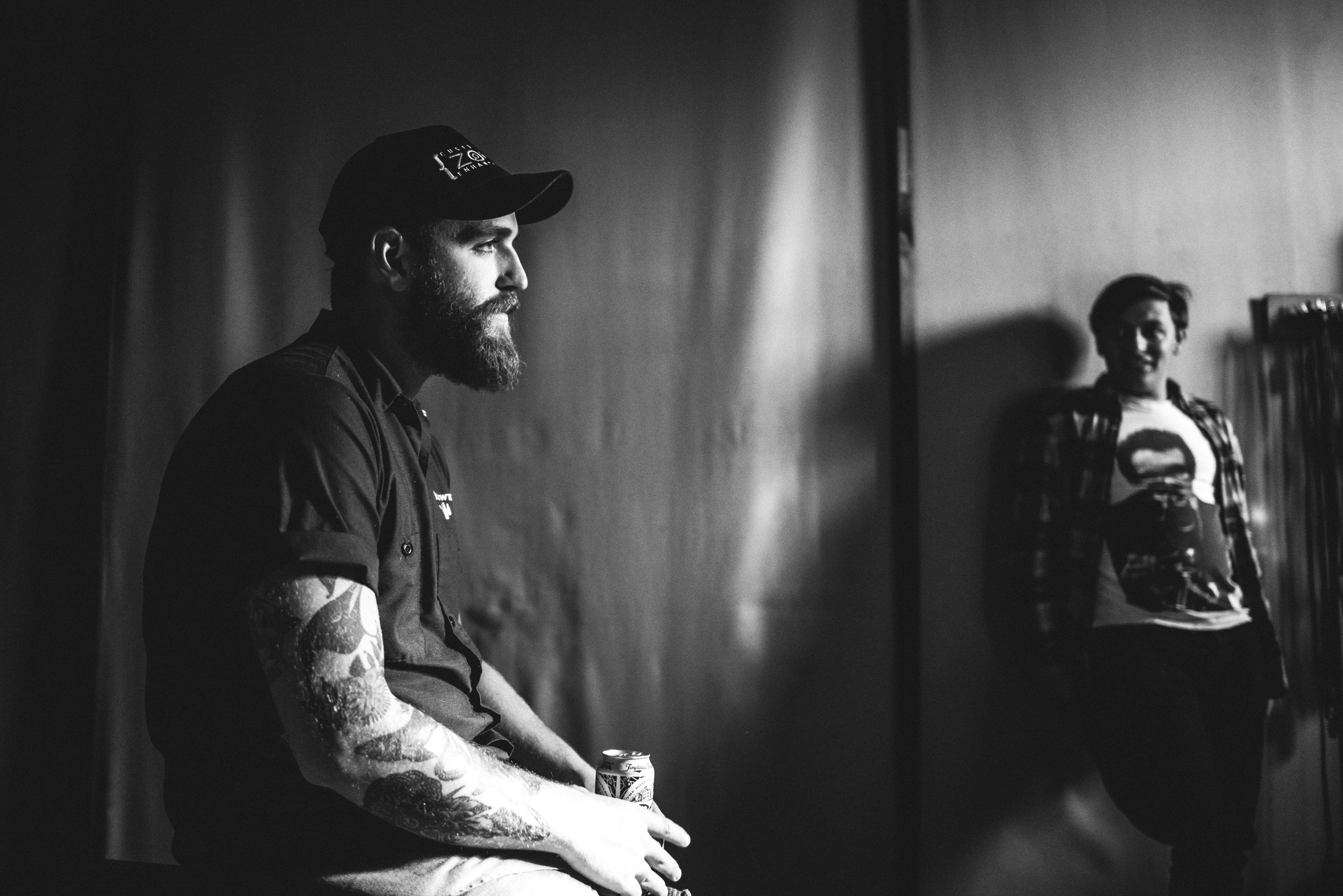 In between the EP — officially out October 23 on Lame-O Records, and as a pay-what-you-want download on Bandcamp — and the upcoming Holy Ghost (on Run for Cover Records), the band will be decamping from Philadelphia and hitting the road with Long Island singer/songwriter Jeff Rosenstock. "It's weird when you go on tour," says Ewald. "We came up in Philly, and we had so much support from all our friends, and then we went on tour a bunch, which is really neat, but it's just like saying 'bye' to everybody for a really long time."
But they're heartened by the response their new songs have gotten ("Damn, this reminds me of old MoBo and new MoBo, it's cool," is how Lukens sums up the general reaction), and they at least know that the moribund Philadelphia sports landscape won't steal their own scene's thunder in the band's absence — particularly not the Phillies, who finished a mere 27 games out of the playoffs this year. "That's why they're talking about Philly music so much!" quips Huber.