This article was originally published in SPIN's June 1991 issue. 
A shiny suit, a bit of lipstick, and a big pompadour hairdo — that's the essence of Little Richard. Blue denim, an acoustic guitar, and the open doors of a boxcar — that's the essence of Woody Guthrie. Bob Dylan's is a combination of the two. He gave folk songs a rock'n'roll attitude and rock songs a folk-music point of view. His singing style is influenced by Jack Kerouac and Larry Ferlinghetti reading poetry, but his lyrics are more French symbolist. Rimbaud with a harmonica — that's the essence of Dylan.
In 1965, Bob Dylan showed up at the prestigious Newport Folk Festival in a black leather jacket with a Fender electric guitar. This was during the last days of folk music and Dylan was folk music's champion. When he and his band broke into an ear-splitting, electrified "Maggie's Farm," then "Like a Rolling Stone" and "It Takes a Train to Cry," the audience felt betrayed. There was nearly a riot. After a long, awkward pause, Dylan ended his set with "It's All Over Now, Baby Blue." The audience had forgotten, or never knew, that Dylan had a rock band in high school long before he was a folk singer. They forgot that Bringing It All Back Home had just come out and was already a giant hit. They forgot that back home in Hibbing, Minnesota, two uncles, both licensed electricians, and his father owned a store called Micka Electric where they sold lamps, clocks, radios, and anything electrical.
DYLAN STARTED OUT WEARING BATMAN AND ROBIN-type sunglasses and would like to end up wearing a motorcycle helmet with a black plastic visor; that way no one can recognize the back of his head. But there's one pair of steel-rims that he's worn throughout the years, not so much because they're cool, but because he's nearsighted and the glasses are prescription.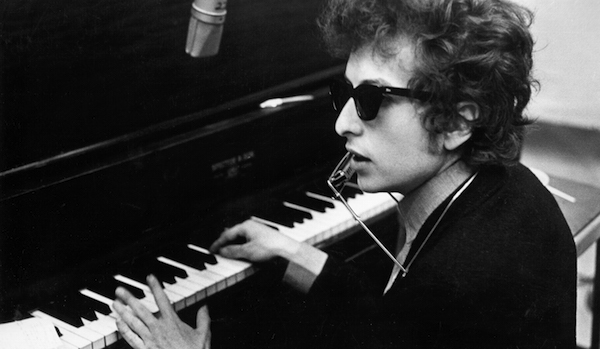 DYLAN'S DEFINITION OF COOL IS MILES DAVIS TAKING A solo in a small club, turning his back on the audience, putting down his horn, walking off the stage while the band continues on, then coming back and playing a few more notes at the end. Dylan tried doing that at a couple of his shows but the audience didn't think he was cool. They thought he was sick.
DYLAN MET MARIANNE FAITHFULL AT THE SAVOY Hotel while touring England in 1965. Marianne thought Dylan was God and followed him around for two weeks, paying her own way and staying in her own hotel room. This was the tour on which Don't Look Back was filmed. According to Marianne, Dylan cut her part out of the film because she wouldn't sleep with him. She wasn't sure though if Dylan actually wanted to sleep with her or felt he had to make a play for her, but when the payoff came one night in her hotel room, she gasped and said, "I can't possibly. I'm getting married." Dylan had met her fiancé and supposedly told her that if she married him she would be miserable. Then he took out the poem that he was typing throughout the film — the poem that she says was written for her and that she was dying to read — ripped it up into a million pieces and threw it up into the air.
WHEN BOB DYLAN SHOWED UP AT NELL'S, A SUPPER club on 14th Street in New York, people's jaws dropped. All eyes followed him as the maitre d' led him to a center table. When Dylan realized Andy Warhol was sitting at the next table, he hopped right over. Andy was supposed to have been mad at Dylan for stealing supermodel Edie Sedgwick away from him back in the '60s. If that was true, Andy wasn't showing it. Dylan claims not to remember it. Maybe someone confused Dylan with Jim Morrison. Both rock stars had been linked with Edie and both had drifted in and out of the Warhol scene while living in the Chelsea Hotel; Dylan and his wife lived there until their first kid was born. In any event, Dylan had traded an Andy Warhol Elvis painting for a sofa and always wanted to confess to Andy what a dumb thing he had done. He had always wanted to tell Andy that if he would give him another painting, he'd never do it again. More than likely Andy would have offered to sell Dylan a painting, but he died shortly thereafter.
BOB DYLAN HAS ALWAYS TRIED TO REMAIN UNDERCOVER as much as possible. That may explain the hats. There was the corduroy brakeman's cap with the snap bill; the black stove pipe hat he wore in Pat Garrett and Billy the Kid; the white felt hat he wore in The Last Waltz; and the yarmulke he wore to the Wailing Wall. If he's wearing a hat, usually it's some kind of cowboy hat, but not necessarily a classic like the one he's tipping on the cover of Nashville Skyline. Judging from his hat, it's hard to say exactly what kind of cowboy Dylan is.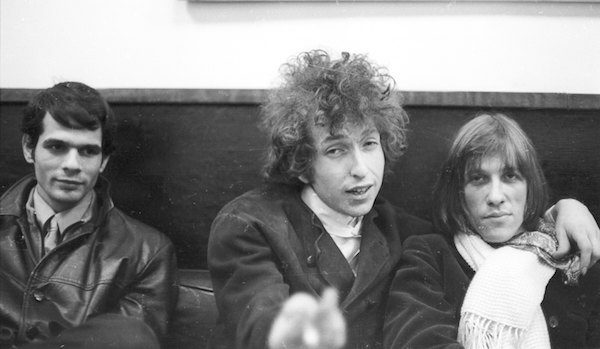 Dylan's worn bowlers and top hats and the kind of straw hats you'd wear to a clam bake. He's worn a bandana and a big gold earring like a pirate or Gypsy, and he'd probably wear a hood all the time if he could, but it's been quite a while since he gave a concert wearing nothing but a pith helmet.
WHEN HE PERFORMED AT THIS YEAR'S GRAMMYS AT which he was to receive a special achievement award, Dylan and his band wore fedoras and performed "Masters of War," arranged in a way nobody had heard before. When the song was over, Dylan took off his hat to remove his guitar, then quickly put his hat back on, as if he were hiding a bald spot he didn't want anybody to know about. The award was presented by Jack Nicholson, who seems to be holding his own in the hair department. Dylan tried to begin his acceptance speech with something his daddy once told him, but he couldn't seem to remember what it was. His daddy had told him so many things, he finally said, after a very long and awkward pause. Later that night Dylan attended a post-Grammy party at the Rainbow Room with his mother, who was his date. She had once told him always to wear a hat when it rained.
https://youtube.com/watch?v=U93ezKkrW6M
THE FIRST SINGER TO BE HAILED THE NEW BOB DYLAN was Donovan. At one time he even went around on the arm of Joan Baez. The best new Dylan was Neil Young. He didn't really sound like Dylan, nor did he try to; he just wrote such great songs that there was no one else to compare him to. One of those songs was "Heart of Gold," which was a No. 1 hit in 1972. Dylan says the only time it bothered him that someone sounded like him was when he was living in Phoenix, Arizona, trying to forget about things — himself included — and that song would come on the radio. There he was, but it wasn't him. It seemed someone had taken his thing and run away with it. He never got over it.
Bob Marley was the first New Black Bob Dylan. The two almost met in Houston, except while Dylan was on his way over to the club where Marley was playing, Marley was on his way to the club where Dylan was playing. Then there was Bruce Springsteen, but he didn't sound at all like Dylan. Mark Knopfler really sounds like Dylan, though the similarity apparently never bothered Dylan, maybe because Knopfler never had a No. 1 record. Tom Petty was almost the New Bob Dylan, but he was probably too old. Billy Bragg was sensitive, political, and acoustic; he lasted as the New English Bob Dylan for about five minutes. In the end, of course, there's only one New Bob Dylan, and that's always been Bob Dylan.