"It's a great thing, man," Raekwon says of this week's 20th anniversary of his classic solo debut, Only Built 4 Cuban Linx…, which SPIN recently lauded as one of the 300 best albums of the last 30 years. "It's a piece of my legacy that's well respected and protected by the culture, so just to be able to go out there, reminisce, play a couple of tunes, pop a joint, and say thank you."
The 1995 album helped reinvent gangsta rap as we know it, trading in N.W.A's anarchic vision of the streets for a more complex painting of organized crime, involving sampled film dialogue and an imagistic grandiloquence that honed in on brands like Cristal, which Rae (and the co-billed Ghostface Killah) helped popularize among rappers. Nas' guest turn on the track "Verbal Intercourse" rerouted the first half of his career entirely onto a path more R-rated than Illmatic's wisdom from the asphalt. And if it's possible to imagine, Biggie was accused of ripping Cuban Linx off. In honor of the album's 20th year as a hip-hop benchmark, SPIN hopped on the phone with Raekwon to ask him 20 questions about the .
Is there anything people still don't know about Only Built 4 Cuban Linx…?
When we talk about Cuban Linx, it's more about the bond. To try to tell people [we] can't break. That was the mindset. Everybody has a link in their family that may be a loose link. It's all about keeping it strong. So this album is just defiant brothers trying to make it out of the hood, staying strong, and trying to make it, to talk about the truth and the pain that we were dealing with at that time that we were trying to escape.
What made you guys decide to try recording it first in Barbados?
Just to get away, to let the mind be free and escape all the turbulence of life and go somewhere tranquil, where you could just get a peace of mind and feel like you're by yourself, and just really meditate. You've got to have a clear mind and that's what we wanted to do making this album. We watched some of our greatest heroes of music do it. Marvin Gaye, What's Going On, he did that on the mountainside. So me and Ghost were really on that page, said, "Yo, let's get away, get focused and make something great."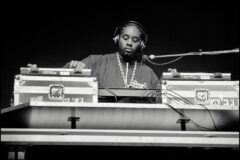 But instead you guys experienced a lot of racism over there?
Yeah, the hospitality wasn't good. We felt like, you know what, we don't feel welcome in this particular hotel. But Miami was a great spot to be at. It was quiet for us and it gave us the opportunity to really just talk to the beach.
So do you consider it more of a summer album than a winter one?
It's universal. That's a good question! But no, I don't consider it a summer album. You can listen to this album if it's raining and it does something to you. We do have some albums that cater to seasons, but Cuban Linx has [both] that warm and cold feeling. I'm glad you said that, because that's how I do look at making albums. I make albums to attack the same climate.
Was it really the first album to name-drop Cristal?
You know, I didn't really know anyone who was bragging about champagne back then that was making albums. We were so young at it still, and we accidentally ran across Cristal because we was asking for Dom Perignon or something and they didn't actually have Dom Perignon. We were like, "What's the next best s—t you got?" And he was like, "But we got Cristal," so we were like, "Yeah, bring it in." He put the bottle at the end of the table and we were sniffing around, looked at it, sized it up. Pretty nice bottle, with gold wrapper, gold top, looking like Dom Perignon, so we popped the bottle and drank it, and it tasted nice. It matched our outfits, it matched our tastes where we was at. So they didn't have what we wanted so they came out with that, and after we drunk it it was like yeah, that's some s—t. We start putting it in part with our speeches, whatever we're talking about. Like, "Yo, we need that Cristal right there." But it wasn't like we was watching the wine list every five seconds.
Did you guys script the album's skits or were they improvised?
A lot of it was improvised, because what we do is that we look at the lines as characters and we act, so certain things we know we had to put in place to make you go into our world and understand what we're doing. Sometimes you could be hearing it like, "Well what are y'all talking about?" So we wanted to bring these pictures ahead of time, and a lot of it was just done naturally, like skits. Back then you might have had maybe 20 percent of artists who were interested in doing something like that, but we wanted ours just to be all real life.
You sampled The Killer and Scarface on the album, why not The Godfather?
It's hard to get certain things. It could have changed the whole vibe of the album; people out there, they love us and they know that we were just painting a picture, trying to make something that was authentic.
[The Killer director] John Woo was one of those people, right?
John is a great guy.
What was it like hanging out with him after you sampled his flicks on the album?
We had the opportunity to write him a letter and just send our love and say, "Wow, you don't even know how much you as a dope director means to us, that you make such visual movies." That's why we when we're making our music, it turns into a movie. If there was somebody we had to look up to, it would be that kind of person. It was just all about acknowledgement and love and respect. I remember seeing The Killer. The Killer's an old movie, but after that, Hollywood started to make more karate-style movies. More Jet Li movies. It's like, wow, people's paying attention. And that's a great thing; all this stuff right here is just part of our world, so that's why we wanted to get it on the album.
What do you remember about the flood in RZA's basement that destroyed beats intended for several different Wu projects?
It wasn't like "Damn!" but it was like, "Wow, we had some good s—t in there." It wasn't like it was 200 hundred songs that I felt that was missing, but there were some hot ones we know that was still on the stove that got buried that had potential to be great records. When the basement thing happened, it taught us all a lesson: have your music on a backup, have a double of it. S—t might get electrocuted, the house might burn down, or whatever, anything. Now we know how important it is to keep every little thing. That's why any time we're in the studio with an artist, everything is for a reason. You might miss something. Something might have felt good right now, but why didn't it feel good then? So it's always good to hold onto your archive.
Which version of "Can't It All Be So Simple" do you prefer, the 36 Chambers original or your own remix?
I always loved the remix because the remix kind of made it a little bit more adventurous. That record is more like a cousin of the [original], because we're describing certain things and where we want to be at in life, saying we have gold records and all of that before we actually had it, and we want to live this way. You see kids getting hurt and crime and the only thing is it ain't simple to be what you want to be.
Was it a big decision to let Nas onto the album as the first Wu-Tang guest who wasn't in the Clan?
It was a friendship that was built and I loved him as an artist. I'd seen the future of what kind of great artist he is. You know, he was my friend. He's still my friend today. We still laugh and reminisce. At that time, we didn't really want to do features on our albums, because we already had our own vision of who were. But in that case, we, knowing that this is my record, and I do know that we don't do that, but this one, we have to do that because we all feel the same way, love and respect for this man to be on the album. And it was a great decision. One thing led to another and the next thing we know we're in the studio, and he's pulling rhymes.
Was there any hesitation about doing a more commercial song like "Ice Cream?"
Believe it or not, "Ice Cream" might have been one of the records that I didn't have a lot of confidence in. And the team would be like, "Hell, you crazy." I'm like, you know, this album is more like cocaine, this is a drug dealer's album. There's a real storyline, no time for play. But it made sense because we know at the end of the day we love the female audience. We had a female fanbase so we knew how important it was to make a record for the females, so we was like "Alright, f—k it," so we'll just put one up there. Because we want to keep to the concept. The record fit, it was dope, it was a different song, it resonated. So "Ice Cream" grew on me. It grew on everybody. The video just solidified what it was about, seeing all different flavors of women. And we take that all around the world now. They ask us all over, "What flavor am I?" They might not even speak English but they still know that they're flavors. So it's kind of dope. It just happened.
On "Glaciers of Ice" you call yourself the rap Meyer Lansky. Did you know he was only five feet tall?
Yeah, when you go back to yesterday, Meyer Lansky was a great thing. He lived for a long time and he died a peaceful death, so I respect his integrity for who he was.
Did you initially raise an eyebrow when Jay Z and other rappers adapted the album's themes for Reasonable Doubt and other mafioso rap albums?
We loved it. It was borough talk, different boroughs speaking about their life and we all had the same stories. So I looked at that like, "Wow, he got a story to tell, and he got a story to tell." Everybody would just describe their pain and their glory all in one, like a war report. A specific kind of hip-hop that I loved, because I could relate. I want the s—t that kids ain't supposed to listen to. I want to study this s—t. It becomes the fight, it becomes competition, but it also becomes part of that underworld of hardcore lyrics, street s—t. We like to party, we get into that, but we tell tales.
Was U-God absent from Only Built 4 Cuban Linx…Pt. 2 because he got killed off in the first one, or was that not intentional?
When we was making the [second] album, we wanted to get everybody on the album. That's my family. Of course, I would always want them to be on any album.
When did you first realize you wanted to do the sequel?
I was forced into the sequel. The fans were just like, "We want it, we want it, we want it." And I waited years like, I don't really try sequels like that. I'm not into that. If I made that album at that specific time, that's what it was and I'm onto another entree. They just loved that food, they wanted that food, to where it started to become an agenda, like "Yo, gotta do it." It was the request that really brought me in. I talked to some great firends and they was like, "It's time." And I was like, "Yeah, you're right." I was running from it, because I'm a chef, man, they call me a chef for a reason. I live that name naturally because that's how I am. I'm always thinking of something new — clothes, fashion, this, that. People don't know I'm like that. They just know I like cars — they don't know I like designing s—t.
Was the Biggie beef on "Shark Niggas (Biters)" ever discussed with Meth who appeared on Big's Ready to Die?
We always loved each other, man. We always had a relationship. But [Meth] never spoke on anything, and I never spoke on anything because that music is dope, and it was never a hatred thing. A lot of people, they get this [idea], but no. You want to go to Burger King, you've gotta go to 34th street. You want to go here, you have to go to 22nd street. And we were competitive and it just went somewhere else. But that never affected the music, though. The love was there. We played shows together, we went around the world together, we smoked weed together. I haven't had the opportunity [to call Biggie] a great legend himself, but we all spoke highly, like, "That's my brother." He really was.
What song on Cuban Linx is your absolute favorite?
It might have to be the last one: "North Star." It's just the sound. It sounds like I'm going back into my life. If I was to make a movie of Cuban Linx, I would start with that track, because that track has a lot of pain and a lot of remembrance, those highs, those good days, those bad days, those dreary days, those struggle days. It was like the beat was making me vibe to it from another perspective, but the rhyme came out like a play in a movie: This nigga bust a shot and hit my man's wife. You go in the club and your wife gets shot. There's so much s—t going through your mind, because it's like oh s—t. What do I do now? I don't expect everybody to love it. I expect everyone to vibe to it, though. You don't have to love that record, but just vibe to it. And that's what it's all about. That's one of my favorite songs.
What other plans do you have for the anniversary?
We've got a dope CL95 Cuban Link beach jacket that's coming out for the anniversary. People can take pre-orders now. It's a dope jacket, it will have the purple hood; I could easily give you a t-shirt but to give you a working raincoat that you can wear, all-terrain, good quality and a little warmth in it, that makes me feel good to give that to y'all. It's just a timepiece, though, that you can take and give to someone 20 years later and it's still gonna look the same way it's supposed to look. Like not much else on the shelves. And also we're coming with an in-depth documentary, The Purple Tape Files, so we've got a lot of good things coming up.