Now that we have two albums to go by, one of the best things about a Desaparecidos record is how the Omaha five-piece sticks to theme. Not every song sounds the same, but there's a guarantee: The songs are going to concern technology or surveillance, the political and moral implications of both, and there will be riffs.
"To be honest," guitarist Denver Dalley tells SPIN over the phone, "I don't know if we're capable, as far as this band is concerned, of changing our sound."
That qualifier, "as far as this band is concerned," is bigger than it seems; their lead singer is Conor Oberst, of eponymous and Bright Eyes fame. Having put his pain to paper in his preteens and only becoming more prolific over time as an early emo-folk icon, Oberst's 2002 opus as Bright Eyes, Lifted, or the Story Is in the Soil, Keep Your Ear to the Ground, was a national breakthrough for the songwriter. But it wasn't clear how obtrusive his newfound acclaim would be, until it came time to schedule tours for the more incendiary Desaparecidos, whom he had just formed with Dalley, bassist Landon Hedges, drummer Matt Baum and keyboardist Ian McElroy as a more aggressive foil for his introspective stuff. They released the nine-song, broken-economy vent Read Music/Speak Spanish the same year and quickly disappeared in the rear view of its other members' careers.
Thirteen years later, a second Desaparecidos (the name is Spanish for "the disappeared ones") album did show up: Payola, which is out now on Epitaph rather than Saddle Creek, the Midwestern, DIY label Oberst's success is forever linked to. But unlike most one-shots who get back together after a decade, the new LP's not just good, but in the running for 2015's best punk album. And it's Oberst's most listenable record since 2008's loose, undervalued roots-rock rebirth Conor Oberst. That it's possibly better than Read Music/Speak Spanish isn't as much of a shock as just how similar the band sounds to their 2002 selves.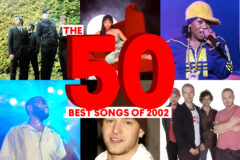 Dalley balks at expectations for the band to do something new in 2015: "Everyone has to kind of reinvent themselves and want something to blog about, like, 'This new one they really put down the acoustics and picked up the electric guitars,' or whatever. [There's] like a shtick to it."
He proudly sticks to his axe, going as far as to correct this writer's original description of pre-album single "City on the Hill" where synths were erroneously highlighted in the writeup. But he's no Luddite; inspired by Rage Against the Machine and Radiohead's Jonny Greenwood, he's obsessed with "trying to make the weirdest sounds I can."
"In all honesty, that's a big compliment because it's been a reoccurring thing over the years. People mistake them for a synth because they don't sound like guitars," he says proudly. "That stutter sound is a delay pedal that has a loop feature, so I'm just hitting it really quick with my foot and it just makes this glitched-out stutter effect."
Lyrically, Payola is filled with universally applied slogans and subversions (like the best protest music), but also hits on a personal level. Meet "Ralphy's Cut," a devastating critique of the U.S. healthcare system but also a tribute to a friend of the band who survived cystic fibrosis.
"At the time we wrote it he was on a waiting list, but it was a cathartic and emotional song for all of us because we're also referencing another friend of ours that had cystic fibrosis that didn't make it and my girlfriend who passed away from cancer," Dalley says. "But ultimately it's our song to our friend Ralphy, who's an awesome fighter who's doing really, really well with a double lung transplant."
They nurture their classic-punk connections, luring Against Me!'s Laura Jane Grace to sing on "Golden Parachutes" and covering the Clash's "Spanish Bombs" at shows ("We're planning on releasing that sometime"), though Dalley hints that they're also working on a version of Cyndi Lauper's "Money Changes Everything." The 33-year-old guitarist recently spoke with SPIN about the band's long hiatus and decision to reunite, and what it's like having a band member who earns cover stories all by his lonesome.
Was Payola pieced together over 13 years or only more recently?
Recently. In 2003, we started to work on another album and only two of those songs survived, which we really updated. But everything [else] was written and recorded in the last two years.
What had to be updated?
We updated the lyrics pretty much completely on "The Left Is Right" and "Backsell," [the latter of] which is about the music industry ten years ago, and we're like, "Well, what of this is going to be relevant now?" "A present bidding war we have has just begun" got changed to, like, "The frenzy that Britt warned me of has just begun," which is more of a shout-out to [Spoon's] Britt Daniel. But it references what those lyrics were originally about, the different record labels competing to wine and dine you. Which happened to us back in the day and it happened to Spoon so it still says the same thing but in a different way.
Was there something inherent about the band that it wouldn't be full-time when you first put out Read Music/Speak Spanish?
Conor was already kind of on the up-and-up with Bright Eyes when he joined the band and I think we knew that that was going to take priority at some point.
Why did it make sense to reunite now?
There is something in the sound and dynamic of being more like family than friends. We all really did grow up together. We've known each other since we were kids. Friends can kind of come and go and you can turn your back on them if they're in such a weird state that you're not into or whatever. But family is more permanent. Sometimes when we're practicing or working on the band, songs will come together in a matter of minutes and we'll all just look at each other. I know there are other bands that'll spend weeks and months on a song and really agonize over it and rewrite and work on it to death.
Is it hard to come up with songs on the fly that fit the theme of Desaparecidos?
Usually we have too many things. For this record, we had to get away from all the distractions in our hometown, so we rented this little house up in Minnesota to go write and focus on that. We'd literally be sitting around a campfire just talking about current events. Once we have the music for a song we'll be like, "This feels like the one [where] we should pick on the whole health insurance situation."
There's such an emphasis on technology on Payola, how that has changed politics, and what you guys would call "slacktivism."
Yeah, that's an underlying theme on the record: someone watching at all times and everything being monitored, and NSA activities. We've all definitely followed [the hacktivist collective] Anonymous. Everything about them is just so confident: "We do not forgive and we do not forget." I personally hope they enjoy that song ["Anonymous"] because I really don't want to piss them off.
None of them have thrown a rock through your window with a thank-you note taped to it?
It seems like it's all been a positive response. A lot of the lyrics are just factual and some of them are taken from things they have said. There is not much room to take it the wrong way.
Has a lack of political punk in the current landscape has been part of the motivation for your reunion?
I didn't sit anyone down and go, "You know what the world is missing? This and we should be the guys to fill that void." But I think the completely live rock band is becoming more and more rare. Most bands out there have a lot of synth elements or backing tracks or whatever, which I love, I'm a huge fan. But I do think there's something about that old-school, live, loud rock band, and it's great to see a resurgence of that. It's hard to remember bands that actually had a message and wanted to have real substance behind their lyrics and not just what's going to sell the most copies, ruffle feathers in the right way.
Were you surprised at how famous Conor became on his own?
Yeah, it was bonkers what was going on with Saddle Creek. The Faint, back then I think they had something like the largest offer in the history of Capitol Records. They turned it down, but I can't remember why. I think they still kind of kick themselves for that one. It was such a weird thing to have basically your first band out of high school automatically have a label and a booking agent and all these things set in place — a publicist, to get the press that we did when we did, because the whole Omaha scene was kind of blowing up. It was just a really odd thing to experience. In some ways I feel like I didn't pay my dues until the years after that.
Has he retired the Bright Eyes name entirely?
I feel like this day and age you can't — didn't Jay Z retire at some point? As of this point, I believe so, yes. But I personally wouldn't be surprised if — just never say never. He has never alluded to me about doing it, but it just seems crazy that someday he wouldn't want to revisit those songs.
So is Desaparecidos going to be a "regular" band now?
For me, it felt like we never really got a chance to be a band in the first place. The timing was off, and now it feels like it's finally the right time. It could; we're all having a blast playing live and everyone seems to enjoy it too, and I think as long as everyone's happy and having a good time I can't see why we would stop. I'm sure eventually Conor's going to have to do another record with one of his other projects. But I think we're watching and waiting and seeing what happens just like everyone else.