SPIN Rating:
Release Date:
May 26, 2015
Label:
Jagjaguwar
Halfway through Ruban Nielson's explorative third LP, Multi-Love, the bipolar "Extreme Wealth and Casual Cruelty" fractures momentarily into reverberating shards, creaking like a bridge collapsing as a murky guitar yowls in the background. Coming so soon after a silky smooth, Steely Dan-referencing guitar solo courtesy of his equally musical father Chris Nielson, it's a tonally shocking reminder at how close Nielson has come to the edge, not just of UMO's musical possibilities, but of his own sanity as well — there was the drug-utilizing, self-administered psychotherapy that fueled his last album as Unknown Mortal Orchestra, 2013's II, then the delicately maintained five-person relationship that informed this one.
Multi-Love was a multi-step process. Though the album's primary locus is Nielson's year-long polyamorous relationship and the insomnia-spurred midnight recording sessions in his basement, in many ways he's been grappling with the album's central themes for much of his career. Two years ago he was talking to SPIN about "crumbling relationships" (even 2010's "How Can U Luv Me" addresses similar feelings of insecurity in lyrics such as "Loving me could be your fatal flaw" amid the whirling Rhodes on Multi-Love's "Necessary Evil") and "living at night, without much sun." Such has always been the songwriting fodder that keeps him up in the wee hours of the morning while living with his family in Portland, Oregon.
While his latest album is obviously rooted in Nielson's present, it still brims with the same introspective nostalgia that comes with dusting off those old memories, and old records. Though the album fades in and out of focus with the same DIY, lo-fi haze that's characterized UMO since their 2011 self-titled debut, long gone are the guitar squawks and wiry guitar noodles on older cuts like "Thought Ballune." For Multi-Love, the Auckland-born studio wizard flexes the soulful muscle he's been pumping since his 2013 cover of Otis Redding's "(Sittin' On) the Dock of the Bay." Limber, Songs in the Key of Life-spangled wah-wahs and Stevie Wonder's nasally, elongated vowels permeate "Acid Rain" and "Ur Life One Night," a funky groove bubbling with Princely time signatures. He also nods to Simon and Garfunkel's "Cecilia" in the chugging handclap/kickdrum exchange that opens "Can't Keep Checking My Phone," both chronicles of a threesome of sorts.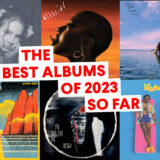 Other references are a bit more oblique. Nielson specifically draws from Japanese culture: buttressed with a sturdy bass line on "The World Is Crowded," he croons in a falsetto about the anime Neon Genesis Evangelion and Japanese eatery Robot Restaurant, and on "Multi-Love" he nearly elevates Austin sushi staple Uchiko to some kind of religious monument. Though seemingly random, these little details bring the listener further into the world of Nielson's unusual (and perhaps unrelatable at first glance) relationship; which, like any, polyamorous or otherwise, is full of intimate references and inside jokes.
Aside from the actual relationship he sings of, the biggest risk Nielson took on Multi-Love was perhaps opening the album with its strongest, most declarative effort — and his most vulnerable. With Nielson's tentative falsetto floating beatifically overhead, the title track opens on gingerly prodded keys, like three-legged race contestants finding their footing until the chorus mimics the feeling of shared lucidity — said strapped-together runners finally manage to sync up. It's an almost too-brief moment of stirring syncopation that Nielson matches beat-for-beat with the words, "Multi-love got me on my knee / Mama what have you done to me? / I'm half-crazy." Every listener might not know what it's like to be romantically involved with two other people, but Nielson does, and he's willing to share.