Kurt Cobain: Montage of Heck arrives on HBO on May 4 (it also opens in select theaters on April 24), and as part of what has already been a huge press build-up, Courtney Love let the film's director, Brett Morgen, interview her for V Magazine. The results are a detailed account of Love's personal memories related to scenes in the film, why she tapped Morgen for the project, and why she decided not to be involved with the making of Montage.  It's a rather long interview, so, to condense things a bit, SPIN combed through it to block out the five most illuminating Love revelations.
1. Cobain "made comics out of everything."
He took his painting and his puppets really seriously. I have 434 vinyl albums of his and there's almost not one of them that he hasn't drawn on. The Flintstones soundtrack is all covered in stamps, and then he calls it "The Fuckstones." When he got a little money, he still collected novelty records but now he could collect art supplies and medical stuff. On the cover of In Utero, he really wanted that image of that invisible woman and we had to deal with the whole estate of the invisible man and the invisible woman people, and he did it all personally. Even the cover of Nevermind, that came from a drawing that Kurt made. He made comics out of everything, collages out of everything, and if you look at the documentary we weren't that obsessed with money, or name brands, or any of that stuff.
2.  Marrying Cobain "created a mythology around [Love]" that she "didn't expect."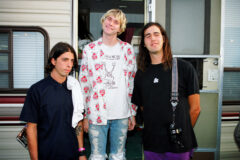 I've been reading a lot about mythology and ego and how I'm depicted because of the suicide. Just marrying the guy created a mythology around me that I didn't expect for myself, because I had a very controlled, five-year plan about how I was going to be successful in the rock industry. Marrying Kurt, it all kind of went sideways in a way that I could not control and I became seen in a certain light—a vilified light that made Yoko Ono look like Pollyanna—and I couldn't stop it. So, what do I have to lose? By just letting you tell the truth and do your narrative, I have nothing to lose. Transparency. What the hell? Sometimes you just gotta take a leap of faith.
3. Understandably, creating watching Montage of Heck triggered a lot of memories for Love. 
[The film] fucked me up. I remembered the sexual relationship, which, as you know, is the core of any good marriage. It almost rendered other intimacies meaningless. I remembered how much I love him, and it made me really think about a few other people I don't want to name, but a few other people I've been in love with. And should I have married them? The answer is actually no. Nobody else was as funny. Nobody was as compatible and got my jokes. And you can see it in the film. Neither of us really liked the whole "Courtney is the bad guy" thing. He fucking hated it as much as I did because it shamed him, it emasculated him, and it made him look weak. He is considered to be the rock star who didn't want fame, the weak pathetic guy who was taken over by this controlling female, and yadda yadda. It kind of fucked me up, and to be honest with you, I don't have a boyfriend right now, so I'm single. [The film] made me really evaluate what, at the age of 50, I want out of a relationship. He's a hard act to follow. I love him and I always will.
4. Love is "really proud" of daughter (and Montage executive producer) Frances Bean Cobain. 
I think she represents the family really well, in this situation. I think she can be objective about it. I know of other projects where the subject gets too involved and wants to cut things, and I didn't want to be that person. You've realized your film, hopefully, to the best of your ability, and I think Frances did a really good job of being there for her dad and being involved in what is part of the family business, which is keeping up Kurt's legacy. I'm really proud of her. Unfortunately, that's part of what she and I have to do. We go through a process of doing projects and stuff—and it's not that unfortunate. It's ethically correct.
5. The creation of this film has brought Love and Frances closer. 
When I was living in New York I was sort of drifting and going to events and looking really good, but I wasn't doing anything. That was sort of a healing period, and then I got here to L.A. about a year and a half ago and I just said, Man, it's going to be over soon. You're at the halfway point in your life. You'd better fucking go for it and be really, really proactive about how to get back to work in terms of acting, and make sure this relationship with my daughter—because I only have her, in the end it's her and me—make sure the relationship stays on track. And I think your film has helped with that a lot, and it's a good thing. I don't mind promoting this film with you, but I don't love living in the 22 years ago, because I don't. But it is who I was, and Kurt is a part of who I am. In terms of mythology, he will always define me. If I marry the guy who owns Google tomorrow, Kurt will define me.