(This article was originally published in the May 1994 issue of SPIN.)
Our story begins where it ends, at 5 a.m., in a parking lot in Seattle's warehouse district. Hole is huddled together against the side of some huge delivery truck, forcing expressions at once eager and snarly on to their spaced-out faces, while a photographer snap, snap, snaps. For most of the night, guitarist Eric Erlandson, drummer Patti Schemel, and bassist Kristin Pfaff, a.k.a., Hole's lesser known three-fourths, have been inside a photo studio's office area, hypnotized by a crappy TV, flipping aimlessly between infotainment and the late, late news. Meanwhile, their leader, an elaborately lit and consumed Courtney Love, is in the next room vamping her way through what seems like a hundred rolls of film. Occasionally, she rushes in, changes clothes, then rushes out, joking guiltily with her cohorts. "You'd better behave yourselves," she announces with a motherly chirp.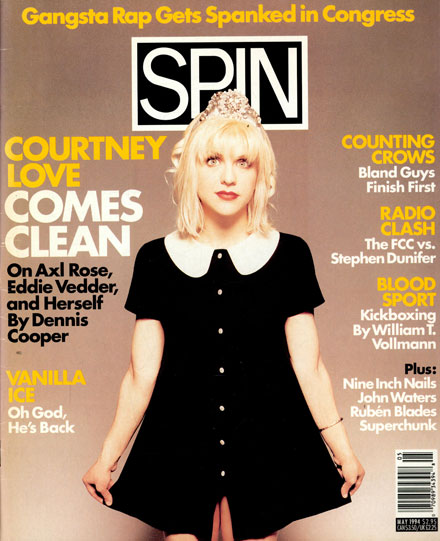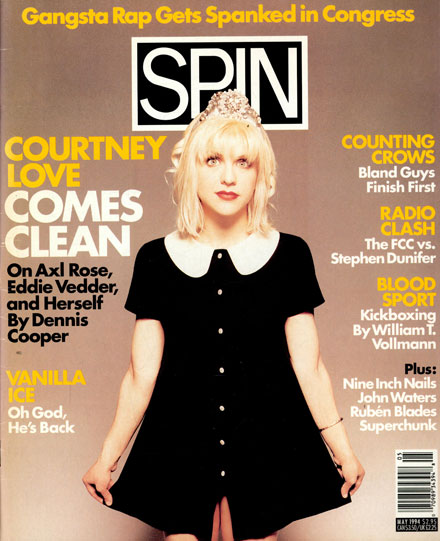 Love is a curious superstar. She's amazing looking, even weirdly gorgeous: fit, paler than pale, her features both soft and blunt, with a big wad of lipsticked lips, and huge, perpetually startled blue eyes capable of great ferocity. But she lacks the spartan androgyny required of '90s sex symbols. With her soft, recently slimmed waist, big bones, and shock-tactical makeup, she seems slightly out of date, more a time-traveling silent film siren than any kind of direct competition for Kate Moss or Winona Ryder. Watching her strike the prerequisite "bad girl" poses for the photographer, I can't help wondering if this hellishly beautiful, punk-derived image — an image she has carefully maintained with some refinements since her career's earliest beginnings — honestly suits the woman.
The previous afternoon, dressed in a simple blouse and slacks, roots showing, talking animatedly about her life, her band, and its new album, Live Through This, Love had reminded me a bit of the late, great Simone de Beauvoir. Like de Beauvoir, Love is very intelligent, kind of workaholic, and full of curious, knowledgeable takes on her culture. She's also inherently charismatic, albeit in a strange, almost "anti-" way. So while this public image — the vengeful female — may be useful to Love as a feminist tool, it simplifies her as well, coloring her natural sensuality into something wacky. I've seen people point at her picture, then roll their eyes and lick their lips, like she was some comic-book character with big tits, the punk-rock Cyndi Lauper. But if Love is a cartoon then she's drawn more in the style of Peter Bagge's fiercely bratty Girly Girl than Betty or Veronica. Who else but Love would have the smarts and audacity, after all the horrific accusations leveled against her maternal qualifications, to write a song about her tabloid pregnancy featuring the barbed lines "And I don't do the dishes / I throw them in the crib"?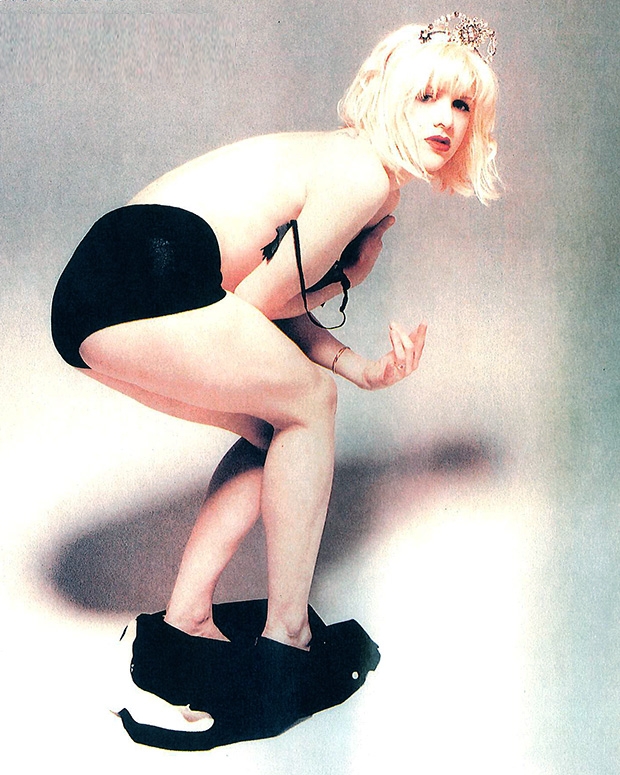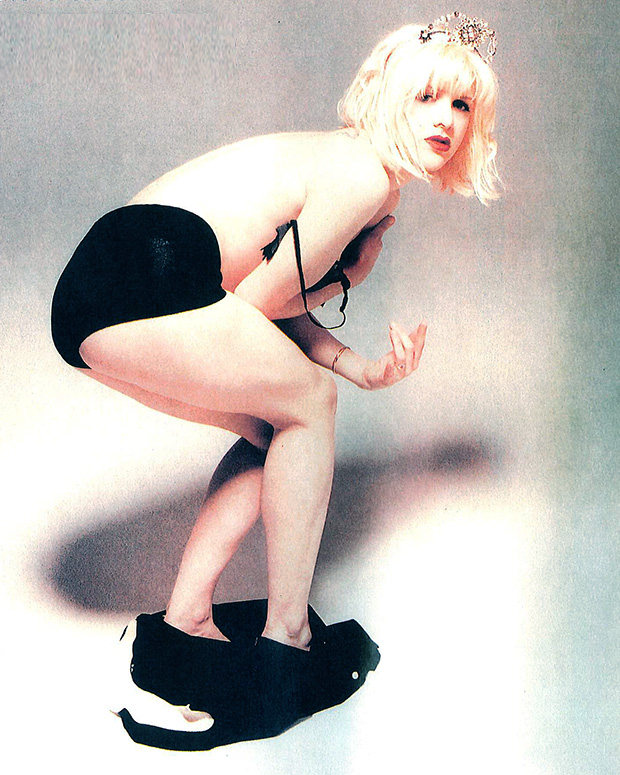 Let's get this out of the way. When Love talks about husband Kurt Cobain, which she does with some frequency, it's with affection and slight amusement. Mostly he shows up in benign little anecdotes. Like how she keeps finding him dolled up in women's sweaters from the '50s. Or how, at her urging, he recently agreed to buy them a Lexus. But, after one relatively brief spin around town, and the catcalls of virtually all of their old friends, Cobain insisted they take it back. So they did. Now, they're back to his scuzzy old Valiant. If you only knew Cobain by Love's descriptions, you'd think he was an adorable, antic-prone young lug, more Ozzie Nelson than Ozzy Osbourne. And maybe that's exactly who he is. Point is, her love for him, and for their daughter Frances Bean, is obvious.
I'd been forewarned by Geffen's publicist, by friends of hers, even by the rest of Hole, that Courtney Love doesn't trust journalists. Not since Vanity Fair's Lynn Hirschberg, whose infamous 1992 profile portrayed Love as little more than Cobain's heroin-addicted, gold-digging girlfriend. The article contained a particularly scandalous quote, attributed to a "business associate." "Courtney was pregnant and she was shooting up," it said. What followed was an approximately yearlong trashing of the couple, chronicled rather exhaustively in Michael Azerrad's Nirvana bio, Come As You Are.
"Yeah, Lynn," Love sighs when the subject is broached. "I did a little private investigating on her, you know, and she has no friends. None. None!" For the next, oh, 40 minutes or so, Love's conversation keeps veering back to Hirschberg, usually with disclaimers. As much as she may wish Hirschberg dead, Love admits she continues to read Vanity Fair. "Shit," she says at the end of one particularly lengthy diatribe. "Why can't I just fucking shut up about the bitch? Okay, that's it. Zip." She raises one hand and makes a slash across her lips. (When asked to comment, Hirschberg laughed and said, "I thought Courtney was my friend.")
So what about the actual charges? "Innocent," Love says, smiling mysteriously. "Isn't that obvious?" Okay, how about claims that you punched out four people last year, including K-records-Beats Happening's Calvin Johnson, British writer Victoria Clarke, and a young female Nirvana fan who called her "Courtney Whore" in a Seattle 7-Eleven? "There's a lot more to those stories, but I don't intend to go into it." Several journalists told me they'd received threatening phone messages after criticizing her in print. "So?" When I mention Cobain's interest in guns, she cuts me off with a glower. Bringing up last year's legal battle to keep custody of Frances Bean (a result of the Vanity Fair drug inferences) only magnifies the glower. On a lighter note, Lydia Lunch recently accused Love of ripping off her persona. "That's too bad, because I admire her a lot." Well, how about the fact that a lot of people just think you're a mean, horrible person?
"Look," Love says. "Years ago in a certain town, my reputation had gotten so bad that every time I went to a party, I was expected to burn the place down and knock out every window. So I would go into social situations and try my best to be really graceful and quiet and aloof. But sometimes when people are bearing down on you so hard, and want you to behave in a certain way, you just do it because you know you can.
"I'm so busy these days pleading with everyone that I'm lucid, that I'm educated, that I'm middle-class," she continues. "It's stupid. If you ask me, why aren't people on the cases of the real assholes of this world, like Axl Rose and Steve Albini, both of whom should be exterminated. Really, they should leave on a shuttle to the sun. They shouldn't be on the earth. Because they're not good for anything."
I'd been told by a mutual friend that Love tends to feel comfortable around gay men "as long as they don't like disco." Hoping to warm the atmosphere a little, I drop the names of a few famous actors I bedded when younger, and sure enough she giddily spills some beans herself. She practically begs me to "out" a notoriously homophobic music producer. Sorry. We move on. She has a few less-than-flattering adjectives for Evan Dando's physique. "I'm the one that got him to stop taking off his shirt all the time," she says. Then there's the sad tale of her arch-enemy Axl Rose's rapidly receding hairline, and his crazed search for a cure. "That's what happens when you mix Prozac and heroin." Finally, she regales me with a long, hilarious story about how Eddie Van Halen showed up backstage at a recent Nirvana show and practically begged to join them onstage fo the encore, completely oblivious to the fact that bands like Nirvana exist partly to destroy dinosaurs like himself.
"I was talking to Sophie Mueller, the director of our new video," Love says. It's a few minutes later. She's chummier now, curled up in her chair, gazing contentedly out a tinted window at Seattle's ugly harbor. "And she asked, 'What do you want to project?' Well, it's kind of pompous to do this, but I thought, 'What is my public image?' I kind of assessed my character flaws, and what I need to work on, what's good and bad about me, what my unknown qualities are. And… it's so hard to know.
"Because there are people like this journalist who interviewed us one night. He really believed that I was like him. You know, that I grew up in a trailer park, that's I'm a drunk full of incest stories. I kept trying to calm him down. And the only thing that shut him up was when I read his astrological chart out loud, and even then he was hanging all over me, drooling. It was like being stuck in a room with a drunk Rupert Pupkin [the pathetic stand-up comic portrayed by Robert De Niro in The King of Comedy]. And I love Rupert Pupkin. There's a Rupert Pupkin in all of us, but I killed mine a long time ago. And that guy should too."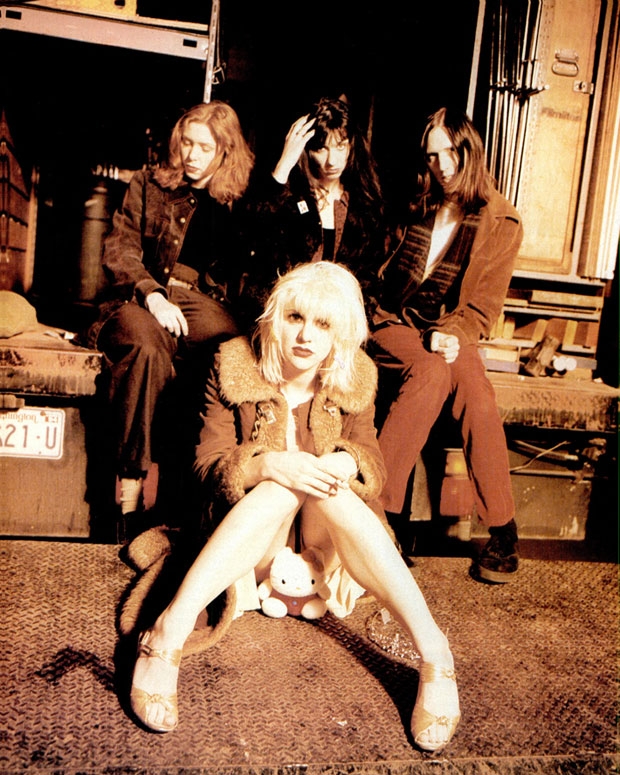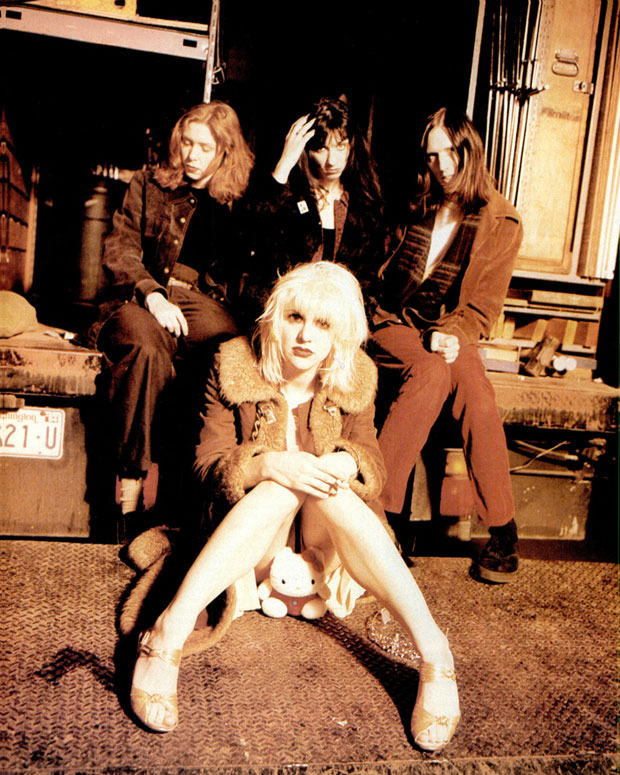 A long time ago may or may not mean Eugene, Oregon, where Love grew up the bookish, overweight kid of well-educated, upper-middle-class parents. She doesn't really like to talk about them, but from what slips out, you don't get the feeling that they were or are particularly monstrous. Mom's a "New Age therapist," as Love describes her. In fact, Linda Carol is a respected psychologist, whose celebrity clients include a '60s radical-turned-jailbird Katherine Anne Power. The name Hole is partly inspired by a saying of her mother's: "You can't walk around with a big hole inside yourself." (It's also inspired by a line in Euripides's Medea: "There's a hole that pierces right through me.") Love is no longer in contact with her father, Hank Harrison, author of The Dead: A Social History of the Haight-Ashbury Experience, and would only say of him that his single claim to fame was his long-ago, peripheral involvement with the Grateful Dead. Harrison's ties with the Dead were tight enough, however, that you can find a young Courtney Love in the extended family group photo on the back of Aoxomoxoa, the Dead's third LP.
Eugene is a university town, woodsy, relatively unfucked-over by gentrification, with decent book and CD stores. Nevertheless, it's a dullish place if your ambitions are huge and culturally based like Love's were. So after suffering through the usual peer shit that befalls rebellious smarties, she took off. From her contacts in nearby Portland, she went to work informally for Bob Pitchland, a street person-raconteur who's become quasi-famous as Gus Van Sant's model for one of the central characters in My Own Private Idaho. Under Pitchland's auspices, and with off-and-on financial support from her folks, she traveled the world, living for brief periods in such places as Taiwan and Tokyo, and taking care of her mentor's spurious business.
In the early '80s, she settled in Liverpool for a couple of years, attending school and making her first serious contact with the world of rock stars. As an adolescent, Love had adored sensitive singer-poet types such as Joni Mitchell, Laura Nyro, and Leonard Cohen, while taking note of the condescending way they were portrayed by the rock press, "like ethereal little fairies." Now she fell for equally poetic but noisier bands like Echo and the Bunnymen and the Teardrop Explodes. She worshipped Bunnymen frontman Ian McCulloch and claims to have copped most of her stage moves from him. When she wasn't in class, she followed his band around England. "I ran into Ian again not too long ago at this hotel," she says. "He walked in dressed in his tennis whites, and, you know, he's aged a lot, like great beauties do. And he saw me and he gave me this look like, 'What the fuck are you doing here?' He didn't like me at all."
Through Love's connections in the British rock scene, she met film director Alex Cox, who was revered at the time for the punkish cult film Repo Man. Cox came very close to casting her as the lead in Sid and Nancy, the project he was then developing around Nancy Spungen's mother's memoir, And I Don't Want To Live This Life. Luckily for Love, she lost the part to Chloe Webb, winding up instead with a tiny role as one of Nancy's bereaved friends. "Can you imagine?," she says, shaking her head at the thought of living down that particular portrayal on her résumé. But at the time she was crestfallen. Fighting suicidal depression, she signed on with a small acting-modeling agency, and wound up working as a stripper in the Far East for the next year or so. "Stripping's alright," she says. "It's better than prostitution. I was lucky, because I was fat. So nobody paid attention to me."
It was in the late '80s that Love met one of her closest friends, Los Angeles artist Joe Mama, who says, "She was the same then as now. She had this attitude like 'I'm a freak, but I know what I'm doing.' It wasn't calculating, it was scary." He remembers that she moved around a lot, living for brief periods in L.A., San Francisco, and Minneapolis. It was in Minneapolis that, along with Kat Bjelland and L7's Jennifer Finch, she formed an early version of Babes in Toyland, described by one friend as sounding like "atonal Roches." For maybe a week she was a member of Faith No More, and remains friendly with the band's Roddy Bottum. One night she met guitarist and begrudging Capitol Records' employee Eric Erlandson. They hit it off, started to pal around, and eventually, with the help of a classified ad in Flipside, scraped together the first incarnation of Hole.
Love's proud of the band's early work, especially its first LP, Pretty on the Inside, co-produced by Sonic Youth's Kim Gordon, a hero of Love's, and Gumball's Don Fleming. Still, she says, "That record was me posing in a lot of ways. It was the truth, but it was also me catching up with all my hip peers who'd gone all indie on me, and who made fun of me for liking R.E.M. And the Smiths. I'd done the whole punk thing, sleeping on floors in piss and beer, and waking up with the guy with the fucking mohawk and the skateboards and the speed and the whole goddamned thing. But I hated it. I'd outgrown it by the time I was 17." She pauses, grabs a glass of fizzy water, and takes a huge gulp. "But fuck people if they didn't guess it the first time around," she continues, eyes blurring with anger. "If they didn't get the lucidity. If it's one thing I am, it's lucid. I know that's not a very heavy word like intellectual or whatever, but still, to take away my lucidity, that pisses me off."
Live Through This is both a scruffier and more commercial record than Pretty on the Inside. The angsty rants of yore remain, but they're decorated with a lot more poetry. Milk (as in mother's) is a recurring motif, as is dismemberment. Female victimization remains the overall theme, this time depersonalized into odd, accusatory mini-narratives in which a variety of female characters receive the protection of Love's tense, manic-depressive singing. Hers is a natural songwriting talent, full of excellent instincts, and yet wildly unsophisticated. All of which makes Love, in some ways, a more intriguing figure than, say, Polly Harvey, Tanya Donelly, or Liz Phair, each of whom, idiosyncrasies aside, is a traditional talent with an inordinate knack for the pop tune. It's not inconceivable that Love might have ended up some kind of peroxided Joni Mitchell if it weren't for the musical gifts of the diligent, like-minded Erlandson, and her unstoppable need to fuck with rock music's male-heavy history.
"Like I was talking to Sophie…" It's a few minutes later, and Love's relaxing again. "Sophie's done a bunch of Björk videos. And Björk is seen as the Icelandic elf child-woman. But Björk wants to be seen as more erotic. And I'm like, 'Why?' Elf child-woman is a good job. And my job as rock's bad girl is good, too. I should just stop trying to correct people's impressions."
I understand, I say, but it's strange that you're written off as one-dimensional and didactic when your lyrics, if anything, tend to err on the side of the abstract.
"That's because I'm not intelligent enough to write direct narratives," she says sarcastically. "I've always worked really hard on my lyrics, even when my playing was for shit. So it's weird that when I try to work in different styles, to juxtapose ideas in a careful way that isn't pompous and Byronic, it's just taken as vulgar. The whole cliché of women being cathartic really pisses me off. You know, 'Oh, this is therapy for me. I'd die if I didn't write this.' Eddie Vedder says shit like that. Fuck you."
Misogyny's been a big shock to Love. After all, her parents were '60s quasi-liberals bent on showing their daughter life's brightest profile. The first record she owned was Free To Be You and Me. There was a copy of Our Bodies, Our Selves sitting on the family toilet for years. She grew up thinking books and records like these were the culture's official textbooks. And she remains an avid reader of feminist theorists like Susan Faludi, Judith Butler, Camille Paglia, and Naomi Wolf, though her face crinkles up at the mention of the latter's newest book. "Ugh. Wimp," she crows.
I mention a riot grrrl show she'd helped organize in London last year. Rumor had it the show was a critical and financial disaster, despite the participation of name acts like Huggy Bear, Bratmobile, and Hole. Since that fiasco, the riot grrrl phenomenon has been treated a lot less reverently in the British music papers. "Yeah, it didn't work," she says, echoing the opinion of other Hole members, male and female. "But then the whole riot grrrl thing is so… well, for one thing, the Women's Studies program at Evergreen State College, Olympia, where a lot of these bands come from, is notorious for being one of the worst programs in the country. It's man-hating, and it doesn't produce very intelligent people in that field. So you've got these girls starting bands, saying, 'Well, they printed our picture in the Melody Maker, why aren't we getting any royalties?'
"I tried to start a riot grrrl chapter in L.A. at one point. I called a bunch of people to try to set up a meeting, and they were like, 'But the place will be bugged! A Current Affair will be there!' And I'm like, 'Listen, nobody cares, girls. Interest is on the wane in this little fad.'"
No surprise then that Hole's tentative spring tour couples the band not with a "look-alike" band like L7 or Bikini Kill, but with those great bicoastal idiocyncrats Pavement. Love likes them a lot, in part because they're fellow unrepentant Echo and the Bunnymen fans. Still, I sense that there's more than aesthetic compatibility to the pairing. "Remember when Madonna was making the rounds of the clubs scouting bands for her label?" she asks. "Sniffing around people like us and Cell and whoever? Well, a friend and I decided back then that the only cool thing Madonna could do at this point in her career would be to go out with Steve Malkmus." Her eyes get uncharacteristically dreamy. "He's great. It's the Stockton part of him, you know? If it was just the East Coast thing he'd be gross. And he's so well-bred. He's like the Grace Kelly of indie rock."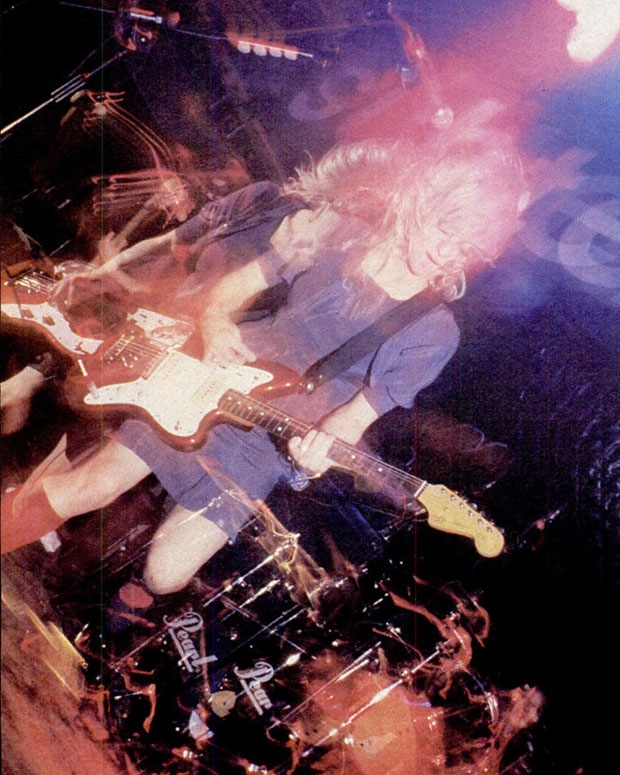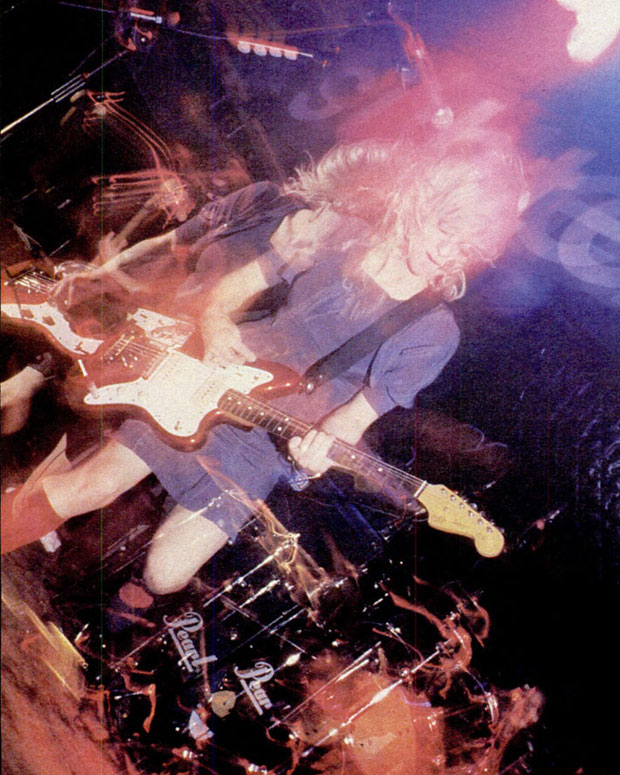 Our story ends where it began, at 3 p.m. that same day. Jim Merlis, the genial publicist whom Geffen has assigned to the Hole beat, has just deposited me at the apartment of bassist Pfaff, and is on his way to pick up Love, who doesn't drive. Pfaff's place is stuffed with records, all neatly if unartfully organized along the walls, and there are posters everywhere of her former band Janitor Joe, as well as a few of her favorite band, the Cows.
Eric Erlandson does most of the talking, since Pfaff and Schemel are newcomers. He, like Love, is still reeling from the recent encounter with the drunken journalist. When I turn down a beer, the band's relief is tenable. They seem a pretty sober bunch, if speculation is allowed based on relatively skimpy knowledge. Not to say they spout 12-step rhetoric or anything. But I wait and wait for the drug stories, and when they finally do enter the conversation, it's in a manner so casual and yawny I barely take notice. "Oh, I was so fucked up last night," one of them will say with a bemused wag of the head. Or, "[unnameable celebrity] is such a mess." Later, Love will surprise me even more. Discussing a fellow alternative rock star and Seattle resident's severe heroin problem, she'll chastise the local needle exchange program's home delivery policy, which she thinks only contributes to the severity of the poor guy's habit.
In Lynn Hirschberg's Vanity Fair piece, the hard evidence on Love the junked-out monster came via worried quotes from anonymous "friends" and "associates." Having talked to some equally anonymous, long-term friends of hers, what I surmised was that, yeah, like a few of us, she's done some serious drugging in her 28 years. She's been out of control, fucked-up, a complete and utter asshole. She herself refers to periods when "chemicals," as she puts it, were both her major pleasure and obstacle. These mentions may be glancing, but their tone is rich with horror. Partway through the marathon photo shoot, Love spotted Pfaff spacing out on a couch, and rushed over, asking her in this frightened, accusatory voice, "Are you high?!" (She wasn't.) At another point, when I told Love how amused I'd been watching her and Kim Gordon humiliate Dave Kendall on an old episode of 120 Minutes, she shook her head and said, in this sad, self-incriminating way, "Oh, I was so out of it," then looked grimly off into space.
Maybe the problem is contextual. In Vanity Fair's world, there are two ways to attain power: by leading a glamorous, amoral lifestyle, or by becoming an embittered, subservient, morally superior chronicler of this kind of life. To the later, Courtney Love is so different than the Barbara Huttons, Demi Moores, and other eccentrics and beauts for whom the bourgeoise spill their collective saliva. Naively, mistakenly, Love threw her and Kurt Cobain's rough-hewn but essentially moral lives on the mercy of that amoral court because she thought it would be cool. And it was, for those of us who joked about it and rolled our eyes at the subsequent hubbub. If for one moment, Love thought she could subvert VF's intentions and prove to the world that she wasn't the grunge Valerie Bertinelli or Bianca Jagger, big deal. Nice try. The real question isn't why Love got savaged in the process, or what drugs she did, but rather why we care in the first place.
Is it just that we're starry-eyed misogynists? Twenty or so years ago, our alternative-rock-fan foreparents blamed Yoko Ono and Linda Eastman for the breakup of the very obviously tired and burned-out Beatles. Before meeting the aging moptops, Ono had been a serious Fluxus artist, and Eastman had been an active photojournalist. Back in the '70s, people shredded these two women in print and conversation with the same lazy cattiness we now use to crucify Love, and with even less reason: Nirvana is intact, Cobain is still writing cool shit, Hole is making better and better music, Frances Bean is healthy. The amount of energy expended trying to track and clarify Love's personal quirks is bizarre. Is she really that important?
Me, I like her a lot. And I keep thinking you would too, but then I don't know. Others might tell you differently, but I get the impression that, assuming even half of what's been written about Love is true, she's changed. "Changed?" she asks, blinking at my suggestion. She regards me suspiciously for a moment, then squints off into the distance, wondering. "Well, I'm jaded. I've faced every situation for many years with a certain naiveté and innocence. But I've somehow become a cynic. Cynicism is a good thing to have on the outside, but it's a terrible thing to have on the inside. All I ever wanted, ever, was to make rock music. Whether it was in the back of a Camaro smoking pot and listening to Journey with some guy who was trying to make out with me, or whether it was the first time I heard the Pretenders. Fuck, Chrissie Hynde really saved me, you know, because she manifested it. She was a pragmatist. Pragmatism or drugs. And drug-influenced songs are great, I agree. But I write songs that are clean. Songs that come from here." Love slugs her heart.