30. "In the Light" (Physical Graffiti, 1975)
Graffiti's second album-opening attempt at their own "Within You Without You," with less specific talk of inner peace and more sexual come-ons. The climax comes on a little strong ("Everybody needs a light!"), but the intro is one of the band's most captivating, and the way the song toggles between minor-chord tension and major-chord warmth across its various sections without totally breaking its sense of flow is pretty sensational.
Occasionally dipping into eye-rolling sappiness ("She plays guitar and cries and sings / 'La la la la….'"), but generally as tender and moving as any ballad in the band's catalog. There's a real undercurrent of loneliness and insecurity there ("Telling myself it's not as hard, hard, hard as it seems…") that keeps it from becoming sickeningly cloying, even when it's used to soundtrack an event as douche-chilling as the Entourage series finale. It's also supposedly inspired by Page and Plant's mutual infatuation with Joni Mitchell, so that's a win for her.
As much as Zeppelin might have fretted about being phased out by the punks in the late '70s, they could've very easily pointed to the three-chord riffing and breakneck pace of their debut album's "Communication Breakdown" as evidence that they'd beaten the brats to the punch nearly a decade earlier. The band would go on to write songs way more complex and compelling than this, but they never got rawer or harder-hitting — and in fact, no less a punk authority than Johnny Ramone admitted to practicing this song to master his guitar technique.
//www.youtube.com/embed/qoqQnR8NOVI
OK, so maybe there's one other time Zep approached the rawness and punchiness of "Breakdown." "Wanton" is as explosive as any of the band's riffs, an eight-note blast over Bonham's boom-bap drumming that totally overshadows whatever libidinous claptrap Plant is on about. The song's calmer bridge breakdown — arguably necessary to keep the track from being totally head-snapping — probably disqualifies it from being the true equal of the utterly relentless "Breakdown," but it's also the more complete song for it.
26. "Carouselambra" (In Through the Out Door, 1979)
Certainly not among the fondest-remembered songs in Zeppelin's body of work, the ten-plus-minute "Carouselambra" is nevertheless one of their most fascinating, half-prog and half-disco, with a zooming guitar line, a juggernaut of a synth hook (which unexpectedly goes all Kraftwerk about halfway in), and one of Plant's all-time most-enigmatic lyrics (Opening lines: "Sisters of the way-side bide their time in quiet peace / Await their place within the ring of calm"). It shouldn't work, and many likely would argue it doesn't, but the playing is never less than air-tight, the groove is considerable, the melodic ideas are plentiful and unpredictable, and the sheer musical ambition is jaw-dropping.
A long way from the Zep's earliest blues excursions, to be damned sure. "Time of Dying" stretched the band's bluesy laments to a full 11 minutes, which could have resulted in disastrous over-noodling and interminable dragging, but Zeppelin manage to maintain interest throughout, with a variety of well-timed tempo and dynamic switches ("We're jamming. We're having a ball. We. Are. Playing," Page would say of the largely-improvised recording), and one of Plant's all-time masterful vocal performances ("Oh my JEEEEE-SUUUUUS!!!"). Why they undercut the whole thing at the end with a bad in-studio joke is anyone's guess, but by then, they've earned the right.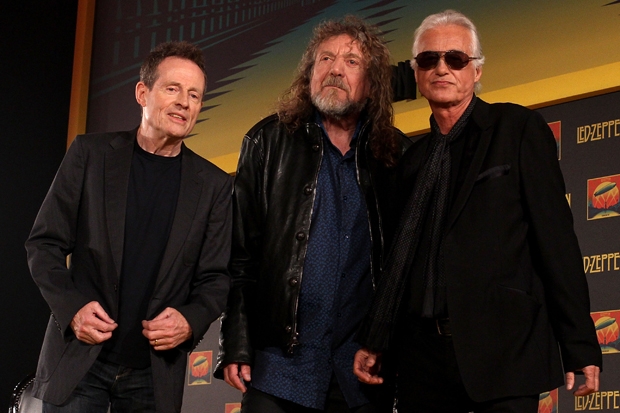 A sneakily weird early Zep cut, "Babe" tears through its tense acoustics with some of the band's most unexpectedly ferocious playing — when the guitars and drums come crashing in pre-chorus, it's about as metal as anything your'e likely to hear in pre-Sabbath rock, and Plant's caterwauling rarely sounded this pointed again ("WE'RE GONNA GO…WALKING THROUGH THE PARK…EVERYDAY!!!"). Wouldn't have been our first guess for Miley Cyrus' choice of a Led Zeppelin cover, but we respect it just the same.
23. "Houses of the Holy" (Physical Graffiti, 1975)
In the "Songs Not Actually on the Albums They Share a Title With" hall of fame, "Houses" is a first-ballot entry and might even get its own wing. It's not hard to think of a couple of songs that could've been cut from Houses to make room for its ostensible title track, but fine: Its loss is Graffiti's gain, and in "Houses" it gets one of the group's poppiest, most buoyant rockers — and most critically, the one with the most cowbell to spare. It kicks off in high gear and doesn't outstay its welcome, and it's virtually impossible to get sick of.
//www.youtube.com/embed/sn_3s9wmZuQ
22. "No Quarter" (Houses of the Holy, 1973)
A mood piece unlike any other in the Zep discography, with supremely fuzzed-out guitar, aqueous electric piano, and a muffled-sounding Plant — not to mention Page pitch-shifting the whole thing down after the fact — creating a uniquely disqueting vibe that may as well have invented the Deftones' entire post-'90s output. Plant sings about the "winds of Thor" and "dogs of doom," but he could have been singing about ice cream sandwiches and Slip N' Slides and it would have probably sounded just as ominous.
Maybe Plant's crowning achievement as Zeppelin's vocalist, the gut-wrenching, Janis Joplin-like hysteria he imbues "Since" with elevates what would otherwise be a fairly standard Zep blues run-through to the centerpiece of LZIII. A five-star Page solo to carry the song's mid-section certainly helps things along, but this is Plant's show, and he steals it right back from his bandmate with his first "SAIIIIIIIIIID I'VE BEEN CUH-RYING!!!!" Listen to this after soundalike "Tea For One" (81) if you need a contrasting example to show how lifeless a song like this becomes when Plant sounds totally divested.
20. "The Song Remains the Same" (Houses of the Holy, 1973)
If not the all-time best Zep opener, then the one that sounds the most like it couldn't have fallen anywhere else on the album. "Song" bursts out of the gate like Seattle Slew at Belmont and barely lets up for its 5:30 runtime, each band member trying to elbow their way into the spotlight while still remaining perfectly in-step as a collective unit. The song was originally planned without vocals and sounds like it — Plant's contributions are sporadic and mostly negligible — but for a musical example of Zep at the peak of their instrumental powers, you can't do much better than this.
//www.youtube.com/embed/KGvr-2THzNI
19. "Good Times Bad Times" (Led Zeppelin I, 1969)
A hell of a way to kick off your recorded output, with that repeated bar chord and the drums sneaking up from behind it, congealing into one of the band's definitive grooves right in time for Plant to slither in over it. Zep would grow as songwriters and musicians over the course of their ten-year career, but "Good Times" shows how their swag was on 100 right from their very first notes as a band, and their cockiness is still totally infectious when heard in the American Hustle trailer over 40 years later.
//www.youtube.com/embed/NQ1zpwVBK4M
18. "Ramble On" (Led Zeppelin II, 1969)
It's all about those drums. Not really drums, even — no one seems to know for sure what device Bonham played the song's distinctive rhythm part on (the bottom of a trash can? A hard guitar case?), but the tone of it is so light and breezy that it gets the song started off in the clouds, the perfect bed for JPJ's weightless bass line and Page's pillowy guitar-strumming to come floating in over. Plant's rambling ways (previously foretold in "Babe I'm Gonna Leave You") are key once the songs in, though again: Do we really need Gollum sweeping in to steal your girl in the third verse, Robert? Let it go.
//www.youtube.com/embed/a3HemKGDavw
17. "Achilles Last Stand" (Presence, 1976)
It's hard to imagine how the general malaise of Presence didn't seem to infect one note of "Achilles Last Stand," but absoltuely zero of our complaints about the band's LP nadir apply to the album's scorching opener. Whatever else was going on with Zep in '76, for ten-plus minutes of "Achilles" they remembered that they were the best band in the world, and put together a chugging monster of a jam that never lags in energy or feels even slightly redundant, its impact so relentless that you'd be grateful for another five minutes of galloping bass and rapid-fire drum fills. Oh, and the band invents the Cult's entire career with the bookending guitar riff, just for good measure.
//www.youtube.com/embed/q_CqSWUZDJg
16. "Dazed and Confused" (Led Zeppelin I, 1969)
Better enjoyed at six-and-a-half minutes than the near-half-hour it would stretch out to onstage, "Dazed" is the number where it became obvious that Zeppelin were worthy of their heroes when crafting blues standards entirely of their own. The intro is still one of the most demonic-sounding things ever heard on a major rock record (even moreso than the incantation-like breakdown section) and Plant's guttural squawking over the verses, while questionable in lyrical nature ("Soul of the woman was created below" — sorry, ladies) it's undeniable in its transportative power.
//www.youtube.com/embed/p5i_H5CPRJ8
15. "What Is and What Should Never Be" (Led Zeppelin II, 1969)
Zeppelin was doing loudQUIETloud way before the Pixies, with the verse-to-chorus on "What Is and What Should Never Be" being a particularly strong example of the band's mastery of dynamic shifting. The loose, almost jazzy tip-toeing of the verse gives way to one of the band's most rip-roaring choruses (and best outros), a jutxtaposition well exploited by the most intense scene from 2012's Silver Linings Playbook. (Bradley Cooper and David O. Russell: Keeping the Zep flame alive one Oscar-bait dramedy at a time.)
//www.youtube.com/embed/uzK0pYJbfKg
14. "The Ocean" (Houses of the Holy, 1973)
Real talk for a minute: The fact that there are 13 Zeppelin songs we think are better than "The Ocean" is all you need to know in order to understand what a totemic band this was. There might not be more than two or three hard rock bands from the entire 1970s who wouldn't gladly trade their biggest hit for this one, a song that stuffs an entire King Crimson album's worth of changes in tone, tempo, and time signature into one blistering four-and-a-half minute pop single, just to show how f–king easily it comes to them. They don't even bother to take out the phone that goes off in the middle of the song — seriously, check it at 1:38 — because who cares, really? Maybe not their best song, but possibly the most casually brilliant thing they ever did.
//www.youtube.com/embed/MrV6exi1WlM
13. "That's The Way" (Led Zeppelin III, 1970)
The peak of Zeppelin's first run of acoustic experimentation, "That's the Way" is as simple and lovely as the band ever got. It's the kind of song you write after a long day of walking around your stately manor in Wales, which we might not have known before Zep showed us here, as Plant was apparently so overcome with his surroundings that it inspired one of his most deeply felt lyrics — a love song that sounds and feels more like being in love with the entire universe than with any sepcific person or thing. That, indeed, is the way it ought to be.
//www.youtube.com/embed/TANKvE3sI3w
12. "Whole Lotta Love" (Led Zeppelin II, 1969)
The band's biggest U.S. chart hit, hitting #4 in late '69, and a regular on pretty much any greatest-rock-song-ever list, for a reason. The riff has justly become part of the DNA of popular music, the theremin breakdown section ("A combination of Jimmy and myself just flying around on a small console twiddling every knob known to man," engineer Eddie Kramer said of it) was decades ahead of its time, and Plant's "WAYYYYYY DOWWWWN INSIIIIDE…." a capella testifying is among the most spellbinding vocalizing ever heard on a rock record. It might not sound quite as fresh the 10,000th time as it did its first, but its greatness is inarguable.
//www.youtube.com/embed/Q0utAHY3xo4
11. "Black Dog" (Led Zeppelin IV, 1971)
Like "Love," a song so canonical that it basically invented an entire set of rock cliches on its own. The call-and-response between Plant and the rest of the band at the song's beginning is a song construction almost too perfect to be imitated — and the groove is so sneakily arrhythmic that it's borderline impossible for a lesser band to cover — and basically everything you need to know about Plant's animalstic, early-'70s persona can be expressed in those opening 15 words. "Dog" gets the slight edge over "Love" here by virtue of that off-kilter, winding nature, which makes the song that much fresher, 40 years of classic-rock overplay later.
//www.youtube.com/embed/cN3ABDzdLls