The musical history of primarily drums-only rock tracks is not a particularly long or engaging one, and there's a reason for that. If you were gonna afford the listening opportunity to one guy, though, Bonzo's not a bad choice; if it were a minute or two shorter it'd be a great mixtape interlude.
One of the rawer Zeppelin cuts, and the lead track on the odds-and-sods collection Coda. Not particularly long on hooks, but high on grit and short on runtime, so an enjoyable enough LZII outtake.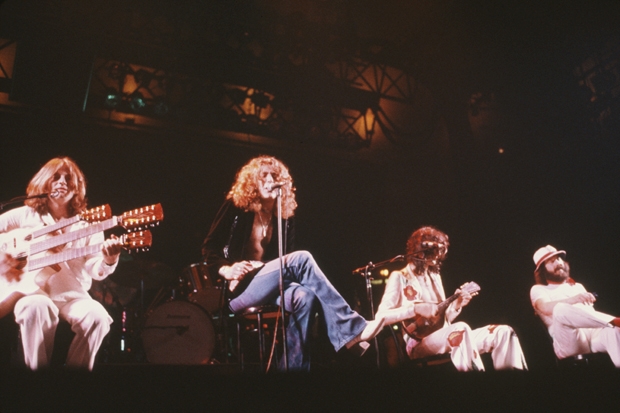 68. "Night Flight" (Physical Graffiti, 1975)
Interesting as one of the few Led Zeppelin songs that begins in media res — the band usually makes such a big deal out of their intros, so to hear Plant jumping in straight away ("I received a message from my brother…") is pretty jarring — and as one of the few not to feature a guitar solo. Not interesting for a ton else.
One of the oddest songs in the band's discography, right down to the weird use of parentheses in the title. There's not too much of a song there between Plant's uninteligibly vibrato'd vocals and Page's freeform slide guitar, but it's an endearingly idiosyncratic way to end III, and hopefully Roy himself found it appropriately flattering.
A sort of lost gem of Zeppelin's an Otis Redding-style, organ-drenched soul ballad from the band's pre-LP days as the "New Yardbirds." It sounds convincing enough that it's hard to believe that it's not a cover, and even though it doesn't particularly play to the band's strengths (except for Plant, anyway, who's having an absolute blast), it's a bummer we didn't get to hear more of this side of the band on their albums.
Primarily remembered for John Paul Jones' "Green Onions"-like walking bass line, and the way the intro unfolds from there. It's a brilliant first half-minute, and there is no earthly reason why the song should last for another eight minutes after that.
64. "Sick Again" (Physical Graffiti, 1975)
The growling closer to Graffiti's final LP side is an eye-openingly straightforward tale of prowling for underage groupies ("One day soon you're gonna reach sixteen… You know I'm the one you want / I must be the one you need"), hitting a little close to home — Page had actually recently taken up an affair with a 14-year-old Lori Maddox — to be written off as satire. Hell of a riff, though.
63. "Gallows Pole" (Led Zeppelin III, 1970)
A traditional folk cover (super-original title: "The Maid Freed From the Gallows") that a suddenly mandolin-infatuated Zeppelin made their own on the acoustic side of LZIII. A little close to Jethro Tull for comfort at some moments, but an important transition track nonetheless.
62. "Custard Pie" (Physical Graffiti, 1975)
The most underwhelming of Zep's eight album-opening tracks — more of a credit to the other seven than a knock on the suitably funky "Pie" — but perhaps the most enthusiastic song about cunnilingus ("Chew on a piece of your custard pie!") ever performed by someone not named Lil Wayne.
61. "Dancing Days" (Houses of the Holy, 1973)
A classic riff, but Page was tossing off unforgettable licks like he was discarding cigarette butts in the early '70s, so this one ranks as low as it does due to being a little too repetitive and having a couple WTF? lyrics — even by Zep standards ("I saw a lion / He was standing alone with a tadpole in a jar"). Does get extra points for the fine STP cover.
A surprisingly enjoyable LZIII outtake, mixing Page's shimmering Bron-Yr-Aur-era guitar lines with a "50 Ways to Leave Your Lover"-like Bonham drum shuffle, and Plant's octave-separated self-harmonizing (with one slammin' harmonica solo at the end to boot). Lyrics are a little wife-murder-y, though, so maybe try not to pay those too much mind.
59. "All My Love" (In Through the Out Door, 1979)
Another one of Zeppelin's more divisive hits — even the band itself was split on it, with Page and Bonham both considering it "a little soft." They weren't wrong, certainly: "Love" has the band's most pandering chorus ("All of my love to you, child") and a JPJ synth solo where Page would normally find himself in takeover mode. It has its place, though, and as a tribute to Plant's son — who died tragically at age five a couple years earlier — it's hard to argue with too much.
58. "Thank You" (Led Zeppelin II, 1969)
The only Zep song to rival "All My Love" in sappiness, "Thank You" lays it on plenty thick ("If the sun refused to shine / I would still be loving you"), but it's resonated enough with audiences that it was even used to soundtrack the (similarly sentimental) end of the True Blood series finale earlier this year. It's not our Zep of choice, but some long-haired couple's probably getting married to it somewhere this weekend, so fair enough.
57. "Friends" (Led Zeppelin III, 1970)
A number of firsts for the band — their first predominanlty acoustic song, first to feature heavy string arrangements, first to be vaguely Eastern-sounding in nature. The chorus is a little pat ("The greatest thing you ever could do now / Is lend a smile to someone who's blue now"), but the sound is minorly mesmerizing, and would point the way toward's much of the band's musical future.
56. "I'm Gonna Crawl" (In Through the Out Door, 1979)
The final track on Zep's final studio album was an underrated throwback to their super-early soul days, a torch ballad with a "25 Miles"-like lyrical hook of doing whatever it takes to get back to Plant's woman. Of course they didn't have this many synths back then, but that's OK — the keys don't distract from Plant's superlative vocal performance, reaching tortured heights not heard from the singer since "In My Time of Dying."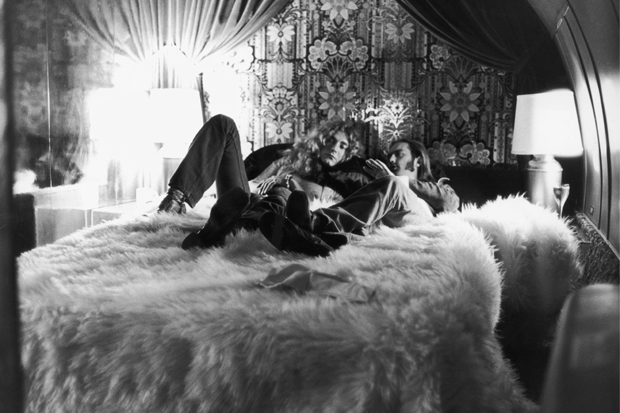 Maybe the only song on LZII that never gets played on classic rock radio — a little too slow-and-low for the majority of its runtime — but a fine album closer nonetheless. Gotta love the restraint the band shows with the song's nearly two-minute whisper of an intro, before ripping into a double-tracked guitar lick that Sam Cooke and Lou Rawls never would have dreamed of.
A great title and a better riff, if not the band's most memorable song beyond those two features. You can only imagine how great it could have been if the band had held on to the original bar-shanty lyrics to the Bonham-invented tune that inspired the song: "I've had a pint of bitter and now I'm feeling better and I'm out on the tiles…"
Led Zeppelin doesn't have a ton of songs that would best be described as "nice," but this Neil Young homage would certainly be one: A gently swaying, witsful number with sweetly tremolo'd guitar and soothing electric piano. (Don't worry, Page still rips a normal guitar solo in the darker-but-mercifully-short mid-section.) Amidst the epic brutality of much of Graffiti, it's a highly welcome respite.
The worst song on the band's best album, "Evermore" manages not to stick out as an obvious lowlight. In fact, it's quite necessary as a transition track between "Rock and Roll" and "Stairway to Heaven," and the vocal interplay between Plant and Fairport Convention singer Sandy Denny — one of the few guest vocalists to ever appear on a Zeppelin track — is fairly lovely, even if you wish they were given something to sing about other than the typical Lord of the Rings nonsense.
Zeppelin hoped that this Coda highlight could be mistaken for the Damned or one of their U.K. ilk, and maybe in the process shed the dinsoaur-rock label they'd gotten (and arguably deserved) from the punks in recent years. Not quite, but impressively close — "Wearing" does achieve a kind of lean muscularity that's rare in the band's catalog, and Bonzo's thumping motor keeps the song from ever lagging across its 5:29 runtime.