All 87 Led Zeppelin Songs, Ranked
Every song ever recorded by Zep, listed from worst to first
It's surprisingly easy to forget about Led Zeppelin in 2014. With arena rock gradually fading from relevance, or at least being subverted and co-opted as a genre and idea — the closest thing to a stadium-geared blockbuster in the last year might have been One Direction's Midnight Memories — Zeppelin's enduring influence as the ideal of Big Rock Music is less relevant than ever. Even Almost Famous, the Zep-soaked Cameron Crowe flick that helped expose a new generation to the classic rock of their parents, is almost 15 years old at this point. The next time you hear "Stairway to Heaven," it might actually sound interesting and refreshing — which is kinda cool, but just feels intuitively wrong.
It takes an event like this year's spate of deluxe Zeppelin reissues — the first three were released back in June, while IV and Houses of the Holy are on deck for next month — to remind you of how incredible this band really was. Some elements of the Zeppelin experience haven't dated quite so brilliantly — namely the rampant misogyny, the even more rampant Tolkien references, and the always-terrible 1976 Presence LP — but the songs, the sound, and the sheer size of the group continue to dazzle to this day. If they make music on this scale in 2014, it's certainly not to be found in the rock genre, and you'd be pretty hard-pressed to find it anywhere else, either.
As a tribute to Led Zeppelin, we've ranked all 87 songs in their recorded catalog. Any song to ever appear on a commercial Led Zeppelin release — even the live ones and the reissues — can be found here; for Led Zeppelin songs with multiple recorded versions, we opted for the best-known rendition. Enjoy our list, and next time you're in your car or your shower, maybe give the local classic rock station a little love.
87. "LA Drone" (How the West Was Won, 2003)
A 15-second intro track to the band's excellent live album, this one is true to its name — and included here for strict completionist purposes only.
86. "Candy Store Rock" (Presence, 1976)
A hookless, aimless, funk-less tribute to Bo Diddley and '50s rock that was somehow released as a single A-side, demonstrating just how out of touch the band was in 1976.
85. "Darlene" (Coda, 1982)
Near-comic in its repititiveness, "Darlene" does eventually build a certain swing to it, but only the most devoted of fans are likely to bear with it long enough to get there.
84. "Somethin' Else" (BBC Sessions, 1997)
A faithful but muddled-sounding and mostly uninspired Eddie Cochran live cover, showcasing Zep as the unpretentious rock purists they never were (and never should have been).
83. "Hot Dog" (In Through the Out Door, 1979)
After the untenably monochromatic Presence, Zeppelin decided to go the other way with the disorienting genre-hopping of In Through the Out Door. Several of the experiments were actually quite successful; this cartoonish hoedown excursion was less so.
82. "Royal Orleans" (Presence, 1976)
This one's really strong for the first 11 seconds. Unfortunately, they're followed by about 177 seconds of thoughtless funk noodling and in-jokey mewling from Robert Plant.
81. "Tea For One" (Presence, 1976)
A good song — unfortunately, it's one they'd already written six years prior. Jimmy Page has essentially admitted the song was a total rewrite of III's "Since I've Been Loving You," and Plant sounds so bored with the rehash that he might fall asleep before the two-minute mark.
80. "Ozone Baby" (Coda, 1982)
There's a spark there at the beginning, but it's not strong enough to survive the 50th "Ooo-ooh / It's my love" exhortation in the song's quickly-grating chorus.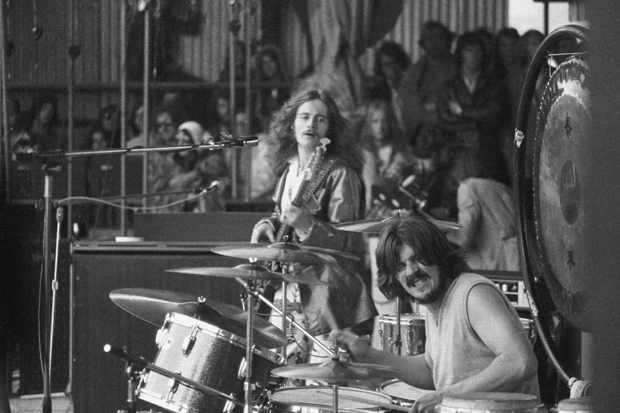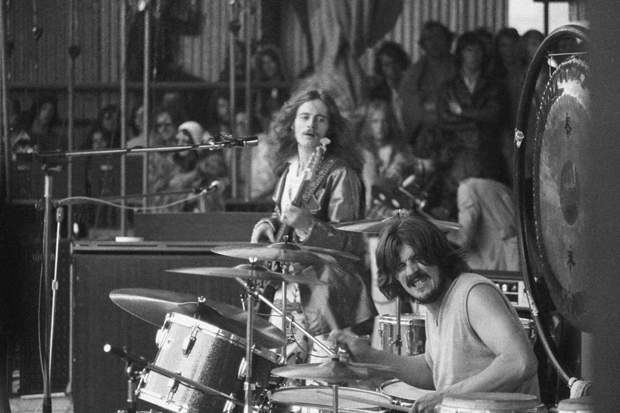 79. "South Bound Saurez" (In Through the Out Door, 1979)
More of ITtOD's self-conscious genre-hopping, this time a jaunty honky-tonk number with Elton John saloon-style piano and one of Plant's more irritating vocals. Someone should've spell-checked that title, too.
78. "Black Country Woman" (Physical Graffiti, 1975)
Possibly the slightest song to appear within Zep's original classic six-album run, the throwaway folk jam "Woman" is buried deep enough in side four of the Physical Graffiti double-LP that maybe they hoped no one would notice it. They were mostly right.

77. "For Your Life" (Presence, 1976)
Another solid intro in search of a song to follow: Like most of the somewhat ironically titled Presence, it loses itself somewhere in the second or third minute of momentum-less grooving.
76. "You Shook Me" (Led Zeppelin I, 1969)
The band's least-successful early blues reinterpretation, aiming for slow and seductive, but overshooting the mark and ending up just kind of sluggish.
75. "The Girl I Love She Got Long Black Wavy Hair" (BBC Sessions, 1997)
An utterly fantastic title, and if you remember a single other thing about the song, you're a better fan than I.
74. "La La" (Led Zeppelin II (2014 Deluxe Edition Reissue), 2014)
Not a fully-formed song by any means, but a perfectly pleasant organ-led trifle from the first batch of Zep reissues.
73. "Boogie With Stu" (Physical Graffiti, 1975)
Like "Black Country Woman," this is back-end filler for Graffiti. Supremely silly, though there is some legitimate boogieing to be had, at least.
72. "Walter's Walk" (Coda, 1982)
Hardly one of the group's most memorable rockers, but John Bonham's relentless bass drum-pounding gives the song a pulse that makes it engaging enough. Parts of it may have inspired the White Stripes' "Icky Thump," though you could say that about at least four or five Zeppelin songs.
71. "Hots on For Nowhere" (Presence, 1976)
Another largely stuck-in-the-muck Presence jam, though this one at least has a catchy hook or two ("La la"s and "Oh-oh"s! Stereophonic double-tracked guitars!) to get you through the near-five-minute runtime.
70. "Bonzo's Montreux" (Coda, 1982)
The musical history of primarily drums-only rock tracks is not a particularly long or engaging one, and there's a reason for that. If you were gonna afford the listening opportunity to one guy, though, Bonzo's not a bad choice; if it were a minute or two shorter it'd be a great mixtape interlude.
69. "We're Gonna Groove" (Coda, 1982)
One of the rawer Zeppelin cuts, and the lead track on the odds-and-sods collection Coda. Not particularly long on hooks, but high on grit and short on runtime, so an enjoyable enough LZII outtake.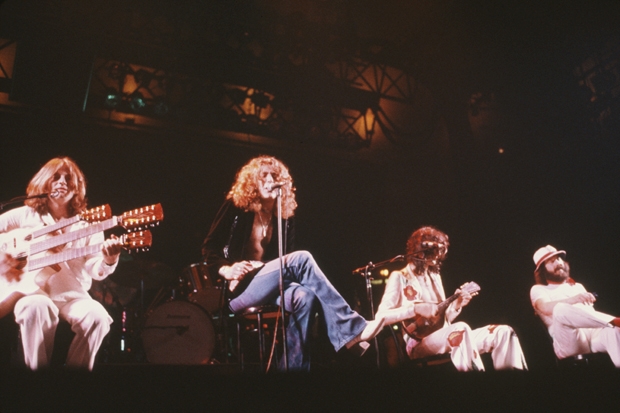 68. "Night Flight" (Physical Graffiti, 1975)
Interesting as one of the few Led Zeppelin songs that begins in media res — the band usually makes such a big deal out of their intros, so to hear Plant jumping in straight away ("I received a message from my brother…") is pretty jarring — and as one of the few not to feature a guitar solo. Not interesting for a ton else.
67. "Hats Off to (Roy) Harper" (Led Zeppelin III, 1970)
One of the oddest songs in the band's discography, right down to the weird use of parentheses in the title. There's not too much of a song there between Plant's uninteligibly vibrato'd vocals and Page's freeform slide guitar, but it's an endearingly idiosyncratic way to end III, and hopefully Roy himself found it appropriately flattering.
66. "Baby Come on Home" (Boxed Set 2, 1993)
A sort of lost gem of Zeppelin's an Otis Redding-style, organ-drenched soul ballad from the band's pre-LP days as the "New Yardbirds." It sounds convincing enough that it's hard to believe that it's not a cover, and even though it doesn't particularly play to the band's strengths (except for Plant, anyway, who's having an absolute blast), it's a bummer we didn't get to hear more of this side of the band on their albums.
65. "How Many More Times" (Led Zeppelin I, 1969)
Primarily remembered for John Paul Jones' "Green Onions"-like walking bass line, and the way the intro unfolds from there. It's a brilliant first half-minute, and there is no earthly reason why the song should last for another eight minutes after that.
64. "Sick Again" (Physical Graffiti, 1975)
The growling closer to Graffiti's final LP side is an eye-openingly straightforward tale of prowling for underage groupies ("One day soon you're gonna reach sixteen… You know I'm the one you want / I must be the one you need"), hitting a little close to home — Page had actually recently taken up an affair with a 14-year-old Lori Maddox — to be written off as satire. Hell of a riff, though.
63. "Gallows Pole" (Led Zeppelin III, 1970)
A traditional folk cover (super-original title: "The Maid Freed From the Gallows") that a suddenly mandolin-infatuated Zeppelin made their own on the acoustic side of LZIII. A little close to Jethro Tull for comfort at some moments, but an important transition track nonetheless.
62. "Custard Pie" (Physical Graffiti, 1975)
The most underwhelming of Zep's eight album-opening tracks — more of a credit to the other seven than a knock on the suitably funky "Pie" — but perhaps the most enthusiastic song about cunnilingus ("Chew on a piece of your custard pie!") ever performed by someone not named Lil Wayne.
61. "Dancing Days" (Houses of the Holy, 1973)
A classic riff, but Page was tossing off unforgettable licks like he was discarding cigarette butts in the early '70s, so this one ranks as low as it does due to being a little too repetitive and having a couple WTF? lyrics — even by Zep standards ("I saw a lion / He was standing alone with a tadpole in a jar"). Does get extra points for the fine STP cover.
60. "Poor Tom" (Coda, 1982)
A surprisingly enjoyable LZIII outtake, mixing Page's shimmering Bron-Yr-Aur-era guitar lines with a "50 Ways to Leave Your Lover"-like Bonham drum shuffle, and Plant's octave-separated self-harmonizing (with one slammin' harmonica solo at the end to boot). Lyrics are a little wife-murder-y, though, so maybe try not to pay those too much mind.
59. "All My Love" (In Through the Out Door, 1979)
Another one of Zeppelin's more divisive hits — even the band itself was split on it, with Page and Bonham both considering it "a little soft." They weren't wrong, certainly: "Love" has the band's most pandering chorus ("All of my love to you, child") and a JPJ synth solo where Page would normally find himself in takeover mode. It has its place, though, and as a tribute to Plant's son — who died tragically at age five a couple years earlier — it's hard to argue with too much.
58. "Thank You" (Led Zeppelin II, 1969)
The only Zep song to rival "All My Love" in sappiness, "Thank You" lays it on plenty thick ("If the sun refused to shine / I would still be loving you"), but it's resonated enough with audiences that it was even used to soundtrack the (similarly sentimental) end of the True Blood series finale earlier this year. It's not our Zep of choice, but some long-haired couple's probably getting married to it somewhere this weekend, so fair enough.
57. "Friends" (Led Zeppelin III, 1970)
A number of firsts for the band — their first predominanlty acoustic song, first to feature heavy string arrangements, first to be vaguely Eastern-sounding in nature. The chorus is a little pat ("The greatest thing you ever could do now / Is lend a smile to someone who's blue now"), but the sound is minorly mesmerizing, and would point the way toward's much of the band's musical future.
56. "I'm Gonna Crawl" (In Through the Out Door, 1979)
The final track on Zep's final studio album was an underrated throwback to their super-early soul days, a torch ballad with a "25 Miles"-like lyrical hook of doing whatever it takes to get back to Plant's woman. Of course they didn't have this many synths back then, but that's OK — the keys don't distract from Plant's superlative vocal performance, reaching tortured heights not heard from the singer since "In My Time of Dying."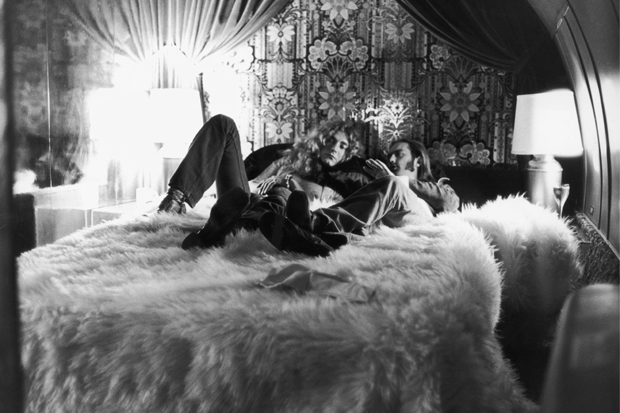 55. "Bring It On Home" (Led Zeppelin II, 1969)
Maybe the only song on LZII that never gets played on classic rock radio — a little too slow-and-low for the majority of its runtime — but a fine album closer nonetheless. Gotta love the restraint the band shows with the song's nearly two-minute whisper of an intro, before ripping into a double-tracked guitar lick that Sam Cooke and Lou Rawls never would have dreamed of.
54. "Out on the Tiles" (Led Zeppelin III, 1971)
A great title and a better riff, if not the band's most memorable song beyond those two features. You can only imagine how great it could have been if the band had held on to the original bar-shanty lyrics to the Bonham-invented tune that inspired the song: "I've had a pint of bitter and now I'm feeling better and I'm out on the tiles…"
53. "Down By the Seaside" (Physical Graffiti, 1975)
Led Zeppelin doesn't have a ton of songs that would best be described as "nice," but this Neil Young homage would certainly be one: A gently swaying, witsful number with sweetly tremolo'd guitar and soothing electric piano. (Don't worry, Page still rips a normal guitar solo in the darker-but-mercifully-short mid-section.) Amidst the epic brutality of much of Graffiti, it's a highly welcome respite.
52. "The Battle of Evermore" (Led Zeppelin IV, 1971) 
The worst song on the band's best album, "Evermore" manages not to stick out as an obvious lowlight. In fact, it's quite necessary as a transition track between "Rock and Roll" and "Stairway to Heaven," and the vocal interplay between Plant and Fairport Convention singer Sandy Denny — one of the few guest vocalists to ever appear on a Zeppelin track — is fairly lovely, even if you wish they were given something to sing about other than the typical Lord of the Rings nonsense.
51. "Wearing and Tearing" (Coda, 1982)
Zeppelin hoped that this Coda highlight could be mistaken for the Damned or one of their U.K. ilk, and maybe in the process shed the dinsoaur-rock label they'd gotten (and arguably deserved) from the punks in recent years. Not quite, but impressively close — "Wearing" does achieve a kind of lean muscularity that's rare in the band's catalog, and Bonzo's thumping motor keeps the song from ever lagging across its 5:29 runtime.
50. "Living Loving Maid (She's Just a Woman)" (Led Zeppelin II, 1969)
The lyrics rank among Zep's most vile, as unapologetically misogynistic as Zeppelin would get on record. For better or worse, though, the hooks come out of this thing from so many different directions — not to mention that at a scant 2:39 (and bursting out of the speakers after the surprise end to "Heartbreaker"), it's one of the group's tightest jams — that it remains impossible to deny completely. (Unless you're Jimmy Page, anyway, who allegedly hated the song and never once played it live.)
49. "The Crunge" (Houses of the Holy, 1973)
Oft-derided by Zep fans for its faux-funk awkwardness and general frivolity, "The Crunge" nonetheless has its charms. The stop-start intro groove, the band's unwillingness to determine any kind of pocket to get into, and of course, Plant's dogged, James Brown-like pursuit of that ever-elusive bridge… it's all very silly, but it's good fun from a band that certainly needed an injection of lightheartedness every now and then. It's not like anything the Godfather of Soul would sign off on, but it's also not really like anything else, ever.
48. "Tangerine" (Led Zeppelin III, 1970)
A pleasantly sighing, pedal steel guitar-tinged ballad that isn't LZIII's best track by any means, but maybe its most definitive. It was also Zep's first song to bear any kind of obvious country influence, a direction that would get them into more trouble the further they followed it, but which is deployed quite perfectly here. Cameron Crowe liked it enough to make it Almost Famous' last musical will and testament, so there you go.
47. "Black Mountain Side" (Led Zeppelin I, 1969)
46. "Bron-Yr-Aur" (Physical Graffiti, 1975)
Two instrumental interludes, both totally essential on their respective albums, and both about as stately and gorgeous as the band ever got. The guitar-only "Bron-Yr-Aur" gets the slight nod over the tabla-featuring "Black Mountain Side," mainly for the awesome whooshing sound of the guitar riff that's seemingly reversed on itself every so often — but both represent a key (if rarely seen) side of Zeppelin's power.
45. "Hey Hey What Can I Do" ("Immigrant Song" B-Side, 1970)
Easily the most famous Zeppelin song to never appear on a studio album, and certainly one of the best. Why the breezy "Hey Hey" was left off LZIII when it would have fit so snugly into that second side — unless someone actually protested the misogynistic lyrical content, which in 1970, hah — remains a mystery, but it's a folk-rock jam to rival any of the band's best on LP, and AOR radio deservedly turned it into a Zep standard anyway.
44. "Your Time Is Gonna Come" (Led Zeppelin I, 1969)
An inspired exercise in musical contrast, as explained by legendary rock producer and Zep superfan Rick Rubin: "It's like the drums are playing a big rock song and the guitars are playing a gentle folk song. And it's got one of the most upbeat choruses of any Zeppelin song, even though the words are so dark." All true, making it the first album's biggest grower of a track.
43. "Moby Dick" (Led Zeppelin II, 1970)
Just straight flexin'. Bonzo certainly earned the right to have one song a concert that he could turn into a ten-minute solo for his own self-gratification if he so desired, and "Moby" was that song — though in the studio, they at least keep that whale of a solo down to a (relatively) trim three minutes or so. Don't sleep on that ridiculously grungy Page riff either, though — or Bonham's underrated intro fill, sampled for the Beastie Boys' "What Comes Around."
42. "Trampled Under Foot" (Physical Graffiti, 1975)
One of the band's thickest, tightest stomps, largely thanks to the superlative work of John Paul Jones on the clavinet and a melody generously pinched from the Doobie Brothers' "Long Train Running." As fun as it is, though, it goes on a minute or two too long after the groove starts to feel repetitive and Plant's cars-as-sex (sex-as-cars?) exhortations get considerably tiresome, keeping it comfortably out of the group's top tier of hits.
41. "Celebration Day" (Led Zeppelin III, 1970)
Responsible for one of the most exhilirating moments on a Zeppelin record, when the Moog echoes that end "Friends" give way to this song's galloping opening riff. The rest of the New York-inspired song is fine, if mostly unextraordinary, but it does contain a fairly blistering eight-bar Page solo and a solid chorus hook: "My my my I'm so happy / I'm gonna join the band!" Sounds like fun.
40. "I Can't Quit You Baby" (Led Zeppelin I, 1969)
The best of LZI's traditional blues numbers, an Otis Rush cover done in a similar style to "You Shook Me," but keeping things light and engaging enough that it never feels like the same kind of drag. Plant's banshee wailing is on point and the rhythm section is as locked in as ever, but really, it's a showcase for Page, who kills every little mid-verse fill he gets — and he gets a lot of them — before out-Claptoning Clapton on the song's proper solo(es).
39. "In the Evening" (In Through the Out Door, 1979)
The Zeppelin equivalent to Pink Floyd's "Young Lust," a strutting, disco-flicked number with pounding drums and a creepy, bad-ass intro lead-in. Something about the mix of "Evening" keeps it from being the dance-rock scorcher it probably should have been — the bass is barely audible, the synths are way too high, and Plant's non-chorus vocals are thoroughly unintelligible (though the latter may have been purposeful and possibly for the best) — but it's still a mostly successful expansion of the Zep sound, and a much-needed blast of energy coming off their least-propulsive album to date.
38. "Traveling Riverside Blues" (Boxed Set, 1990)
37. "The Lemon Song" (Led Zeppelin II, 1969)
Two songs inspired by the same Robert Johnson original, both among the group's best blues reinterpretations. "Riverside" is all about that slide-guitar riff, one of the lithest, slipperiest, and generally arresting in Page's oeuvre — if it didn't directly inspire the similar intro riff to Jeff Buckley's "Last Goodbye," it had to have at least indirectly informed it. On the whole, though, "Lemon" is stronger, with a riff as mean as the "Riverside" hook is gleeful, a great mid-and-late-song tempo switch, and a much better deployment of the infamous "squeeze my lemon" section — about as subtle as the band's songwriting thievery, but as shamelessly inspired as well.
36. "D'yer Maker" (Houses of the Holy, 1973)
One of the ultimate Love-It-or-Hate-It Zep tracks, a cloying reggae tribute with purposefully thoughtless lyrics and one of the most frequently mispronounced song titles in rock history. (Hint: It's supposed to sound like a country.) It's very good in album context and great for the occasional drunk radio sing-along, though maybe not so much filtered into Sean Kingston bubblegum hits.
35. "Bron-Y-Aur Stomp" (Led Zeppelin III, 1970)
As much as we use the word "stomp" to talk about Led Zeppelin's sound, only one song of theirs actually includes it in the title, and it certainly earns it. With Page's endless acoustic riffing and Plant's double-tracked rhapsodizing laid over Bonham's boom-bap drums, with handclaps and castanets and even spoons (!!) adding to the fun, it sounds like the whole village is in on this one, giving Zep the traveling-folk-band air they seemed determined to cultivate on LZIII's first half. Despite hardly being the band's most popular number, they played this one live throughout the '70s, and it's not hard to see why.
34. "Four Sticks" (Led Zeppelin IV, 1971)
Not the proper invention of "math rock" per se, but one of the first songs where you can actually hear the band members counting along in their heads as the song goes on. Considering the time-signature trickery on display, it's a little amazing that "Four Sticks" remains as enjoyable as it does — likely a tribute to the supernatural time-keeping ability of Bonham, who keeps the song pulsing along at a tense, almost suspenseful clip, long enough for the band to get to the song's foreboding-synth climax. It peters out a little at the end, likely due to understandable exhaustion.
33. "Nobody's Fault but Mine" (Presence, 1976)
One of two songs from Presence anyone still bothers to remember, because of its fully-formed riff, locked-in groove — even with constant interruption — and the band's wise choice to give Plant able vamping room on the title-repeating chorus. The production is perfect, the harmonica solo comes screaming in from out of nowhere, and the guys seems to be talking to each other on a level they reached (disturbingly) infrequently in the late '70s. To stretch as few ideas as this song does over six minutes without ever being less than awesome is pretty damn hard to do.
32. "Rock And Roll" (Led Zeppelin IV, 1971)
Among the group's most popular rave-ups, earned through the sheer frenzy of Bonham's cymbal-crashing, Page's fret-racing, Jones' keys-on-fire piano, and Plant's dog-whistle shrieking. There's not really a whole lot of song there, truly — it's a repetitive and largely meaningless chorus, and the melody is pretty standard issue — but the band is just in such top form that "Rock and Roll" was able to become a classic worthy of exemplifying its title anyway.
31. "The Rover" (Physical Graffiti, 1975)
Not a radio standard, but a devoted fan favorite — Wikipedia says so, even if it's citation needed — thanks to the mega-sized, phase-shifted guitar riff and steady bass groove. It's just the sound of Zeppelin at their most generally unimpeachable, heavy without being overbearing, epic without being self-indulgent, anthemic almost just by showing up.
30. "In the Light" (Physical Graffiti, 1975)
Graffiti's second album-opening attempt at their own "Within You Without You," with less specific talk of inner peace and more sexual come-ons. The climax comes on a little strong ("Everybody needs a light!"), but the intro is one of the band's most captivating, and the way the song toggles between minor-chord tension and major-chord warmth across its various sections without totally breaking its sense of flow is pretty sensational.
29. "Going to California" (Led Zeppelin IV, 1971)
Occasionally dipping into eye-rolling sappiness ("She plays guitar and cries and sings / 'La la la la….'"), but generally as tender and moving as any ballad in the band's catalog. There's a real undercurrent of loneliness and insecurity there ("Telling myself it's not as hard, hard, hard as it seems…") that keeps it from becoming sickeningly cloying, even when it's used to soundtrack an event as douche-chilling as the Entourage series finale. It's also supposedly inspired by Page and Plant's mutual infatuation with Joni Mitchell, so that's a win for her.
28. "Communication Breakdown" (Led Zeppelin I, 1969)
As much as Zeppelin might have fretted about being phased out by the punks in the late '70s, they could've very easily pointed to the three-chord riffing and breakneck pace of their debut album's "Communication Breakdown" as evidence that they'd beaten the brats to the punch nearly a decade earlier. The band would go on to write songs way more complex and compelling than this, but they never got rawer or harder-hitting — and in fact, no less a punk authority than Johnny Ramone admitted to practicing this song to master his guitar technique.
27. "The Wanton Song" (Physical Graffiti, 1975)
OK, so maybe there's one other time Zep approached the rawness and punchiness of "Breakdown." "Wanton" is as explosive as any of the band's riffs, an eight-note blast over Bonham's boom-bap drumming that totally overshadows whatever libidinous claptrap Plant is on about. The song's calmer bridge breakdown — arguably necessary to keep the track from being totally head-snapping — probably disqualifies it from being the true equal of the utterly relentless "Breakdown," but it's also the more complete song for it.
26. "Carouselambra" (In Through the Out Door, 1979)
Certainly not among the fondest-remembered songs in Zeppelin's body of work, the ten-plus-minute "Carouselambra" is nevertheless one of their most fascinating, half-prog and half-disco, with a zooming guitar line, a juggernaut of a synth hook (which unexpectedly goes all Kraftwerk about halfway in), and one of Plant's all-time most-enigmatic lyrics (Opening lines: "Sisters of the way-side bide their time in quiet peace / Await their place within the ring of calm"). It shouldn't work, and many likely would argue it doesn't, but the playing is never less than air-tight, the groove is considerable, the melodic ideas are plentiful and unpredictable, and the sheer musical ambition is jaw-dropping.
25. "In My Time of Dying" (Physical Graffiti, 1975)
A long way from the Zep's earlierst blues excursions, to be damned sure. "Time of Dying" stretched the band's bluesy laments to a full 11 minutes, which could have resulted in disastrous over-noodling and interminable dragging, but Zeppelin manage to maintain interest throughout, with a variety of well-timed tempo and dynamic switches ("We're jamming. We're having a ball. We. Are. Playing," Page would say of the largely-improvised recording), and one of Plant's all-time masterful vocal performances ("Oh my JEEEEE-SUUUUUS!!!"). Why they undercut the whole thing at the end with a bad in-studio joke is anyone's guess, but by then, they've earned the right.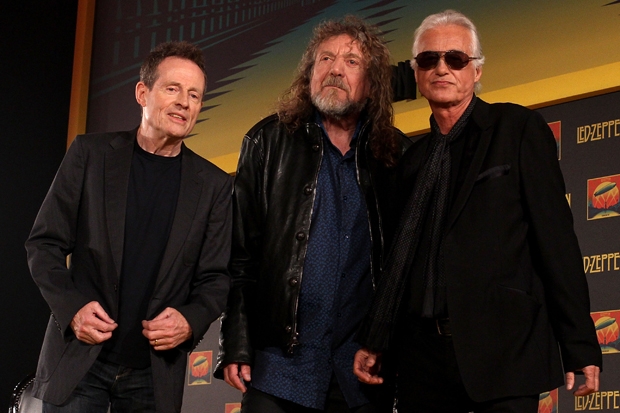 24. "Babe I'm Gonna Leave You" (Led Zeppelin I, 1969)
A sneakily weird early Zep cut, "Babe" tears through its tense acoustics with some of the band's most unexpectedly ferocious playing — when the guitars and drums come crashing in pre-chorus, it's about as metal as anything your'e likely to hear in pre-Sabbath rock, and Plant's caterwauling rarely sounded this pointed again ("WE'RE GONNA GO…WALKING THROUGH THE PARK…EVERYDAY!!!"). Wouldn't have been our first guess for Miley Cyrus' choice of a Led Zeppelin cover, but we respect it just the same.
23. "Houses of the Holy" (Physical Graffiti, 1975)
In the "Songs Not Actually on the Albums They Share a Title With" hall of fame, "Houses" is a first-ballot entry and might even get its own wing. It's not hard to think of a couple of songs that could've been cut from Houses to make room for its ostensible title track, but fine: Its loss is Graffiti's gain, and in "Houses" it gets one of the group's poppiest, most buoyant rockers — and most critically, the one with the most cowbell to spare. It kicks off in high gear and doesn't outstay its welcome, and it's virtually impossible to get sick of.
22. "No Quarter" (Houses of the Holy, 1973)
A mood piece unlike any other in the Zep discography, with supremely fuzzed-out guitar, aqueous electric piano, and a muffled-sounding Plant — not to mention Page pitch-shifting the whole thing down after the fact — creating a uniquely disqueting vibe that may as well have invented the Deftones' entire post-'90s output. Plant sings about the "winds of Thor" and "dogs of doom," but he could have been singing about ice cream sandwiches and Slip N' Slides and it would have probably sounded just as ominous.
21. "Since I've Been Loving You" (Led Zeppelin III, 1970)
Maybe Plant's crowning achievement as Zeppelin's vocalist, the gut-wrenching, Janis Joplin-like hysteria he imbues "Since" with elevates what would otherwise be a fairly standard Zep blues run-through to the centerpiece of LZIII. A five-star Page solo to carry the song's mid-section certainly helps things along, but this is Plant's show, and he steals it right back from his bandmate with his first "SAIIIIIIIIIID I'VE BEEN CUH-RYING!!!!" Listen to this after soundalike "Tea For One" (81) if you need a contrasting example to show how lifeless a song like this becomes when Plant sounds totally divested.
20. "The Song Remains the Same" (Houses of the Holy, 1973)
If not the all-time best Zep opener, then the one that sounds the most like it couldn't have fallen anywhere else on the album. "Song" bursts out of the gate like Seattle Slew at Belmont and barely lets up for its 5:30 runtime, each band member trying to elbow their way into the spotlight while still remaining perfectly in-step as a collective unit. The song was originally planned without vocals and sounds like it — Plant's contributions are sporadic and mostly negligible — but for a musical example of Zep at the peak of their instrumental powers, you can't do much better than this.
19. "Good Times Bad Times" (Led Zeppelin I, 1969)
A hell of a way to kick off your recorded output, with that repeated bar chord and the drums sneaking up from behind it, congealing into one of the band's definitive grooves right in time for Plant to slither in over it. Zep would grow as songwriters and musicians over the course of their ten-year career, but "Good Times" shows how their swag was on 100 right from their very first notes as a band, and their cockiness is still totally infectious when heard in the American Hustle trailer over 40 years later.
18. "Ramble On" (Led Zeppelin II, 1969)
It's all about those drums. Not really drums, even — no one seems to know for sure what device Bonham played the song's distinctive rhythm part on (the bottom of a trash can? A hard guitar case?), but the tone of it is so light and breezy that it gets the song started off in the clouds, the perfect bed for JPJ's weightless bass line and Page's pillowy guitar-strumming to come floating in over. Plant's rambling ways (previously foretold in "Babe I'm Gonna Leave You") are key once the songs in, though again: Do we really need Gollum sweeping in to steal your girl in the third verse, Robert? Let it go.
17. "Achilles Last Stand" (Presence, 1976)
It's hard to imagine how the general malaise of Presence didn't seem to infect one note of "Achilles Last Stand," but absoltuely zero of our complaints about the band's LP nadir apply to the album's scorching opener. Whatever else was going on with Zep in '76, for ten-plus minutes of "Achilles" they remembered that they were the best band in the world, and put together a chugging monster of a jam that never lags in energy or feels even slightly redundant, its impact so relentless that you'd be grateful for another five minutes of galloping bass and rapid-fire drum fills. Oh, and the band invents the Cult's entire career with the bookending guitar riff, just for good measure.
16. "Dazed and Confused" (Led Zeppelin I, 1969)
Better enjoyed at six-and-a-half minutes than the near-half-hour it would stretch out to onstage, "Dazed" is the number where it became obvious that Zeppelin were worthy of their heroes when crafting blues standards entirely of their own. The intro is still one of the most demonic-sounding things ever heard on a major rock record (even moreso than the incantation-like breakdown section) and Plant's guttural squawking over the verses, while questionable in lyrical nature ("Soul of the woman was created below" — sorry, ladies) it's undeniable in its transportative power.
15. "What Is and What Should Never Be" (Led Zeppelin II, 1969)
Zeppelin was doing loudQUIETloud way before the Pixies, with the verse-to-chorus on "What Is and What Should Never Be" being a particularly strong example of the band's mastery of dynamic shifting. The loose, almost jazzy tip-toeing of the verse gives way to one of the band's most rip-roaring choruses (and best outros), a jutxtaposition well exploited by the most intense scene from 2012's Silver Linings Playbook. (Bradley Cooper and David O. Russell: Keeping the Zep flame alive one Oscar-bait dramedy at a time.)
14. "The Ocean" (Houses of the Holy, 1973)
Real talk for a minute: The fact that there are 13 Zeppelin songs we think are better than "The Ocean" is all you need to know in order to understand what a totemic band this was. There might not be more than two or three hard rock bands from the entire 1970s who wouldn't gladly trade their biggest hit for this one, a song that stuffs an entire King Crimson album's worth of changes in tone, tempo, and time signature into one blistering four-and-a-half minute pop single, just to show how f–king easily it comes to them. They don't even bother to take out the phone that goes off in the middle of the song — seriously, check it at 1:38 — because who cares, really? Maybe not their best song, but possibly the most casually brilliant thing they ever did.
13. "That's The Way" (Led Zeppelin III, 1970)
The peak of Zeppelin's first run of acoustic experimentation, "That's the Way" is as simple and lovely as the band ever got. It's the kind of song you write after a long day of walking around your stately manor in Wales, which we might not have known before Zep showed us here, as Plant was apparently so overcome with his surroundings that it inspired one of his most deeply felt lyrics — a love song that sounds and feels more like being in love with the entire universe than with any sepcific person or thing. That, indeed, is the way it ought to be.
12. "Whole Lotta Love" (Led Zeppelin II, 1969)
The band's biggest U.S. chart hit, hitting #4 in late '69, and a regular on pretty much any greatest-rock-song-ever list, for a reason. The riff has justly become part of the DNA of popular music, the theremin breakdown section ("A combination of Jimmy and myself just flying around on a small console twiddling every knob known to man," engineer Eddie Kramer said of it) was decades ahead of its time, and Plant's "WAYYYYYY DOWWWWN INSIIIIDE…." a capella testifying is among the most spellbinding vocalizing ever heard on a rock record. It might not sound quite as fresh the 10,000th time as it did its first, but its greatness is inarguable.
11. "Black Dog" (Led Zeppelin IV, 1971)
Like "Love," a song so canonical that it basically invented an entire set of rock cliches on its own. The call-and-response between Plant and the rest of the band at the song's beginning is a song construction almost too perfect to be imitated — and the groove is so sneakily arrhythmic that it's borderline impossible for a lesser band to cover — and basically everything you need to know about Plant's animalstic, early-'70s persona can be expressed in those opening 15 words. "Dog" gets the slight edge over "Love" here by virtue of that off-kilter, winding nature, which makes the song that much fresher, 40 years of classic-rock overplay later.
10. "Immigrant Song" (Led Zeppelin III, 1970)
With an opening and riff as classic as either "Love" or "Dog" (and twice as violent), "Immigrant Song" also has the advantage of being under 150 seconds long, an improbably compact shore-invading assault that barely gives you time to process its ass-kicking awesomeness before it gives way to "Friends" on LZIII. Any hockey game where this song isn't played at least once — and preferably once per goal, home or away — is not giving its attending fans the experience they deserve. (And in terms of geeky metal imagery cliches, norse mytholygy >>>> Frodo.)
9. "The Rain Song" (Houses of the Holy, 1973)
That's the Way" is the band's best acoustic number, but "The Rain Song" is their best ballad, a gorgeous, chiming epic that builds and unwinds itself perfectly, with strings, piano, and even mellotron all adding to the song's stately mystique. Even without the title and "Just a little rain…" section of the song's climax, it evokes the feeling of rain falling outside your window as well as any other song ever has, and shows that the world's biggest band didn't always have to go huge to achieve maximum impact.
8. "Misty Mountain Hop" (Led Zeppelin IV, 1971)
The secret weapon of the group's best album, cleansing the palette post-"Stairway" with one of the group's simplest, most accessible and most addictive rockers. The overstuffed verses create a tension with their mantra-like intonation, one gleefully alleviated by the sheer release of the main riff, a streamlined guitar, and electric piano wallop that keeps Plant's raving about a late-'60s hippie bust from ever getting bogged down in flower-power dippiness or self-righteousness. It's an absolute blast, and one of the more underrated numbers from Zep's classic period, if such a thing is even possible.
7. "Ten Years Gone" (Physical Graffiti, 1975)
Perhaps the best Zeppelin song that radio never seemed to really get a handle on, a dark and devastating epic that lives up to the contextless drama of its title. It's also the secret masterpiece of Jimmy Page's ouevre, a stitching together of about a half-dozen riffs, each of which has its own unmistakable identity, somehow woven together to create the base for a surprisingly coherent masterwork of regret and unease. "It sounds like nature coming through the speakers," Rick Rubin once said of the song, and he wasn't wrong.
6. "When the Levee Breaks" (Led Zeppelin IV, 1971)
If John Bonham never did anything for Led Zeppelin but the first two measures of "Levee," his place in rock history would still likely be secure. The song's thundering intro — the famous sound of which was achieved with two mics at the other end of a staircase from the kit — has been sampled and rebuilt so many times in rock and rap history that you'd think it'd lose its impact, but when it hits as the last track on LZIV, right before Plant zooms in with that swampy harmonica blaring, it doesn't matter how many thousands of times you've heard it before. The rest of the song is nearly as great, but when you have the best intro on a Led Zeppelin song — the group with more classic intros than any other rock band in history — it's worth keeping the focus on that.
5. "Fool in the Rain" (In Through the Out Door, 1979)
A large portion of the Zep-listening population would likely bristle at the inclusion of the band's final Top 40 hit in their all-time top five, and it's not hard to see why. Conceptually, the song sounds disastrous: a pop song closer that's just as much "Bennie and the Jets" as "Whole Lotta Love," which drops out with a hissing disco whistle for an extended samba breakdown? Luckily, Led Zeppelin were really good goddamn songwriters, and "Fool" is as tight and catchy and clever as any other late-'70s crossover, with one of Plant's finest story lyrics — a mopey tale of getting stuck in the rain waiting for a date, with the perfect last-line resolution — and an out-of-nowhere Page solo that shreds about as much as anything he did on the band's first few albums. Ignore the haters: "Fool" is classic Zep, and shows that the band was still capable of excelling in new and interesting modes, right up until their untimely breakup the following year.
4. "Stairway to Heaven" (Led Zeppelin IV, 1973)
The most monolithic song in rock history, a song that's no fun to write about and is occasionally no fun to even listen to. But what can you say? "Stairway" is "Stairway," and there'll never be another song like it. If it's not the band's best song, it is the one you need to have heard, the one that tells you everything about the band's lyrical and musical infatuations, their strengths and their weaknesses, their power and their legacy. And by the end, yeah, it rocks pretty damn well too, with a Page solo consistenly ranked as the greatest in music history, and deservedly so. It might not be our favorite Zeppelin song — the Song Remains the Same doc might have permanently ruined any chances of that — but if you were to put it No. 1 on your list, we couldn't really disagree with you.
3. "Heartbreaker" (Led Zeppelin II, 1969)
A typically searing main riff and Plant vocal for the first few verses, but "Heartbreaker" doesn't reach its highest gear until the key shifts unexpectedly for the song's makeshift third verse, which goes all crazy at the end ("Why'd you call me some other guy's name / When I'm tryina make LOOOOOVEEEE TO YOUUUUU!!!") before cutting out completely for a solo Page showcase. His playing in that section, sans accompaniment — rivaled only by "Eruption" as the most famous true guitar solo in rock history — is peerlessly electrifying, and the moment when the band kicks back in is nearly as good.
Taken in full, "Heartbreaker" is an insane mishmash of questionable ideas — hell, how many other songs can you think of that end mid-word? — but the band's brilliance and sheer bravado carries it, making it one of their best and best-remembered songs, and proof that they could simply do things other bands could not.
2. "Kashmir" (Physical Graffiti, 1975)
The song Led Zeppelin themselves would most like you to remember them by, and for good reason. The biggest song on their biggest album in the biggest stretch of their career, "Kashmir" was, obviously, Led Zeppelin's ultimate too-big-to-fail moment: a plodding eight-and-a-half minute journey through a faraway land that Zeppelin themselves had never even been to, a song which was either going to define them as pretentious fops whose reach far exceeded their grasp, or simply, the greatest hard-rock band in the history of recorded music.
Naturally, it did the latter, as the song stands as their most singular, hypnotic and awesome-in-the-truest-sense epic of the band's career — though they'd have their moments in the former category soon enough. Puff Daddy caught some heat when he sampled the song for the silly "Come With Me" off of the 1998 Godzilla sountrack, but his instincts were right: The "Kashmir" riff is the sound of a gigantic green lizard wrecking a downtown metropolis, and like the rest of the song, it never ceases to amaze.
1. "Over the Hills and Far Away" (Houses of the Holy, 1973)
Why "Over the Hills"? It's not the band's best-known song or biggest hit. It's not the band's most rocking or prettiest song. It's probably not the first song that anyone thinks of when they think of Led Zeppelin. But it is the song that best demonstrates just about everything the band does well: the unforgettable and impossible-to-pin-down opening riff, the life-affirming transition from acoustic to electric, the constant switches in tone and dynamic, the piercing solo with double-tracked climax, the impeccable interplay of guitar, bass, and drum, the inimitable Plant shrieking, the gorgeous coda, even the super-oblique title… it's Zep through and through, checking all of the boxes and kicking your ass while doing so.
But the thing that really seals it for "Over the Hills" is the sense of wonder it inspires. Zeppelin's greatest quality, apart from the weird time signatures and otherworldly instrumentation and teenage-male-pandering lyrics, was their ability to elevate, to make you believe that there was a secret world of higher musical understanding that only they as the Ultimate Rock Gods had access to, and which they could transport you to for three to ten minutes at a time, depending on which side of which album you were listening to.
The climax of "Over the Hills," as the song's main hook starts to fold in on itself, and Plant does his "You really ought to know…" wailing, as the song echoes on and on into infinity, is as wondrous as the band ever got, achieving a classic-rock nirvana that only a handful of songs in history have ever been lucky enough to be able to touch. The harpsichord outro and brief fade-in of the rest of the band that closes the song brings it back down to earth a little, but the sensation lingers on far after you're done listening. Zeppelin rules.