It's surprisingly easy to forget about Led Zeppelin in 2014. With arena rock gradually fading from relevance, or at least being subverted and co-opted as a genre and idea — the closest thing to a stadium-geared blockbuster in the last year might have been One Direction's Midnight Memories — Zeppelin's enduring influence as the ideal of Big Rock Music is less relevant than ever. Even Almost Famous, the Zep-soaked Cameron Crowe flick that helped expose a new generation to the classic rock of their parents, is almost 15 years old at this point. The next time you hear "Stairway to Heaven," it might actually sound interesting and refreshing — which is kinda cool, but just feels intuitively wrong.
It takes an event like this year's spate of deluxe Zeppelin reissues — the first three were released back in June, while IV and Houses of the Holy are on deck for next month — to remind you of how incredible this band really was. Some elements of the Zeppelin experience haven't dated quite so brilliantly — namely the rampant misogyny, the even more rampant Tolkien references, and the always-terrible 1976 Presence LP — but the songs, the sound, and the sheer size of the group continue to dazzle to this day. If they make music on this scale in 2014, it's certainly not to be found in the rock genre, and you'd be pretty hard-pressed to find it anywhere else, either.
As a tribute to Led Zeppelin, we've ranked all 87 songs in their recorded catalog. Any song to ever appear on a commercial Led Zeppelin release — even the live ones and the reissues — can be found here; for Led Zeppelin songs with multiple recorded versions, we opted for the best-known rendition. Enjoy our list, and next time you're in your car or your shower, maybe give the local classic rock station a little love.
87. "LA Drone" (How the West Was Won, 2003)
A 15-second intro track to the band's excellent live album, this one is true to its name — and included here for strict completionist purposes only.

A hookless, aimless, funk-less tribute to Bo Diddley and '50s rock that was somehow released as a single A-side, demonstrating just how out of touch the band was in 1976.
Near-comic in its repititiveness, "Darlene" does eventually build a certain swing to it, but only the most devoted of fans are likely to bear with it long enough to get there.
A faithful but muddled-sounding and mostly uninspired Eddie Cochran live cover, showcasing Zep as the unpretentious rock purists they never were (and never should have been).
83. "Hot Dog" (In Through the Out Door, 1979)
After the untenably monochromatic Presence, Zeppelin decided to go the other way with the disorienting genre-hopping of In Through the Out Door. Several of the experiments were actually quite successful; this cartoonish hoedown excursion was less so.
This one's really strong for the first 11 seconds. Unfortunately, they're followed by about 177 seconds of thoughtless funk noodling and in-jokey mewling from Robert Plant.
A good song — unfortunately, it's one they'd already written six years prior. Jimmy Page has essentially admitted the song was a total rewrite of III's "Since I've Been Loving You," and Plant sounds so bored with the rehash that he might fall asleep before the two-minute mark.
There's a spark there at the beginning, but it's not strong enough to survive the 50th "Ooo-ooh / It's my love" exhortation in the song's quickly-grating chorus.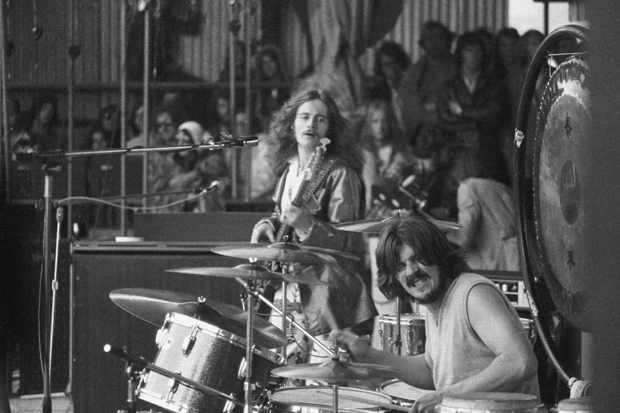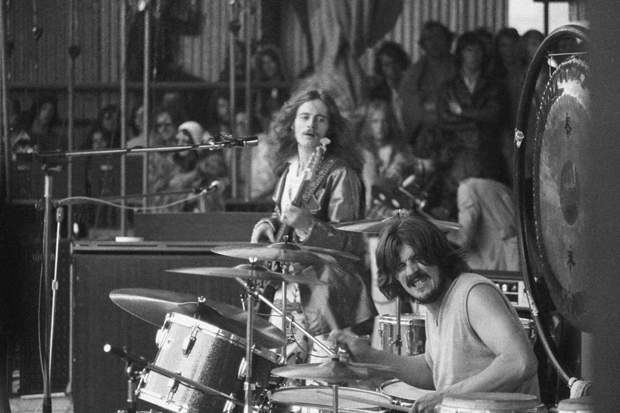 More of ITtOD's self-conscious genre-hopping, this time a jaunty honky-tonk number with Elton John saloon-style piano and one of Plant's more irritating vocals. Someone should've spell-checked that title, too.
Possibly the slightest song to appear within Zep's original classic six-album run, the throwaway folk jam "Woman" is buried deep enough in side four of the Physical Graffiti double-LP that maybe they hoped no one would notice it. They were mostly right.

Another solid intro in search of a song to follow: Like most of the somewhat ironically titled Presence, it loses itself somewhere in the second or third minute of momentum-less grooving.
The band's least-successful early blues reinterpretation, aiming for slow and seductive, but overshooting the mark and ending up just kind of sluggish.
An utterly fantastic title, and if you remember a single other thing about the song, you're a better fan than I.
74. "La La" (Led Zeppelin II (2014 Deluxe Edition Reissue), 2014)
Not a fully-formed song by any means, but a perfectly pleasant organ-led trifle from the first batch of Zep reissues.
Like "Black Country Woman," this is back-end filler for Graffiti. Supremely silly, though there is some legitimate boogieing to be had, at least.
Hardly one of the group's most memorable rockers, but John Bonham's relentless bass drum-pounding gives the song a pulse that makes it engaging enough. Parts of it may have inspired the White Stripes' "Icky Thump," though you could say that about at least four or five Zeppelin songs.
Another largely stuck-in-the-muck Presence jam, though this one at least has a catchy hook or two ("La la"s and "Oh-oh"s! Stereophonic double-tracked guitars!) to get you through the near-five-minute runtime.