A photo of Jack White pouting at a Chicago Cubs game has inspired a lot of speculation as to the cause the White Stripes founder's distress — it just seems so out of place in such an uplifting environment, right? Well, baseball games aren't fun to everyone, and it looks like White is not a fan. Or he is, and he's a masochist. Over the past few weeks, the Instagram account for his Third Man Records label has posted a series of photos of the man at games, or holding baseball paraphernalia, and he doesn't look very happy in most of them.
Our theory: Someone has been dragging Jack White to baseball games before his gigs and forcing him to pose for Instagram snapshots to commemorate the miserable events. That would explain why he's been cranking out odd covers of pop hits.
The day before the release of White's latest album, Lazaretto, the Third Man account posted a picture (above) of him pulling a duck face with a baseball bat and a Detroit Tigers cap. Maybe he was stressed out before the big day, and his captor insisted that visiting the batting cages would help blow off some steam.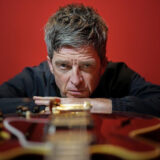 This picture popped up three days ago, when White (and Pokey LaFarge) dropped by Busch Stadium in St. Louis. The caption (visible here) says that there was only an hour left before the rock star's show at the local Fox Theater, so maybe White looks bored and pissed off because he knows he should be sound-checking.
Two days after White's gloomy day at Busch Stadium, his presumably baseball-loving cohort hauled him to Miller Park in Milwaukee. This one was taken just 30 minutes before White's show, and as a hashtag in the caption suggests ("30 minutes to show. Oh boy. #jackwhite #thirdmanrecords #milwaukeebrewers #cincinnatireds #millerpark #eaglesballroom #cuttingitclose"), perhaps that was too close for Jack's comfort.
Jack White is at the Cubs game, and looks like he's at a Cubs game: http://t.co/HTWIxck2JI (Pic: @AndrewCieslak) pic.twitter.com/KjeTyTybWf

— SB Nation (@SBNation) July 23, 2014
Here's the photo that caught everyone's attention, captured at Wrigley Field during "the party of the century." He's probably glad that someone has finally noticed how glum he is at baseball games. Perhaps he'll soon be liberated.
not a fan of cracker jacks pic.twitter.com/mCiKovdTYD

— nick pants (@nick_pants) July 23, 2014
This one, taken at the same Cubs game, looks like a cry for help.
This is only evidence Jack's trip to the Cubs game that appeared on the Third Man account. We can't tell if he's happy to hang out with Eddie Vedder, Cubs owner Tom Ricketts, and GM Theo Epstein, or if he's forcing that smile. He may not even know anymore.
This one was posted about two hours ago. Somebody save him! He's probably super hot in that outfit, too, so bring him a T-shirt while you're at it.