SPIN Rating:
Release Date:
July 29, 2014
Label:
Warner Brothers
"I've been wearin' all black/ Since the day it started." That's how Jenny Lewis opens The Voyager, even though her third solo album features the former Rilo Kiley frontwoman sporting a pastel-splashed pantsuit that would be the envy of any L.A. hipster (or Care Bear). It's a depressive/celebratory yin-yang that exemplifies her welcome return to music after six years offstage. Recent interviews have hinted at tough times, with family loss and insomnia referenced as source material. But you wouldn't assume a troubled backstory from the music — Lewis has channeled her grievances into a statement of life-affirming and ebullient guitar pop.
All of this songwriter's familiar touchstones are present in leadoff track "Head Underwater," from her clear delineation of cheery gloom ("my own mortality I contemplated") to jittery '80s hookcraft reminiscent of fellow Californians Haim. Fifteen years after transitioning from child actor to indie rock royalty, she's perfected her craft, translating "random acts of hopelessness" into earworm gold while puzzling over questions so hefty one might as well label them Socratic: "Can vanity and happiness coexist?" Having mastered the art of close observation, she's now a trusted chronicler of human weakness, lamenting "me and you and what we'd do for money" in the midst of highlighting the ways major life events require minor adjustments of character (and vice versa).
Yet for the first time in a decade, Lewis doesn't sound like a songwriter breaking free from a band's strictures. She's in fact returned to the rococo indulgences of Rilo Kiley's 2007 swan song Under The Blacklight, that 11-song conjuring of the paranoid coke-twitch of Carter/Reagan-era El Lay, a hazy Valley fever of Joan Didion and Robert Altman's Short Cuts so Interstate 710-specific that some indie traditionalists cried foul at the time — "California band makes California album" charged Pitchfork's Joshua Klein. He was right, although one could say the same thing about Steely Dan's east-coasters-in-exile opus Aja.
The studio gloss of Under The Blacklight merely highlighted Lewis' gifts for direct and clearly enunciated verse, and so it goes on The Voyager. A few surreptitious string arrangements surface; a Skunk Baxter guitar solo oozes out of "She's Not Me"; father-and-daughter reunion tale "You Can't Outrun 'Em" smolders like Eagles gone new wave. And she piles on baroque flourishes for the Beck-produced "Just One Of The Guys," its loping country-rock making way for a chorus tinkling with harpsichord, as Beck himself gamely murmurs in support.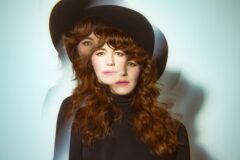 "Just One Of The Guys" is bewitching, an infectious melodic creation worthy of Brian Wilson. And that candy coating carries a deliciously funny tale of…well, what exactly? Getting buttonholed at parties by an old friend's arm candy? Eye rolling and shrugging your way through somebody's gender constructs? Wondering why your fertility status is anybody else's damn business? The song's delightful video adds layers of intertexuality: a backup band of celebrity friends (Anne Hathaway, Kristen Stewart) wearing all-white in backwards tribute to Robert Palmer's black-clad "Addicted To Love" ladies, juxtaposed with a collective drag act mocking masculinity in its tacky tracksuit glory, all while Lewis' narrator argues with that little voice/clock/cop inside, and suffers the indignity of being seen as little more than "just another lady without a bay-bee." That killer couplet gets delivered with taunting deliberateness, followed up with defiant rejoinder "that's not what ladies do."
The song's ambivalence goes way beyond reductive breeders/child-free constructs, which isn't surprising if you've paid attention to her career — ambivalence is what she's selling. So the uproarious yet heartfelt exploration of polyamorous yearnings on guitar-munching "Slippery Slope" finds a couple willing to attempt an open relationship yet unsure how to begin. A disastrous cava-drenched tropical vacation portends the end of somebody's relationship and quite possibly civilization itself (Lewis observes a handjob being administered on the balcony below with the wholesome raunch of Paul Rothchild-era Bonnie Raitt). And in "Late Bloomer," a "furious and restless" 16-year-old with a "Chelsea Girl haircut" falls in with a loose group of kindly bohemians in the 7th arrondissement, who make overtures of breaking in the naif (panting, "Come with us, late bloomer" in spooky Stevie Nicks mode) even though it's Lewis who sets her sights on Nancy from Boston: "Forgive me my candor/ But I just had to have her." The eventual threesome ends with averted gazes.
In typical Lewis fashion, even her kiss-offs are eloquent: "And you struggle with sobriety/ Dreams of notoriety/ Listening to Kill 'Em All." And no kiss-off is more bittersweet than "Love U 4ever." On first glance, it's straightforwardly euphoric — a lean, mean power pop wedding anthem gurgling with burgundy wine, sly enough to recall, "When you first kissed me, I was so annoyed," giddy enough to gush, "I could love you 'til all the Polaroids fade." It all sounds too good to be true, which is when you'll maybe notice the line about how eating out every night can't chase away the "feeling of hell in a hallway." What first sounded ecstatic — "I can't believe I'm getting married in May" — starts to sound pretty resigned. It's a perfect encapsulation of love's thorny imperfections, a nudging regret that overlays nearly every tale on The Voyager. In her tuneful insistence that every unhappy couple is unhappy in its own way, Lewis remains one of our foremost chroniclers of heartache and its discontents.