Before vinyl could be reborn, it had to die. Over the past several years, the resurgence of vinyl sales has become a familiar story, though it's always worth noting the format still reaches just a tiny niche compared to its pre-digital heyday. But the question has recently come up of when, exactly, the bottom really fell out for the vinyl market.
The answer, taking into account singles as well as albums, is complicated, but basically boils down to this: Although vinyl shipments fell off a cliff in the late '80s, they actually fluctuated at their new, lower level throughout the '90s, and didn't really hit their floor until the mid-aughts.

Sure, the idea that vinyl drowned by the mid-'90s under the weight of compact discs — and their "Perfect Sound Forever" — is utterly conventional wisdom, but a reason came up recently to reinvestigate. An exec for United Record Pressing, the world's busiest record manufacturers, said earlier in May that vinyl never really went away. Instead, according to the company's marketing director, Jay Millar, there's just been a shift in people's perception.
"When they think vinyl was 'dead' in the '90s, they're overlooking the fact that at that point CD jukeboxes were still a new thing," he told Billboard. "The seven-inch vinyl jukebox was [still] huge. And from my time working at labels at that point, I always had stacks of 12-inch singles behind my desk. Most radio stations were using 12-inch singles, every birthday party DJ, every roller rink, every discotheque, and record stores in general."
In other words, it was a time of vinyl singles, not albums.
"It's been within the last seven years [for United Record] that it's shifted to the LP market, offering things like download cards, custom jackets, all the bells and whistles that go into full-length LPs," Millar said. "In the '90s it was structured more towards things going into generic jackets with a sticker saying 'the new single from Jay-Z' or whatever."
This much is clear: New vinyl made up a vastly smaller share of the market in the mid-'90s than it did before the CD, whether we're talking about albums or singles. But it's true that the mid-'90s weren't a time of a particular decline in vinyl. Nielsen SoundScan doesn't track sales of vinyl singles, but according to the Recording Industry Association of America, labels shipped 10.2 million vinyl singles and 2.2 million LPs and EPs in 1995. Still, the number of vinyl LPs/EPs shipped actually went up the next year. And anyway, the real shift was decades in the making (see chart).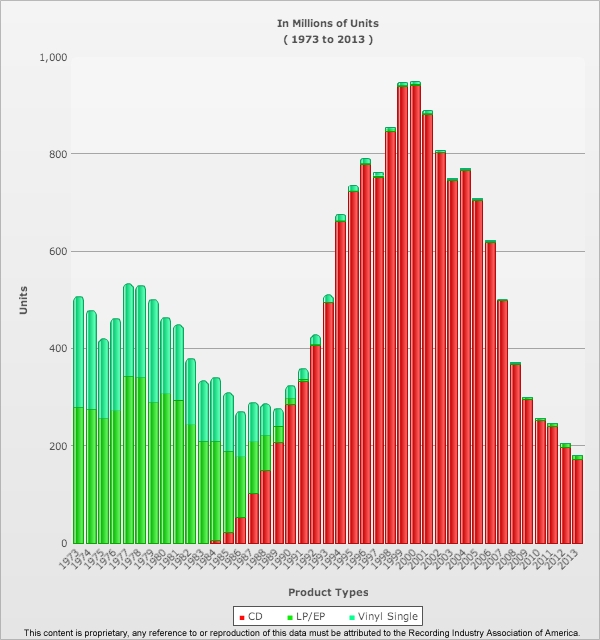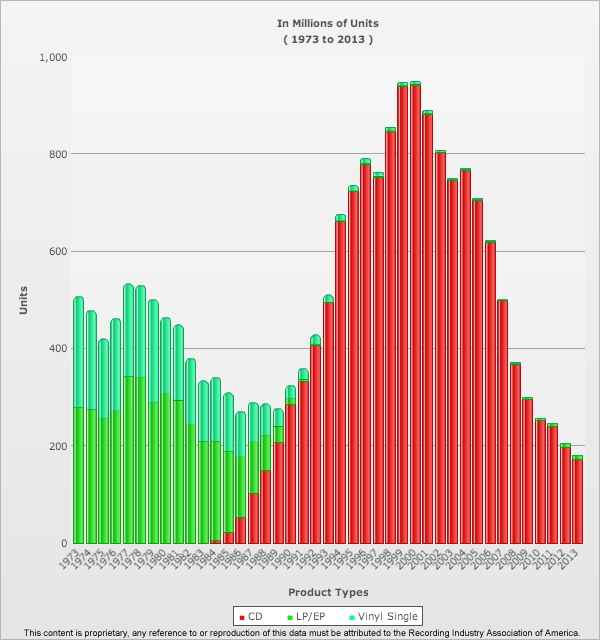 Vinyl singles peaked with 228 million units in 1973, the first year tracked by the RIAA, and LP/EPs hit their top at 341.3 million in 1978. From 1984 to 1988, total vinyl shipments were cut by more than half, a process that would repeat. By 1991, you had 22 million vinyl singles and 4.8 million LPs/EPs. The vinyl single stayed as high as 7.5 million through 1997, only bottoming out at 300,000 in 2009, a number it would repeat in 2010, and, indeed, last year. Until the recent rebound, annual vinyl LP/EP shipments never got higher than 3.4 million in 1998, ultimately cratering at 900,000 in 2006.
If vinyl died at a certain time, you could say it was either in the late-'80s — when the music medium suffered its first massive blow — or the mid-'00s, when it reached its nadir.
A similar pattern took place globally. According to the International Federation of the Phonographic Industry (which doesn't track vinyl singles), sales of vinyl albums tumbled from a peak of 1.1 billion worldwide in 1981 to 450 million in 1989; 109 million in 1993; and just 33 million in 1995. By 1997, they were down to 17 million, and after a slight bump to 22 million in 1998, they plunged as low as 3 million in 2006.
Again: vinyl died a million deaths, but the mid-'90s, bad as they were for the format, weren't the worst of it.
And that's just the official data. Plenty of vinyl might be left out of those numbers. In an email to SPIN, United Record's Millar points out that a great deal of vinyl being made in the mid-'90s "was promotional vinyl that wasnt really meant for sale, thus wouldn't have a barcode or be readily trackable in SoundScan."
Millar has a point about vinyl jukeboxes enduring in the '90s, too, although that's even harder to quantify. In 1992, Billboard reported, "To the delight of jukebox operators, the vinyl single's hold on life appears to be stronger now than it was two years ago." One distributor estimated that of the 400,000 bars and diners worldwide with jukeboxes, only 50,000 had switched to CDs. And by 1996, as CD jukeboxes were taking hold, Billboard was reporting on a "growing niche" of rap- and R&B-oriented singles for the old vinyl jukeboxes.
The market for used vinyl may also have outpaced new vinyl in the '90s. Mike Turner from Athens, Georgia's Wuxtry Records says vinyl made up roughly 5 percent of the store's new-release sales through most of that decade, while used vinyl still accounted for about 25 percent of sales. "With our store we never stopped selling or stocking vinyl, but there is an upswing in it," he writes.
Pressing plants probably stayed busy with small runs and fewer giant sellers in the '90s, speculated Martin Imbach of Seattle, Washington's Georgetown Records.
"I think the hip-hop, drum-and-bass, jungle, etc. scenes kept vinyl going strong during those years," he writes, speaking from experience as a collector, as the store didn't open until 2004. "It seemed like alt-rock bands and labels jumped ship for the most part. The exception was the burgeoning underground garage and Punk scenes — those bands often eschewed CDs completely, and still do."
Today, of course, vinyl is as popular as it has been in years. Jack White and Neil Young pressed a record on The Tonight Show With Jimmy Fallon. United Record is expanding. The annual Record Store Day event's sales surged in 2014, with some stores reporting their best sales ever; RSD best-sellers included exclusives from Nirvana, Tame Impala, and the Flaming Lips. Vinyl album sales rose to 6 million last year, according to SoundScan, up from 4.6 million in 2012 and a low of 857,000 in 2005.
There are concerns, of course: Wuxtry's Turner points to a rash of major-label reissues of albums already common in used-vinyl bins, an increase in pricing all-around with a smaller mark-up for record stores, and more problems with recording pressings than in the past. "It feels like a bunch of the bigger indie labels and major labels are trying to do the same thing they did with the CD," he writes.
Still, SoundScan counts 165.4 million physical CDs sold last year in the United States. Non-physical digital album sales were 117.6 million. If the vinyl record ever again outpaces other formats in popularity, its resurgence, like its fall, will have to be both gradual and dramatic.