After the Mars Volta broke up last year, a reunion seemed to be out of question, at least for the time being. Frontman Cedric Bixler-Zavala formed a new band with bassist Juan Alderete de la Peña called Zavalaz, while guitarist Omar Rodríguez-López and drummer Deantoni Parks tag-teamed to form Bosnian Rainbows. But now, this divide has been rendered moot with the birth of Antemasque, a supergroup with three-fourths of the former Mars Volta — including ex-drummer Dave Elitsch — and none other than legendary Red Hot Chili Peppers bassist Flea. Basically, it's like what Audioslave was for Rage Against the Machine.
And more good/great/grand news: The band has already produced its first single, "4AM," which is available for download on iTunes. From the sounds of it, the three-minute track is a fast-paced jam with Rodríguez-López's catchy chords and the signature screams of Bixler-Zavala, with Flea's numbing bass line underneath it all.
But aside from that, all is quiet on the Antemasque front, with only two videos of their activities surfacing online. The first is a two-and-a-half minute rehearsal (above), which premiered on ESPN's site this week, and the other is a 14-second-long trailer (below), flashing a sequence of the band's members over sound bites from the rehearsal. Both show off the band's logo: a pyramid you'd squint at from afar in an eye test, spelling out A-N-T-E-M-A-S-Q-U-E.
Don't necessarily get your hopes up for too much more from Antemasque, though. Here's Flea on Twitter: "Woke to find out I'm in a new supergroup. Hahahaha. Played on some tracks a few weeks ago with my friends omar and Cedric for love that all." (He has a long history playing with the Mars Volta, including on the bulk of their 2003 album De-Loused in the Comatorium.)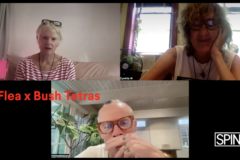 Flea has certainly been busy with other projects. When not eloquently copping to miming at the Super Bowl, the Atoms for Peace member has been at work on a memoir that's said to include "myriad experiences with hard drugs."
//www.youtube.com/embed/AEcQjnQ1Gvg?feature=player_detailpage