Flea recently proved that he has a way with words, penning a classy open letter in response to criticism of the Red Hot Chili Peppers' mimed Super Bowl halftime performance. Now the bass wiz is set for a project much more massive than that missive — his autobiography.
Grand Central Publishing signed the man also known as Michael Balzary to a deal to pen his memoirs, though a title and release date have yet to be announced. In a press release, the publisher notes that Flea is writing the book himself, and promises the following:
[Flea] will share stories from his intense and dynamic life, including his move from a "normal" upbringing in the suburbs of New York to Los Angeles to live a bohemian life with a jazz musician step-father; his young, rebellious life on the streets of LA where he befriends Anthony Kiedis and founds the Red Hot Chili Peppers with Kiedis and two other high school friends; details about his sometimes complex friendship and collaboration with Kiedis; his myriad experiences with hard drugs; and, of course, the tumultuous creative journey of the legendary Red Hot Chili Peppers through its various incarnations over the last 30 years, according to Flea.
In the same statement, the 51-year-old seven-time Grammy winner said, "I love literature deeply. I view books as sacred things, and in writing my story, I'm going to do my best to honor the form that has played such a huge part in shaping who I am."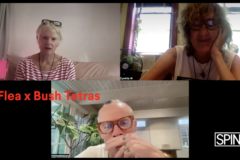 Meantime, we'll just have to speculate on the title. Socks, Drugs, and Rock 'n' Roll, perhaps?