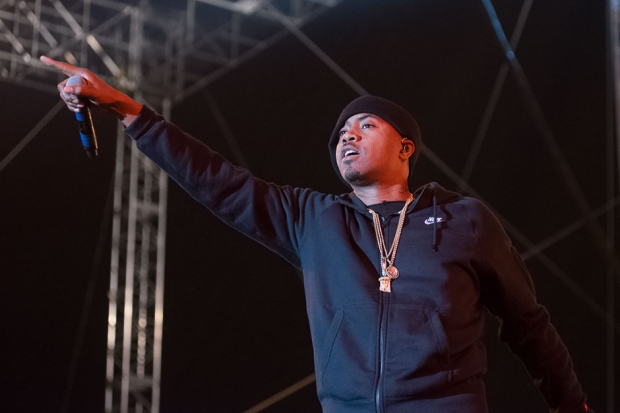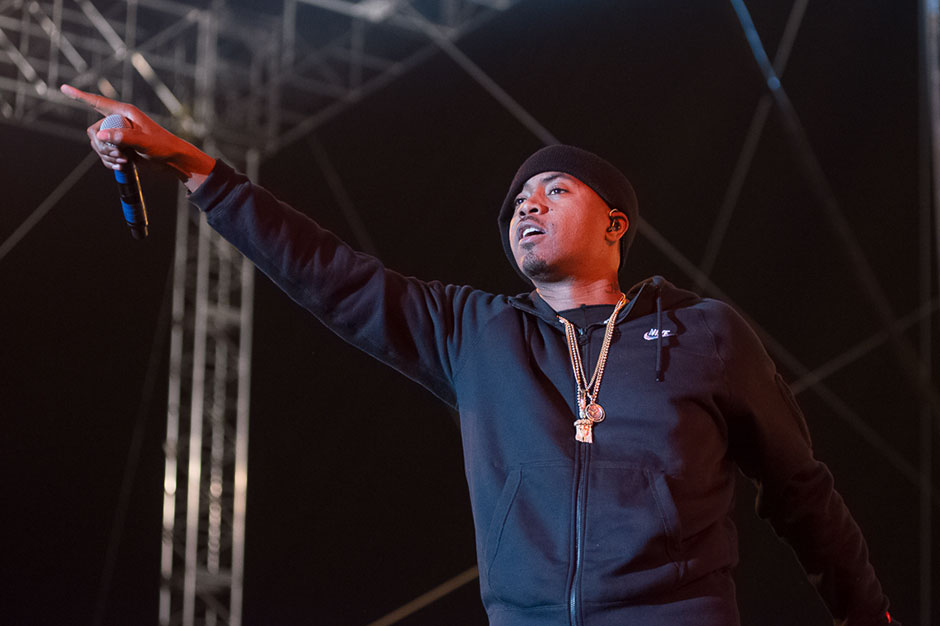 Nas
Yeah, yeah, Pharrell invited, like, everybody ever to what may go down as the most well-attended karaoke party of all time. Let's get his guest list out of the way: Nelly, Busta Rhymes, Puff Daddy, Snoop Dogg, Tyler, the Creator, Diplo, and Gwen Stefani. It was a blast, sure, but the real rap heads were really there to make sure they had prime Outdoor Theatre standing space for the unfuckwittable return of Nasty Nas. The Queensbridge MC hit the stage after midnight, and played ever song from his rap-altering 1994 debut, Illmatic.
"Twenty years since this album came out," he said. "I bet this album is older than some of you out there." Many of us, no doubt, but still the audience chanted along to "N.Y. State of Mind," "Life's a Bitch," and "The World Is Yours" with their hands bobbing in anachronistic homage. And we weren't the only ones there to pay tribute. Jay Z (or Jay-Z, really) officially quashed all old beefs by appearing for "Dead Presidents" and "Where I'm From" — each done as a duet.
And Puff later reappeared for "Hate Me Now." But mostly, it was rapping-ass Nasir Jones, rocking a visor beanie and a dookie rope, taking pulls from a Hennessy bottle and never missing a beat — as if the past two decades were a mere two blinks for the man who never sleeps.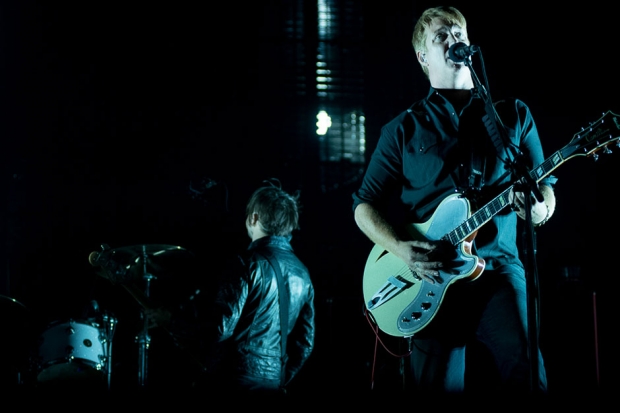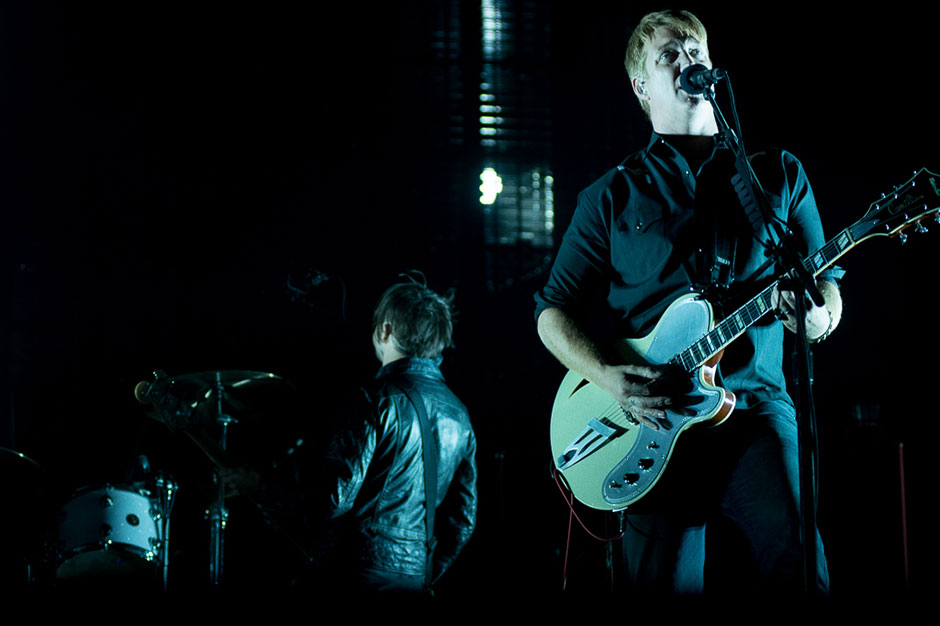 Queens of the Stone Age
Dude, it's Queens. We know it's our job to write words about things, but really, it should be enough to imagine the greatest living rock'n'roll band* playing the biggest stage at the festival founded on the very same barely habitable terrain that birthed the über-masculine apocalypse-primed death-machine dubbed QOTSA. And in the middle of a horrible sandstorm, as the wind whipped grit into the eyes of thousands of dirt-coated, bandana'd up Coachella survivors, Josh Homme and his desert dogs/gods ripped into Songs for the Deaf crusher "No One Knows," then traveled back to Rated R for "Feel Good Hit of the Summer," whose chorus, lest we forget, goes "Nicotine, Valium, Vicodin, marijuana, ecstasy, and alcohol." They fixed us with plenty of dooming …Like Clockwork hits too ("Smooth Sailing," fittingly, immediately after recovering from a dust-dealt equipment malfunction), but older fare like "Go With the Flow," "Little Sister," and "Make It wit Chu" riled the crowd enough to inspire confidence that were the End of Days upon us, we masked weather-beaten warriors would fare just fine.
* = "still making great records" bracket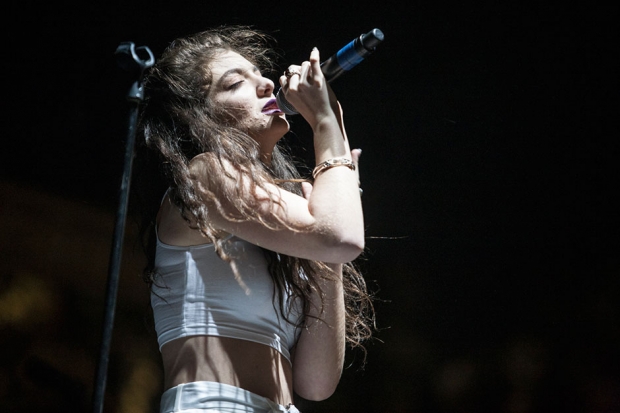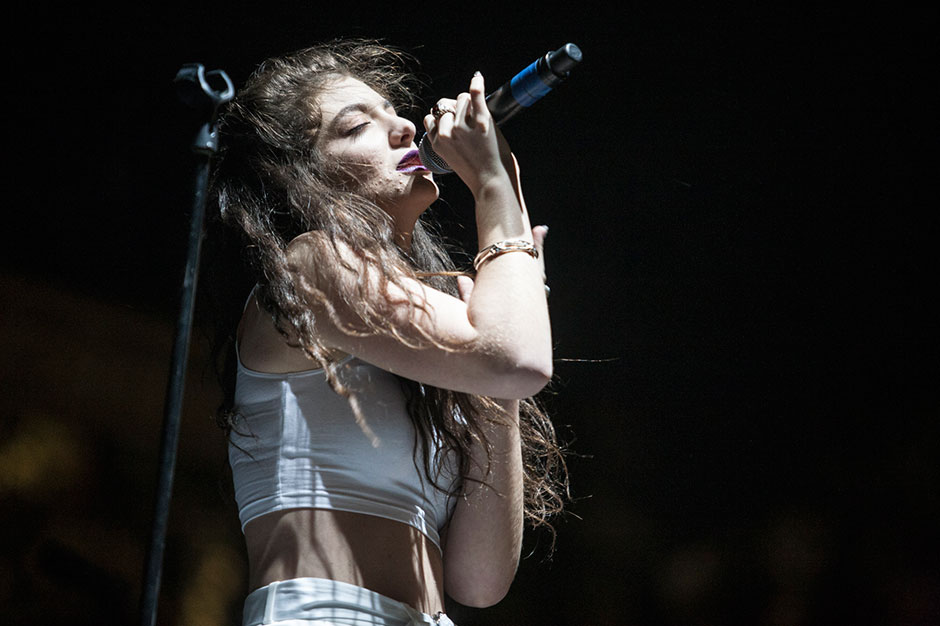 Lorde
If you wrote Lorde off at "Royals," or gave up at the Grammys performance, you should watch this 17-year-old Kiwi captivate a festival crowd for 50 minutes straight. Well, 45 minutes total if you discount the lengthy and awkward aw-shucksing she did toward the end, talking about being terrified of aging to a crowd that's likely 90 percent her senior. ("Seeing all your faces makes me think it'll be okay," she said. Um, thanks?) But when Ella Marija Lani Yelich-O'Connor was performing, she was undeniably in her element, jerking and twitching like a marionette going rogue while her two bandmates generated rapid bursts and viscous waves of minimal, trap-addled electronica. It felt like a pared-down Nine Inch Nails led by a nascent, hooks-having Grimes. And yeah, she played "Royals," but "Team" had a bigger impact, and strange arty outbursts like "Biting Down" were the reason to stay at the Outdoor Theatre against stiff competition from RL Grime, Fatboy Slim, and Solange, who brought out Beyoncé for "Losing You." We may never forgive Lorde for making us miss that last one, but it says something that we stayed for the whole show.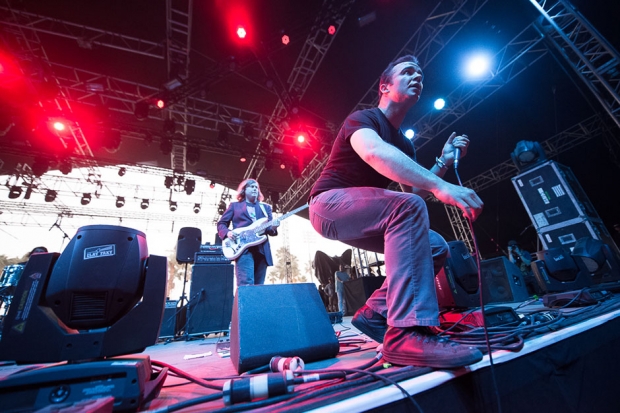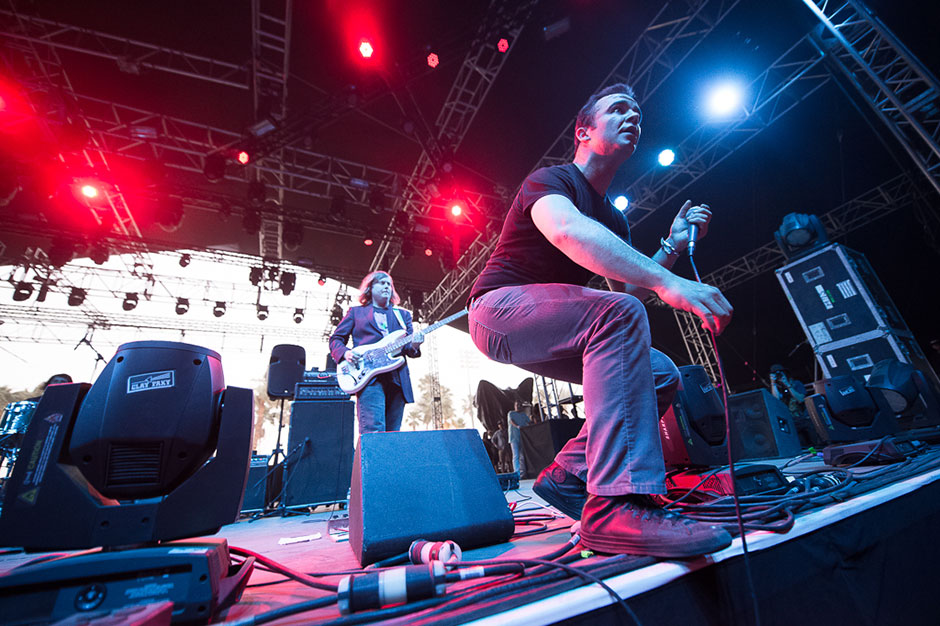 Future Islands
You saw Sam Herring dance on Letterman (1.1 million people did, at least) but until you've witnessed the man with the most earnest body language in the game do his thing in person… well, it's arguable that there is much about life you've yet to truly comprehend. In the moves of that man — a synth-punk band boss built like dockworker with the bald patch to match — there is rare truth. Just as the songs on Future Islands' Essential album Singles suggests, the message is this: Beauty and bliss aren't handed out like Halloween candy by the cosmos; they're earned by wading through the ugly, and doing a weird jig in the face of an indifferent universe. When Herring wasn't executing the Heaving Simian or seductively humping empty air, he'd pound his head with a closed fist, then hold that same hand out to the audience as if offering us a tool by which to similarly beat sense into ourselves. Amazing, considering songs like "Seasons (Waiting On You)" and "A Dream of You and Me" were so soft-focus gorgeous and pillow-y in his presence.
But that's the point, right? Somehow, this evening Gobi performance felt like philosophy.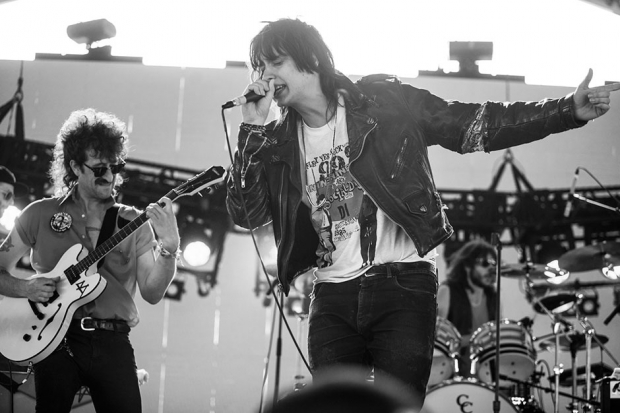 Julian Casablancas (+ the Voidz)
Make no mistake. This 5:00 p.m. Mojave tent set was fraught, sloppy, uncomfortable, chaotic, overloud, late, confusing, and had the erstwhile Strokes boss on the brink of heatstroke throughout. He and his new outfit the Voidz basically voided their musical bowels all over the stage, but it was a necessary purge — an "out-with-the-old" Julian Casablancas you thought you knew. "Thank you for choosing us in this musical buffet," he said after the second darkwave/calliope-metal/garage-punk freakout. "Some of you are leaving. That's okay. This music is meant to alienate all the right people, so go do ya thing." Flanked by the greasiest rock dudes in the game, Casablancas played nearly all new songs. Those who stayed planted their fingers in their ears and bore the assault: throat-shredding yowling, ascending coils of guitar, manic punishing drums, brutal blasts of synth, and other sorts of dissonance interrupted by the occasional halftime hip-hop beat or Strokes-ish anthemic break. About halfway through, the red-faced, leather-jacketed singer mumbled something that sounded like "Where is this place?" before trailing off and finding his way to a gulp of kinda-sorta hydrating beer. No idea, dude, but thanks for the trip.