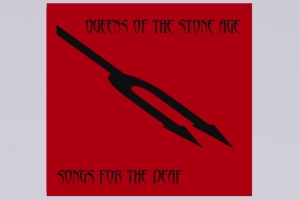 There's a 30-second snatch of "First It Giveth," off Queens of the Stone Age's now 10-year-old Songs for the Deaf, that never stops being surprising. Josh Homme is quietly singing a spooky melody over Spanish-sounding acoustic guitar, then a lumbering rhino guitar herd charges in and Dave Grohl plays this rib-rattling drum beat that could be a sample of '88 Tyson working the heavy bag. Homme's voice gets louder — but he doesn't yell; dude never yells — and he multi-track cops those Alice In Chains ghoul-choir harmonies as the song's main riff comes back in. There's just so much cool, creative, heavy dynamic shit stuffed into that half-minute. I clearly remember listening to the album at maximum volume on my Discman, punishing my eardrums, in awe of this band.
Rock was in a peculiar spot in 2002. Linkin Park's Hybrid Theory was still selling truckloads, as was Creed, with Weathered, and Nickelback, with Silver Side Up. (So was the future Mrs. Chad Kroeger, Avril Lavigne, with Let Go. ) U2's All That You Can't Leave Behind was hanging around the charts. Springsteen did that thing where he super-straightforwardly explains America to itself on The Rising, an album that was a comeback for him. Also on the comeback tip, Weezer went to No. 3 with Maladroit. The Red Hot Chili Peppers consolidated their march towards middle-aged respectability with By the Way, easily their most melodic album. Nü-metal was still down-tuning its way to the bank: Korn's Untouchables came out in June; Papa Roach's Lovehatetragedy went gold; and Linkin Park followed Hybrid Theory with Reanimation. (There's more waiting to be written about nü-metal's influence on American dubstep.) Coldplay's A Rush of Blood to the Head was their entrée into arenas. Audioslave beat their chest with their self-titled debut. Whether or not you likeL these albums, they're a diverse bunch, and they sold. Every album mentioned in this paragraph spent time in the upper reaches of Billboard's Top 200 chart.
Playing in counterpoint a few rungs down on the sales ladder was a fucking fantastic cohort of woollier types. Interpol, Yeah Yeah Yeahs, the Hives, the Flaming Lips, Wilco, and the White Stripes were making more thornier, artier, attitudinally "cooler" albums. In between these two camps, the rock gods and the cool kids, were Queens of the Stone Age and Songs for the Deaf. What other band from that year made music so radio-friendly and idiosyncratic that it could, organically, encompass contributions from Dean Ween, who added guitar to three tracks, and Dave Grohl, who spanked the shit out of the drums on the whole thing?
The band, which at that point was Josh Homme, bassist-lunatic Nick Oliveri, and guests like Grohl and Mark Lanegan, even seemed aware of its socio-cultural slipperiness. Songs for the Deaf, the band's third full-length, plays as a concept album, with fake radio spots showing up in-between the tracks. Greasy DJs, yapping in smarmy drive-time tones, announce call signs KRDL (pronounced "curdle") and KLON (pronounced "clone"). Making fun of the dreariness of radio was a thing back then. (Remember Tom Petty's The Last DJ? [Cue toilet flushing sound effect].)
But Queens of the Stone Age had hits! "No One Knows" was No. 1 on Modern Rock Radio. So they were ripping on radio for serving up Pabulum at the same time as they were ripping up the radio. Paradox? Hypocritical? No. It's what rock does so well: it makes you feel as if you're in on something. Those bozos over there? They don't like the good shit. The good shit is reserved for us scant few million over here.
And Songs for the Deaf is such good shit! It fumigated the sour-note brass, congas, and-bong hits vibes of 2000's also-excellent Rated R and replaced them with tighter, more focused, more aggressive and catchier hard rock. "No One Knows," "First It Giveth," "Go With the Flow" — Homme shapes the lava flow guitars of his Kyuss days into radio-friendly structures without sacrificing their elemental power. Grohl's playing is always propulsive, dropping in virtuoso fills, and harnessing Homme's idiosyncratic swing. The melodies, too, are diamond-sharp, and Homme delivers the enigmatic lyrics with appropriately bemused detachment, as if he's enjoying watching faces melt in the heat of his band's power.
In 2002, when this QOTSA were as in-step with the mainstream as they'd ever be, they still got weird. Oliveri straight-up demon-screams his vocal parts on "You Think I Ain't Worth A Dollar, But I Feel Like a Millionaire" and "Six Shooter." The band hasn't seemed quite as maniacal — or human — since he left. Mark Lanegan, an aural link to an earlier alt-rock generation, gives a gravelly grunge-guru turn on "Hanging Tree" and delivers the album's most gothic drama. So you had these nutbar moments alongside swaggering radio-friendly unit-shifting hard rock that sounded great coming out of the radio that the band pretended was ignoring them. (And the album ends on "Mosquito Song" a creepy acoustic ballad that pretty much has nothing to do with anything that came before it.)
Josh Homme probably got bored with melody after Songs for the Deaf. Or maybe Oliveri kept him grounded. But subsequent Queens albums — as well as his reunion with Grohl for Them Crooked Vultures — felt more like musical riddles than songs. The melodies and riffs were still there, and still awesome, but they took more work. (Dispositonally, they sounded a bit like music for musicians.) Or maybe Homme sensed that the context in which his band could sell almost a shade under a million copies of an album, like it did with Songs, was no longer, so he said fuck it. They're in the studio now, but Queens of the Stone Age haven't put out a new album in five years.
Sometimes a band lives best in the cultural middle ground. Maybe a "middle ground" doesn't exist anymore. But in 2002, Songs for the Deaf occupied that space with more skill, wit, power and poise than anyone.