It's a very cold February night in Baltimore and Future Islands frontman Sam Herring is shuffling across the Floristree stage like a cranked-up Elvis impersonator. Exuding memory-haunted menace, he stalks around as if he were hunting prey, pauses, finds a fan's eyes and stares into them, stopping mid-dance move. Dozens of diehard fans in the front become one swaying, sweaty clump of pumping fists and pogo-ing legs with the occasional crowd surfer poking out. Not quite a mosh pit — more like the moves and grooves of a rave dancing its pain away, mindfully concentrated. Most of the people in the front of this legendary (and quasi-legal) DIY performance space were raised on patron saint of B'more spaz-out, Dan Deacon, and his one, simple rule for going nuts at a show: Jump up and down, not side to side, so nobody falls down and gets fucking hurt.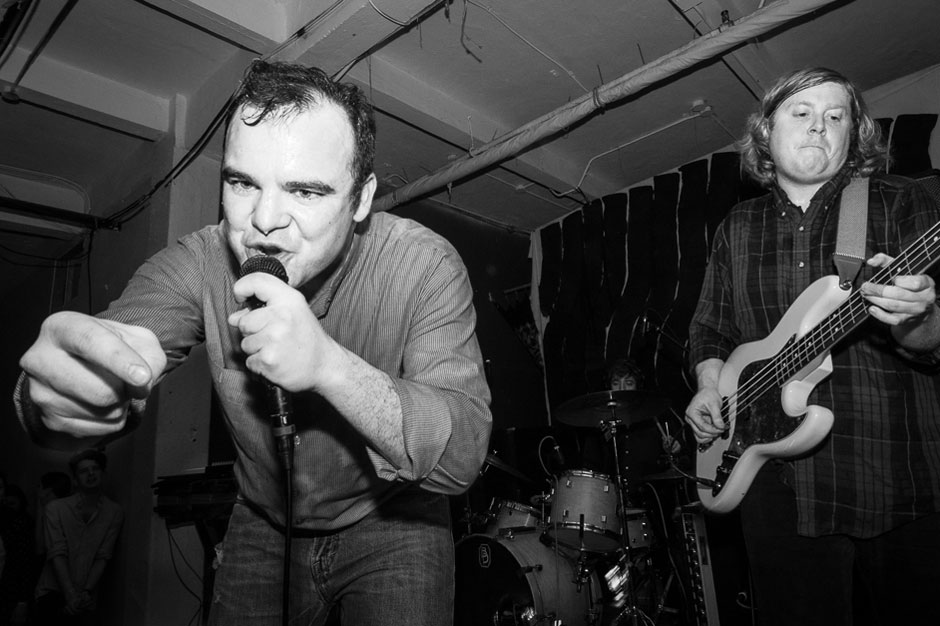 "It was bonkers," Herring proudly brays the next day. It's early in the afternoon and Future Islands are gathered in their rehearsal space, a tiny room in the basement of Baltimore's Current Space Gallery. Last night was the group's sixth time playing Floristree since 2007, though they've been there plenty more times if you count side-project gigs and, as Herring fondly recalls, watching Ravens football games with friends. "There's a spirit at Floristree," Herring says. "It's a living space. Like, this is also somebody's home."
Here in Baltimore, Future Islands are local heroes, with a wider, more populist appeal than they have elsewhere, which means plenty of people at Floristree were there for the first time after encountering the band at, say, 2012's Virgin Free Fest or the city's more conventional rock clubs. But that night was an important moment for the band — bringing old and new fans into (or back to) a personally special space just before the release of what will certainly be their most high-profile record to date. This month marks the release of the four-piece's fourth album, Singles, a major indie-rock release (on fabled indie label, 4AD) that will finally push the trio — rounded out by bassist/guitarist William Cashion and multi-instrumentalist producer Gerrit Welmers — to a much higher level of visibility, but still on their own terms.
Nearly one month after their hometown Floristree show, the group performs Singles' "Seasons (Waiting On You)" on the Late Show With David Letterman in New York, becoming mini-memes in the process. Herring, blindly grooving on the stage, pounding his chest hard enough for it to pop on the mic, boldly sold the drama of their bittersweet single. "Buddy, come on!" Letterman yelled, as he strode over to thank them afterwards. "How about that? I'll take all of that you've got!" The performance itself was the Floristree show writ large: a DIY victory lap for longtime fans and a commanding introduction for the previously uninitiated, the moment when people outside of Baltimore and the Acela DIY corridor they've long traveled finally got around to realizing how special these hyper-sincere synth-punks truly are. In short, Future Islands went on national television and did exactly what they've been doing at venues all over the country for the past eight or so years. And people responded in turn.
//www.youtube.com/embed/1Ee4bfu_t3c?rel=0
In 2006, Future Islands formed in Greenville, North Carolina out of a high concept, high-drama, Devo-esque group called Art Lord & the Self-Portraits. As arch as Future Islands are heart-on-the-sleeve, Art Lord — which swirled around Herring, who played the role of a pretentious German art rocker imploring everyone to love his music, improvising lyrics live around previously written hooks and shambling synth-pop — foreshadowed the caustic charisma and earnest theatrics that would define their next project. Theatrics were a part of their DNA from the start. "We were 18-year-old kids and we wanted to throw a party," Herring says of the Art Lord days.
With Future Islands, though, they threw compelling fragility into the middle of the party. With this approach, they would quickly became an integral part of Baltimore's Wham City collective, and the fractured, sugar-rush party music the scene proffered. Their debut EP, 2006's Little Advances, was full of relentless, rinky-dinky beats and frenetic screams. (Seek out the frustrated utopianism of "Nu Autobahn.") It was and is, paradoxically and simultaneously, their least characteristic release and the recording that most closely matches their manic onstage presence. Their follow-up, 2008's Wave Like Home, released after the band relocated to Baltimore, introduced their more explicitly maudlin side by way of "Little Dreamer," which often closes their shows to this day.
But Future Islands made their name by consistently and aggressively touring behind a generous live show that balanced, precariously, both club-friendly and collapse-to-the-ground-and-cry catharsis. And until 2010's In Evening Air, their first for Chicago label Thrill Jockey, the band's live show overwhelmed their recorded output. Though that record was the furthest they'd come yet to striking a balance between extremes on tape, On The Water, a simmering break-up album that followed the next year, made it clear that they maintained a healthy contrarian streak as well. "With On The Water, we knew people were gonna be like, 'What the hell is this," Herring admits. "In Evening Air brought us a lot of new fans and people expected an In Evening Air 2, and we gave them a slow-burning record." Releasing a subtle bummer of a record like On The Water, though, "allowed [the group] to never have to deal with expectations ever again."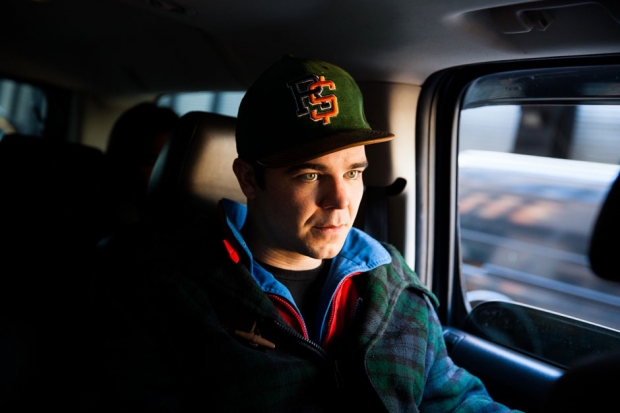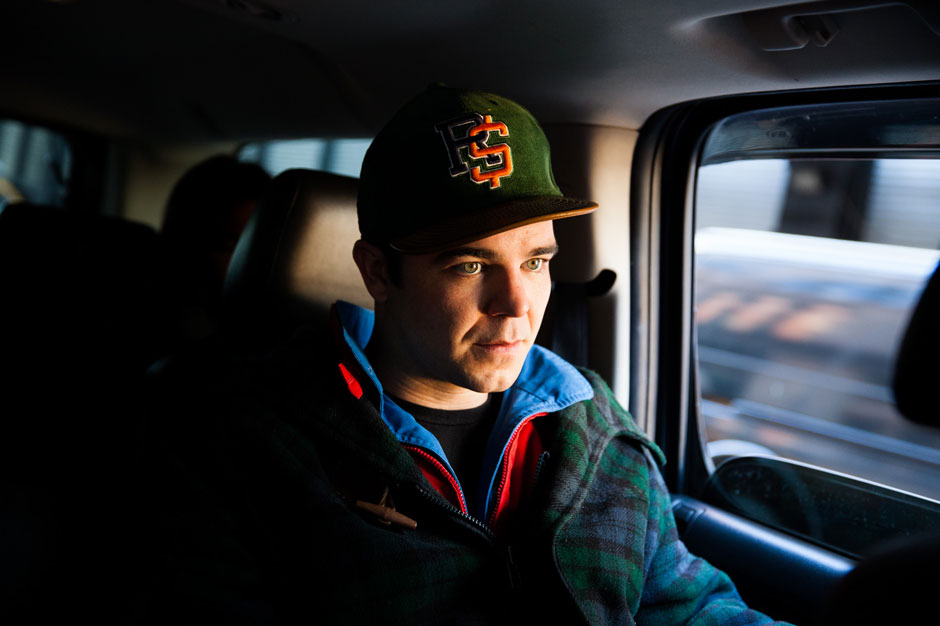 Singles was made entirely on the group's terms, with Cashion quick to clarify that they "never [have] input from the outside. With On The Water, there were some deadlines, things that snuck up on us, whether it was us or them, we felt the pressure." As a result, the group wanted to try and make a record free from all of that: Singles was recorded after they left Thrill Jockey, but before they would sign to 4AD.
In February of last year, songs began taking shape over 10 days in North Carolina, where the group returned for the 10th anniversary show for Art Lord & the Self-Portraits. From there, "jamming" continued in Baltimore over the next few months.
Sitting in their Maryland rehearsal space, the group illustrates their process, which often involves bringing musical ideas to the room, and then playing them live, over and over, as Herring, a hip-hop head first and foremost, sits in the corner and "freestyles melodies" into his laptop.
The majority of the record was recorded with producer Chris Coady over 19 days, in August 2013, at upstate New York's Dreamland Studios, not far from Woodstock. In the past, Welmers has spent a lot of time with a virtual computerized synth before the recording process began, preparing and perfecting the beds of electronics that centralize Future Islands' sound. But the producer was more actively engaged in the recording process this time, encouraged by Coady to play live. "He had actual synths," Welmers says quietly. "So he just went through and was like, 'I brought all of my stuff. See if you can go through and find similar sounds and recreate it.'" Typical of the group's roundabout, gut-level approach, Welmers' pre-programmed stuff often ended up sounding better than "the real thing."
Still, Singles feels more considered and intentional than past releases. Opener "Seasons" and closer "A Dream Of You and Me" act as bookends, echoing one another stylistically. Two North Carolina songs ("Back In The Tall Grass," "A Song For Our Grandfathers") melt together into one homesick suite. With "Sun In The Morning," an adoring, idealistic love song that riffs on the cute, cheeseball remark "I hate to see her go, but I love to watch her leave," you get the group's most unabashedly happy song. And then there's "Fall From Grace," a death-metal waltz punctuated by Herring's growl, the band at their most unhinged.
The group's party line, as Singles' title suggests, is that they wanted to make, in Herring's words, "an album of bangers." But Future Islands interpret the word "banger" differently than the mainstream — and Singles is a histrionic, introspective affair that captures the nagging complexities of slowly, but surely, figuring life out. "We kind of know people just want to hear a dance record," Herring says. "And that's the last thing we wanna give them! Life should be not so easy. You have to show people who you are and be honest to that." He pauses. "Shit, I lost my train of thought, what was I saying, William?"
"Party on," Cashion responds, deadpan. "We're a party band."
Herring opens his mouth again, eyes big: "Singles is everything we can do. It's the fast and the slow, the sad and the happy. Singles puts that all out there for people."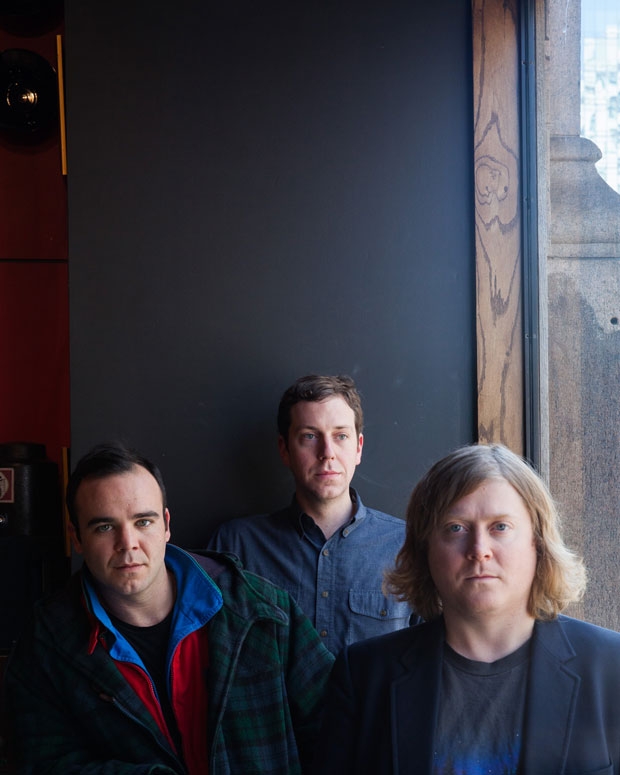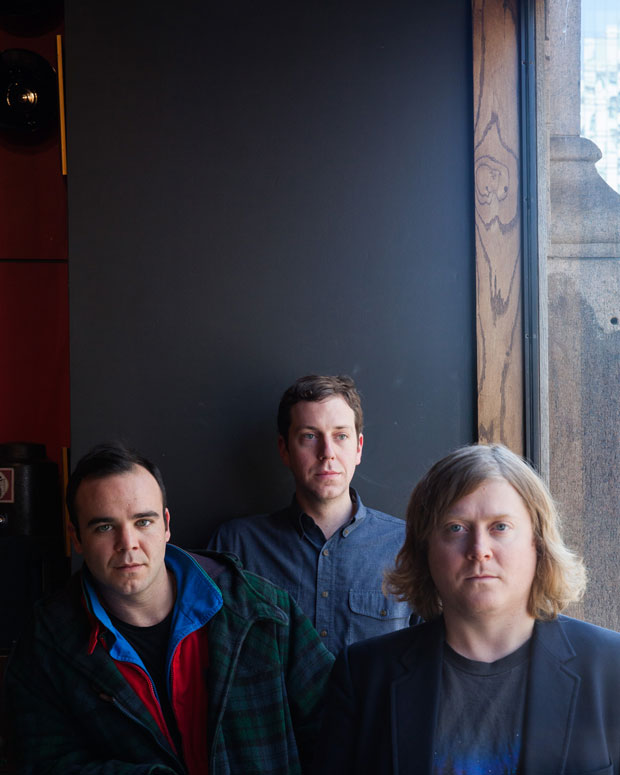 That February night at Floristree, Future Islands' encore climaxes with aforementioned oldie but goodie "Little Dreamer," further raising the emotional stakes and intimacy of the evening. Herring cries out the nostalgic lyrics, "When I was just a child, a lonely boy / I held onto my dreams, like they could run from me," while a menacing, Eno-like pulse sneaks out of Welmers' keyboards, and a depressive beat from touring drummer Mike Lowry keeps the song together.
Cashion punctuates the soundscape with vicious, atonal skronks of bass feedback, which Herring reacts to by melodramatically wincing and clutching his heart. He stumbles around the stage, like some huggable combination of Otis Redding, James Chance, and a lonely drunk at a bar. He looks like he's about to cry. It's not how an ascendant band is "supposed" to end the night, but it's how they're going to end it anyway. This is their room.