Not even two weeks ago, Fox News host Bill O'Reilly had some harsh words for "gangster rappers" Jay Z and Kanye West, citing them as negative influences on the nation's young black males. He highlighted them as two examples of guys "with the hats on backwards and the terrible rap lyrics with the drugs and all of that." Because, you know, Bill's a guy who keeps up with the most up-to-date stereotypes in hip-hop. This all came during a discussion of President Obama's new initiative My Brother's Keeper, which is aimed to empower young men of color.
Being an equal-opportunity windbag, O'Reilly decided to go after Jay Z's better half more recently, criticizing Beyonce's "Partition" video for sending a bad message to teenage girls with its sexual content. In an interview with Def Jam co-founder Russell Simmons, who was there to discuss his meditation book Success Through Stillness, Papa Bear laid right into this pressing issue:
"She puts out a new album with a video that glorifies having sex in the back of a limousine. Teenage girls look up to Beyoncé, particularly girls of color… Why on Earth would this woman do that? Why would she do it when she knows the devastation that unwanted pregnancies… and fractured families — why would Beyoncé do that?"

Simmons tried to shift the focus back to the topic he was there to discuss, but O'Reilly accused him of dodging and put him back on the spot because, duh, Russell is a black person in entertainment so therefore he is legally bound to answer questions about other black people in entertainment.
"I believe an entertainer like Beyoncé and a mogul like you have an obligation to protect children, not put out exploitive garbage that you know harms impressionable children," O'Reilly said. "I think Beyoncé, what she has done here, is inexplicable and I'm asking you, Russell Simmons, to explain it to me."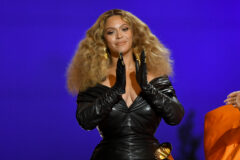 After Simmons defended the music and its corresponding clip as art, O'Reilly pressed on: "That's art?! Beyonce having sex in the back of a limo and referencing Monica Lewinsky, that's art?"
What O'Reilly fails to realize here is: 1) Beyoncé is singing about sex between two married adults (family values!); 2) she puts more effort into positively influencing young women than most celebrities; 3) how many impressionable, lower-income children are riding around in the back of limousines anyway?; and 4) no one cares. But hey, if Bill is so concerned, he could teach the children about how to settle a sexual harassment lawsuit.
Watch the video of the interview via Mediaite.