Angel Olsen's fast-approaching second album promises to be a much fuller affair than her debut album, 2012's Half Way Home. Compare garage-rock single "Forgiven/Forgotten" and fuzzy wobbler "Hi-Five" to, say, the minimalist folk tunes found on Half Way Home opener "Acrobat" for quick proof. But now, the Missouri-born singer-songwriter has shared a new track that recalls the striking intimacy of her first LP.
"White Fire" is a spare, seven-minute rumination that feels like the ghost of another song. Olsen's vocals are sleepy and listless as she details one personal tragedy after another. "I heard my mother thinking me right back into my birth," she sings, unspooling a numb melody with her guitar. "I laughed so loud inside myself it all began to hurt."
"White Fire" definitely requires patience, but it rewards listeners who play close attention. Hear the track above, find tour dates below. And pre-order her highly anticipated second album — Burn Your Fire for No Witness, out February 18 via Jagjaguwar — through iTunes or Amazon.
Angel Olsen tour dates: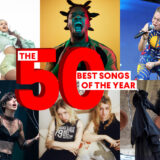 February 18 – Charlottesville, VA @ The Southern
February 20 – New York, NY @ La Poisson Rouge
February 22 – Nashville, TN @ The Stone Fox
February 23 – Fayetteville, AR @ JR's Lightbulb Club
February 24 – Dallas, TX @ Three Links
February 25 – Austin, TX @ Red 7
March 1 – San Diego, CA @ Soda Bar
March 2 – Los Angeles, CA @ The Echoplex
March 3 – San Francisco, CA @ Great American Music Hall
March 5 – Portland, OR @ Mississippi Studios
March 6 – Vancouver, BC @ Media Club
March 7 – Seattle, WA @ Barboza
March 8 – Moscow, Idaho @ Mikey's Gyros
March 10 – Denver, CO @ Larimer Lounge
March 11-16 – Austin, TX @ SXSW
March 23 – Manchester, England @ Soup Kitchen
March 25 – London, England @ Dingwalls
March 26 – Paris, France @ LFSM Festival
March 27 – Amiens, France @ LFSM Festival
March 28 – Cologne, Germany @ King George
March 29 – Berlin, Germany @ Hau 1
March 30 – Copenhagen, Denmark @ Vega
March 31 – Stockholm, Sweden @ Scandic Grand Central
April 1 – Oslo, Norway @ Cafe Mono
April 2 – Gothenburg, Sweden @ Pustervik
April 3 – Hamburg, Germany @ Haus 73 / Kleiner Donner
April 4 – Leuven, Belgium @ Stuk
April 5 – Rotterdam, Netherlands @ Motel Mozaique
April 6 – Amsterdam, Netherlands @ Paradiso
April 24 – Atlanta, GA @ The Earl
April 25 – Birmingham, AL @ The Bottletree
April 26 – Louisville, KY @ Zanzabar
April 27 – St. Louis, MO @ Off Broadway
April 28 – Kansas City, MO @ Riot Room
April 29 – Omaha, NE @ The Waiting Room
May 1 – Minneapolis, MN @ Cedar Cultural Center
May 4 – Chicago, IL @ Lincoln Hall
May 5 – Bloomington, IN @ The Bishop
May 7 – Toronto, ON @ The Garrison
May 8 – Montreal, QC @ Il Motore
May 9 – Cambridge, MA @ The Sinclair
May 10 – New Haven, CT @ Cafe Nine
May 11 – Providence, RI @ Fete Lounge
May 14 – Philadelphia, PA @ Johnny Brenda's
May 15 – Washington, D.C. @ Rock and Roll Hotel
May 16 – Carrboro, NC @ Cat's Cradle
May 17 – Asheville, NC @ Grey Eagle