Back in December, Angel Olsen shared a Freaks and Geeks-inspired music video for "Forgiven/Forgotten," the fuzzed-over lead single from the singer-songwriter's upcoming sophomore album, Burn Your Fire for No Witness. Now, the Missouri-born talent has shared the promo clip for "Hi-Five," and it's another visual that channels television fantasies. Teaming once again with director and frequent collaborator Zia Anger, Olsen pretends she's a pop performer carrying the kind of TV broadcast seen during the '60s and '70s, back when starlets twirled on camera in front of elaborate, sparkling sets.
"They were always so wild and psychedelic and humorous from afar," Anger said in a statement, referring to the long-gone telecasts. "The more you watch them, the more wooden and awkward the performances become. There is a certain loneliness captured. The song 'Hi-Five' seems to contain the same sort of duality."
Watch the Angel Olsen variety hour above, and scroll down for her tour dates. Pre-order Burn Your Fire for No Witness, which is out February 18 through Jagjaguwar, via iTunes and Amazon.
Angel Olsen tour dates: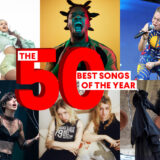 February 18 – Charlottesville, VA @ The Southern
February 20 – New York, NY @ La Poisson Rouge
February 22 – Nashville, TN @ The Stone Fox
February 23 – Fayetteville, AR @ JR's Lightbulb Club
February 24 – Dallas, TX @ Three Links
February 25 – Austin, TX @ Red 7
March 1 – San Diego, CA @ Soda Bar
March 2 – Los Angeles, CA @ The Echoplex
March 3 – San Francisco, CA @ Great American Music Hall
March 5 – Portland, OR @ Mississippi Studios
March 6 – Vancouver, BC @ Media Club
March 7 – Seattle, WA @ Barboza
March 8 – Moscow, Idaho @ Mikey's Gyros
March 10 – Denver, CO @ Larimer Lounge
March 11-16 – Austin, TX @ SXSW
March 23 – Manchester, England @ Soup Kitchen
March 25 – London, England @ Dingwalls
March 26 – Paris, France @ LFSM Festival
March 27 – Amiens, France @ LFSM Festival
March 28 – Cologne, Germany @ King George
March 29 – Berlin, Germany @ Hau 1
March 30 – Copenhagen, Denmark @ Vega
March 31 – Stockholm, Sweden @ Scandic Grand Central
April 1 – Oslo, Norway @ Cafe Mono
April 2 – Gothenburg, Sweden @ Pustervik
April 3 – Hamburg, Germany @ Haus 73 / Kleiner Donner
April 4 – Leuven, Belgium @ Stuk
April 5 – Rotterdam, Netherlands @ Motel Mozaique
April 6 – Amsterdam, Netherlands @ Paradiso
April 24 – Atlanta, GA @ The Earl
April 25 – Birmingham, AL @ The Bottletree
April 26 – Louisville, KY @ Zanzabar
April 27 – St. Louis, MO @ Off Broadway
April 28 – Kansas City, MO @ Riot Room
April 29 – Omaha, NE @ The Waiting Room
May 1 – Minneapolis, MN @ Cedar Cultural Center
May 4 – Chicago, IL @ Lincoln Hall
May 5 – Bloomington, IN @ The Bishop
May 7 – Toronto, ON @ The Garrison
May 8 – Montreal, QC @ Il Motore
May 9 – Cambridge, MA @ The Sinclair
May 10 – New Haven, CT @ Cafe Nine
May 11 – Providence, RI @ Fete Lounge
May 14 – Philadelphia, PA @ Johnny Brenda's
May 15 – Washington, D.C. @ Rock and Roll Hotel
May 16 – Carrboro, NC @ Cat's Cradle
May 17 – Asheville, NC @ Grey Eagle