The Eurythmics' Annie Lenox and Dave Stewart are reuniting for one night only in honor of the Beatles. The Recording Academy has announced that the "Sweet Dreams" duo will cover songs by the Fab Four for The Night That Changed America: A GRAMMY Salute to the Beatles, a television special commemorating the 50th anniversary of the Beatles' landmark appearance on The Ed Sullivan Show.
The upcoming broadcast will be taped at the Los Angeles Convention Center on January 27, the day after the 56th Annual Grammy Awards are held. The Grammys' Salute to the Beatles won't air until Sunday, February 9, at 8 p.m. EST — exactly 50 years to the day, date, and time that John, Paul, George, and Ringo played Ed Sullivan.
As CBS News reports, Alicia Keys and John Legend will also duet on a cover of "Let It Be," John Mayer will team with Keith Urban for "Don't Let Me Down," and Maroon 5 are also booked to hit the stage. Right now, it's not clear which songs the Eurythmics will perform. More acts will be announced shortly, and tickets are currently available here.
Lennox and Stewart last toured together as the Eurythmics in 2000 (per Reuters), a year after the New Wavers' released their eighth and most recent album, 1999's Peace.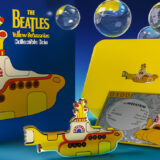 In addition to the CBS special, the Recording Academy plans to pay tribute to the Beatles on January 25 with a long-overdue Lifetime Achievement Award. Another nod to the iconic foursome is also in the works: All 13 of the Beatles' North American releases are being collected and reissued for The U.S. Albums box set, due out January 21.