Back before the hunger strike that landed her in a prison hospital and pre-empted a confusing transfer in which she was reported missing, Pussy Riot member Nadezdha Tolokonnikova had a robust epistolary correspondence going with Slovenian philosopher and culture critic Slavoj Žižek, it turns out. The two wrote each other for several months beginning in January, spawning a fascinating dialogue about capitalism, activism and, briefly, metaphysics. The exchange was apparently curated by Philosophie Magazine, who share the letters in full in their French and German editions. Meanwhile, the Guardian has published slightly abridged English versions of five of the prison letters, which we've excerpted below. Read them in full here, where you'll find Tolokonnikova quoting Lou Reed's widow Laurie Anderson, and also shutting down Žižek's attempts to grill her for details about prison life.
Žižek, January 2:
It may appear that people do not follow you, but secretly, they believe you, they know you are telling the truth, or, even more, you are standing for truth. … Pussy Riot make us all uneasy – you know very well what you don't know, and you don't pretend to have any quick or easy answers, but you are telling us that those in power don't know either.
Tolokonnikova, February 23: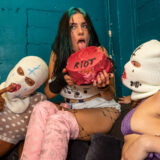 Pussy Riot did turn out be a part of this force, the purpose of which is criticism, creativity and co-creation, experimentation and constantly provocative events. Borrowing Nietzsche's definition, we are the children of Dionysus, sailing in a barrel and not recognizing any authority. … If the "World Spirit" touches you, do not expect that it will be painless.
Žižek, April 4:
For me, the true task of radical emancipatory movements is not just to shake things out of their complacent inertia, but to change the very co-ordinates of social reality so that, when things return to normal, there will be a new, more satisfying, "apollonian statics". And, even more crucially, how does today's global capitalism enter this scheme?
Tolokonnikova, April 16:
Modern capitalism seeks to assure us that it operates according to the principles of free creativity, endless development and diversity. It glosses over its other side in order to hide the reality that millions of people are enslaved by an all-powerful and fantastically stable norm of production. We want to reveal this lie.
Žižek, June 10:
It is today's society that is caught in a crazy capitalist dynamic with no inner sense and measure, and it is Pussy Riot that de facto provides a stable ethico-political point [telling] thousands that opportunist cynicism is not the only option, that we are not totally disoriented, that there still is a common cause worth fighting for.
Tolokonnikova, July 13:
You quote Marx: "A social system that seizes up and rusts … cannot survive." But here I am, working out my prison sentence in a country where the 10 people who control the biggest sectors of the economy are Vladimir Putin's oldest friends. He studied or played sports with some, and served in the KGB with others. Isn't this a social system that has seized up? Isn't this a feudal system?