Pussy Riot member Nadezhda Tolokonnikova ended her hunger strike after nine days. The activist was previously hospitalized while refusing food in a bid to protest inhumane labor practices.
The Associated Press relayed the news from the Russian Federal Penitentiary Service, who said that the 23-year-old Tolokonnikova was in stable condition at the Mordovia labor camp. She had previously issued an open letter in which she accused officials of forcing her and other prisoners to work 16 hours a day in a sewing shop, with one day off every month and a half.
Tolokonnikova and her bandmates, Yekaterina Samutsevich and Maria Alyokhina, were convicted of "hooliganism motivated by religious hatred" after their anti-Putin "punk prayer" protest at Moscow's Christ the Savior Cathedral in February 2012. They were each sentenced to two years in prison, though Samutsevich successfully argued that she could not have committed the crime because she was restrained before she could reach the cathedral's soleas.
Both Tolokonnikova and Alyokhina appealed for sentence deferments until their children were 14 or older, but the court rejected the motions. Tolokonnikova was hospitalized earlier this year due to exhaustion from being overworked, and was later denied parole again because she did not repent for her crime.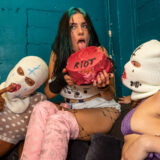 "I do not admit guilt and will not plead guilty," she told the court. Alyokhina had previously attempted a hunger strike to protest lack of security in the prison and the fact that she wasn't allowed to attend her own parole hearing. Both are expected to be released on March 3, 2014.