On October 25 in Las Vegas, French metal beasts Gojira kicked off a North American tour they'll spend tenderizing audiences as the opening act for their heroes, Slayer. "It's amazing to be on this tour," says the band's elated frontman, Joe Duplantier. "It's Slayer!"
At this point, Duplantier shouldn't be surprised to find his band opening for the thrash legends. Gojira's 2012 release, L'Enfant Sauvage, was both sublimely technical and utterly brutal. Filled with unrelenting beats, neck-snapping speed, and throat-shredding growls, the effort made SPIN's 20 Best Metal Albums of 2012 list.
The Frenchmen will be on the road until November 30, but on his day off, Duplantier chatted with us about some of his favorite things.
Slayer's South of Heaven
It's the first [Slayer album] I listened to. I was in high school at the time and I had to take the damn bus every morning. Listening to this album, it's so evil and dark, punk and thrash at the same time. It was very helpful for me to face the day. Going to school was torture for me, and listening to Slayer at this moment was very helpful.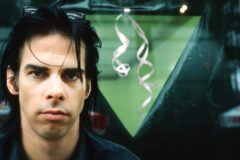 Slayer Bassist-Vocalist Tom Araya
I learned a lot from Tom. I'm very impressed by his charisma and how he communicates — he doesn't care, he is just himself onstage. He doesn't need to play hard to be metal. He doesn't need to try. He can just be himself. He's not scared to talk about love — for example, several times already during the shows, he talks about a Slayer show being all about love.
Death
I think [Death guitarist-vocalist] Chuck Schuldiner was a genius. The way he put words together was very mystical and interesting. The way he cut a sentence, a line is just one half of the sentence, and the second line is the second half of the sentence. That signature I really love, the images that he is using and the way that he is talking about modern society. Death was always a one-man band, it was all him. The way I work, the way I compose riffs and put my voice on it and stuff, is heavily influenced by Chuck Schuldiner.
Lowlands Music Festival
We played Lowlands in Holland this summer. When I saw, the bill I didn't know half of the bands: I was like, "What is this — it's going to be a shitty festival." And I was blown away by the vibe. Nick Cave was headlining, Bonobo, Slayer, it was huge and very interesting, very eclectic. Sometimes [eclectic] doesn't work — the crowd is not really open-minded because the bands playing are too mainstream, so we're not really welcome. We feel like the crowd is watching us like strange animals or something. But this festival, it was very artistic and good quality; people were open-minded, and we had a blast.
Metropolis
I'm pretty fascinated with Metropolis by Fritz Lang. It's a very old movie, but it's a masterpiece. It's about modern society, and it is very ahead of its time. The music is incredible, and it was actually an inspiration when I was writing the lyrics for L'Enfant Sauvage. There is something really magical and beautiful about old art in general, paintings and drawings. This movie is very symbolic of the older times, with a lot of magic. I like to be inspired by older art.
Fruit
It's so difficult to eat on the road. We eat so much shit, you know? We stop somewhere, and that's our only opportunity to eat on travel days. We have a very hard time to digest, and we're always a little sick with food on the road for some reason. We don't really choose when and what we eat, so each time I eat an apple or banana, I feel great.
The Tibetan Book of Living and Dying
It's my bible! It's about reincarnation and the process of dying. It's something that is not morbid for me. The last step of our life in this body is when we leave this world. It's something very sacred. Almost everyone is scared of dying. It's taboo to talk about death; when someone is going to die, we don't know how to react, what to say to this person — we kind of try to avoid the subject. In reality, it is something really beautiful, like a birth, but it's just the other way around. I'm not saying we should all die right now and it's going to be a great party, but the most common thing on this planet is dying. This book, it's mostly about life at the end of it. It's a beautiful book — I love it.