SPIN's 20 Best Metal Albums of 2012
Metal in 2012 saved its most potent anger for gnashing and clawing at its own boundaries. Witchy bands (Royal Thunder, Christian Mistress) stirred up a strange brew of blues-rock and Tina Turner; sludge-metal totems (Baroness, Torche) ventured deeper into the pastoral, yellow, and green fields of alternative rock; hardcore bruisers un-straightened their edges (Converge, Enabler) to toy with obtuse angles; doom-metal bands (Pallbearer, Bell Witch) turned into unlikely hook machines; and don't even get us started on the Swedish Afro-psych enigmas Goat covering Boubacar Traoré. Though no shortage of pigs were destroyed and cattle were decapitated, these are the 20 wild records that best represent one of the genre's most chaotic, challenging years to date. CHRISTOPHER R. WEINGARTEN
1.SPIN's 20 Best Metal Albums of 2012
1/21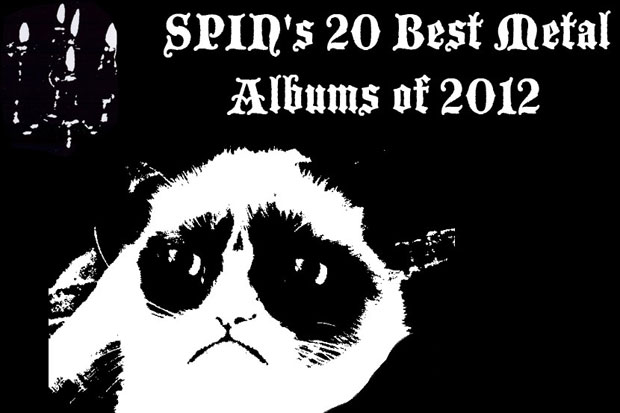 2.Marduk - Serpent Sermon (Century Media)
2/21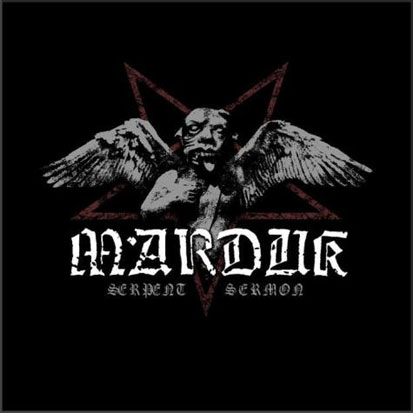 Change doesn't come easy to bands like Swedish black-metal stalwarts Marduk, It's hard to move forward with such a monochromatic lyrical outlook (Satan! War! Death!) and such a hardline attitude towards the genre's constructs (coincidentally, also the same reasons Marduk get singled out in Mountain Goats songs). In turn, the advances the group made on Serpent Sermon, their 12th LP in 22 years, aren't exactly personal breakthroughs; but a band that already claims several classic black-metal albums lifted the bar just a little. Amid the usual lightning-blast guitar smears and baby-shaker drumming, some of the songs open up in unusual ways: "Temple of Decay" emanates dark-Chant gothiness with a didgeridoo-like drone; their most anti-Christian number ever, "Hail Mary (Piss-Soaked Genuflexion)," rails along at hardcore-punk velocities; and, most impressive, "M.A.M.M.O.N." oozes dusky atmosphere and a free-jazz, Black Flag-waving guitar solo. It's crude black metal, made the old-fashioned way, refined with deadlier venom. KORY GROW
3.Horseback - Half Blood (Relapse)
3/21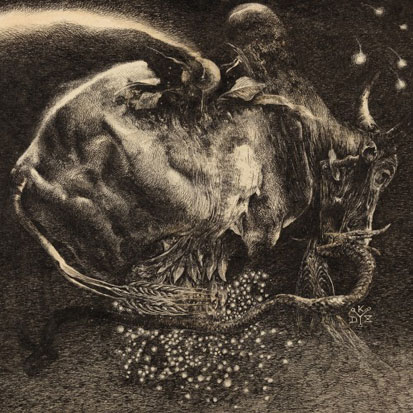 A math-rock band with a charred black-metal heart, North Carolina's Horseback are the most venomous creatures in Spiderland, abusing repetition and drone to evil and transcendent ends. On their third album, the band's main export is the trance-grunge of "Mithras" and "Arjuna" — equal parts Link Wray rumble, Mayhem mayhem, Louisville lurch, and trips to Tony Conrad's nightmare syndicate — mainman Jenks Miller rides a single twangy riff into the sunset, gargling and gnashing a lonesome hymn. But he's just as likely to go kvlt Kranky, blowing out a churchlike feedback drone ("Inheritance: The Changeling") or a crunchy, Gas-y minimal techno meditation ("Hallucigenia III: The Emerald Tablet). In a year where excellent releases by Locrian, Mammifer, and Pyramids pushed metal to the bleeding edges of colorful art-drone, Horseback had the clearest eye and the widest palette. CHRISTOPHER R. WEINGARTEN
4.Killing Joke - MMXII (Spinefarm)
4/21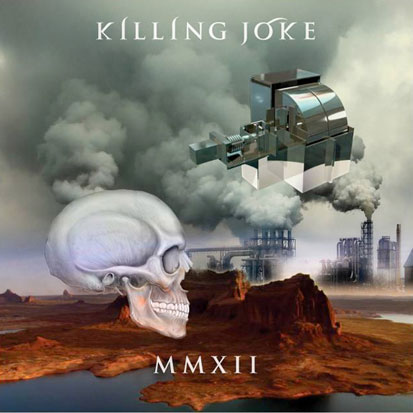 Whenever the apocalypse finally ravages the planet, it won't sound nearly as rapturous as industrial-metal mystics Killing Joke imply on MMXII — an album inspired in part by the Mayans, the Egyptians and a few others with Armageddon-in-2012 pronostications. What's impressive is that it's the group's original lineup steeling for the asteroid, and they've only improved the influential amalgam of metal, post-punk, dub and new-wave they pioneered in the early '80s. Where frontman Jaz Coleman sounded gurgly and grumbly on Metallica's 1980 fave "The Wait," he sounds hoarse and horrifying on MMXII's "Rapture," and while Killing Joke's 1981 stomper "The Fall of Because" was a Godflesh-predicting double-helix of echoey dub and industro skronk, this album's "Glitch" is like the perfect blend. Evolution at work. Maybe there's hope for this planet after all? K.G.
5.Astra - The Black Chord (Metal Blade)
5/21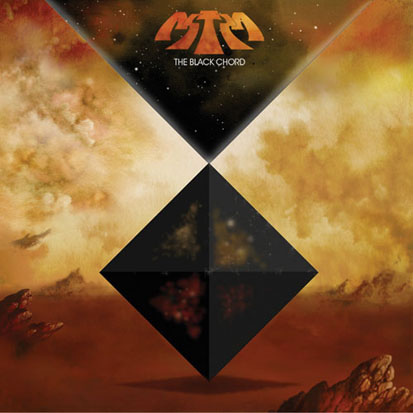 With their gargantuan 2009 debut The Weirding, the fearlessly anachronistic fivesome of Astra arose as if from the pages of history. (In reality, San Diego.) Here was flowing, thrilling prog-metal so intensely focused and fiercely regal that it'd make King Crimson watch the throne. That a band like this existed in the 21st century felt like the reappearance of some majestic beast thought long ago extinct, and their follow-up, The Black Chord, is proof that the beast isn't just alive, it's thriving. Standouts "Cocoon" and the 15-minute title track are plumed with roiling moog and guitar workouts, wizardly vocal melodies, and moments of gorgeous, misty lyricism. Dated? Try vintage. DAVID MARCHESE
6.Orange Goblin - A Eulogy for the Damned (Candlelight)
6/21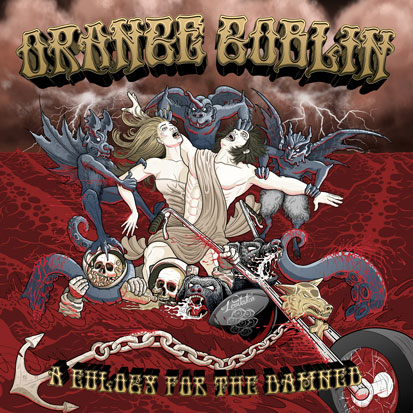 In a year where many of metal's vanguard presented new spins on old styles (Royal Thunder with blooz-bluster, High on Fire with Motörmush, Car Bomb with rrkkrkkrrrttzzz), Orange Goblin, a band with a nearly 20-year career, focused on resuscitating old-fashioned songcraft. With their seventh album, they hinged heavy hitters like the groovy, Deep Purplish "The Filthy and the Few" and the lumbering, Rainbow-esque "Death of Aquarius" on crushing bridges and coked-up counterpoint. In the process, these ghostbusters masterfully conjure up the spirits of some of the U.K.'s best. On opener "Red Tide Rising" alone, the foursome brandish druggy Black Sabbath riffing, Lemmy-like snarls and the sort of over-the-top guitar filigrees that were the hallmarks of the New Wave of British Heavy Metal. K.G.
7.Neurosis - Honor Found in Decay (Neurot)
7/21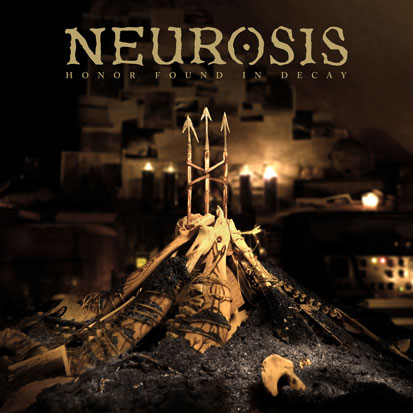 Neurosis would've secured their legend even if they'd split up after 1996's atmospheric-metal landmark Through Silver in Blood. Instead, they've pushed forward, exploring the highs and (mostly) lows of the human condition through a catalog that's become as indebted to Appalachian folk as it has to apocalyptic noise. With Honor Found in Decay, Neurosis sound more comfortable than ever in the weird, weathered skin they've been stitching together — but don't mistake comfort for complacency. They've built off tradition, blazing new trails beaming with post-rock violin swirls, Morricone atmosphere, and digital bagpipes. AARON BURGESS
8.Enabler - All Hail the Void (Southern Lord)
8/21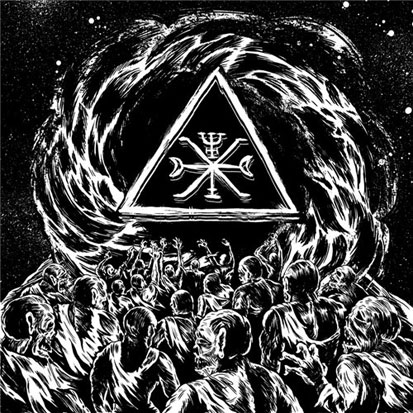 After Patrick went pop and Pete went EDM, it's unlikely that anyone was betting on ex-Fall Out Boy drummer Andy Hurley to reinvigorate hardcore. On the first album by Enabler, a wild tantrum from singer-guitarist Jeff Lohrber (Trap Them, Today is the Day), Hurley's galloping, gyroscopically precise work drives the tired bones of contemporary hardcore through a smoggy Soundcloud of thrash metal, atmospheric noise, black metal, and good old smelly Discharge. That the band flies at this pace while cranking out some of the catchiest riffs in recent hardcore memory is just as impressive. A.B.
9.Napalm Death - Utilitarian (Century Media)
9/21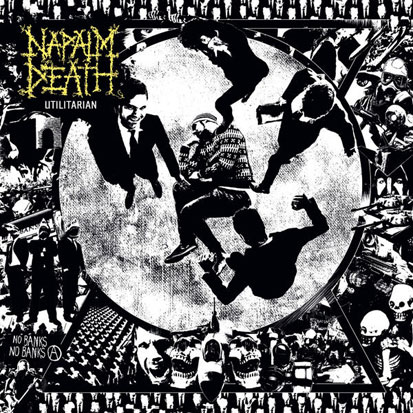 Although they've never been slouches, metal extremists Napalm Death made their biggest artistic leap since the days when the band helped define grindcore in 1987. Sure, their 15th record houses copious amounts of death-rattle drumming and shredded vocal-chord abuse — their signature tools, which devoted followers like Pig Destroyer and Antigama ground to bits this year — but they sound best when they're taking risks. The synth-heavy instrumental opener "Circumspect" exudes mopey death-rock murk, while "The Wolf I Feed" finds usually taciturn guitarist Mitch Harris singing (that's singing, damn it!) a haunting new-wave chorus around frontman Barney Greenway's bilious growls about holy wars. Then there's "Everyday Pox," a two-minute grind-jazz rager with a freeform, de Kooning-like sax solo courtesy of devoted Napalm fan and sometime copycat John Zorn. Extreme metal at its most expressionistic. K.G.
10.Eagle Twin - The Feather Tipped the Serpent's Scale (Southern Lord)
10/21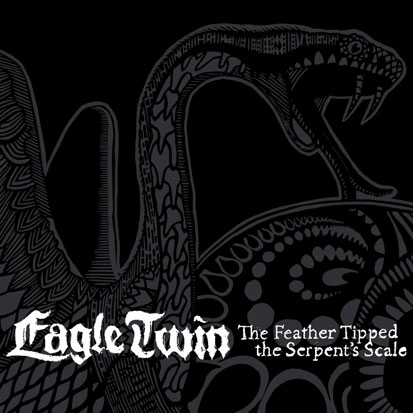 Although there's track splits and multiple songs and full stops, it's hard not to see Eagle Twin's second album as one monolithic 52-minute doom suite, a churning, serpent-eating-its-tail-forever slab in the vein of Sleep's Dopesmoker or the Melvins' Lysol. Besides perfectly executing those albums' touchstones (Om-worthy monk groans, trance-inducing Blackest Slabbath distortion, slow-lane traffic-jam tempos), there's a Biblical storyline that matches every bit of the rising and falling, falling, falling action. Competing with Ufomammut for bong musical of the year, Eagle Twin's free-skronk breakdowns, unscalable walls of pulseless feedback, and palpable two-man energy give them a danger that complements their ambition. C.W.
11.Lamb of God - Resolution (Epic)
11/21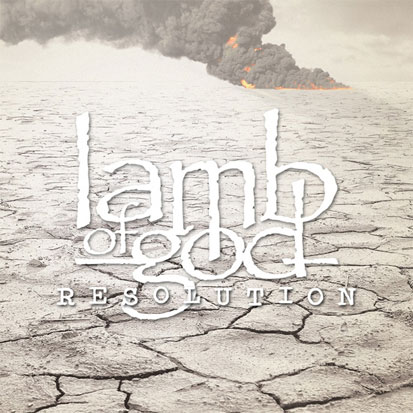 Even non-metal fans recognized the name of Lamb of God frontman Randy Blythe in 2012, as news outlets reported a Czech Republic incident where Blythe is still awaiting trial on a manslaughter charge. But that shouldn't completely overshadow the discordant treasure that is Resolution, an album where this band of Virginia slims made a few tweaks to their signature steroidal thrash to maximize its bad vibes. Around January, Resolution's daring, strangely operatic closing cacophony "King Me" was Lamb of God's biggest story of the year; and they take other giant leaps with bold Middle Eastern melodies ("Insurrection"); sludgy riffs dragged against long, drawn-out feedback tones ("Straight for the Sun"); and '90s alt-metal breakdowns ("The Number Six"). Evolving a genre that hit its critical mass 25 years ago is no easy task, but with Resolution, they're on the verge of a thrash breakthrough. K.G.
12.Meshuggah - Koloss (Nuclear Blast)
12/21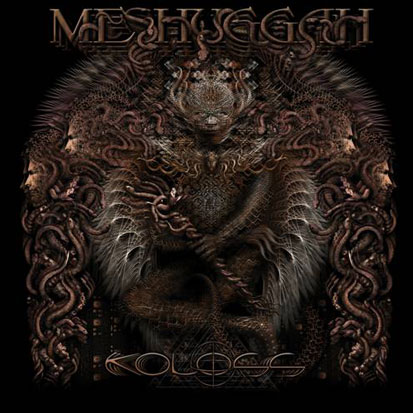 One of the most influential metal bands of the past 20 years, Meshuggah have a daunting task every time they record a new album: With scores of new kids riding their djocks, the Swedes need to be Meshuggah better than their extremely capable mimics can be Meshuggah. In turn, the relentless Koloss challenges all six albums that have come before it. Instead of stepping on the gas and busting out some blustery, digitally manipulated prog-thrash mutation (which, of course, they're certainly capable of doing), they slowed down and whipped up groove after elastic groove, sticking them in funky pockets amidst unexpected, unorthodox time changes. Immediate in its awesomeness, headfuck-y in its execution, Koloss will no doubt make a new generation of bands hot for teacher. JEANNE FURY
13.Gojira - L'Enfant Sauvage (Roadrunner)
13/21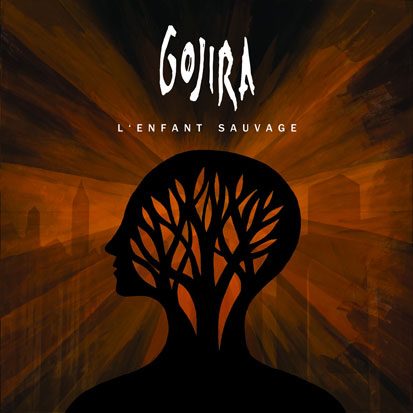 On Gojira's fifth album, the Frenchmen put melody at the forefront of every neck-snapping, pick-scraping, thunder-chugging moment — not an easy feat for such notoriously detail-obsessed musicians. Like previous Gojira albums, every nanosecond of proggy death metal is masterfully erected, but it's in the layering and pacing that their technical chops reach a blackened, gut-wrenching fever. It's heaving and volatile, with brooding lamentations that batter like Cannibal Corpse, but somehow groove like Pantera. Keep a-swingin' baby, you're a real wild child. J.F.
14.High on Fire - De Vermis Mysteriis (E1)
14/21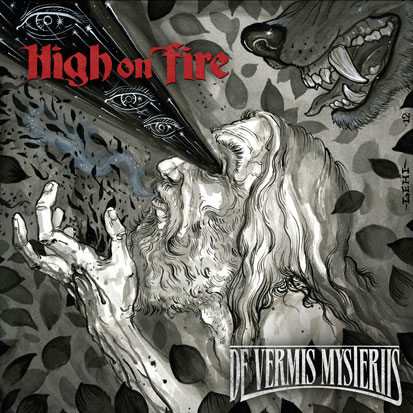 High on Fire's sixth album is a return to scorching form after 2010's over-produced Snakes for the Divine. Producer Kurt Ballou has recaptured the primordial nature of the band's mammoth stoner-sludge assaults — ironically restoring clarity — and these mean sonsabitches whittled their riffs down to just their bristling, caked-in-mud, Sabbath-smoking finest. Congratulations if you were able to comprehend frontman Matt Pike's reliably mystical concept — something about Jesus' sacrificed twin traveling through time, ancient Chinese lore, and Quantum Leap. Or something like that. Convoluted as the storyline was, the album couldn't have landed a more direct hit. J.F.
15.Converge - All We Love We Leave Behind (Epitaph)
15/21
The eighth release from these Massachusetts vets may be a confusing mutt of a hardcore record, but its commitment and ferocity is the sound of purity at its most invigorating. Over the unpredictable, pulse-quickening course of 14 songs, 38 minutes, and umpteen stylistic zigs and jolting metric zags, the band delivers surge after surge of disorienting energy. Drummer Ben Koller and bassist Nate Newton handle the pinpoint tempo and time-signature turns without having to hit the brakes while Jacob Bannon's howling cuts deep. And all hail guitarist Kurt Ballou — technically ecstatic and emotionally bruising, setting the year's standard for adrenalized guitar. D.M.
16.Royal Thunder - CVI (Relapse)
16/21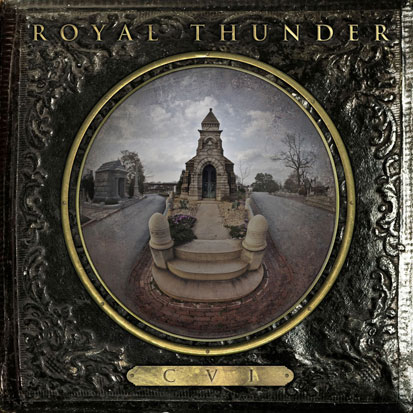 The clenched whine of Pallbearer, the alt-rock heroics of Baroness, the Danzig-gone-hair-metal storm of Witchcraft — 2012 served up a wide swath of bands that helped challenge notions of what a metal singer should sound like. But no one was as devastating, soulful, and technically gifted as Royal Thunder's Mlny Prsnz. In her early years in bands, Prsnz did the Cookie Monster thing, but it wasn't until she joined Royal Thunder that her voice metastasized into something vicious yet devoid of stylistic shtick. She sings, roars, screams, and goes full Ann Wilson, unafraid to impart her darkness with emotional depth — something few singers bother with, but should. And CVI's tumbling blues and humid stoner-doom provided rich tension to pair with Prsnz's anguish. J.F.
17.Deftones - Koi No Yokan (Reprise)
17/21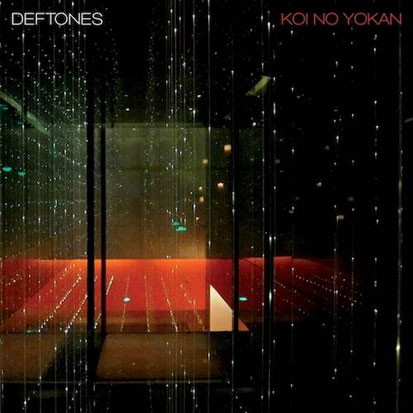 If Deftones have done anything to improve heavy music since they rode nü-metal's late-'90s crest to become Faith No More's alt-metal heirs, it's been the way they've romanticized the types of hefty grooves brandished by scarier bands like Neurosis and Tool, injecting them with confessional lyrics, keyboard gush, and Spandau Ballet levels of oceanic emotional drama. Their seventh LP, Koi No Yokan (Japanese for "Premonition of Love"), is their sexiest yet — and by proxy, 2012's sexiest metal release (sorry, Pig Destroyer). Much of this is due to frontman Chino Moreno's breathy, New Romantic delivery of lines you might expect from Danielle Steel ("I promise to watch and raise your babies," in "Romantic Dreams") or EL James ("On the day you arrived I became your device," in "Entombed"). While careless whispers like these are nothing new for Deftones, the group supports Moreno's vocals with its most consistent wall of kaleidoscopic blur and fuzz since 2000 touchstone White Pony, making it all the more seductive. K.G.
18.Goat - World Music (Rocket)
18/21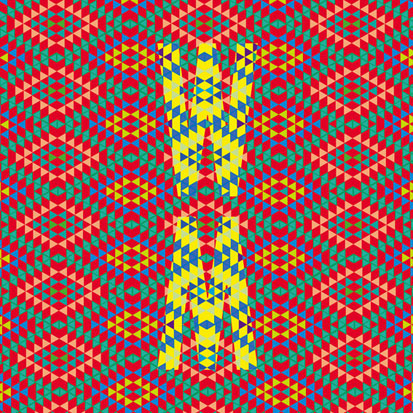 Borders are bogeymen. The anonymous members of Goat claim to hail from Korpilombolo, a small town in Sweden with a history of voodoo rituals. The guitars on their metal-leaning, almost-everything-encompassing debut album have the earthy Midlands crunch of prime Black Sabbath. There's a bhangra beat on "Run to Your Mama," as well as an invocation/cover of Boubacar Traoré's Malian hit "Diarabi." "Goatlord" is séance harmoniums and Nico's ghost wailing around a bonfire. This myth-shrouded band from a speck on the map crams an atlas-worth of psychedelic sounds into World Music. There was no better musical argument for a boundary-free world — or mind — in 2012. D.M.
19.Torche - Harmonicraft (Volcom)
19/21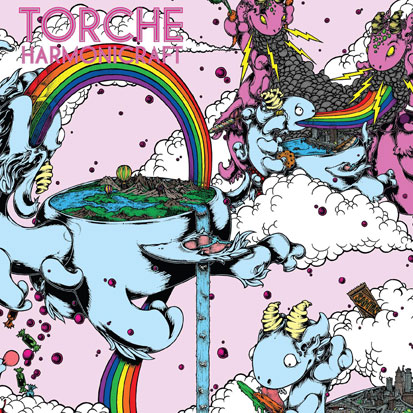 In a year that bands like Baroness and Goat took great strides towards anti-metal — that is, attempting to invert the genre's excesses altogether — Florida's Torche and their rumbling, pop-rock bluster stand out among the most extremely un-extreme. On the heels of a couple of headbanging alt-metal delights, the group's third LP wears its dissension on its album sleeve, as cotton-candy-clutching dragons puke rainbows amid a fluffy pink sea. Seemingly more influenced by U2 and angel dust than Metallica, Torche subvert metal's conventions with chunky, kaleidoscopic guitar flickers; stone-skipping, bubblegum vocal-layering; and squealing, drawn-out feedback smudges. In the end, Harmonicraft became the perfect, appealingly heavy remedy in a year where hard-rock stand-bys like Foo Fighters, Queens of the Stone Age, and Mastodon were laying low. A sound and story so unique that it's something only a cartoon dragon could puke up. K.G.
20.Pallbearer - Sorrow and Extinction (Profound Lore)
20/21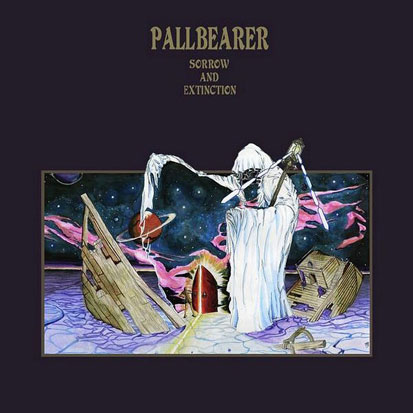 Doom-rock's newest Drab Four play metal as if the only bands who ever existed were Black Sabbath, Saint Vitus, and Candlemass: suffocating atmosphere, downtrodden and downtuned funereal bleakness, heavy guitars, spooky vocals, and more hooks than should fit in that coffin. But unlike other pretenders to the crypt, these downer-rockers sell it convincingly, and Pallbearer's sincere, weirdly melodic hopelessness served as a perfect antidote to the 2012 pop charts' ubiquitous cheer: Their answer to Carly Rae Jepsen would be "Call Me Never." Songs like "The Legend" and 11-minute closer "Given to the Grave," with its soaring solo, are dark enough to suggest the bandmembers never bothered to learn major chords at all. The only thing bright about this group is its future. K.G.
21.Baroness - Yellow & Green (Relapse)
21/21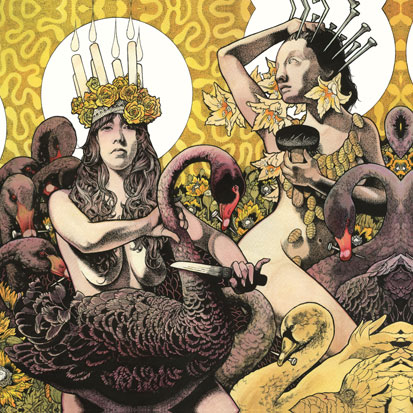 Metal fanatics are justified in initially regarding the One Metal Album a Year That Critics Love with suspicion, especially when it wanders as far afield as this double-wide monstrosity of gorgeous power-twee reveries, 500-ton pop choruses (good lord, "March to the Sea"), head-banging hesher arias, and five-armed acoustical jams. (Oh, plus a song called "Cocainium.") But the deeper, braver, and nominally less "metal" that Savannah, Georgia's finest get, the harder they become, somehow — come for the delicate vocal harmonies, flee in terror from the elegant menace they convey ("I wish I was drowning / So I could watch you burn"). This is a beast, tough to fully wrap your mind around at first, and an 80-page messageboard, blacker-than-thou flame war waiting to happen. But no other album in 2012 more brazenly challenged the accepted definitions of "heavy." Get well soon, Mr. Baizley. ROB HARVILLA