Arcade Fire played new material in a salsa club at an unannounced show the other night, according to two separate online sources. From the sounds of it, the material the band debuted on Wednesday (September 4) at Montreal's Salsathèque was disco-schooled and, yes, possibly worth of all this mysterious buildup.
A Merge Records rep directed questions to a publicist, who said he couldn't comment because he didn't know about such an event. There was no answer at the club's phone number. But according to both online fan hub Arcade Fire Tube and Montreal lifestyle blog the Main, Arcade Fire played a secret show in the tiny hometown venue. Arcade Fire Tube tweeted early Thursday (September 5), "Couldn't say this yesterday… Arcade Fire played a super small secret gig last night in Montreal. Many/all new songs. #LuckyMTL"
The most detail so far comes from the Main, which reports attendees would be ejected if they took their phones out of their pockets. The set of all-new songs was "was unexpectedly dance-oriented, due to the upbeat rhythms of conga drums and electronic flourishes alongside their most poppy sounds," according to the site. "Although the song lyrics shared the same themes as past releases, they traded their somber orchestral sound for something more contemporary."
Arcade Fire reportedly traded instruments throughout the set and performed on a disco-floor stage. The highlight was apparently a track with rousing choruses of "Here comes the night," along with abrupt tempo shifts. Money quote: "Imagine the Talking Heads' 'Once in a Lifetime,' but if David Bowie had written it while on vacation.."
That's excitingly in keeping with what little we gleaned from the band's 40-second teaser earlier this week (below). We noted at the time that James Murphy, who helped produce the album, told SPIN parts of the album would probably be mistaken as his doing, and disco-era conga drums beneath the teaser's swirling strings certainly fit.
This comes as Arcade Fire will debut a new single and Anton Corbijn-directed video on Monday, September 9, at 9 a.m. EST. Arcade Fire Tube has also been tracking record stores that will carry the release; Nashville's Grimey's tweeted the photo below, with cover art crediting "the Reflektors" and the text, "Ask the Selector!" No mention of Arcade Fire anywhere, which matches all the recent secrecy.
Arcade Fire's fourth album, one of SPIN's 50 Fall Albums That You Gotta Hear, is due out on October 29 via Merge.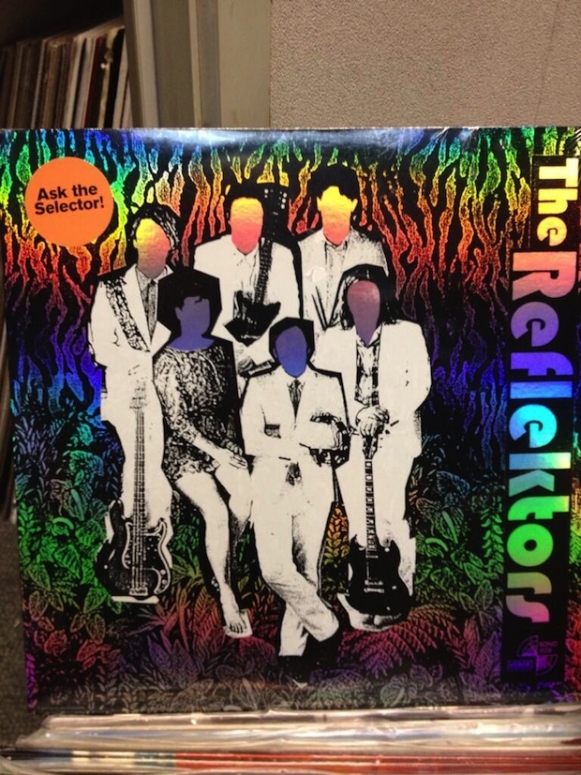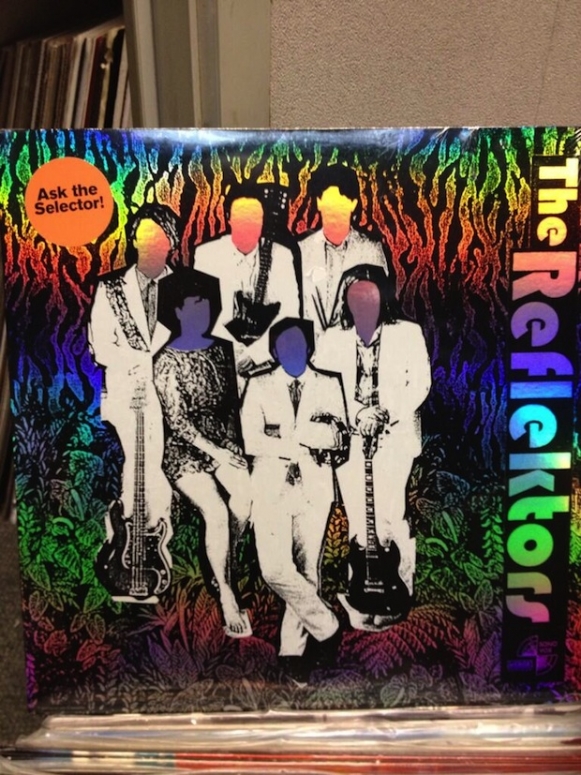 https://youtube.com/watch?v=4i2wp3GkNrg%3Ffeature%3Dplayer_embedded