Sebadoh will bring Defend Yourself to record stores across the country this weekend. On Saturday, August 17, 11 different music retailers will host an exclusive "Test Pressing Listening Party" to preview the indie icons' upcoming studio album, which is set to arrive on September 17 via Joyful Noise.
The Lou Barlow-led outfit hand-picked their favorite independent record shops to aid in the public unveiling, and here's the full roster: Origami Vinyl in Los Angeles, CA; Permanent Records in Brooklyn, NY; Reckless Records in Chicago, IL; Sonic Boom Records in Seattle, WA; Music Millenium in Portland, OR; Vintage Vinyl in St. Louis, MO; Waterloo Records in Austin, TX; Luna Music in Indianapolis, IN; Culture Clash in Toledo, OH; Park Avenue in Orlando, FL; and Landlocked in Bloomington, IN. Fans who crash the Origami Vinyl event won't just be among the first people to hear Defend Yourself in its entirety — they'll also witness a live in-store performance from Barlow himself.
Each store will be equipped with a vinyl test pressing of Defend Yourself, Sebadoh's first LP in 14 years, to play for guests. After the listening party, each copy will be awarded to one person in attendance. The wax discs will sport signatures from every member of the band and be hand-numbered out of the 40 copies made. Every listening party is free and open to the public, with more details and updates available through Facebook.
Sebadoh have also announced a slate of live tour dates for the fall. Following a brief European excursion in October, the Secret keepers will return to North America and play gigs in the U.S. and Canada. Scroll down for specifics.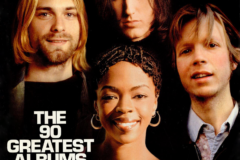 Sebadoh tour dates:
October 15 – Manchester, U.K. @ Manchester Academy 3
October 16 – London, U.K. @ Scala
October 18 – Brussels, Belgium @ Le Botanique
October 24 – Paris, France @ La Maroquinerie
October 25 – Utrecht, the Netherlands @ Tivoli de Helling
October 26 – Nijmegen, the Netherlands @ Doornroosje
October 27 – Groningen, the Netherlands @ Vera
November 1 – New York, NY @ Bowery Ballroom
November 2 – Philadelphia, PA @ Johnny Brenda's
November 3 – Washington, D.C. @ Black Cat
November 4 – Cambridge, MA @ The Sinclair
November 5 – Montreal, QC @ Il Motore
November 7 – Hamilton, ON @ Casbah
November 8 – Toronto, ON @ Horseshoe Tavern
November 9 – Cleveland, OH @ Grog Shop
November 10 – Chicago, IL @ Schubas Tavern
November 11 – St. Paul, MN @ Turf Club
November 13 – Indianapolis, IN @ Radio Radio
November 14 – Columbus, OH @ The Basement
November 15 – Pittsburgh, PA @ Club Cafe