This article originally appeared in the September 1999 issue of SPIN.
"You must be high."
We heard that a lot during the time we spent preparing this issue. Which is understandable. Pronouncing the 90 greatest albums of the '90s is a somewhat presumptuous thing to do. When you're measuring the music this decade is offering to history—the sounds we partied with, copulated to, fought about, and wept over—everyone has an opinion. That ours should be more valid than yours is debatable. But hey—it's our magazine.
What, then, you ask, constitutes "greatest"? Don't even start. Suffice it to say that, after much heated discussion and countless veiled insults, it came down to the factors of both remarkable artistry and cultural shock value. Sometimes a record's knock-you-off-your-Skechers impact helped it tip the scales over more refined craft (Nirvana's Nevermind topping In Utero). Other times, the perfectly cooked beat the brilliantly raw (PJ Harvey's To Bring You My Love over Rid of Me). Tupac Shakur, Ani DiFranco, Jane's Addiction, and other artists whom we love for a million reasons, but who didn't make what we felt was a genuinely great record in the '90s, remain in our hearts—but not on the list.
You may also note that our roster skews a bit toward records from the early '90s, especially for rock and hip-hop. We just called the golden eras as we saw 'em. For all their mackin', neither Puffy nor Jay-Z made LPs that touched the committed passion of Fear of a Black Planet or the musical ambition of The Low End Theory. And for all their sound and fury, neither Korn nor Limp Rizkit made records with Nirvana's burning soul or Rage Against the Machine's missionary zeal. Of course, it can take a few years for a record's legacy to become clear, and many albums sound better in hindsight, even Stone Temple Pilots' Purple. Okay, maybe not.
Still, looking back over the decade, things look good for the '00s. Releases by OutKast, Beck, Lauryn Hill, the Beastie Boys, Radiohead, and the Chemical Brothers—among others in the pages that follow—have pointed rock, hip-hop, and pop toward a mighty freaky future. All we can say is: Bring it on.
1. Nirvana, Nevermind (DGC, 1991)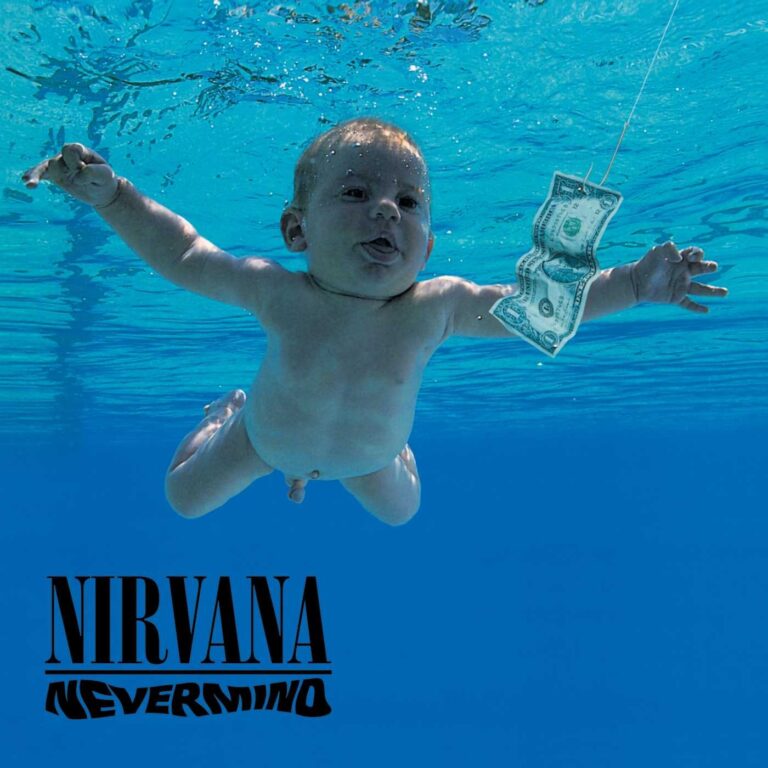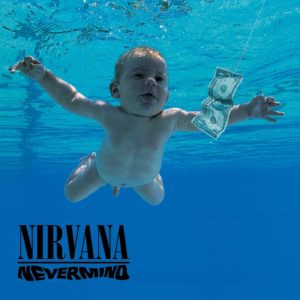 Punk rockers are opinionated little shits who care too much about what does and doesn't suck and get by on a wicked sense of humor. Kurt Cobain was always a wickedly funny little shit. My favorite Cobain quote: "Even the guys in the safety patrol called me 'f——t .'" My favorite Nevermind moment: During the fake-pep-rally video for "Smells Like Teen Spirit," a cheerleader's boobs bounce across the screen sporting an anarchy symbol, while Nirvana ("the band") lurches in the back of the gym almost catatonically. Yo, the punk-rock revolution will be televised 15 years too late! Mom and Dad, guess what? The kids aren't all right! Where have you been?
Here was Cobain on Nevermind, the supposed soundtrack of disenchantment for so-called Generation X (from Michael Azerrad's band bio Come As You Are): "I'm embarrassed by it. It's closer to a Motley Crüe record than it is to a punk-rock record." On "Smells Like Teen Spirit," the "grunge" rallying cry: "It's really not that abrasive at all. It only screams at the end. It's kind of lame."
Like many who had listened to classic rock (Beatles, Who, Sabbath) and '80s punk (Bad Brains, Scratch Acid, Replacements, Hüsker Dü), Cobain knew that his band's sound wasn't astoundingly original; he and bassist Krist Novoselic were even scared that people would nail them for ripping off the Pixies on "Teen Spirit." But behind his sarcastic self-deprecation, Cobain knew he had a gift, and after the band's turgid indie debut Bleach, he knew he was writing much better songs: plus, in Dave Grohl (ex of the D.C. hardcore band Scream), he'd found "the drummer of our dreams." A demo produced by Butch Vig (now of Garbage) got the band signed to major label DGC and not a second too soon. "It was kind of a desperate time," says Grohl, now a Foo Fighter. "Kurt and I were living together, selling amplifiers and 45s of 'Love Buzz' (a rare early single) for food. We actually played an all-ages show in Seattle for gas money to go down to Los Angeles to record Nevermind." But when they finally met Vig at a Van Nuys studio (where Fleetwood Mac's Rumours was dreamed up) months later, hopes were high. "We were just living and breathing the music," Novosolic says. "Kurt was busting out all these riffs and vocal lines, and the songs were coming together so beautifully."
Adds Vig: "The first day, they ran through everything, and it just sounded unbelievable. It was in this sort of warehouse room, Kurt and Krist had these huge, fuckin' stun-volume amps, and Dave was so intensely loud and dead on; he was just thrilled to be in the band, and his enthusiasm infected Kurt."
Nevermind's stark, yearning melodies, darkly witty lyrics, and controlled thrash differ from Nirvana's harsher recordings before and after (Geffen A&R man Gary Gersh even talked about leaving off some catchier songs so the album didn't sound like a sellout). "It was so wild to be tossed into this world of 'professionalism,'" Grohl says. "Nevermind was us dealing with being treated like professional rock musicians, which we weren't. I mean, when we heard 'Teen Spirit' put up on those big speakers, everybody freaked out."
Cobain was obviously writing with an insistent, hopeful voice in his head that argued—and joked—with the famously gnawing pit in his stomach. He even wrote a love song of sorts ('Drain You'), a touching, searing exchange between two sickly infants who share the same hospital bed. Of course, Cobain was also sedating himself with Jack Daniels and codeine cough syrup (the latter to stave off his heroin cravings and preserve his frayed voice). "Kurt could charm the pants off you," Vig says, "then go into a corner and refuse to speak. He had these ridiculous mood swings." There's an old Black Flag lyric that screams (with some sarcasm), "I wanna live / I wish I was dead," and that was Nevermind's eternal tangle. The tenderly surging "On a Plain" features sweet "ah-ah" harmonies and Cobain confessing matter-of-factly, "I got so high I scratched 'til I bled."
After Kurt Cobain died, he became the "voice of a generation," but while he was here, he was beloved because he got life's blackest jokes (unlike, say, Axl Rose, who raged at the void like he deserved an answer). As a result. the songs on Nevermind are sad, cryptic, hostile, childlike, and yeah, funny. From "Lithium": "I'm so lonely, but that's okay, I shaved my head." And for a minute in the early '90s, Cobain's corrosive plaints rasped like the truth—the wisdom of an abused, smart-alecky white kid with a down-tuned guitar and a dream (inject necessary level of sarcasm; Cobain would've). For whatever confluence of reasons—the Reagan-plague's legacy, the industry need for fresh rock meat after hair-metal, the band's talent (!)—that rasp got heard, and sold. Nevermind topped the pop charts in January 1992, displacing Michael Jackson, and punk's scowly, smirky face entered the youth mainstream.
Then we moved on. As the Breeders' Kim Deal sums it up, "Yeah, [Nevermind] changed the way record companies hired VPs and A&R people. But now it's back to being about ass."
Still, after all the death and hype, Nevermind shakes the walls like a storm. You feel it as Grohl's drumrolls make your heart race into the choruses and Novoselic's melodic bass lines give you room to breathe in the roar. You feel it in the way Cobain's discordant guitar never chokes the melody, but stains it with just enough doubt to make it real. But most of all, you feel it in Cobain's paper-thin voice, as he stares down the lethal horrors of growing up, and somehow manages to rock a shit-eating grin. CHARLES AARON
2. Public Enemy, Fear of a Black Planet (Def Jam, 1990)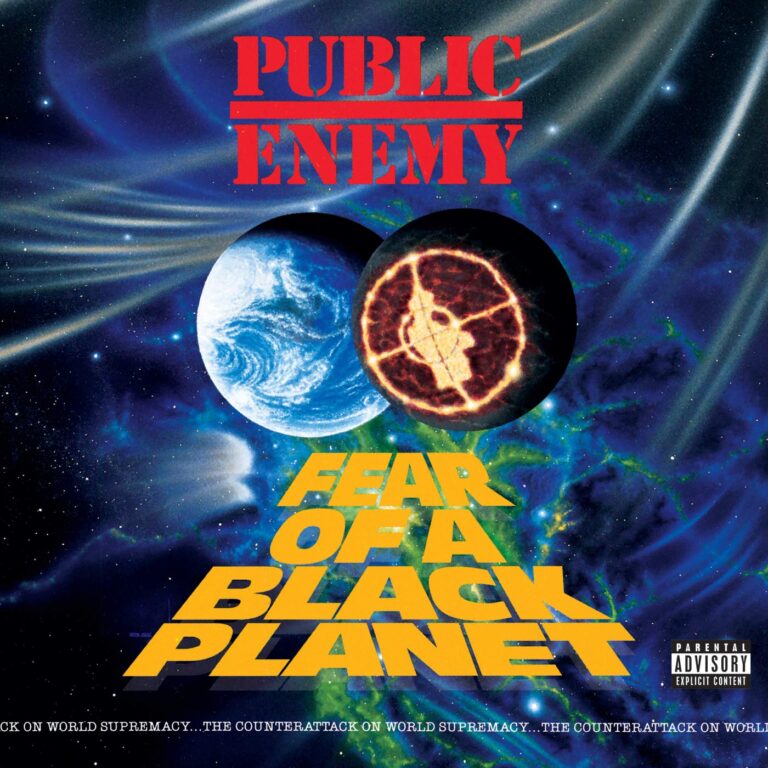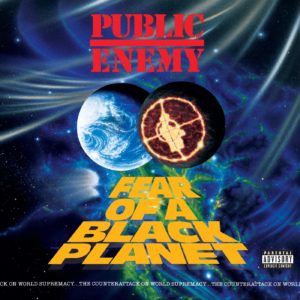 For Public Enemy, the 1990s jumped off like a press conference in progress. After PE's second album, 1988's It Takes a Nation of Millions to Hold Us Back, ingeniously mastermixed hip-hop as fierce Afrocentric theater, they roughed it up with media devils (often over Nation of Islam teachings and the Minister Louis Farrakhan), and then, in early '89, released the Elvis-baiting single "Fight the Power," from Spike Lee's film Do the Right Thing (which referenced racist attacks on blacks in Bensonhurst and Howard Beach, and was tarred in the New York press as an incitement to violence). By the time Fear of a Black Planet dropped in April 1990, the posse of Long Island college men had already disbanded briefly amid charges of anti-Semitism and a flurry of death threats. PE was pop's most embattled group. But they weren't backing off.
"We wanted to hit with the force of a Led Zeppelin power chord," says PE's lead voice/ visionary, Chuck D. "Nobody had ever tried to make such an aggressive, global, intellectual musical statement on a hip-hop record before, and it scared the fuck out of people. It caused such a shitstorm, not too many have had the guts to do it since."
Fear is "just" a hip-hop record like Invisible Man is just a long-ass novel. Originally an attempt to bust up racial barriers and sift through the dust for answers, the album saw PE question their own world as harshly as society at large. The title track, which riffs on America's disgust with race-mixing, toodles a carnival organ before descending into a thrilling/numbing echo chamber of voices, including Chuck's bullish fireside rant ("What is pure? Who is pure?"). The Bomb Squad production team (group cofounder Hank Shocklee, Keith Shocklee, Eric "Vietnam" Sadler, and Chuck, a.k.a. Carl Ryder), first unleashed its churning ocean of funk on It Takes a Nation, but for Fear they seemed to sample the sound of a world skinning itself alive. Fractured breakbeats, horns, sirens, guitars, clueless radio DJs, searing bits of oratory, rewired static, and James Brown's show-biz howl are all patched together into a chugging rhythm engine that recalls Fela's afrobeat rituals as much as other rap music of the day. Even jester-ish sidekick Flavor Flav picks his teeth with the spirits of the dead on the "public service" indictment "911 Is a Joke."
"I remember the Bomb Squad talking about how the sounds on that record were the destruction of music as we know it," says Zack de la Rocha of Rage Against the Machine, who often play Fear over the sound system before their shows. "Sonically and politically, it set a new stage."
Chuck explains, "You gotta remember, we had wider reference points than most kids—we were 30 years old. Rap music is the embodiment of all music that came before it, and we actually experienced what went down in the '60s, '70s, and '80s. We were making our pissed-off funk version of Sgt. Pepper, not some rap record a DJ could drop into his club set."
Fear was also recorded as PE was disintegrating (the Bomb Squad never worked again as a full unit). The first single, "Welcome to the Terrordome," was released in late '89, in the wake of yet another anti-Semitic screed by Richard "Professor Griff" Griffin, PE's "Minister of Information" (or "racist stage prop," as Def Jam label boss Russell Simmons put it then). The group bitterly disagreed over whether to can their childhood buddy, and Chuck D publicly waffled—firing Griff, reinstating him, etc. "Terrordome" reflects his heartfelt bewilderment, as Chuck lashes out at the "so-called chosen frozen" (Jews, critics, Griff?), then declaims, "My home is your home."
"That was such a crazy song," Sadler says. "When Chuck recorded his vocals, he was so intense that he bypassed the chorus, rapped through it completely, and totally altered the song's structure. He was like a man going overboard."
When Chuck D wrestles sexism on the anthemic "Revolutionary Generation," spits homophobic digs on "Meet the G That Killed Me," or strip-mines racist history on "Who Stole the Soul?," he is voicing the weakness, paranoia, and betrayal that damned his family, in desperate hope of redeeming it. Shaping revelatory bursts out of "white" and "black" noise, Fear of a Black Planet still reverberates, as a sonic and psychic template for groups such as Rage, Chemical Brothers, Tricky, and Prodigy, as well as influencing dance genres from jungle to gabber to Big Beat. But with Public Enemy, the message fueled the medium, and their passionate attempt to inject racial politics into pop culture still haunts America's divided house. CHARLES AARON
3. PJ Harvey, To Bring You My Love (Island, 1995)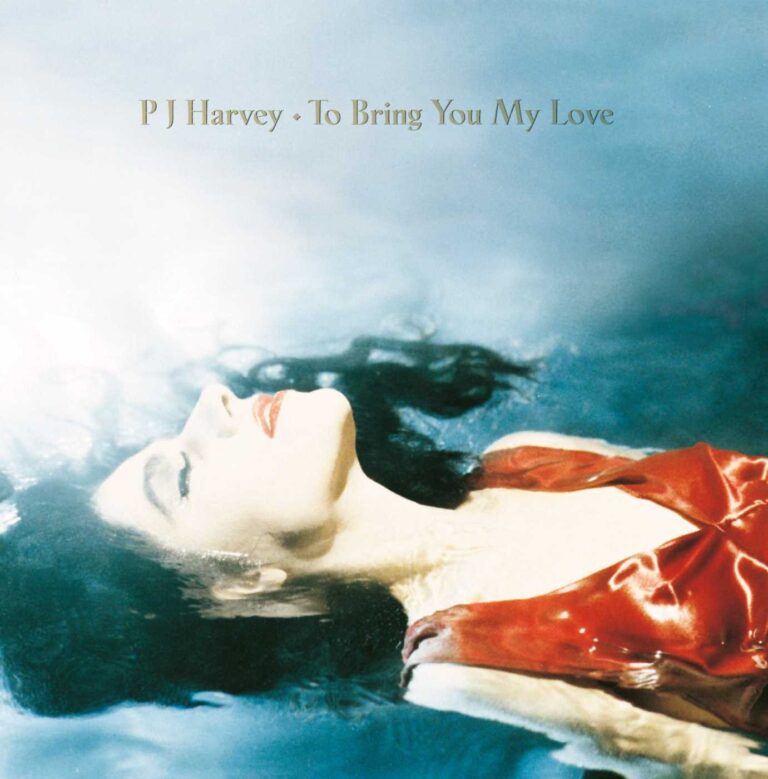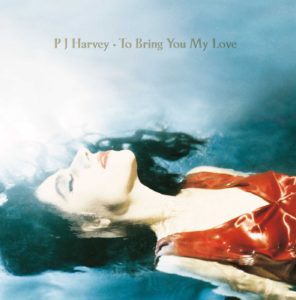 Before Polly Jean Harvey ordered Robert De Niro to sit on her face, before she got her voodoo up and running, she had a revelation. Sitting in a British pub near her parents' farm, watching some shambling indie-rock group, the skinny teenager was suddenly overcome by how meaningless the music was. It made her want to go up to the band and shake them, but she started writing her own songs instead. Nearly five years later, after the furiously searching early-'90s classics Dry and Rid of Me, she was ready to rattle her peers again. As the alt-rock "revolution" was cashing in with sound-alike grunge, chirpy pop-punk, and blowjob-era Alanis, Harvey released To Bring You My Love, a growling, entrancing, blues-wracked vision that made rock's artistic potential feel limitless again. The critical acclaim was deafening. Then everybody bought the Candlebox album.
Not that To Bring You My Love flopped—it sold about 200,000 copies, pretty good for an atmospheric exploration of the extremes of emotion and desire. (The single "Down by the Water" is a fuzzed-out creepfest about a smothering mother who may have just drowned her "blue-eyed girl.") It left even superstar artists humbled. Courtney Love deemed Harvey "the one rock star who makes me know I'm shit." Even today, No Doubt frontwoman Gwen Stefani calls the album "so strong that it scares me."
To Bring You My Love's forbidding perfection didn't come without a cost. Harvey calls the making of the record "the most grueling experience of my life." She was torn between proving herself worthy of the rock-god locker-room (and could she have the locker next to Bob Dylan, please?), and wondering if she really wanted the attendant fame. She also felt that 1993's Rid of Me had taken her abrasive guitar sound and 50-Foot Queenie persona far enough. "I was on the rack emotionally," Harvey says. "I was having a particularly hard time coming to terms with who I am." So, in search of new direction, she did what any Goth-inclined artiste who used to pull dead fetuses out of the family sheep would do: She studied opera and read American Psycho.
Then, in a big old barn, she wrote some songs on the keyboards and sent them to her band—old Automatic Dlamini bandmate John Parish, avant-garde guitarist Joe Gore, Captain Beefheart sideman Eric Drew Feldman, and producer Flood (U2/Nine Inch Nails)—thinking it was probably crap. But "from the moment I popped the cassette in," Gore says, "I knew this was going be a phenomenally great record. When a lot of artists try to evoke the emotional power of blues and gospel, it comes out as lame-ass imitation. Polly doesn't waste any time replicating the gestures, she just taps into the music's deepest core."
A consummate auteur who once jokingly whacked Gore with a cane for playing a few extra notes, Harvey wanted to "be in complete control—who was playing, what, where, when, and how. We were in the studio for more time than I've ever spent, feeling just exhausted." She was in tears almost daily, and the mood was tense. Gore remembers with a laugh: "I was speaking to [Red Hot Chili Peppers bassist] Flea on the phone, and he said, 'Tell Polly I'm such a big fan that I would swim over the ocean just to play one note for free.' When I told John Parish later, he said that after just five minutes with all of us, he'd swim right back."
Where Rid of Me was about noisy exhortations to "bend over Casanova!" To Bring You My Love creates an equally disturbing mood with an understated sound both raw and composed. Singing as man and woman, Harvey takes her folklorish lyrics from birth to destruction, limning maternity as both magic and curse. The title track's withering emotional crescendo—just a simple, sinister riff with the occasional vibes and organ flourish—is ostensibly about the sacrifices the narrator made for a lover, but it's also a metaphor for Suffering for Your Art. "I've traveled over dry earth and floods, hell and high water," Harvey proclaims, a little vibrato tease at the end winking at such pretentiousness.
Though Harvey may now question that sort of commitment (last year's Is This Desire? was considerably less ambitious), To Bring You My Love is the unforgettable sound of someone who plays the dozens with God and the Devil on a daily basis. And Harvey, ever the perfectionist, can't even bring herself to listen to it. "I would love to," she says, "but I'd just remember how some guitar part caused me grief and wish that I could change it." SIA MICHEL
4. Beck, Odelay (DGC, 1996)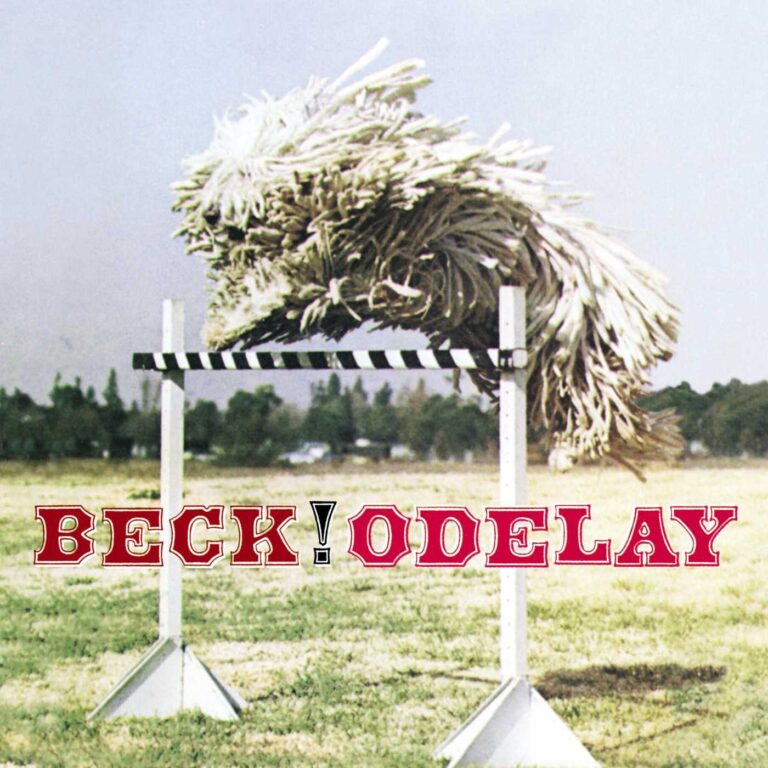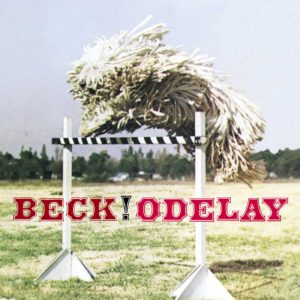 It's tempting to think that Odelay's epochal, pitch-perfect mix of rock and folk, hip-hop and punk, irony and sincerity came from years of market research. Those interlocking shards of Troggs and Old School; those savvy blends of Muzak and Mattel; those hilarious-yet-evocative borscht-belt-by-way-of-Sugar Hill lyrics. It all seems like the result of months spent reading zines and surfing public access, composing and remixing. The truth is somewhat scarier: Beck just decided to get loose.
"He had already recorded an album's worth of straight-ahead guitar songs," says Mike Simpson of the Dust Brothers, the production team that worked on Odelay (and the Beastie Boys' Paul's Boutique). "But he thought they sounded clinical—he said he wanted the album to sound like he had fun." So Simpson and partner John King suggested that Beck come by their closet-size home studio and "just screw around." As they soon discovered, no one screws around quite like Beck. "We'd pull out a record for inspiration, or cue up a beat, and Beck would instantly have a melody for it," Simpson says. "He'd write all the lyrics in, like, ten minutes." For laughs, Simpson pulled out an old educational record called Sex for Teens (Where It's At); King cued up an old Mantronix song with the line "got two turntables and a microphone" and out popped the album's first single and the magazine headline of the year. They wrote and recorded "Devils Haircut" and "The New Pollution" on the same day. "Lyrics, melody, music—everything," Simpson says. "It was incredible."
"I just thought of it as utopianism," Beck says. "It was the liberation of being able to pick the best aspects of all this great music and not get hung up on what's current, what's corny, or what's avant-garde. Everybody has their own definition of what's good about music, and this was mine."
At the time, it seemed like everyone else's as well. Beck's "Loser" had already wrapped all manner of subcultural treasures—lo-fi, breakbeat, Delta blues—into one spectacularly digestible sound bite. But when his little, off-the-cuff dork-jam was seized as a generational anthem, he wasn't too psyched to take it to the next level. So after stepping back into his folk roots with the independent release One Foot in the Grave, Beck's return to the Information Age babble of '90s pop heralded a wave of futuristic, style-blending acts, including Garbage, Cibo Matto, the Chemical Brothers, Cornershop, DJ Shadow and Sugar Ray.
Odelay didn't just bring the sounds, but also the psychology of an entire nascent, smart, post-punk, post-rap society of listeners into mainstream splendor. His level-headed embrace of the whole crazy-sexy-cool musical feast of the '90s may be Beck's most impressive achievement.
On his next album, Mutations, Beck went further into a softer, somber, more finely turned sincerity, singing darker songs about loss, guilt, and resurrection. In some ways, it's a fitting coda to Odelay, an album that fretted about the cultural detritus and hand-me-down blues of a fading century even as it remade them into a masterpiece. "It was weird—at the time, I thought the album was kind of behind," Beck says. "It was funny to hear people say it was ahead. I thought at the time, 'Oh, using Moogs is kind of played out. Hip-hop beats with the folk songs are kind of played out.' I was fairly convinced that I'd just done this thing to please myself." CHRIS NORRIS
5. Pavement, Slanted and Enchanted (Matador, 1992)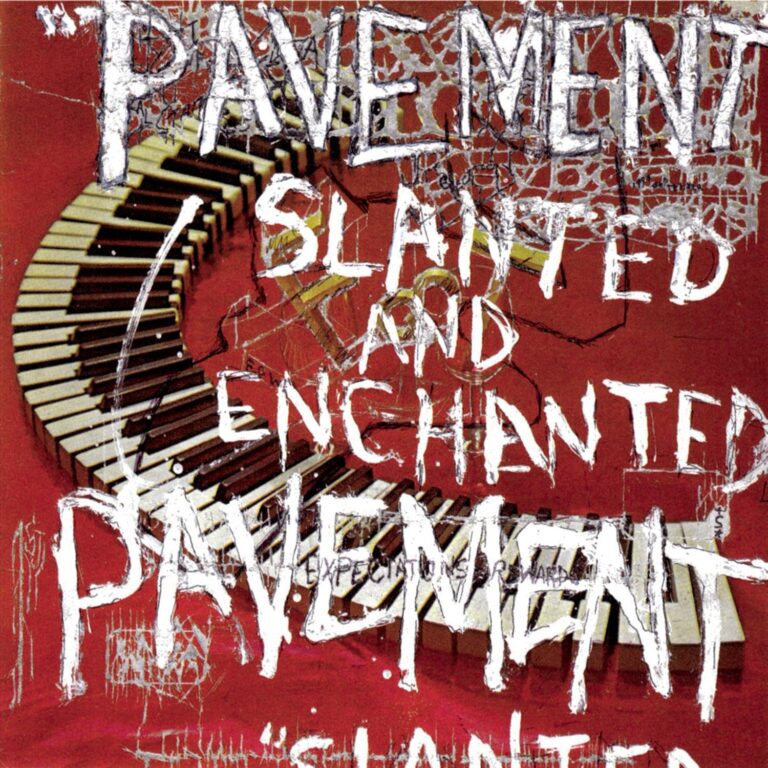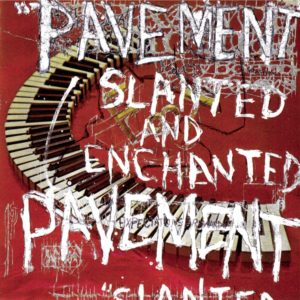 How's this for timing: The album that defined indie rock, that epitomized the way a decade's worth of bands turned hardcore punk into a collegial playground of sound, was recorded about the same time as Nevermind—the record that destroyed the scene forevermore. Slanted and Enchanted, Pavement's full-length debut, was "influenced by all the indie-rock icons—Sonic Youth, Dinosaur Jr., Replacements," says Pavement guitarist Scott Kannberg (a.k.a. Spiral Stairs), still sounding reverent. "You felt lucky 'cause these were the greatest bands."
Friends from Stockton, California, Kannberg and singer/songwriter/guitarist Stephen Malkmus (a.k.a. S.M.) were in their early 20s when Slanted was recorded. But as Malkmus remembers, "We were already confident that we were hot shit." Indeed, three limited-edition EPs—later collected as Westing (by Musket and Sextant)—had earned them the adoration of the hipster priests. Recorded at Louder Than You Think, the garage studio belonging to pushing-40 drummer Gary Young, Pavement releases were thorny collages: flattened-out guitars, radio static, cut-up cover artwork, and Malkmus—a surf-dude existentialist—spouting erudite nonsense. But Pavement rocked like a poltergeist with good timing. and when Malkmus let up on the torture, he created melodies as twilit as anything by the Velvet Underground or Brian Eno.
With a $1,500 advance from Matador (the label that was to indie rock what Sub Pop was to grunge), the trio took the music Malkmus had daydreamed as a security guard at New York's Whitney museum and haphazardly fashioned a legend. The reluctant anthem "Summer Babe" and the sing-songy "Trigger Cut" (in which Malkmus somehow turns "Lies and betrayals / Fruit-covered nails / Electricity and lust" into a call to arms) slapped five with song snippets that treated slackness as a birthright. Earlier indie had rooted its greatness in revitalizing rock; this stuff exploded like genius let out of a bottle.
"We were experimenting with cool sounds," Kannberg says. Malkmus, as is his nature, is more sardonic. "When we didn't have anything to do, we ripped off the Fall—'New Face in Hell' for 'Conduit for Sale,' The Classical' for 'Jackals, False Grails.' The melodies and the lyrics and stuff were from the '70s rock that was still in my head: [Jim] Croce, the Eagles, Carole King."
But the secret weapon was Young, an eccentric, long-haired classic rocker who admits, "I didn't really understand what we were doing," but who was an intuitive anarchist nonetheless. His disruptive live antics—which once included handing out mashed potatoes as the audience arrived—were key to Pavement's early aura. "At one show," recalls Greg Dulli of the Afghan Whigs, "Young decided to do a balancing act on top of his stool while the band played the opening riff. On cue, he played the first hits standing on his throne. Then to my amazement, he dropped his ass on the chair just as the song kicked in. It remains one of the coolest rock'n'roll moments I've ever seen."
One EP later, Young began acting so drunk and disorderly that Malkmus and Kannberg decided to go on without him. It was the end of an era—Pavement went on to tackle alt-rock on Crooked Rain, Crooked Rain and the post-indie weird-ness explosion on Wowee Zowee! yet never recaptured the organic sound that defined lo-fi. But for years, bands like Archers of Loaf and the Grifters considered "Pavement-esque" their Platonic ideal. "For a certain generation of people, Slanted was, like, a big thing," Malkmus says. "That's never going to happen with another Pavement record for them because they grew up. But it's nice to be known for something, I guess. Even if it is a lo-fi Fall rip-off album." ERIC WEISBARD
6. Hole, Live Through This (DGC, 1994)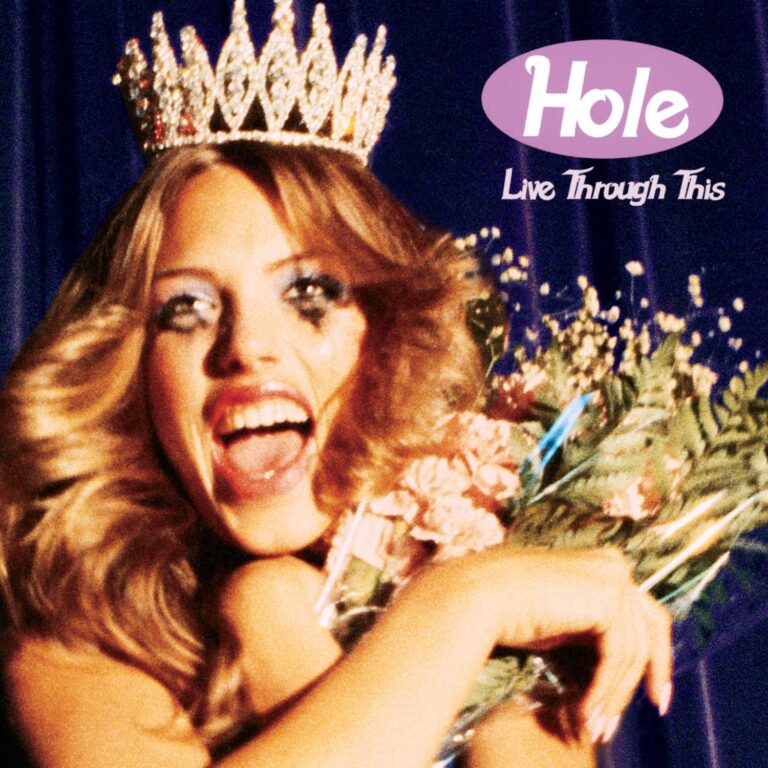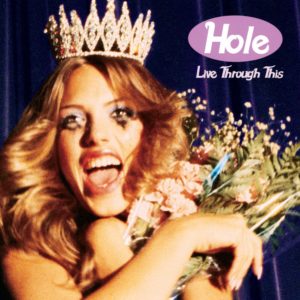 She sings three different songs, among the most wrenching blues of the century, about the mother's milk in her breast—the virtue of her femininity—and how it has gone sour, makes her sick, has a dick. Tracks like "Doll Parts," "Miss World," and "Violet" have the opposite effect of koans: Deceptively wispy and strummy, filled with commonplace phrases, they destroy your serenity the more you contemplate them. When she closes the record with a throwaway slam at the riot grrrls of Olympia, it lands with almost as much punch as Dylan's shot at the folkies in "Positively 4th Street."
Courtney, you made a really good album.
But because it was released only days after Kurt Cobain blew his head off, Live Through This has never been heard as just another piece of music. Courtney Love, his wife and mistress, accused hanger-on and contributor to his delinquency, was too controversial for that and wrapped that controversy too tightly into her art. "I was a lot more misanthropic when I wrote Live Through This," she says. "My marriage gave me a bunker mentality. Going back to Seattle recently, I was thinking: Pretty city. Too bad I never saw any of it."
Love's punk credentials and inherent gremlins have never been questioned. Her longtime friend Roddy Bottum of Imperial Teen says, with the right kind of poetry: "When we were younger, Courtney taught me the magic of smelling the dental floss after flossing. It's vile and disgusting, it's the rotten smell of death, and it's fascinating and unavoidable." But then she became a rock star, initially more on the basis of marriage than her previous work, and applied the same shambolic energy and paranoiac cynicism to an industry and press corps still grappling with the mainstreaming of grunge.
The results weren't pretty, and they only got worse with time. There was the Vanity Fair article suggesting that Love had used heroin while pregnant with Frances Bean and the battles with musicians from Axl Rose to Kathleen Hanna to Sonic Youth. Nastiest of all, perhaps, were the allegations that Kurt had secretly written Live Through This. Not a shred of evidence has been offered, though The Stranger, a Seattle alt-weekly, recently reported that "Old Age," which Love has said she and Cobain did write together, and which appeared credited only to her on a Hole EP, exists full-formed on a tape of Nevermind demos—from before Love and Cobain became involved.
Does anyone really believe that the self-incriminating, girl-germs-infested, quote-worthy lyrics of Live Through This came from a notebook other than Courtney Love's? As for the music, it certainly shares the soft-raw dynamics of the time with Nirvana, but with a rose/thorn quality that suggests Love knew exactly what she wanted, drawing on her own obsessive and idiosyncratic musical canon. A cover of the Young Marble Giants tune "Credit in the Straight World," for instance, gave some recognition to a postpunk pioneer, while the lyric precisely suited her purposes. And besides that scorched-earth yowl, her vocals throughout the record had the dexterity of great acting, finding the poise to make lines like "I fake it so real I am beyond fake" credible and moving.
Love refuses to put Live Through This above her other work, but no album better represents alternative rock in all its compromised glory, trying to reach for a status no one believed it was entitled to. "At Geffen," she recalls, "it was like, 'Oh, this is a shift from Axl to Kurt to Courtney.' There was no sense that the values had changed. Top 40 was getting obsolete, it didn't have any of the force that it has now. You could do what you wanted."
She thinks, then goes on, with a determination that should outlive the doubters: "And you still can." ERIC WEISBARD
7. Björk, Post (Elektra, 1995)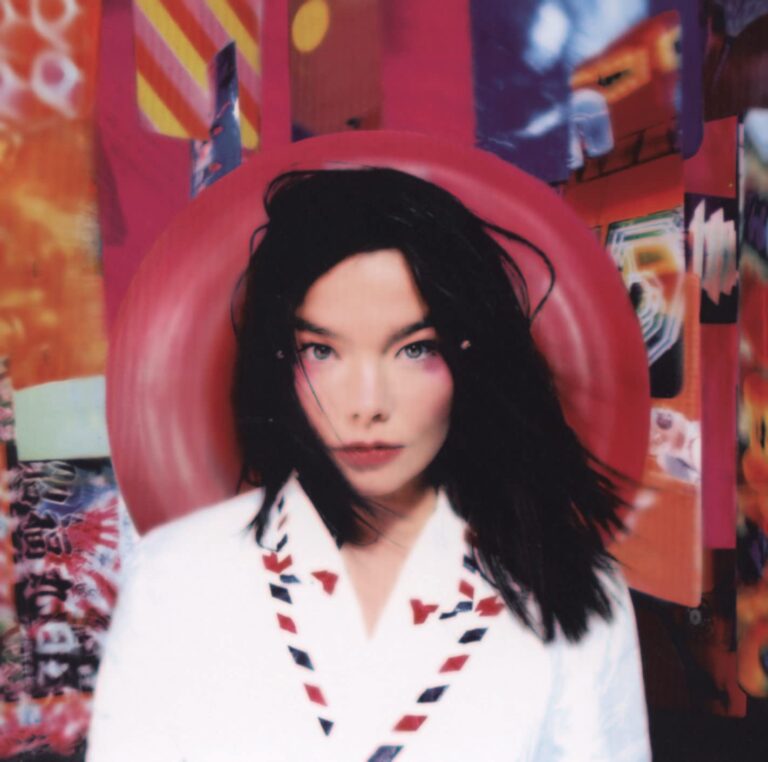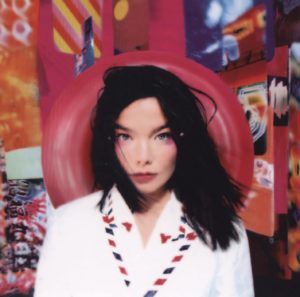 Björk's career has been a series of test cases to determine just how much strangeness a song can contain and still work as pop. On Post, the Icelandic eccentric revelled in the possibilities opened up by the multiplatinum success of 1993's Debut (her first solo album after quitting the Sugarcubes). Instead of playing it safe, Björk brought the weirdness—from jazz fusion's edgy tonality to dance music's rhythmic science. In retrospect, she'd felt that Debut had been too tame. "I had very safe pop songs…and I was sort of shy and humble toward the whole thing," she said in 1995. "This time I felt more at ease."
Shedding the boutiquey qualities that allowed some to dismiss her as a Sade for the '90s, Björk hooked up with multiple collaborators to forge an eclectic tour de force that challenged the agility of her starburst voice. The orchestral grandeur of "Isobel," the technoid seduction of "Possibly Maybe," the industrial juggernaut of "Army of Me," and the big-band retro romp of "It's Oh So Quiet" each highlight a different facet of her fascinatingly mutable identity (magic-realist dreamer, cyber-diva, space-pixie, etc.). These personalities are further dramatized in a series of brilliantly inventive videos such as "Army of Me" and its Tank Girl tyke. A TV-friendly ambassador for all things avant, Björk offers electronica with a human face for those intrigued by new sounds but alienated by the genre's anonymity.
"Post helped popularize the modern idea of an album as a delicatessen," says Björk collaborator Graham Massey of techno outfit 808 State. The two tracks co-written and co-produced by Massey—"Army of Me" and "The Modern Things"—actually date from the Debut sessions. Recorded in just one day in 1991 at a Manchester home studio, the demo versions were deemed too harsh for Debut's lush sound-world, but the songs were reactivated for Post. The lyrical concept of "Army of Me"—Björk in tough-love mode telling a self-pitying friend to shape up—was suggested by the implacable, monolithic groove, not vice versa. "Most vocalists just sit in the corner and get tortured over the lyrics," Massey says. "But being a formidable musician as well as a singer, Björk develops melody before words—the lyrics all start out as this wordless mumbo jumbo. That approach works brilliantly with electronica, 'cause you're forming the music as you go along."
The album is also very much a product of the creative turmoil of 1994-95 London, where Björk had relocated from Iceland. Jungle was exploding out of the underground, and strange hybrids such as trip-hop were percolating. "If Björk had moved somewhere else, like New York, it would have been a totally different album," Massey says. Yet Post was actually recorded and mixed in the Bahamas at Nassau's famous Compass Point Studios. According to DJ/U2 collaborator Howie B., who engineered Post, "Despite being in this Caribbean vacation paradise, we only had one day off in three weeks. And because the studios have no windows, we might as well have been in London." Björk did record some of her vocals with her feet in the ocean, though, thanks to a long microphone cord.
The frigid climate of Iceland was the setting for two collaborations with Tricky—the sensuous "Headphones" and the shatteringly intense "Enjoy." "They were like rough demos," says Tricky, who later dated Björk. "I kept waiting for her to say, 'Let's take them to an expensive studio.' But Björk had the courage to release the songs as they were, and that still shocks me. She ain't scared of nothing." Of their first meeting, Tricky says, "I thought she was mad cute but didn't think anything would come of it—she was on a different planet than me, a superstar."
But then, the cool thing about Björk is precisely the elegance with which she manages to straddle the murky underworld of marginal music and the overlit overground of MTV pop. Certified gold in the U.S., Post represents Björk's balancing act at its high-wire pinnacle. SIMON REYNOLDS
8. Dr. Dre, The Chronic (Death Row/Interscope, 1992)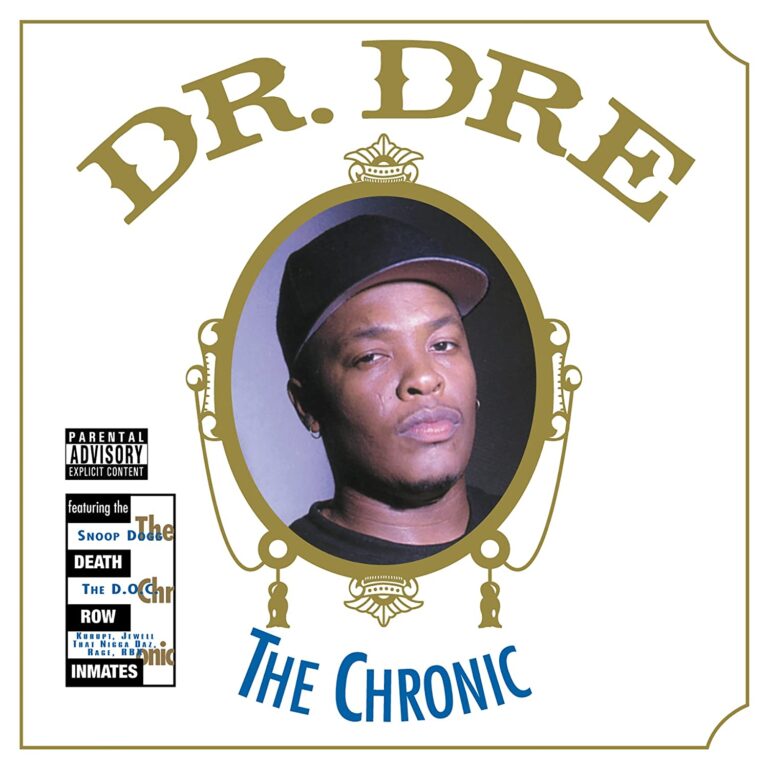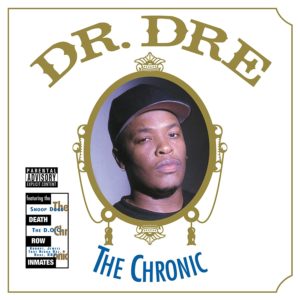 The Chronic opens with the sound of a jail door slamming, and before the tumblers went click, Dr. Dre had a lock on the '90s. As a record, Dre's post-N.W.A debut gave African-American resentment and ghetto nihilism a seductive, cinematic flow. As a cultural force, it rolled over all resistance, defining the entire country as Death Row Records turf and selling the West Coast gang mythos to the suburbs. "Dre fuckin' slowed down the '90s like The Matrix," Public Enemy's Chuck D says. "That record transformed everything—all that laid-back California shit."
Dre says he makes "feel records," and the feel of The Chronic is riot-time Los Angeles, 1992, bitterness grazing across territorial lines, anger edging into stoned hilarity. The album's gaggle of rappers sounds reborn in rage, posing as "niggas with big dicks and AK-47s" like they're having the time of their lives. But all that anger flowed from a very personal need for revenge. "It was a period in my life when I had just left [N.W.A's label] Ruthless, and talk on the street was I wasn't going to be able to do it without those guys," Dre says. "So I felt I had something to prove."
The Chronic rolls on drum-machine beats, like most rap albums, but Dre revolutionized the genre by deemphasizing samples, bringing in a Moog keyboard, live horn players, and crucially, multi-instrumentalist Colin Wolfe, who played the bass lines and eerie, high-pitched synths that provided the outrageously catchy hooks. Recreated P-Funk, Isaac Hayes, and Donny Hathaway melodies complete the essence of "G-Funk": cold-compress grooves applied to street-corner static, a budded-out haze that makes the anger seem serene and spacious. The cast was pulled from the 50 or so people who dropped by "the Lab" on a typical day to get high and get heard—MCs That Nigga Daz, Kurupt, RBX, the Lady of Rage. But the album's secret weapon is Snoop Doggy Dogg, a young Crip who'd recorded the underground hit "Deep Cover" with Dre the year before, and whose dry, graceful drawl dominates the record ("I guess I just wanted it a little more than everyone else," Snoop says). As he drops "a jimmy joke about your mama that you might not like," Snoop sounds lighthearted, almost giggly, like nothing can touch him.
Hip-hop's energy source had been going West for years, and The Chronic's four million copies sold, two Top 10 singles ("Nuthin' But a 'G' Thang,"Dre Day"), and omnipresent videos, were the final victory. The album's barely ambivalent, skitlike vision of the ghetto as a bullet-riddled sex-and-drug party had white kids in front of the mirror enunciating "beeee-yatch," while conservative activist C. DeLores Tucker went on a Washington rampage against so-called "gangsta rap." It's