Though Lou Barlow's prolificacy will likely always be eclipsed by the Robert Pollards and Ty Segalls of the world, to say nothing of his legendary run in the late 80s to mid-90s, Barlow has found a way in the past few years to balance the globetrotting commitments of his bass-playing gig with Dinosaur Jr. with ongoing work in pioneering lo-fi project Sebadoh.
After two years touring in front of the latter's most recent incarnation — which now includes former Fiery Furnaces drummer Bob D'Amico — Barlow and his longtime Sebadoh collaborator Jason Loewenstein decided it was time to lay down some new material. As Barlow describes it, the motivations for a making a new record were a matter of duty more than anything else: Like the Dinosaur Jr. reunion before it, once it became clear that Sebadoh's second run would stick, Barlow felt honor-bound to churn out new songs rather than just trotting out nostalgic numbers night after night.
But despite the fact that both Defend Yourself, Sebadoh's forthcoming full length, and Dinosaur Jr.'s first reunion record, 2007's Beyond, were rooted in similarly pragmatic motivations, the processes were markedly different — at least in terms of the tools at their disposal. "With both bands," Barlow explains, "the songs are delivered in a fairly relaxed way. But the major difference is that J has an assistant and an incredible array of vintage amplifiers. With Sebadoh, we use whatever semi-broken-down [gear] I have lying around"
So this time around it was a shoestring budget for what was Loewenstein and Barlow's first collaborative effort in 13 years, not at all a departure from the roots of the project's beginnings. "Simplicity is at the core of Sebadoh," Barlow confirms, an ethos that reaches back to Barlow's earliest cassette recorder experiments under the moniker. Through the addition and eventual subtraction of firebrand multi-instrumentalist Eric Gaffney, as well as Loewenstein's creeping takes on more traditional rock'n'roll sounds, Sebadoh quickly began to resemble a traditional indie-rock band more than the home-recording project Barlow first started in 1986. By the time 1999's The Sebadoh saw its release, Barlow and Loewenstein's songs were (sonic) miles removed from the crackle and pop that defined the former's earliest solo recordings.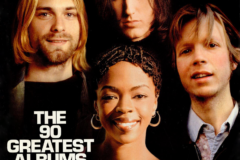 Recorded over the last two years, in between Dinosaur Jr. commitments, the Secret EP and forthcoming Defend Yourself LP are both, as Barlow notes somewhat darkly, "yet another Sebadoh record made in a time of transition": After separating from his wife and partner of 25 years, Barlow recently moved in with his girlfriend, the life upheaval leaving indelible marks on Barlow's contributions to the records in particular. "The last time I had been through anything of this magnitude, was around the recording of The Sebadoh, our last record," he explains, pointing toward his new set of circumstances as the origins of what he calls "another batch of breakup songs."
But Barlow is also quick to assert that both Secret and Defend Yourself sound like "classic Sebadoh record[s]." Made with busted gear and inspired by loss, at the heart of the sessions they sure sound like they were made under classic Sebadoh circumstances.
Below, stream Secret in its entirety, a brief, straight-to-Bandcamp release last July that will now sees a proper release on Joyful Noise. Pre-order that here.