Nineteen-year-old rapper Earl Sweatshirt was one of hottest names at this past April's Coachella Music and Arts Festival. On opening night, he closed out the Gobi Tent, drawing a crowd nearly as large as that of the Stone Roses, one of the event's headliners. Sweatshirt was playing his first solo show in the Los Angeles area — where he grew up and rose to prominence — since returning from a nearly two-year stint at a reform school in Samoa. He was promoting his upcoming album Doris, which he previewed extensively during the set to an audience hungry for new material. It was a homecoming of sorts, and Sweatshirt was greeted like a rapper who was on the cusp of cult stardom. (He returned the crowd's gratitude by playing his early viral hit "Earl," which he often forgoes.) Despite the evening's triumphant feel, if there was one performer who could have moved through the crowd virtually unnoticed, it was Earl.
There was a uniform, more or less, for teen boys at Coachella: bucket or Supreme hat, button-down patterned shirt, shorts, and Vans. That this is the exact style of Sweatshirt and his friends in Odd Future is no coincidence. As the economics of hip-hop have changed, two young crews of rappers — Odd Future and A$AP Mob — have leveraged fashion as a way to present a lifestyle to fans. In the process, they've forged a new pathway to profitability (and potential fame) in an industry where success is increasingly ephemeral and elusive.
The ways in which the two groups have utilized fashion to build their brands are different, but equally effective. Operating out of Los Angeles, Odd Future have taken the business of brand-building literally, progressing from selling typical band merch to running a full-blown clothing brand, which the crew sells both online and out of its store in Hollywood. Across the country, in New York City, A$AP Rocky and cohorts A$AP Ferg, Nast, and Twelvyy emerged from the streets of Harlem sporting Jeremy Scott and Hood By Air, streetwear brands that cross over into the world of high fashion. The archetype of the New York/East Coast rapper — think the gruff gangsterisms of forgotten non-saviors like Papoose, Saigon, and Joe Budden — had long grown stale, but Rocky remade the city's image by blending post-Kanye high fashion with downtown streetwear. He's the city's first cool rapper since 50 Cent.
Music and fashion have long been intertwined in hip-hop culture, but Odd Future and A$AP Mob are unique in making fashion intrinsic to their appeal from the outset of their careers. Rap stars like Jay-Z and Diddy became moguls thanks, in large part, to their clothing lines (Rocawear and Sean John, respectively), but never before have rap artists started and maintained an independent clothing line as tied to its brand as Odd Future's. Prior to the winter holidays in 2011 — roughly one year after the world first discovered their music — Odd Future opened a pop-up shop in Los Angeles that sold merchandise not previously available online as well as apparel from their new clothing line. In order to meet demand on their subsequent 2012 tour, they opened a similar pop-up shop in every city they visited. The original L.A. outlet soon became a permanent fixture on Fairfax Avenue, the L.A. strip dotted with stores hawking the hippest streetwear in the country. Thanks to Odd Future's celebrity, the entire district surrounding Fairfax itself has become a magnet for kids hoping to catch group leader Tyler, the Creator and his friends hanging out.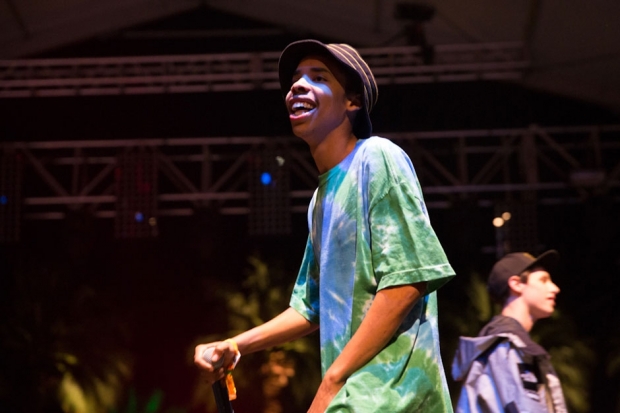 A$AP Mob have followed a slightly more traditional route, pinning their image to personal style. But where Run-DMC had Adidas, LL Cool J had Kangol, and Kanye West had Polo, A$AP Mob have curated a lifestyle — where rap and high fashion exist as one, as opposed to rubbing up against each other — that goes beyond just a single look. In the process, A$AP Rocky has crossed over into a world where only a few rappers have made inroads.
"He is different from other rappers, he plays with dresses and outfits," says Gianluca Cantaro, the managing editor of Italy's L'Uomo Vogue, which put Rocky on its March 2013 cover. "He has a personal point of view that makes him different." That individualism can be seen clearest in the controversy he caused by going on 106 & Park in an oversized tank, which many people perceived to be a dress. (Rocky called the blog and Twitter chatter "foul.")
Though in its slim, arty and often exclusive streetwear, the Mob looks unlike any other rap crew, the style is homegrown. Their flair for the dramatic shares a common spirit with the Diplomats, the Harlem gang whose leader, Cam'ron, took rap by storm in 2003 with his all-pink-everything aesthetic. But they picked up cues from all over New York.
"It was really just the streets, just being downtown at the underground parties," says A$AP Ferg, 24, whose own style blends brands like Margiela with gold grills and the bulletproof vests of G-Unit. "The streets had the fashion."
Those parties were where the Mob began to mingle with the fashion world, which led to Rocky hosting the release bash for his major-label debut album – January's Long. Live. ASAP, which debuted at No. 1 on Billboard's Top 200 – not at a club, but at the Hole, an art gallery in Manhattan's East Village. This is where the golden boys of rap's hometown are now most comfortable.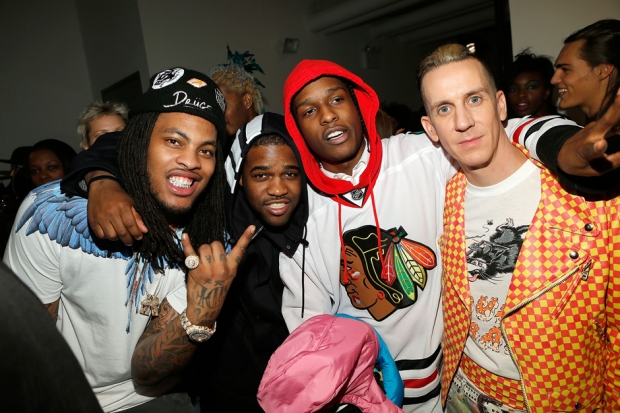 "There was certain decorum in the clubs," says Ferg, thinking back to the Mob's earliest days. "Some wouldn't let us in, so then we just started throwing our own [parties]. Our buddy was doing a fashion show — that was kind of like our own scene at that point. Fuck the club."
The fashion influences of Odd Future are a bit easier to pinpoint. In addition to pulling from skatewear (the California pranksters have long favored Vans, so it was no surprise when they collaborated with the shoe company earlier this year), Tyler, the Creator has been open about his obsession with BAPE, the Japanese streetwear brand made popular in the United States by his idol, Pharrell Williams. That indebtedness is clear throughout the OF line, from its reliance on cartoon drawings to its bold patterns. At a time when many rappers, A$AP Mob included, prefer a minimalist aesthetic — like the now-infamous $120 white t-shirt in Kanye West's collaboration line with the French brand APC — Odd Future's clothing features a bright primary-color palette.
But while Pharrell went from wearing BAPE to easing into a partnership with the label, Odd Future has built its brand from the ground up. By 2011, the demand for Odd Future apparel was far greater than what a table in the lobby of a venue could serve, so the idea to stage pop-up shops was hatched.
"We went out, and when we did that, it sent a pretty cool message, because everyone else was like, 'Holy shit,' says Christian Clancy, the manager and a father-figure for much of Odd Future. "It became an obvious thing. What we were sitting on, we thought, 'Why limit it?' When you go on tour, why have a merch table when you can have a fucking store?"
On a July weekday afternoon, Odd Future's Los Angeles store is being visited by a number of tourists while local skaters populate the sidewalk outside. The space — a single room — takes its cues from the clothing it peddles. The top of the walls are lined in donut-patterned wallpaper, while one side is covered in images of cat heads. A section of another wall features graffiti — one more cat head, an upside-down cross, a dick — drawn by Tyler, whose sketches have made their way onto shirts and hoodies. Every so often the kids on skateboards come inside and pop kickflips in a center space on the floor. A handwritten sign that says, "No fucking photos in the store," is dwarfed by large photo prints of various members of the crew that sell from $300 to $350. Albums by Mellowhype and Trash Talk are available for sale, but CDs are treated the same way they are at retailers like Urban Outfitters: as impulse register buys.
A 17-year-old named Alexis is at the store on the occasion of her birthday. She says she begged her parents to drive her here from Arizona, and they obliged. Alexis, like many Odd Future fanatics, was first entranced by Tyler's willingness to provoke authority by refusing to self-censor. She says she doesn't buy apparel by any other artists, but her bond with Odd Future has remained strong.
"I feel a connection with them, as themselves. They make themselves like normal people," she says. "They don't wanna be these big stars. It's really cool to be able to get along with [Odd Future], and not even know them at all." She, of course, left the store with a birthday gift. "I got a Trash Wang shirt. It's the last one. It was, like, $50, but you know," she laughs, her sentence trailing off.
The crew's brashness has translated to its clothes, which aren't necessarily vulgar, but are decidedly audacious. Fans can't live life in open rebellion like most of Odd Future seem to do, but they can at least approximate that attitude by proudly displaying a hoodie with an upside down cross or a shirt with a camel on roller skates.
"This is kind of a first for me, because I haven't really seen much clothing from artists that I like, that I would actually wear," says a shopper named Isaac. "It's kind of in your face. It's something that not a lot of [artists] have. They expanded from the regular t-shirt and sweatshirt. They made it more creative. It fits our generation."
The Odd Future store is a Mecca of sorts for this ravenous fanbase, but it's also the embodiment of one of the great tensions at the heart of the group. Tyler has been a true fashion influencer in rap over the past handful of years — his style co-opted completely by his fans, and even trickling up to artists like Lil Wayne, who made the decidedly Tyler-esque activities of skateboarding, wearing patterned socks and Vans and rapping while wearing a ski mask important elements of his latter-day persona. But this influence has been something that's made Tyler uncomfortable, at least publicly. He would not agree to an interview for this story, and in general his team wants Odd Future's music, rather than its style, to drive the narrative. "I would never refer to Tyler as a 'fashion icon,'" bristled Clancy at the mere mention of the phrase.
Odd Future is a true homegrown success story. They built a loyal fanbase simply by being themselves and have only accessed traditional channels (like major-label distribution) when necessary. Tyler's most recent album Wolf debuted at No. 3 on the Billboard album chart, selling nearly 90,000 copies in its first week despite no radio single or viral hit (though the impact of his breakout "Yonkers" still lingers). He puts out music and his fans buy it. But he and Clancy have consciously grown the Odd Future brand — Tyler is now the head of his own creative agency called Camp Flog Gnaw, through which he recently partnered with Mountain Dew. (That partnership has since fizzled.) And clothing is the engine driving Odd Future's extracurricular endeavors.
Schemes and planning, though, cut against a sensation that was, at least initially, a happy accident. "To be honest, Odd Future's never been about fashion; it's an extension of who they are. If I even said that this is an article on fashion, they'd be like, 'What the hell?'" says Clancy. "Of course, there are strategies, but never at the expense of protecting the culture. These are kids that hang out with each other, [the clothes] are just extensions of their natural state. It's not about a fashion takeover; they'd cringe if they even thought that."
Though he acknowledges its importance in building a fanbase, Ferg is similarly feeling fashion fatigue. "It's too much. Everybody's trying to be a fashion God now," he says, reclining in a chair at the A$AP Mob's Bronx recording studio. "I'll leave that shit up to them. I don't want to lift a finger for that shit. It's all about style. Fashion? Fuck that, it's so wack. They call it fashion because it's a fad. Style is what you have, when you can put on anything and make it look good."
Yet, connecting themselves to fashion is undoubtedly profitable for both Odd Future and A$AP Mob. Ferg, a promising rapper with a deal through RCA, has yet to release a debut full-length, but sells hoodies for $50 and basketball jerseys for $70. And in an era where musicians fight for ever-shrinking slices of pie, Odd Future has a store that opens up every day and sells t-shirts for $30, hoodies for $80, and jeans for $100. According to Clancy, sales spike when Tyler releases music, but the store has held steady as a self-sustaining entity for well over a year.
"What is success nowadays?" Clancy asks, stating a question that looms over much of the music business. "If you're basing success on the old metrics" — by which he means album sales — "well then OF wouldn't be doing it. But if you're basing the metrics on the reality of a brand-based business, then they're doing fantastic." The implication cuts through any boardroom jargon: Odd Future is thriving, with music being merely one of its many pursuits.
Other rappers are following Odd Future's lead. Metro Zu, a fledgling clan of rap kids from Miami with a few mixtapes, designed and sold out a run of shirts that were firmly streetwear instead of simply merch.
But as Odd Future and A$AP Mob continue to make inroads with the fashion world, the line between innovators and adopters continues to blur. A$AP Rocky recently wore a limited edition Hood By Air shirt onstage at Summer Jam, New York City's premiere rap concert. The shirt was then sold for $600 in a run of only 70. Last year, London-based designer Shaun Samson collaborated on a line with the streetwear retailer Opening Ceremony that featured a t-shirt with a prominent image of a cat head — a clear rip-off of Odd Future's aesthetic. But last month in Japan, Odd Future staged a pop-up shop at the store's Tokyo location.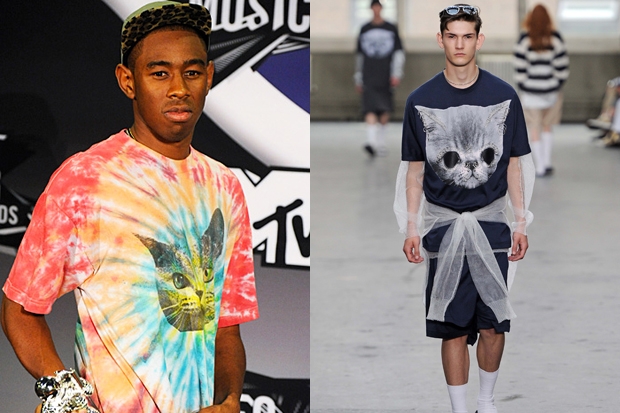 "It doesn't take a rocket scientist to see the rise of cats over the last year," Clancy says. "Some of that stuff can get under your skin if you pay attention to it. It's obvious what's happening, but it also means what you're doing is working."
Odd Future may continue to treat the word "marketing" as if it's toxic, but they're not naive. In utilizing fashion to differentiate themselves from the rest of rap music, both Odd Future and A$AP Mob have managed to put down solid roots in a business – the recording industry – that has proven to be extremely shaky territory. These are two groups that have built genuine connections with their respective audiences thanks, largely, to their fashion savvy.
"Fashion is a huge part of A$AP because without that we would have just been ordinary rappers," Ferg admits, despite his previous protestations. "That's our hook. It lets kids feel like a part of something."
Clancy illustrates the same phenomenon in business terms. "I like to use the metaphor of soil," and it's one that he repeats often. "To me, it's all about the soil. The plants — the records, the clothing — some live, some die. But if the soil is right, then that's all that matters," he says. "If the plant dies, you move on. But you use the same soil along the way. You can keep planting shit and learn. For us, it's always been about the soil."
Therein lies a lesson for any rapper hoping to just sell CDs.
"If we worried about what kind of song to give to the radio – I mean, I can't tell you how many times one gets added and no one makes a penny," says Clancy. "That's a game I'm not interested in."
Additional reporting by Chris Martins