For its 20th anniversary, Barcelona's Sónar festival made one significant change, moving from its customary daytime venue, a museum complex in the center of the city, to an enormous convention center towards the edge of town. And that increased capacity meant a bigger festival than ever, with 121,000 bodies counted across three days and two nights of techno, house, bass music, indie pop, rap, and whatever you want to call Major Lazer's particular mélange. Their presence on the bill, not to mention Skrillex's headlining gig, left some long-time attendees questioning what had happened to the key adjective in Sónar's subtitle, "International Festival of Advanced Music and New Media." But even when performances weren't forward looking, the energy of the crowd (particularly at the nighttime events, which ran from 10 p.m. until 7 or 8 in the morning) made simply being in the moment its own reward. Here are our highlights.
Gold Panda
Gold Panda and his colorful, faintly pastoral electronic pop was a natural choice for a mid-afternoon spot at the outdoor SónarVillage stage, where revelers would sprawl out on the Astroturf, gathering strength for the 12-hour haul ahead. At least, that's probably what the organizers had in mind, but Gold Panda decided to bring out the animal lurking under all that filigree, emphasizing the muscular machine rhythms of his new album, Half of Where You Live, and leaning hard into clanging, metallic delay. His billowing pads were pneumatic enough to float the horizontal hangers-on at the fringes of the lawn area, but the gut-rumbling kick drums were just the stuff for the reddening partiers who filled the green, where beer, sun, and repetitive beats fostered a powerful sort of photosynthesis. Two shirtless bros flexed sunburned muscles for each other. A dude next to them attempted to toss something small and white into his girlfriend's mouth, and neither of them seemed to notice when it bounced off her face and landed on the ground. Grins slackened, fists pumped, sweat flowed, drinks were spilled, and the cheers grew louder and louder. Who knew chillwave could get so rowdy?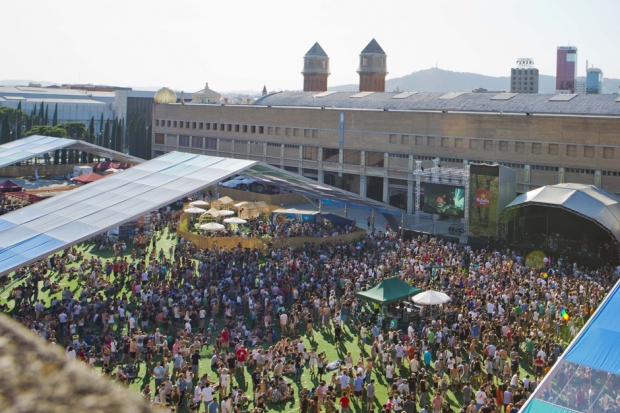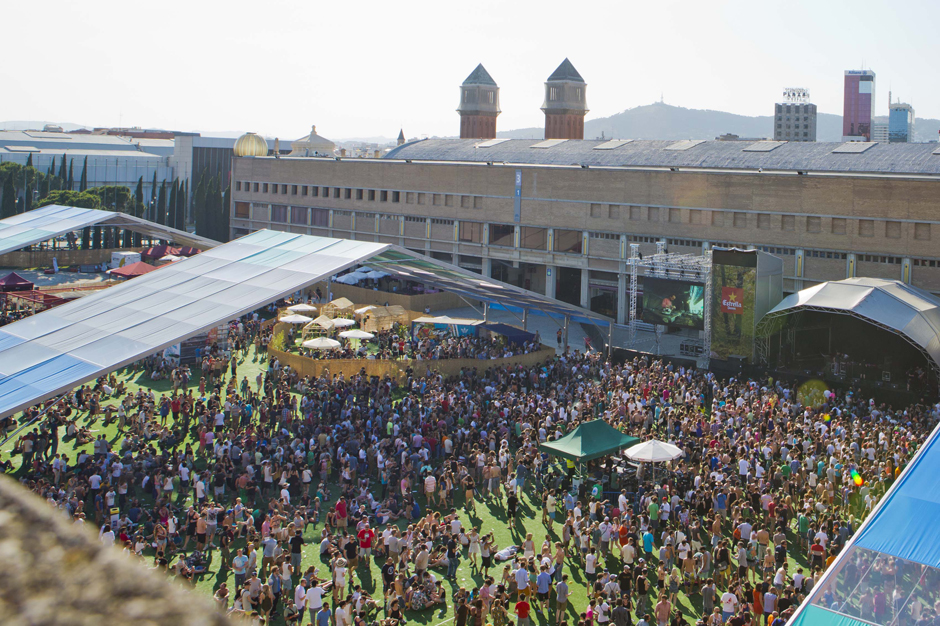 Mykki Blanco
Shirtless and wearing baggy gym shorts, Mykki Blanco largely set aside any drag trappings, save for occasionally applying a smear of lipstick and proclaiming, "I feel like I'm the prettiest girl in the room!" But there was nothing "pretty" about his performance — just hard, skeletal, Southern-influenced beats supplied by his DJ, Sinjin Hawke, over which Blanco snarled, growled, and morphed between voices as though he were speaking in tongues. He's a stunning performer, impossible to take your eyes off; at one point, he heaved the mic stand over his shoulders and locked his arms around it, elbows jerking like a scarecrow's, before balancing it in his teeth and just holding the damn thing hanging there, head thrown back like a victorious warrior. Towards the end of his set, he invited 20-odd people from the audience onstage. A mixture of ages, races, sexual orientations, and states of inebriation, they danced and showboated and gawked, reaching out to touch his sweaty arms and even kiss his neck. A man and a woman made out, briefly, though it was unclear from their body language when they separated if they even were previously acquainted. And then Blanco disappeared into the crowd as security cleared the stage and Hawke blasted volleys of bass and hi-hats across the emptiness, testing the limits of the room's sound (and confirming it as some of the festival's best). Raised arms and camera flashes mapped the rapper's path through the adoring throng.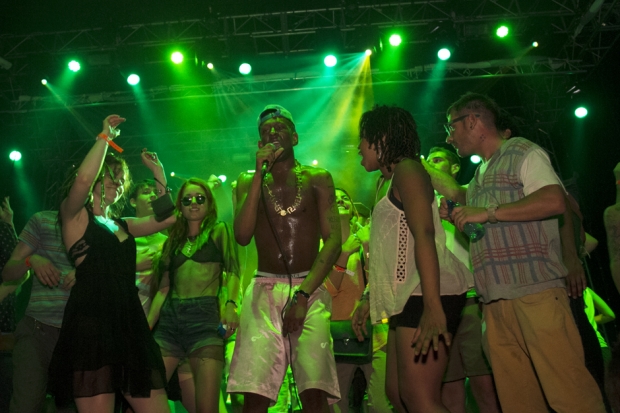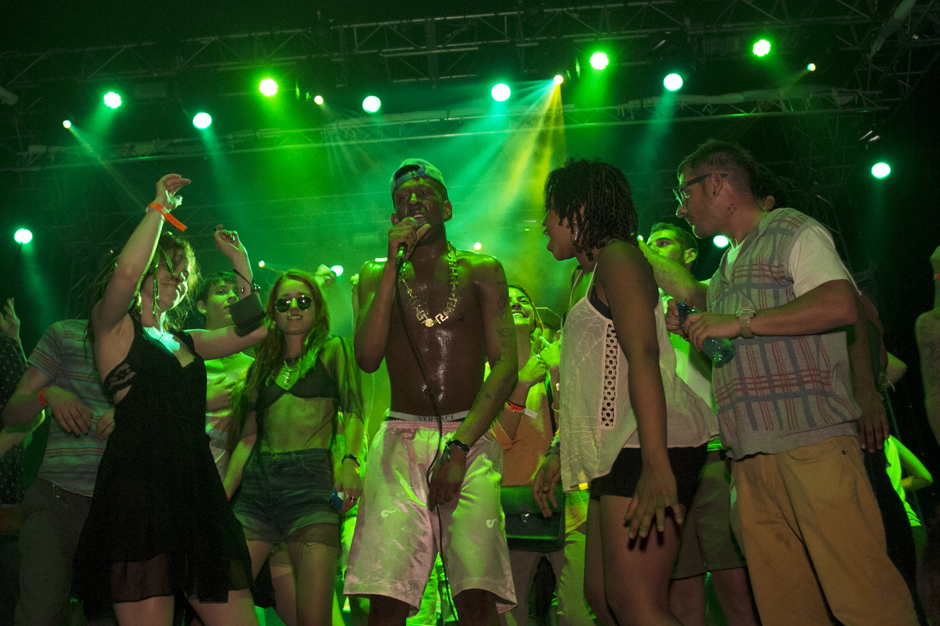 Christeene
"I don't know what the fuck y'all know about Texas," drawled the gender-queer rapper and performance artist Christeene toards the beginning of her set. Over the course of the next 40 minutes, the crowd learned that, at the very least, it must be a very intense place. Flanked by two male dancers whose changing costumes had only one constant — very tiny briefs that frequently disappeared up their buttcracks or hung dangerously off their derrieres — she tore through songs like "Kiss My Fuckin' Dick" like some manic combination of Alice Cooper and Hedwig (of the Angry Inch). (She left no doubt about her own measurements, stroking herself to a half-erection that was barely contained by extra-small cycling shorts.) There were dances with fans, choreographed spankings, gang-rape scenarios, riffs on the "Diwali" riddim, and trap anthems with lyrics like "Do it in your butthole." (That song, "Bustin' Brown," was prefaced with Christeene's request that the crowd "think real hard about what all you straight motherfuckers like to do, and let's investigate that problem.") But all the raunch had a real sense of gravitas; like the best freakshows, it was all-inclusive and grounded on empathy.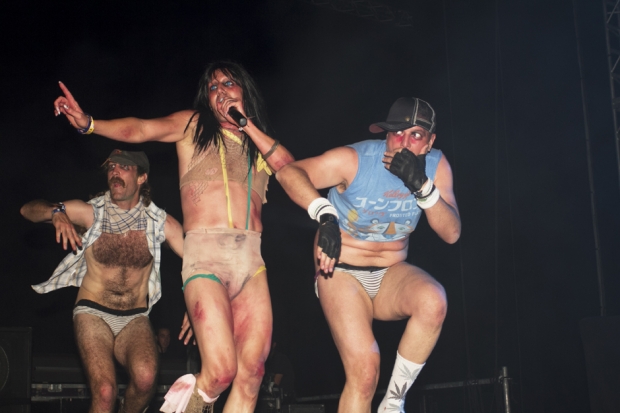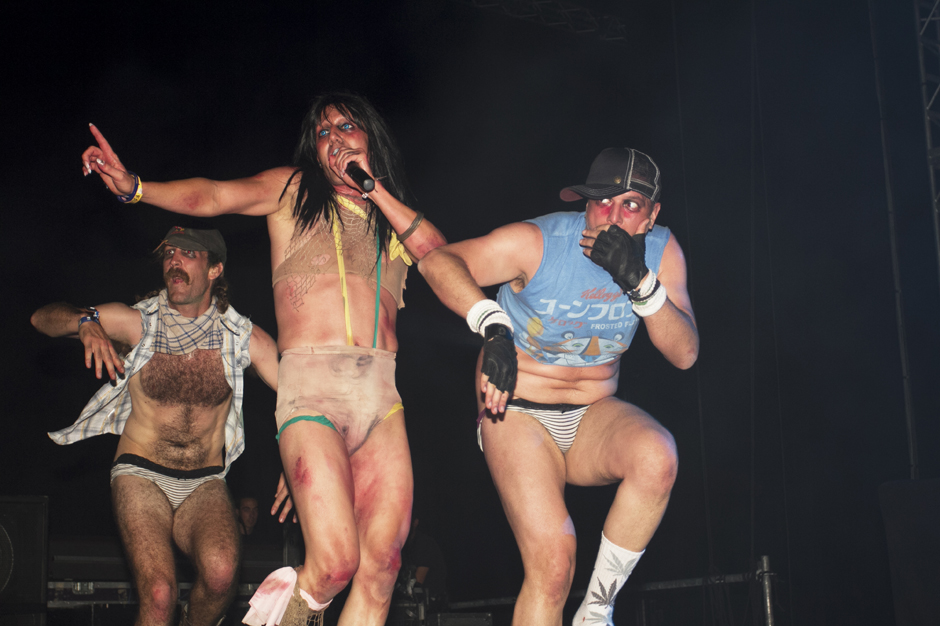 La Bien Querida
Sónar's concessions to the EDM masses — booking Skrillex and Major Lazer, for instance — raised plenty of eyebrows among longtime attendees of the festival, and rightfully so; their presence risked tipping Sónar's careful balance between avant-gardism and all-out rave too far into the latter category. But credit the organizers with maintaining their longstanding commitment to Spanish acts who are largely unknown to foreign ticket-holders (who constitute more than half of the festival's public). On Friday night, that meant the chance to catch the Barcelona DJs Zero, César de Melero, and Angel Molina, local heroes with an encyclopedic knowledge of dance-music history and the skill on the decks that you might expect from someone who performed at the very first Sónar, in 1993, as all three did. And on Friday afternoon, it meant getting swept away by the shimmering electronic pop of La Bien Querida, a Madrid/Barcelona-based trio who could easily triumph on the international stage, Spanish-language lyrics or no. On keyboards and electronic percussion, they turned out tightly crafted songs that contained echoes of the Jesus and Mary Chain, Blonde Redhead, Stereolab, and M83. But they also sounded heavier and swirlier than their 2012 album, Ceremonia, and they brought their set to a soaring climax of squealing feedback and oscillators run amok. Stateside promoters: Book them.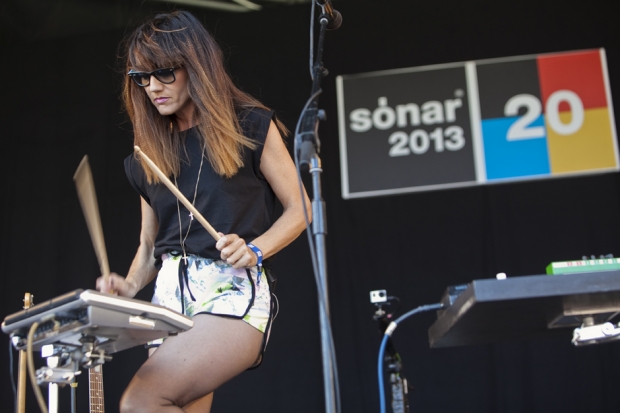 Objekt
When did Objekt get so huge? By most metrics, the Berlin-based DJ probably isn't, but that didn't stop Sónar's organizers from giving him a prime slot: 3:15 a.m. in the open-air SonarLab space (the second-smallest nighttime area, but still mind-bogglingly large), following the French turntablists C2C and setting the stage for Karenn, the apocalyptic techno duo of Blawan and Pariah. In contrast to Alvin Risk's corny-ass EDM roller-coaster ride over in the main room, and Maya Jane Coles' solid but safe tech-house in the other open-air space, Objekt stuck to rough, rugged selections mixed with white-knuckle intensity: whip-cracking electro (Aux 88) and cudgeling techno (Dave Clarke), with angry cicadas creaking over kick drums that weaved in and out of the mix. Both his sound and mixing style were inspired by the U.K.'s stern, proudly faceless techno of the early '90s, and the lack of video screens on the stage played up the feeling of being locked in a Brighton basement, despite the presence of stars twinkling overhead. Instead of gazing blithely upon the DJ's face, as has become the norm at festivals of this size, you were left only with your ears and your imagination, sent tunneling into thought processes mapped out in interlocking drum lines.