The 10 Best Things We Saw at Sonar 2013
Kraftwerk takes us back to the future in 3D at Spanish dance fest; Skrillex remixes Freddie Mercury's "Barcelona"
Atom TM
It's arguable that corporate branding is a necessary evil for festivals of a certain size. At the very least, it keeps ticket prices affordable and allows artists to get paid. Nevertheless, there was something disconcerting about branded stands where you could create a customized Bic lighter, upload a "crazy" photo of yourself wearing Arnette sunglasses to Facebook for the chance to win a pair, or get a makeover from Sephora. (That said, the Barcelona City Council's contribution to the swag bag, a "Barcelona inspires" chamois cloth for wiping down shades and smartphones, was actually pretty useful, especially after three days of beer, sweat, and sunblock.) Atom TM's wry electro-funk served as a useful reality check, splicing Kraftwerk's Mensch-Maschine shtick to vocoded lyrics that had more in common with punk rock than dance music. A snapping, anti-capitalist anthem drew cheers as its lyrics rippled across the screen and reached their climax:
"Sony
Warner
RCA
Disney Channel
Day by day
Sonic invasion
From nation to nation
Gaga
Gomez
Timberlake
Give us a fucking break
Universal
BMG
EMI
Monstrosity
Fascist control
Thanks to rock 'n' roll
Corporate sound
In Dolby Surround
Stop imperialist pop!"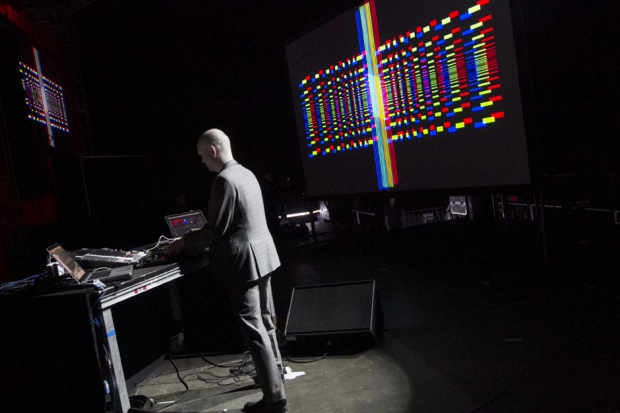 Bat for Lashes
Bat for Lashes had an inauspicious spot on Friday night's lineup, slotted between an indie-dance DJ duo called Thug Ladies and Eats Everything, a tech-house party starter. And then there was a little band called Kraftwerk that was powering its way into hour two of a much-anticipated 3D set over at the main stage. But Natasha Khan and her bandmates wasted no time in making the open-air SonarPub stage their own. Khan, dressed in the same iridescent halter/skirt/cape combo she sported at Coachella, whipped around like a woman on fire; with a shifting configuration of keyboards, live drums, guitar, and even cello, the band turned out a sound that was polished but not too polished (unlike the professionally milquetoast Two Door Cinema Club, a few sets later), and surprisingly enormous. In the context of a festival where, depending on the performer, you might go for long stretches at a time without recognizing a single track, Bat for Lashes' catalog came to sound warmly, refreshingly familiar. And when she performed "Laura" alongside a solo piano accompaniment, a substantial proportion of the crowd joined in for a spontaneous singalong.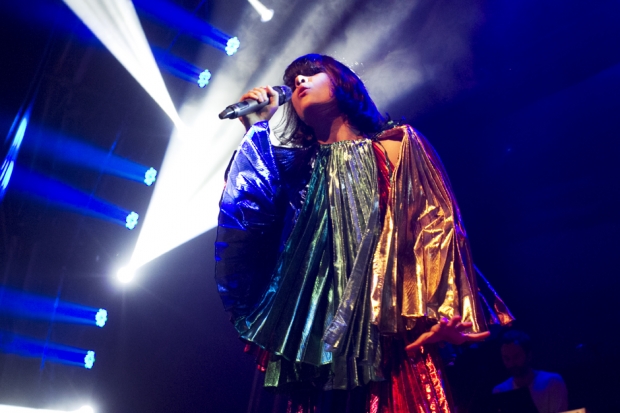 Kraftwerk
Perhaps there weren't any big surprises during Kraftwerk's show, beyond the novelty of seeing them accompanied by 3D visuals. The videos were a nice touch: Shifting cityscapes that resembled towering stacks of synthesizers and sequencers, spinning robots, even a stratospheric view of the earth that gradually zoomed in on Spain — lots of cheers there — as satellites appeared to whiz past our heads. But the sound was powerful and surprisingly clean for a room capable of holding 10,000 or so people; aside, perhaps, from the heat in that jostling crowd, it was hard to imagine a better way to experience Kraftwerk's music — as headfuck, body rock, and intellectual thrill, all at once. Looking back from the front of the crowd, one was reminded of J. R. Eyerman's classic photograph of a Hollywood audience wearing 3D glasses, which seemed fitting, given the way the Düsseldorf band basically invented retro-futurism.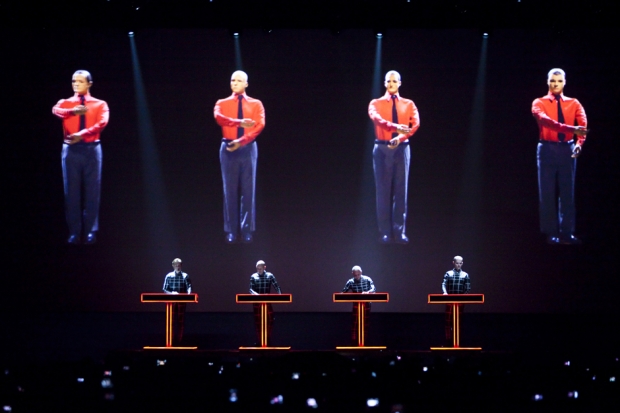 Antal
Set alongside the bumper cars installed in a hangar-like indoor area of the gargantuan nighttime venue, the SonarCar stage isn't necessarily the most auspicious space for musical revelations. Its position in between two larger open-air stages makes it a transitory space, filled with fans making their way to or from one of the others; those who stick around tend to be people taking a respite from the oceanic expanse of the crowds elsewhere. But, in the right DJ's hands, the stage could also be a platform to entrance and surprise in ways that would be more difficult on one of the bigger stages, where the energy of the crowd at any given point in the room eclipses the music itself. Not that you couldn't hear the music out in the melee; to the contrary, you could hear it all too well, to the point of sometimes feeling bludgeoned. Rather, the party itself, shifting and sprawling, a veritable ocean of bodies and spilling beer and grinding jaws (plus at least one ruthlessly efficient pickpocket, judging from a trail of emptied wallets left on the ground), made the actual soundtrack seem secondary. But SonarCar felt different, with just a few hundred people gathered around the stage. Antal, head of Amsterdam's Rush Hour label, played a deep, linear (but not too linear) mix of house and techno peppered with crowdpleasers like Virgo Four's "It's a Crime (Caribou Remix)." There was nothing flashy about it, which made it all the more remarkable that Antal had managed to carve out what was, in effect, a private party in a virtual bubble while 30,000 ravers raged all around us.
Skrillex
Skrillex's set was ridiculous, and not in a good way — just volume without drama, bombast without respite. (It wasn't a "best" of anything by any stretch of the imagination, so take that headline with a grain of salt; but we couldn't not discuss it.) He did manage to demonstrate that he digs deeper than the majority of his top-10-playlisting peers, teasing in a brief snippet of Blawan's "Why They Hide Their Bodies Under My Garage" early in his set. So yes, that happened. But it happened so quickly and so contrary to the way that song actually works when mixed — lumbering, mysterious, ominous, unpredictable — that its impact was negligible, just another M-80 in an arsenal of noisemakers that illuminated nothing. But you can't accuse Skrillex of not at least trying to connect with the crowd, and not just with his FC Barcelona jersey. An on-screen timer counted down the final five minutes before his set began, and the crowd chanted out the final 10 seconds, proving that Skrillex had figured out the most difficult trick in EDM: How to orchestrate a drop before the music has even begun. Flash, bang, and the image of a spinning globe gave way to a B-roll montage of Barcelona landmarks set to a remix (his own, surely) of Freddie Mercury and Montserrat Callabé's "Barcelona," a pop-operatic homage to the Catalonian capital. Even if the set fell flat, it was hard not to admire Sonny Moore's determination to spread the love.