5. Phoenix
Phoenix is a band that lets their hooks speak for themselves — their lyrics are inscrutable and they like it that way. Their electrifying headlining set at the main stage on Saturday night was no different — "1901" was a massive sing-along even though clearly nobody knew the exact words to the chorus (it's "fallin', fallin', fallin'," right?). As far as stage-banter, they said very little beyond noting when they were about to play a new song. But those songs!
On Satuday night, Phoenix's music was slick and irrepressibly artful. Backed by a massive video screen and framed in tasteful beams of light, the foursome turned out giddy chorus after giddy chorus, each with precision and power. And there also a playful twist: The worst kept "secret" at this year's festival was that Daft Punk — who are in Indio this weekend — would be performing with their fellow Frenchmen, and the anticipation was palpable. Every four-second break between songs felt pregnant with the opening notes of "Harder, Better, Faster, Stronger." Then, at one point, Phoenix began "1901," the stage went dark, and we heard the following: "My mind is telling me nooooo / but my body, my body is telling me yessssss," which seemed like a rapid-onset fever dream until the R. Kelly emerged onto the stage. He and Phoenix performed a precise and fantastic mash-up of "Ignition (Remix)" and the aforementioned "1901," the latter including a quick jump into "I'm a Flirt (Remix)"/"Chloroform."
But the superstair pairing wasn't enough for some hopeful fans: Even after Phoenix had finished, a number of bewildered crowd members were still standing their ground staring at a deconstructed stage, waiting for two guys in robot suits. JORDAN SARGENT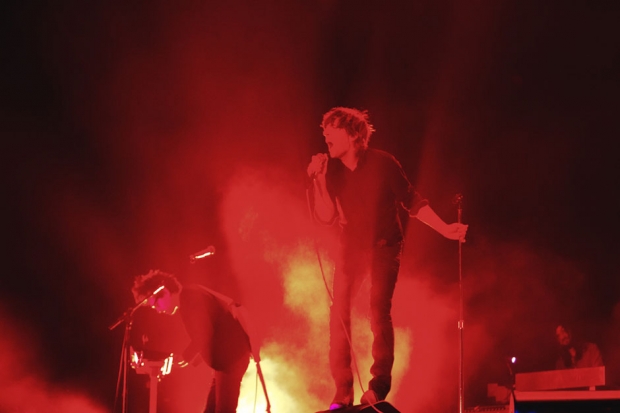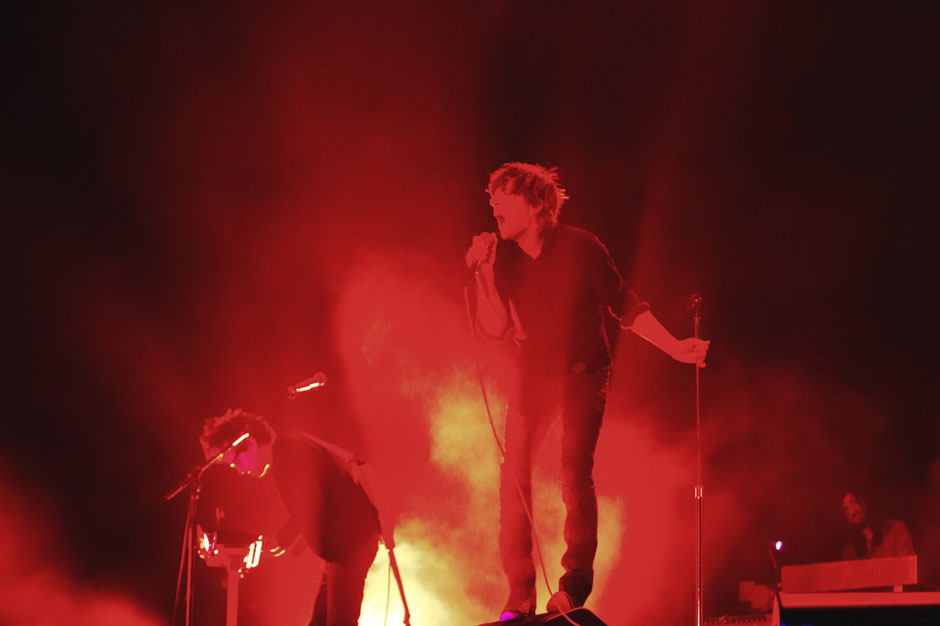 4. Violent Femmes
"We haven't played a Violent Femmes show in about six years so this is a pretty big day for us," said Gordon Gano, now 49, from Coachella's main stage shortly after 6 p.m. He quickly corrected himself: "A really big day!" Indeed, the band handily hurdled the gap originally caused by bad blood (via an intra-band lawsuit) to reunite the original trio responsible for their masterful 1983 debut, Violent Femmes, which they performed all the way through with barely a break.
"Is this a new group?" we overheard a kid in the crowd ask before Gano, bassist Brian Ritchie, 52, and drummer Victor DeLorenzo, 58, showed their faces. The latter dated himself upon arrival: "Good evening everyone. We're Violent Femmes and we play songs." If that was a shot at the rest of the fest's performers, no one minded much and besides, he had a point. The self-titled LP opens with a since unmatched one-two-three-four punch. With "Blister in the Sun," thousands broke into song. With "Kiss Off" came hundreds more. And as the band banged out "Please Do Not Go" and "Add it Up" — with assistance from a motley horn section including the Stooges' Steve Mackay — those same voices grew louder and louder again.
The Femmes' strange brand of folk-punk was perfectly ramshackle, seeming straight enough before diverging into wild blues bouts and jazz jags. Gano's writing always showcased a mind that was clearly bent, after all, and his lascivious sexual angst played well in a post-Spring Break crowd that showed more skin than cloth. They listened reverently while he played violin on the far quieter "Good Feeling," but they were more interested in the couplet from B-side "Gimme the Car" where he seems ready to offer up a rhyme for "runt" before feinting instead. CHRIS MARTINS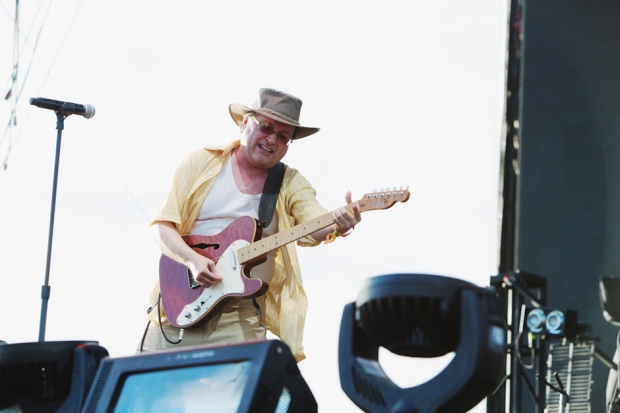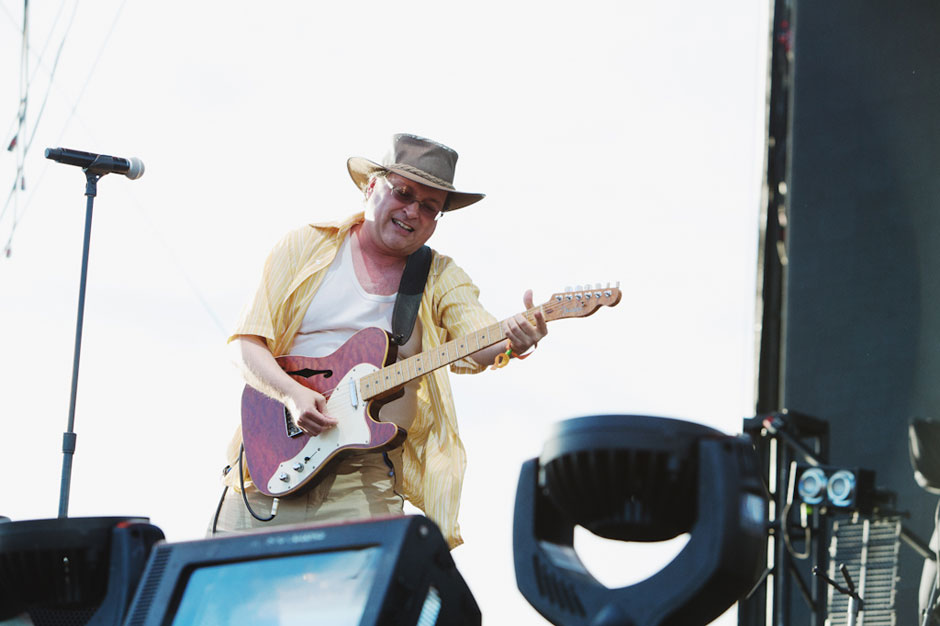 3. 2 Chainz
2 Chainz's 4 p.m. set at the Mojave tent was at once a celebration of the man, his catalog, and contemporary rap. In 2013, 2 Chainz is so ubiquitous that to watch him perform is to revel in the existence of the genre: He aired nearly as many songs by other artists — Kanye West, Nicki Minaj, Trinidad Jame$, Juicy J — as he did his own. The gawky 30-something draped in gold performed those tracks like he has a share in them because he does. But first, we waited.
Coachella runs on a dime, but the tardy 2 Chainz forced the salivating crowd to swallow every passed second. All 20 minutes of them, as his band awkwardly jammed on his beats, inadvertently teasing the restless mass. Chainz was reportedly just accidentally late, but the anticipation undoubtedly worked in his favor. He finally rushed the stage to perform his scene-stealing "Mercy" verse, but only after his DJ had prompted the crowd to rap the entirety of Kanye's part. Here, though, Ye's verse found its greatest utility: its jacked-up tempo proved almost impossibly tense as we all waited for "Catch up to my campaign / coupe the color of mayonnaise" live and in color.
2 Chainz was once thought to be a house of cards — a forgotten rapper who stumbled into a sudden flurry of high-profile guest verses. But Saturday's set was a double-cup of stardom, guzzled down in less than half an hour. People love this man, drawn as they are drawn to his unattainable cool cut-through with everyman swagger. They love his lines, even the really goofy ones — we all yelled "She got a big booty, so I call her Big Booty," and 2 Chainz knew we would do so long before we ever did. At one point, he held a moment of silence for the stage. We all bowed our heads. JORDAN SARGENT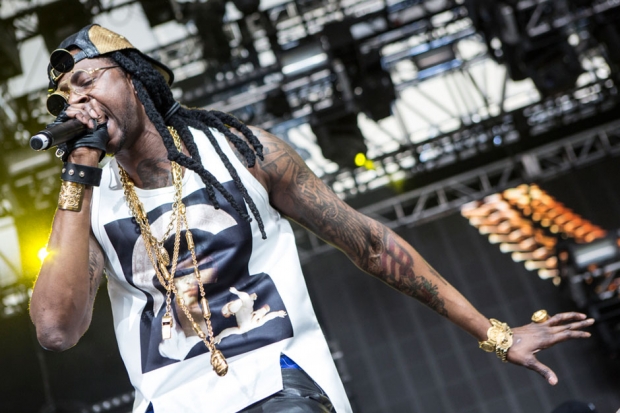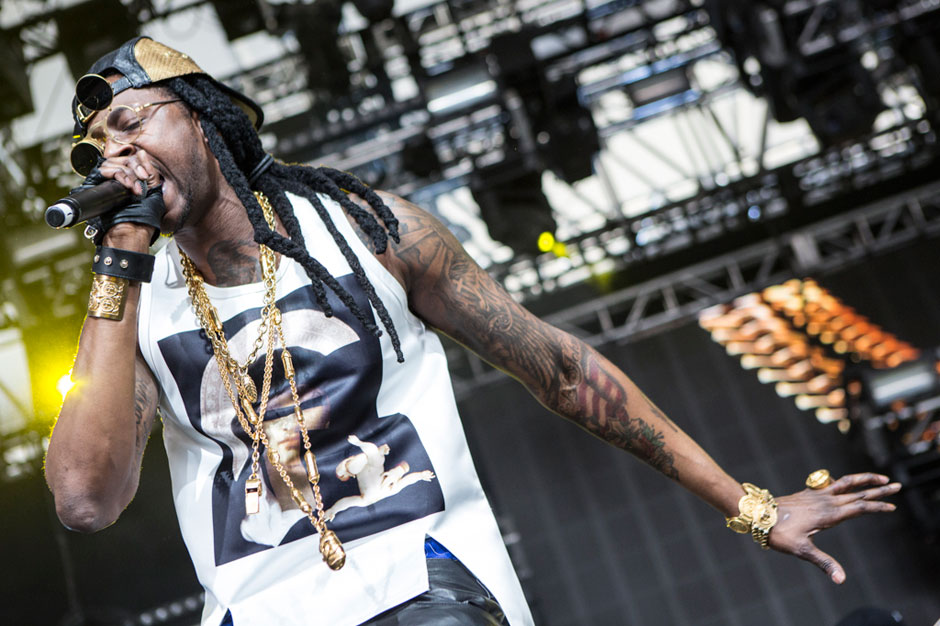 2. Savages
Savages frontwoman Jehnny Beth has what's growing into the most supercharged fist pump in rock. Her right hand clenched, she pummels an invisible enemy while she's performing, with a forcefulness somewhere between landing a plane and open-heart surgery. So it's no wonder the band's afternoon set at the Mojave tent was packed with curious onlookers who quickly became true believers. Every member of the two-year-old quartet — guitarist Gemma Thompson, bassist Ayse Hassan, and drummer Fay Milton — is a powerhouse musician capable of holding the stage on her own. Together, they generate haunting post-punk seemingly effortlessly. Beth capped "She Will" with an obscenely major high note. "Shut Up" featured a slow, deliberate build that resolved into one of Thompson's brilliantly gleaming guitar lines. By the end of the eight-song set, fists were being pumped back at the band with an equally invested intensity. CARYN GANZ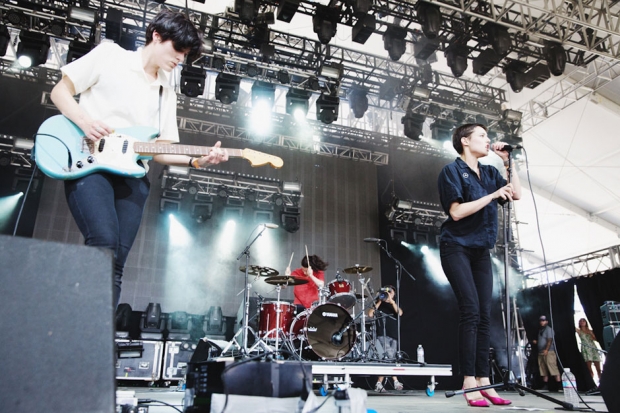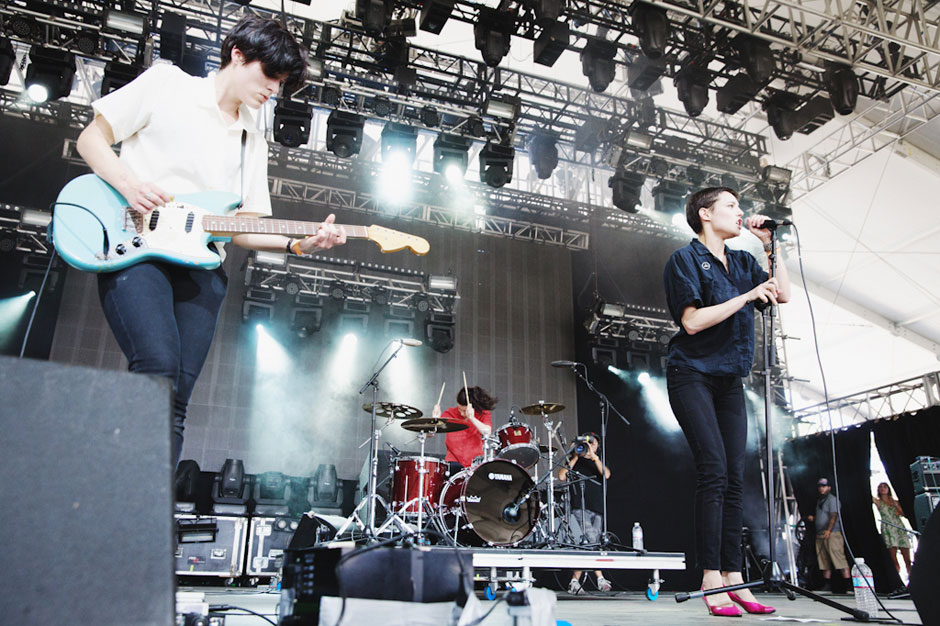 1. Janelle Monáe
Janelle Monáe didn't hit the Gobi stage until 11:03 p.m. — nearly 20 minutes late — but by 11:05 all grumbling had ceased. That empty space in front of us had been replaced by 15 impeccably dressed players with impeccable abilities, and one of those was the ArchAndroid herself. She'd arrived in secret, as one of three hooded figures in the center of the stage, but as her orchestra picked up steam she threw off the cloak to reveal a rapping, scatting, singing, dancing dynamo of a bandleader. It all happened so fast, in such a flurry of horns and strings and funk and soul and incredibly synchronized movement, that it's difficult in hindsight to parse one moment from the next.
There was the part when she jittered wildly to "Dance or Die," and later when she tore through an incredibly faithful cover of Jackson 5's "I Want You Back." There was that bit where she shot down death (in the form of those cloaked creepers) with a gun that looked like a black-and-white candy cane, and that other one where she made like Cab Calloway and got the crowd to do her very own version of the old Hi-De-Ho. There was "Cold War," and "Tightrope," an inspiring speech and one incredible bout of crowd-surfing for which our she removed her bow tie.

Yes, up there in front (and on top) of that roiling crowd, Monáe was the impossible love child of David Bowie and James Brown with the indomitable guts of Beyoncé. But she was also something more important: herself. And also quite possibly a genuine android because, like, who could actually do all that insane shit and still be standing at the end? CHRIS MARTINS