Death Waltz: Behind the Art of the World's Spookiest Reissue Label
British nightmare factory Death Waltz Records combines the haunting soundtracks of cult flicks with the blood-and-gutso mayhem of contemporary artists. The sinister vision of Spencer Hickman, the one-time manager of Rough Trade's London dungeon, has released ten vinyl-only slabs in only one year of operation — breathing new life into John Carpenter and Alan Howarth's prescient fog-drones from Escape From New York, Johan Söderqvist's sweeping orchestral score for modern vampire tale Let the Right One In, and Giuliano Sorgini's psych-funk hallucination for 1974's The Living Dead at the Manchester Morgue, among others. These vinyl reanimations are all wrapped in an artist's gorgeous new interpretation of a film's worm-eaten skulls or VHS hallucinations.
Hickman has been working at record stores for nearly 30 years, and started Death Waltz with the idea to put out the vinyl version of the soundtrack to 2009's retromanical goosebumper House of the Devil. He's been chasing that particular contract for a year, but the idea snowballed into a flurry of hopeful e-mails — and a surprising number of "yes" answers from the horror elite. "The Italians, every single one of those people has been ripped off so many times," Hickman says. "That's their kind of existence in the film industry. When I did [DW001] Zombi Flesh Eaters, I just emailed the guys that owned the rights and they were like, 'We can do that, as long as you pay us. Because most people don't pay us.' I paid everyone up front, in advance, two months wages, and just hoped for the best…I always just thought I'd press 500 records and it'd be a little side thing. I never thought it'd be so busy that I'd have to leave my job and make it my job."
While ominous strings, stabs, and screeches lurking in colored vinyl grooves are obviously the Death Waltz backbone, its bleeding heart lies in the vibrant sleeve art, splattered into being by Hickman's favorite graphic designers, and included on a fold-out poster in every copy. "One thing I say to every artist is 'You're not doing a movie poster, you're doing a mood piece for the music,' says Hickman. "The artwork is for the music and not necessarily for the film." In honor of the label's upcoming tenth release, here's Blu-Ray director's commentary for of Death Waltz's gorgeous, gore-filled LP covers.
1. Death Waltz: Behind the Art of the World's Spookiest Reissue Label
1/12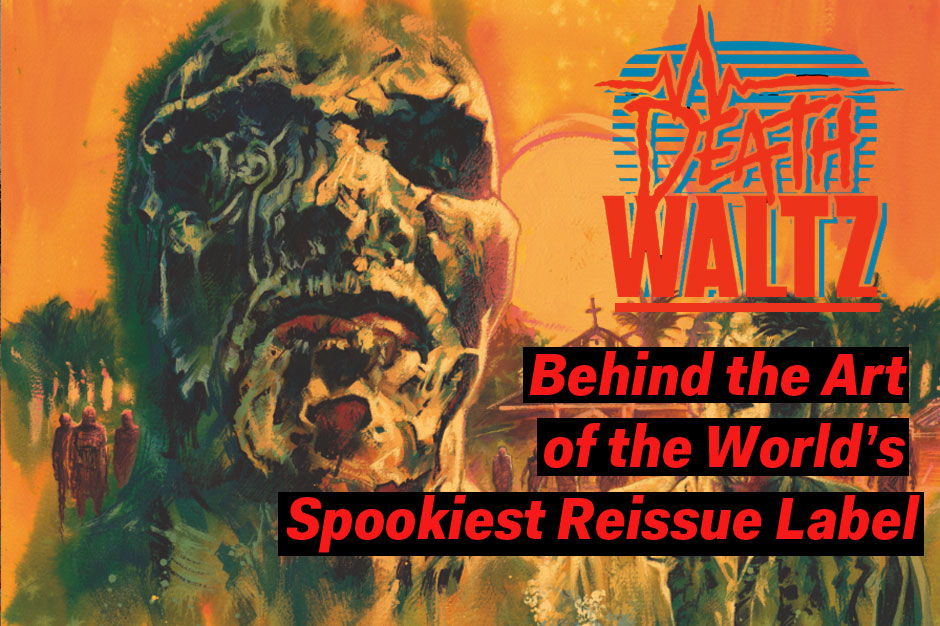 2. Zombi 2 a.k.a. Zombie Flesh Eaters
2/12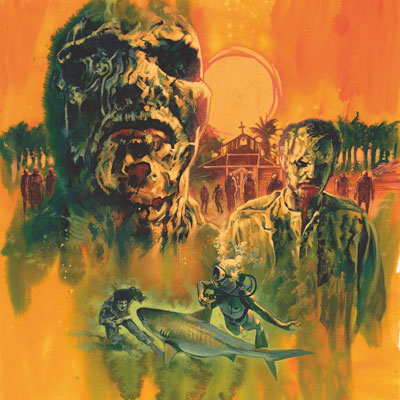 Art by Graham Humphreys
Zombie Flesh Eaters is notorious in the UK because it was one of the video nasties. I think I was 13 when I first saw it. I remember very vividly making one of my first girlfriends watch Zombie Flesh Eaters, and she wasn't really into it. It never really came out on vinyl, which is mind-blowing. I knew I wanted Graham Humphreys to do the art. Graham's like an absolute, bonafide legend. He did the posters for Evil Dead and the original Zombie Flesh Eaters and The Return of The Living Dead. He doesn't seem to get the recognition that other people get. For me, the memory of that movie, he's so entrenched in that era. That's the real statement: We're going to release Zombie Flesh Eaters on vinyl, with a poster, and Graham Humphreys is going to do the sleeve? You can't mess with that. He sent me 13 sketches and I was like, "Uhhh, where do I start?"
3. Escape From New York
3/12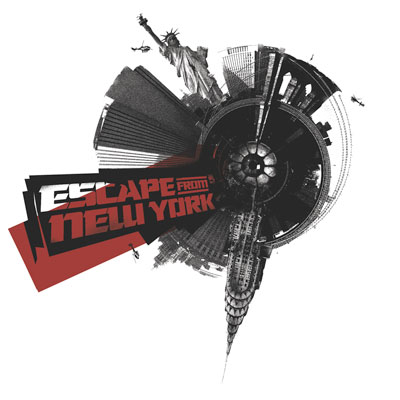 Art by Jay Shaw
I guess I saw his stuff on Expresso Beans when he was just doing fan posters, and then he started doing Mondo posters, and now he's huge. He turns in this really gritty sleeve that really captures the feel of that movie…which upset quite a few purists. I got a few emails off people saying "Your poster's shitty, why mess with a classic?" Someone said to me, "It's got nothing to do with the film." Look, the center is an eye, it looks like a clock, there's a giant needle on there as a second hand, everything about the movie is in that poster, you just have to look at it. That's the point. That you're listening to that soundtrack and looking at that art and reading the sleeve notes. That's the thing with vinyl. It's not something to put on in the background. You sit down with it and spend some time with it.
4. Let the Right One In
4/12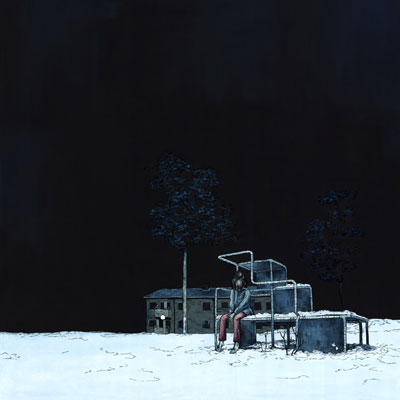 Art by Candice Tripp
About two years ago I was getting rid of my flatscreen TV because I upgraded to a projector. I was on Twitter asking if anyone wanted it. She jokingly said, "Oh my brother wants a TV, do you want to do an art-for-TV swap?" I traded my TV for a piece of art. Her stuff is super-intricate and beautifully rendered. Let The Right One In is far and away one of my favorite films of the last 15 years. You know from the second that movie starts it looks beautiful; the score is real proper old-school orchestral, stirring score. Candice was like, "I love that movie. I don't know if I could do it." And I was like "You've got to do it, otherwise I'm not releasing it."
[The art] is just really, really sad, just really beautiful. I think she's been really stoked at the response to it, perhaps because I think people who maybe didn't know her work before certainly saw it. I know online there's a Let The Right One In fan hub or something and they were all freaking out over it. She gave me the original. It's 24" x 24" and it's just above my mantelpiece. Definitely want Candice to do more, but with Candice because she's got a very particular style. You couldn't give her Rambo.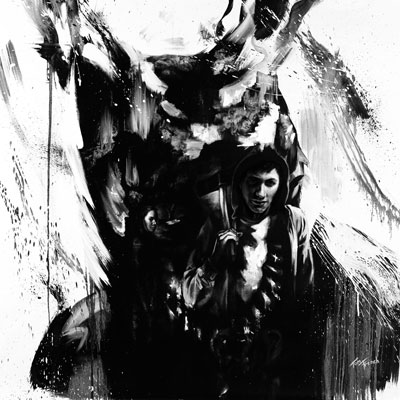 Art by Tom French
Because I set out to do original artwork, there's no rules. Tom uses charcoal, acrylics, and he's a painter. He's a proper painter. I saw this series of skull paintings that he's done and each one contained a scene, so to speak, made up of characters that made up the skull. It just seemed like he would be able to do something really interesting with Donnie Darko. You look at it and you have to do a double take. In the front room I have two pieces by Candice and then the Donnie Darko original. It's a quite Goth front room.
6. The Living Dead at the Manchester Morgue
6/12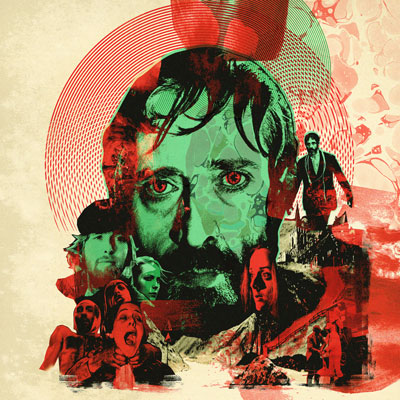 Art by Luke Insect
Yeah, you know that's one of my favorite zombie films. It's completely mentally psychedelic. That soundtrack isn't your typical horror score. It's got breaks on there that are fantastic. It's got like proper horns, and these kind of like '60s beat tracks with really lush orchestration. And you know that came out on vinyl in '74 but it's worth monstrous amounts of money, like $200. Luke Insect is just someone that I know. I didn't know him personally, but now we've been for beers. If you look at Luke's portfolio on his website, it is quite psychedelic and it is quite '60s. That cover is mad. There's so much going on in it. It's hard to begin to focus, but it's delirious. It's got those circular pulses, which I kind of imagine what that like when they're in the field and spraying the crops with these sonic waves. You can imagine he can see all the colors and the music is speaking him.
7. Prince of Darkness
7/12
Art by Sam Smith
Sam's kind of got this really awesome sci-fi aesthetic in his work. It's minimal without being that kind of minimal film posters that all rip off Saul Bass. He's into the same film scores as me. It's really easy to work with people like that, just cause they want to do it, it's not like an assignment.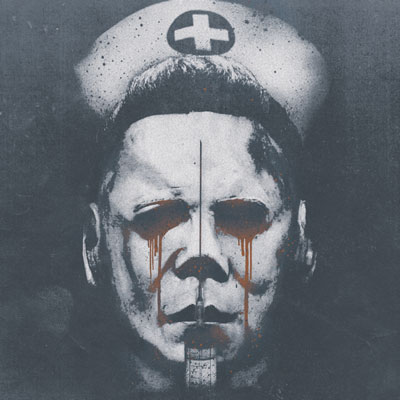 Art by Brandon Schaefer
People really went nuts over it. We had a little bit of a back and forth because the video cameras play such a role in Halloween II, with the CCTV, and Brandon wanted to incorporate that. He was trying to do the cover with four different CCTV panels. I think you can do that on a big scale, but you can't really do that on a 12" by 12". You're trying to cram a lot in. Then he sort of said "Ah, I've got this idea, I'm going to put this nurse's hat on Michael Myers." You've got to do that! Why wouldn't you do that? Essentially it's just Michael Myers, but Brandon's put such a playful spin, with the nurse's hat, which I think, is hilarious. That's when you worry that there's going to be people that think this is completely ridiculous like, "This is not cool! This is not Michael Myers! This is not what we expect from this!" But I kind of like that. He still looks really, really sinister but it's kind of fun as well. It's a really fine line and really difficult to pull off. [We printed in] three different colors because we couldn't decide which one we wanted.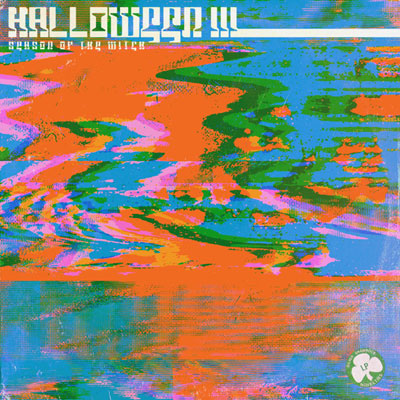 Art by Jay Shaw
That's my favorite sequel. I don't count anything after III. III is the most just deliriously bonkers, absolutely mental sequel. It's a real shame it didn't do well because they wanted to do a different sequel every Halloween and have it be a different story. Hands down one of my favorite scores of all time. It's insane, you can never ever do that score today. No studio on earth would let you do that. It's fantastic. Jay turned in a sleeve that's many people's favorite sleeve that we've done, and the most hated sleeve that we've done, which is absolutely brilliant. Jay had gotten the VHS for Halloween III. He just took a photo on his camera. Put it onto his computer, opened the photo up in text edit, took out six lines, and put in six lines of dialogue from the film, reopened it as a jpeg, and that's what he gets. Someone said to me "Anyone could do that." Anyone could do it but you have to think of it. Your mind has to work in that way. Obviously the sleeve looks like one of those transmissions [in the film]. It could almost be the TV commercial going just before it turns your kid's head into a bowl of maggots. I think it's just wonderful.
10. The Devil's Business
10/12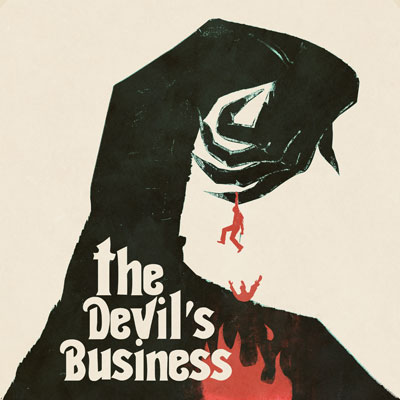 Art by Jay Shaw
Again, God, that's Jay as well. I don't only work with Jay Shaw, I kind of need to get that across to people. He came back with this poster, and I guess in some senses it's his most traditional work. But it looks glorious, man. It's got a really classic feel to it. It's also got a real Polish feel to it, but not a weird Polish feel to it, if that makes sense. I don't want to give too much away because [the film] hasn't come out in the States yet. There's three people in the entire film. It's low budget but it's really effective and really creepy and it's got a really great mood to it. It really freaked me out and the music is amazing. Justin Greaves — the main man from Crippled Black Phoenix, this sort of epic post-rock group — he did this score and it's really moody, it's really epic, it's really dark. I suppose this is where I'm hoping that I can try and do things with the label. We're not a reissue label. I know people call us a reissue label, but I want to be able to do reissues and current stuff together.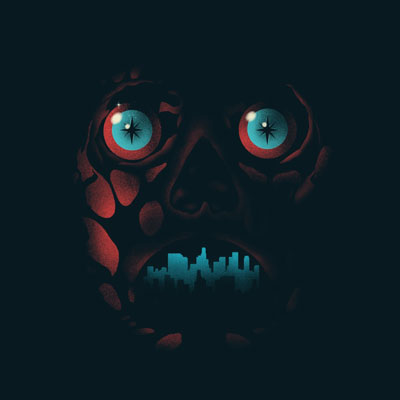 Art by Gary Pullin
Gary really interestingly said, "Ah I've been kicking around an idea for They Live just for a couple of months anyway just because I love that movie." He came back with this really understated, really lovely cover that's quite beautiful. It floored me when I saw it. To me that's the music, it was the score, and it's perfect. I use Facebook, but I really hate myself for using it. You get some comments, some good some bad. There was some girl that said that it was the worst piece of art she's ever seen in her life: "Check out the Blu-Ray cover of the film. This is what the movie is about, yours is ridiculous." People are entitled to their opinion, but I mean, it's pretty offensive to put that up when the artist has just posted. I said to her, "You're absolutely ridiculous. The film poster is advertising the film and selling the film. We're not. We're evoking the mood of the music." And this cover does that in spades!
12. Alan Howarth on Working With Death Waltz
12/12
Death Waltz Records speaks with Alan Howarth from michael jasen on Vimeo
Alan Howarth, co-composer of much of the Death Waltz catalog (Escape From New York, Halloween II, Halloween III, Prince of Darkness, They Live) talks about his love of the vinyl renaissance.