The last time the Deftones, whose alternately downy and hair-raising Koi No Yokan is our No. 44 Album of 2012, appeared on a SPIN year-end list was in 2000, when the Sacto aggromantics' slithering "Change (In the House of Flies)" snagged No. 7 on our Top 20 Singles roundup. That was, you may recall, the same year we deemed "Your Hard Drive" the No. 1 album. And that very same year we ran a cover line heralding the "Nü Metal Invasion"…of Papa Roach. If you haven't noticed, things have changed.
In the ensuing decade-plus, metal has further metastasized. It's weirded out, art-ed up, skewed conceptual. We reached a kind of eggheaded endgame last year, when folks got all hot and bothered about the ontological validity of "transcendental black metal." Interesting? Maybe. Fun? Somewhere. The music has broken into countless shards, many of which eagerly welcome deep contemplation, and few of which are easily grasped. So perhaps it follows some sort of perverse logic that the highest-ranking metal records on our 50 Best Albums list are among the year's catchiest guitar-based music in any genre. These shards have hooks.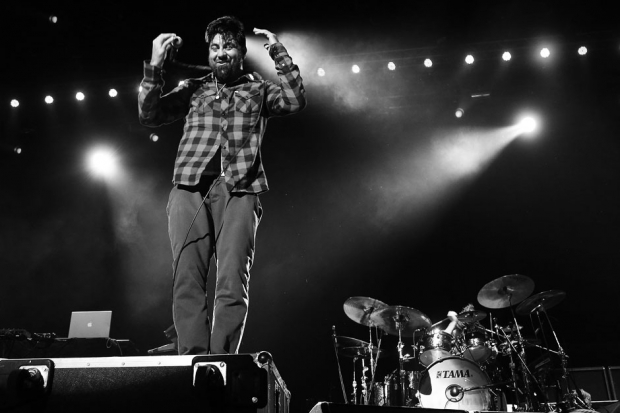 The year's most killer metal albums — Baroness'  mighty, mightily accessible Yellow & Green (No. 15), Pallbearer's heaven-gazing doom opus Sorrow and Extinction (No. 20), and Torche's ebullient Harmonicraft (No. 22) — were also its prettiest and catchiest. This during a period when dependably hooky hard-rock acts like Foo Fighters and Queens of the Stone Age were absent. (Nature abhors a roaring vacuum.) And as we suggested back in our not-at-all-divisive 100 Greatest Guitarists list, we're at a cultural juncture when the riff, as far as mainstream music goes, has gone to roost in dubstep. But out in the metallic margins, where alienation runs deep and concepts run wild, reaching out across the genre aisle has proven to be the boldest — and best — move of all.
That Baroness and Torche are considered "metal" at all has as much to do with pedigree and packaging as it does sound. Their kind of powerful, straightforwardly tuneful rock was the kind of stuff that Deftones (always more seductive than the lunk-headed jabronis they were lumped in with) and others of their millennial cohort were supposed to have supplanted. But every action has a reaction, and after '90s commercial alt-rock was pushed down, smart, approachable heavy music has finally bubbled back up. Beyond their fantasy-geek cover art — baby dragons barfing rainbows for Torche; topless sylphs cavorting amongst swans for Baroness — these two albums were straight-up inviting.
Yellow & Green sprawls and spreads where Harmonicraft soars. A double-disc with each half devoted to the synesthetic properties of its titular colors, Baroness' album exists in a world of lush guitar, richly harmonized melodies, and magnetic rhythm. Throughout, frontman John Baizley sings in a clean stentorian bellow closer to the alt-rocked James Hetfield of Load than the Viking snarler of Master of Puppets. (There's someone else he sounds like, too. More on that later.) "Board Up the House" has towering, multi-tracked guitar fills that would've sparkled on Mellon Collie and the Infinite Sadness. The immaculate production renders each instrument sharp and and gleaming, each vocal line perfectly discernible. The four-on-the-floor disco beat of "Little Things" and "Sea Lungs" shake off the Savannah swamp-goo still stuck to these Georgians from 2009's Blue Record. Acoustic guitars glint and flutter. Choruses ring. And if there's a more heroically dramatic 2012 musical climax than the thunderbolt Allen Blickle hurls at 1:32 of "Green Theme"…. Actually fuck that — there isn't. The whole album evinces an arms-aloft, rafter-reaching grandeur. Don't worry about coming to Baroness. They'll come to you.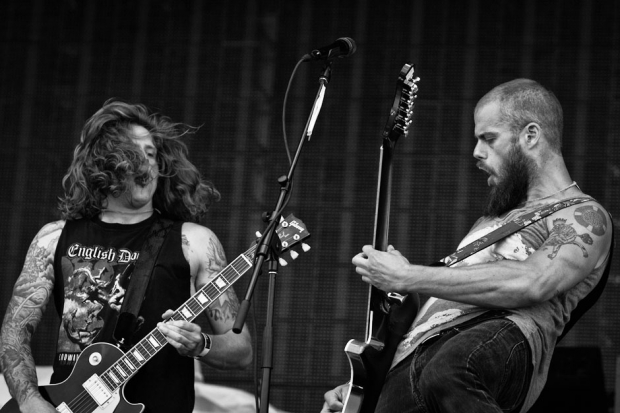 Pleasure has its pitfalls. On the quartet's first two albums, Baizley growled with a more typically 21st-century metal Klingon-to-English gargle. Blickle and then-bassist Summer Welch (since replaced by Mike Maggioni) spewed starchier rhythms. The band's demeanor was more forbidding. Now, having removed those crossover obstacles, they've opened themselves up to something strange. In response to the band's alt-ward lean, certain SPIN staffers (who shall not be named) and anonymous commenters alike have lobbed the vile N-word their way: "Nickelback."
Content-wise, it's hard to think of two more dissimilar bands. The most magnetic chorus on Yellow & Green concerns corporeal transcendence and goes "Take my bones away." If that line showed up in a Nickelback song, it'd be a gag about woodies that won't wilt. The Baroness-'Back comparison is built on two things: Baizley's voice, which fine, has something of a Kroegeresque timbre, and the fact that both bands have memorable melodies. That melody invites comparison to a carbuncle like Nickelback says more about the abstruseness blanketing metal nowadays than it does about Baroness.
And Torche makes Baroness seem like SunnO))). On 2008's Meanderthal, the Miamians' music was thicker, more menacing, and moved with a lava-like flow. Singer-guitarist Steve Brooks delivered his vocal lines in short spurts, as if he was eager to hotfoot it out of a major key. He's allowed himself to luxuriate on Harmonicraft, Torche's best and most fluid album. As mixed by Converge's Kurt Ballou, Brooks' sweeping vocals now have the room they need to grow into full anthemhood. The sticky instrumental refrains and meaty choruses of "Kicking," "Kiss Me Dudely" (title of the year), and "Letting Go" out-Soundgarden the reunited Soundgarden. The sleekly propulsive "Snakes Are Charmed," built on a snapping guitar part, and stately "Solitary Traveler" are almost Grohlian in their combination of arena-rock outreach and streamlined sonics. There's no chaff: Harmonicraft's 13 tracks do their wham-bam-pop-you-ma'am in a taut 38 minutes. It's bubblegum with a bang.
Further away from traditional rock-radio tropes, you could still find light in the dark. Sorrow and Extinction (No. 20) is the first album by Little Rock, Arkansas' Pallbearer, and it is already both definitive and utterly unique. With trudging tempos and pulsating Black Sabbath-indebted power chords, the album has the dour hallmarks of doom metal. That grim term, though, feels ill-suited to music that offered more stirringly beautiful instances than any other metal album this year. Frontman Brett Campbell's keening vocal lines are delivered in a cutting, anguished tenor — he's reminiscent of a bummed-out King Diamond, another master of malevolent melodicism.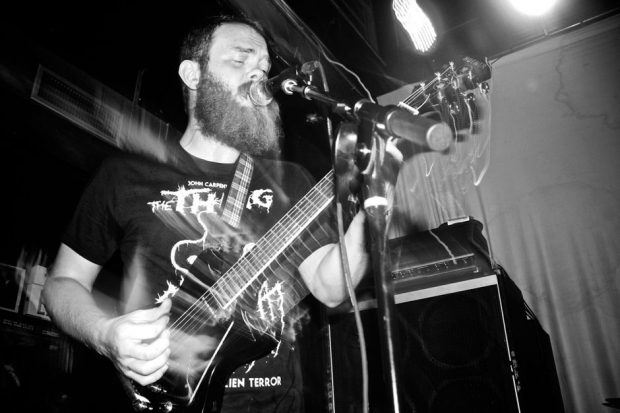 The album's "Devoid of Redemption" and "An Offering of Grief" give clues to the songs' lyrical sentiments, and give lie to their most impressive aspects. Pallbearer convey momentum even at dirge-like tempos, going along for three, four, five minutes at a time, cymbals tolling, palm-muted strings grinding, and then, the strangest, most amazing thing happens: Campbell and co-guitarist Devin Holt cease churning, and shine these bright, arcing, harmonized lines, while Campbell unfurls a nearly liturgical wail. They work this trick again and again, and it's always heart-stopping, and never less than gorgeous. By casting these spells, Pallbearer divest doom of its typical bluesy bending; they cure the music of Tony Iommi's sinister Cream-isms. For long, transcendent stretches, Sorrow and Extinction scans almost meditatively, as if it were an album of cantos delivered by a particularly somber sect of monks. Pallbearer bassist Joseph D. Rowland has pointed to krautrock shamans Popol Vuh as a key influence, and the razorbacks' music shares the Germans' mystical, glowing quality. This is metal — the thick distortion, tortured worldview, and rhythmic weight mark it as such — but it deals in white magic, not black.
And elsewhere, 2012 brought with it a cadre of crushing bands just as willing as Pallbearer, Baroness, and Torche to offer the comforts of pop and succor of prettiness: Downcast Danes Rising, Euro stoner vets Orange Goblin and Witchcraft; the swaggering retromaniacs Admiral Sir Cloudesley Shovell and Grand Magus; rippling doom band Bell Witch; and the female-fronted coven of Royal Thunder, Christian Mistress, and Witch Mountain all put out formidable albums in which someone who doesn't know Korpiklaani from Chthonic could find moments of simple grace. These bands might never get on the radio, but given the chance, they'll put down stakes in your head. And what could be heavier than that?