Soundgarden's first new album in 16 years, King Animal (which you can stream in full here), arrives on November 13, and last night the reunited band performed on the BBC's late-night music show Later… with Jools Holland. The set included a blistering take on 1992's Badmotorfinger classic "Rusty Cage" — oh man, just wait for that primordial instrumental breakdown — along with a squalling rendition of latest single "Been Away for Too Long."
If Soundgarden's Later appearance is like others, the band also played a third song, which should air on Friday night. The heavy rockers were joined on the show by English singer, songwriter, multi-instrumentalist, and producer Natasha Khan, whose latest album as Bat for Lashes, The Haunted Man, earned SPIN's Essential seal of approval. She sang the towering piano ballad "Laura," which you can watch below.
Soundgarden's brooding riffage and Bat for Lashes' ornate art-pop might seem almost like opposites, but it's easy to imagine how sheer strength of performance might've turned them into interesting complements.
https://youtube.com/watch?v=3RpziCYz2iU%3Ffeature%3Dplayer_detailpage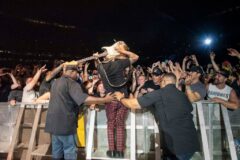 Don't miss our profile, Animal Instinct: The Return of Soundgarden