SPIN Rating:
Release Date:
October 16, 2012
Label:
Parlophone
Bat for Lashes is cool with chilling in the cut. For all her elaborate songs, her dense orchestrations, her brooding veneer, the songwriter born Natasha Khan has a serious, plaintive side that belies the quiet thoughtfulness beneath her baroque curlicues. Her catalogue is stacked with sleepers, tracks that require investment and are crusted with trebly breathlessness and cliffhanger instrumentation. But it can take a few listens for her pure pop instincts to bubble up. She's got a lot buried there, even if she wears some of her aural references on her sleeve: Kate Bush, Cocteau Twins, Tori Amos, Yaz.
And as a feminist artist (or at least an artist whose impulses are feminist), she couches the most basic themes of strength and growth beneath more fantastical concepts. Two Suns, her 2009 album, constructed fable and mythology around a basic mold of human duality that you could install at the MOMA next to feminist sculptor Kiki Smith. The intriguing cover of BFL's third full-length, The Haunted Man, is a photograph of a naked Khan bearing the weight of an unidentified male, shot over the course of a purportedly long day by New York darling Ryan McGinley, an artist known for capturing knowing vulnerability on camera. It's got Mapplethorpe vibes, and suggests Khan is some kind of emotional Sherpa, shouldering the weight of this dude without a face.
She also just turned 30, that magical age when women especially come into their own, so it's not surprising that The Haunted Man is her weightiest work so far. Opener "Lilies" begins at a measured pace, Khan's lush voice accompanied by dreamy guitars swelling into a string section until, all at once, everything breaks. Next thing you know, she's a cappella, announcing, "Thank God I'm aliiiiive" with such vehemence and sincerity that it seems like maybe this album itself saved her life. The album's very first words liken her songs to prayers, and each song has a self-affirming quality; at the very least, she establishes that shit's about to get real. Yet for all Khan's gravity, which seems like instinct rather than a dramatic tic, she also unleashes a real playfulness. "Oh Yeah" encapsulates that moony, post-breakup moment when you're almost your old self again; She punctuates the feeling with synth presets of dudes saying, "Ohh yeah, oh yeah" like a robotic barbershop quartet.
The one other time she uses that same neat synth trick, though, comes during "Marilyn," a deeper stunt on possibly the best song of her career. She starts out slowly, singing intimately at the low end of her register, with only the sparsest bass and sparkling melody. "See your face at night / Touch you black and white," she sings. "You're a silver screen / Visual balladry." If the song alludes to the famous sex symbol, it's in a typically gauzy and quiescent fashion — maybe "Marilyn" is about the pressure to vamp in the bedroom, maybe it's about transformative love, or, possibly, it's just about impressionist lyrics with nice syntax. As you're wondering about all that, though, the melody drops out and a sweet and sentimental voice coos, "Yoo-hoo," pitch-shifted in both directions so we can't quite get a handle on who's speaking. It's a slippery moment, one of the album's most affecting, and a contrast to the vocal bombast bookending it. Khan responds with the windswept chorus, "Holding you I'm touching a star," words of hope on an album about unburdening oneself.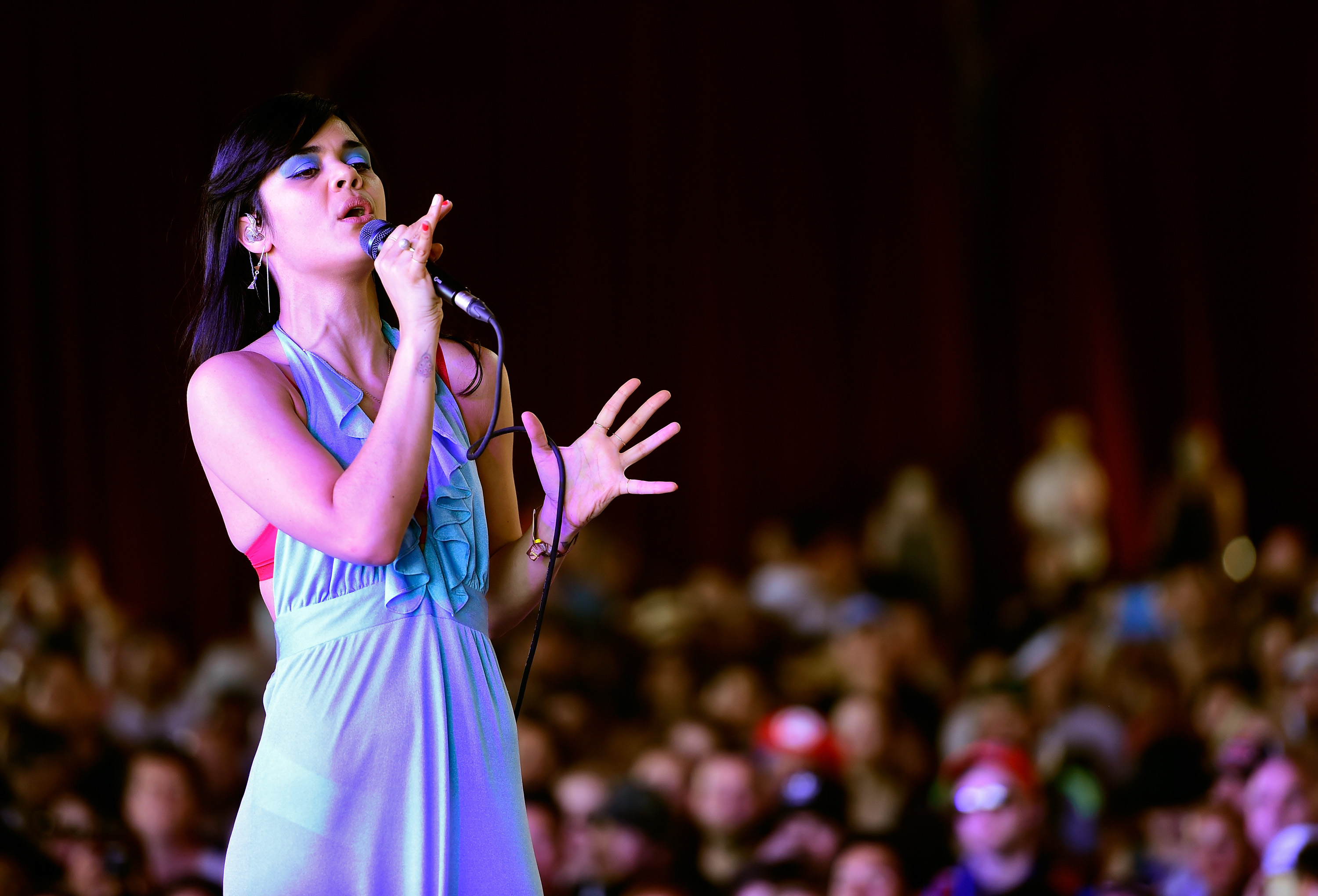 It's refreshing that she opted not to couch her femininity and emotional spirit in willful oddness (like Grimes, for instance, who goes the weird route, but doesn't have the songwriting weight to carry it off). Still, Bat for Lashes isn't a normie affair, and Khan's got a solid background in Steve Reich-hewn sound installation, which she uses subtly here and there — her faucet-drip pulses on "A Wall," plus the thumb piano and mellotron on "Rest Your Head," both attributed to her in the credits (she produced and played most of the record herself).
Yet The Haunted Man is perhaps strongest in its simplest moments: On lead single "Laura," an encouraging piano ballad written for her best friend, and "All Your Gold," a sparse track about the practicalities of getting over a bad relationship in light of a new one, she is straightforward and direct. It's the impulse of someone who's grown into her own and is now comfortable with her place in the world: Khan no longer needs neither bells nor whistles. Just her essence bare.