With good kid, Lamar is also trying to shift how South Central, Los Angeles has been portrayed historically on record. "He's telling his truth — the typical story of a kid growing up in Compton," explains Top Dawg's president Terrence "Punch" Henderson. Like everyone around Lamar, Henderson is respectfully mum on what is and isn't on good kid, but he's clear about how it's a departure. "It's not what you know from N.W.A, it's not about gangs he's representing. It's a classic. The only thing separating him from the greats is time."
That potential is what drew the attention of hip-hop legend Dr. Dre, who signed Lamar to his Interscope imprint Aftermath after being turned on to a K.Dot mixtape by Eminem's manager (Lamar's Interscope deal also includes a label deal for Top Dawg). Dre is one of good kid's executive producers and is featured on the album's Twin Sister-sampling lead single "The Recipe," plus the track "Compton." Lamar also has worked on several tracks for Dre's eternally delayed Detox. He smiles broadly when talking about the iconic producer, a fellow graduate of Compton's Centennial High School, who he alternately refers to as his "big homie."
While much has been said (including by Lamar himself) about picking up where his hero Tupac Shakur left off, Dre's patronage cements the extension of that classic '90s West Coast legacy. It's worth noting that the last young rapper who Dre ushered into the mainstream with such support was Eminem. So, is the world ready for this next evolution? Kendrick Lamar, the earnest, introspective Compton kid, an emotionally sober non-gangster rapping his ass off? What about an album that doesn't promote unchecked hedonism, that doesn't luxuriate in copious consumption of lobster bisque for breakfast? Can you go to the top of the Billboard chart with nary a rooster in a 'rari? What if there is no 'rari at all?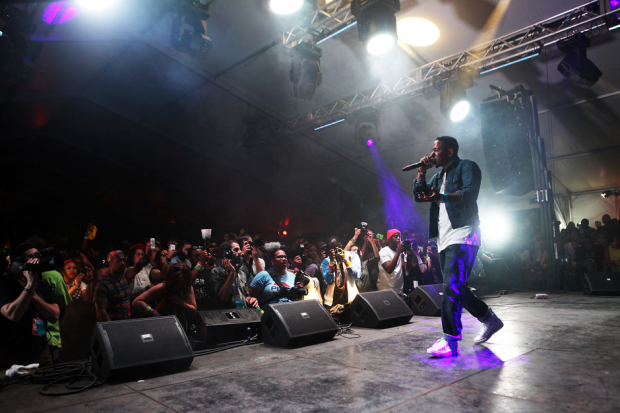 Ab-Soul believes that what's on good kid is universal: "It's Kendrick's story, but it's my story; it's not just an L.A. album. Everyone will get an understanding of why my generation is acting the way they are — violence, vulgarity, anguish, resentment, rebelliousness, and eff the police. He puts it all in perspective. Not just 'black-on-black crime,' but telling the whole story of homies we all had."
While good kid is pure autobiography, like much of Lamar's work, it's also allegorical. While he is rapping about himself, his songs are heavy on observed experiences and feelings that are easily relatable. It's hard to imagine him ever dropping a song about his jewelry or creeping towards itemized-receipt rap. The closest archetype is, perhaps, Jay-Z — the swaggering good guy, the kid who got out. Lamar is peerless in his ability (he never rides a beat the same way twice), separate from the pack, and virtually alone in the space he occupies. He is the closest thing to a "conscience" that hip hop has, but he's still unique amongst previous would-be rap saviors — he's not a scold and his hooks are tantamount to the message. Despite all this, though, Lamar still seems ghosted by what might have been; he can't shake his Compton past.
And while aware of the power of his influence, he's not out to change the world. "The idea of me sparking change? It's got to come from within," says Lamar, firmly. "I couldn't be saying I want Compton to change. You know, Compton is a beautiful place, but it's unpredictable. You just gotta keep your eyes open."