Kendrick Lamar: Not Your Average Everyday Rap Savior
Like his hero Tupac Shakur, Kendrick Lamar grew up heavy in the game. Living in the midst of, but apart from, Compton's roiling gang life, Lamar is now facing down hip-hop's brightest spotlight as the next protégé of Dr. Dre. But unlike most new rap stars, he is humble, composed, mature, and palpably aware of what he's already lost. Which means he might be the most special of them all.
Lamar began writing rhymes at 13, but it wasn't until he saw 50 Cent's early mixtape success that he realized he could be recording and releasing his music on his own. His first tape made its way to local label Top Dawg Entertainment; the story of his audition for founder Anthony "Top" Tiffith has become part of the rapper's creation myth. The 16-year-old MC stepped into the booth and freestyled for two straight hours, while Tiffith pretended to ignore him. The label had already signed Jay Rock two weeks prior and the two MCs immediately began recording at the label's house studio in nearby Carson. In 2009, as the Top Dawg roster expanded to include Ab-Soul and Schoolboy Q, the foursome formalized the crew as Black Hippy, "the conglomeration so cool it could freeze L.A." as Lamar describes it on the group's "Zip That Chop That."
Jay Rock was stunned the first time he went into the studio with Lamar. "I was working on lyrics, writing, writing, writing on paper. And Kendrick goes in the booth with nothing. I asked him where's his paper? He'd written it all — the whole song — in his head in about five minutes. That's when I knew he was crazy. And a genius." Jay Rock cribs the trademark line about Dick Clark to describe Kendrick's maturity level at 17 years old: "He was like the world's oldest teenager."
"He hasn't changed," says Ab-Soul, who has been tight with Lamar since they met eight years ago. "He has a glow about him; he carries it with him. He's just a deep guy." He too recalls being humbled the first time he heard Lamar rap, on a mixtape recorded under the name "K.Dot." "I was certain I was the best MC in my area," Ab says, laughing. "Or at least my age bracket. But to hear someone rapping at that level at our age, it was incredible. [Kendrick] was recording full songs with hooks and bridges and melodies and things to keep the crowd. He was not just interested in being the best rapper, he was making songs that the world could sing."
Here's one the many places where Lamar diverges from the archetype of the "conscious" rapper. He's not enough of any one thing to be categorizable. Sure, he's self-aware and shouts out Marcus Garvey, working in tropes of black liberation without being political. He's got nuanced songs about women with real-life struggles and names, yet plenty of pop-that-pussy clichés. He represents the purely-for-the-love-of-the-game underground, but has also collaborated with Lady Gaga. He broaches all of the street shit with an emotionalism that signals he's seen it and been deeply touched by it. (Recently, he was quoted as saying that the scariest thing he's ever witnessed was someone being shot in the head.) He reanimates narratives about life below the poverty line that we've become desensitized to. His appeal is broad, but still full of thoughtful detail.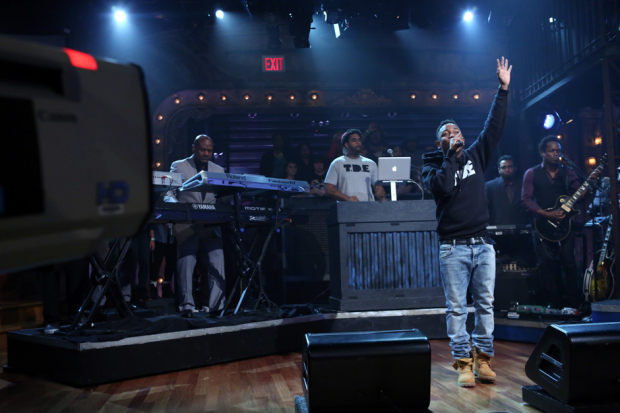 Lamar doesn't tout himself as a moral authority, instead using the story within good kid — his chronicle of a Compton childhood as a Reagan-baby born amid poverty, gang war, and the crack epidemic — as an object lesson that there can be a different path. Unlike many of hip-hop's survivor's-tale albums, good kid gives its recounting of the good old-bad old days without nostalgia. He doesn't brandish what he's been through in order to establish how hard he is or to earn street credentials.
And he also doesn't contend that other depictions of the streets are less valid. His family hails from Chicago's 76th Street & Stoney Island, two miles from the O-Block projects where tendentious teen-rap flashpoint Chief Keef grew up. The two are now Interscope labelmates, and the subjects of two of the most sizable bidding wars in recent memory (Keef reportedly pulled down three million, Lamar confirms his deal at 1.7 million). Lamar, who has never met Keef in person, grows emphatic when discussion turns to the moralizing about the grim violence in Keef's songs.
"You can't change where you from," he says. "You can't take a person out of their zone and expect them to be somebody else now that they in the record industry. It's gonna take years. Years of travelling. Years of meeting people. Years of seeing the world." It becomes unclear whether, in talking about Keef, Lamar is actually talking about himself. He values Keef's success on the same terms as his own. By doing music, they represent two dudes who are not on the streets. "Maybe he'll inspire the next generation to want to do music. Convert that energy to a positive instead of a pistol."